Building the Capacity to Survive in a New Reality
Our world turned upside down recently — forcing companies across the globe to adapt and revise. Armed with data-informed resources and strategies — Seer hopes to help you mitigate the impact on your business, continue to help your team and users find the accurate answers they need during this time, and also prepare you to adapt more long-term to this new reality.
This hub is continually updated to answer your most pressing questions.
SUBSCRIBE TO NEWSLETTERVIEW ALL BLOG POSTS
Marketing Leadership Advice
We asked two industry leaders how to approach marketing through times of isolation and uncertainty in our Tearing Up Your 2020 Plan webinar.
Rand Fishkin and Wil Reynolds talked through two different approaches. One says lean into the complexity of messaging, the other, into making precision budget cuts.
"Going with your gut or relying on your experience at times like these is RISKY, and it's a competitive disadvantage."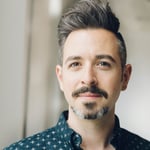 "Align whatever you do with the way you're helping someone else navigate uncertainty, stress, financial fears, and disruptions to their lives."
Many businesses are prioritizing conversations on budget cuts and maximizing efficiency after facing an abrupt loss in revenue.
We've put together a Budget Savings Resources Guide below that will help you better measure digital marketing ROI and make precision budget cuts as needed so that you can keep revenue-generating tactics doing what they do best in the coming months while marketing plans are being adopted.
Budget Cuts
The Scalpel vs. The Sledgehammer
Wil Reynolds opens up our playbook on how to be ready with precision-pointed budget cuts when your CFO comes to you with a specific percentage they need you to cut back.
Take a peak at Wil's hypothesis framework below then check out the full post for all the details you need to make better decisions about paid budget cuts.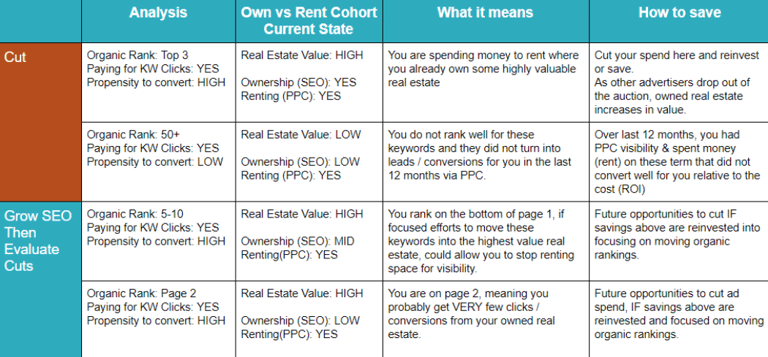 AVOID COLLATERAL DAMAGE WITH DATA
Re-Evaluate Your Negative Keyword Strategy
Wasteful Wednesday featuring Wil Reynolds will show you how to use SEO + PPC data together to find negative keywords for Google Ads campaigns.
Check out Seer's full guide to negative keywords for help making the changes in your account.
CUT KEYWORDS THAT AREN'T MAKING MONEY
Negate 3.8K Kids Channels from YouTube Campaigns
Are you running paid campaigns on YouTube? We recently found 3,802 kids channels to negate from your placement list. Excluding these will ensure you aren't wasting your ad spend while more and more schools are closing and parents find themselves using YouTube as a solution to entertain their children while they work from home.
Use Supermetrics to Identify Bad Ad Placements
Leveraging Google Search Partners is an easy way to get your paid ads in front of even more eyes than just people searching on Google's SERP. However, opting into Search Partners makes you susceptible to low-quality or even fraudulent traffic.
We analyzed over 200K sites within the partner network and for some clients, uncovered 30% of traffic sending to bad ad placements. This included placements across the GDN, Search Partners, and sites within newer campaign types such as Smart Shopping and Discover.
Earlier this year, we explained how to pull Google Ads data to identify bad placements at scale using Supermetrics. It's easier than you'd think, and it's more important now than ever. To see exactly where your ads are displayed and how they performed on those Search Partner sites, follow the instructions in the blog post below!
FIND & NEGATE WASTEFUL DOMAINS
Try Google Ads Scripts for Automation
Running automation scripts in the background is especially helpful now to ensure your account is running efficiently and your campaigns are making the biggest impact they can. Some of the Seer team's go-to scripts that mitigate wasted spend and flag components of your paid efforts when needed are:
See if You Qualify for These SMB Programs
There are many programs out there helping small/medium-sized businesses (SMB) and Nonprofits adapt their marketing to COVID-19. Check out a few standout options:
If your SMB or Nonprofit is new to digital marketing, we've got you covered!
Digital Marketing ROI
If you are having tough conversations about the impact of your online campaigns, check out these formulas for estimating digital marketing ROI:
Determining Project Profitability
The formula for calculating the ROI (Return on Investment) of digital marketing is simple if you have all the information you need to complete the following:
Project ROI = (( Gross Profit generated by the project – Cost of the project to the business ) / ( Cost of the project to the business ) * 100% )
If your company is publicly traded, consider using financial statements (such as 10-Ks) to demystify any 'unknown' portion of the equation.
Either way, being able to easily speak to Gross Profit generated by digital marketing campaigns can drastically change meetings with your C-Suite.
Leveraging ROAS to Measure PPC Efficiency
ROAS (Return on Ad Spend) is a calculation of the top-line efficiency of your ad spend. This is in contrast to ROI, which takes into consideration the profitability of an investment and factors in all measured accounting costs--e.g. labor, total costs of materials, etc.
ROAS = ( Revenue generated by paid campaigns / Ad Spend of paid campaigns )
Understanding ROI and profit margin in addition to analyzing ROAS is how you can determine what constitutes a true return for a campaign.
Ultimately, this enables stronger decision-making as it relates to optimizations, budget allocation, and more.
LEARN MORE ABOUT ANALYZING ROAS
Estimating SEO ROI in 2 Steps
When estimating the performance of SEO, search volume and Organic traffic are always great leading indicators; however, at the end of the day--revenue is the truest measure of success. Although determining the ROI driven from SEO efforts is a well-known challenge, it's not nearly as impossible as most marketers might think.
Step 1:
Estimated SEO Revenue per Month = (( Total Monthly Search Volume * Click-Through-Rate ) * (Conversion Rate)) * Conversion/Goal Value
Step 2:
SEO ROI = (( Estimated SEO Revenue per Month – Cost to Implement Strategy ) / ( Cost to Implement Strategy * 100 ))
Looking Ahead
Digital Maturity Model
At a time like this, it's more important than ever to know where you are and where you are going to report on your efforts and how the current landscape might impact them.
At Seer, we've been working to adopt the Digital Maturity Model (DMM) that Google and Boston Consulting Group (BCG) created. The DMM was created to help you understand where you fall in terms of digital maturity right now, and where you could focus on in the future. In short, it facilitates an easily digestible and understandable story about your efforts or projects.
"Companies who have achieved the highest level of maturity report cost savings of up to 30% and revenue increases of as much as 20%."
Change Management
We've created a checklist for digital marketers to ensure you're covering all necessary bases across Search, Creative, and Website efforts. Check it out:
Get Your Google Sheets Checklist
Monitor Website Trends Closely
Google Data Studio Template & Diagnostic Tool
What users did on your website 3+ weeks ago, might not be what they're doing today. Performing regular diagnostic checks on your Google Analytics data can help you identify what your audience needs and how you can support them.
We created a Google Data Studio dashboard template to use as a diagnostic tool below. Just make a copy and follow the steps here to get started.
Measure the Impact on Your Analytics Data
After you get the dashboard above set up, this post will help you focus on details you should be digging into.
Follow these three steps to benchmark your analytics data:
Heavily Monitor Regional & Device Data

Pull Baseline Historical Event Metrics

Update Your Google Analytics IP Filters
Understand & Address Shifts in User Needs
The COVID-19 pandemic has significantly altered the SERPs in less than a month. Whether you look at the query "corona" (and anything related)--trends continue to change with each passing day.
[TIP]

By analyzing search trends, brand alert monitoring, mining chat logs and discovering themes in forums - your company or brand can create content that provides accurate and helpful answers to meet new, rising needs.
1. Google Trends
One of the most useful tools for monitoring user behavior in the SERPs is Google Trends.
Google Trends analyzes the prevalence of top queries in Google Search, providing clear and comprehensive data visualizations for support.
In response to the COVID-19 pandemic, Google Trends has dedicated an entire section to trending search queries related to the virus:
SEE LIVE CORONAVIRUS SEARCH TRENDS
2. Reddit
In a time where your audience has more questions and concerns than ever before, it's crucial to understand their position and cater your marketing efforts toward that.
Tools we would normally leverage to glean audience insights may not offer real-time search trends like a forum like Reddit does. There are countless subreddits for every niche market imaginable, and it's relatively easy to identify a handful of subreddits relevant to a certain target audience.
At Seer, we've scraped subreddits relevant to seven major industries to understand what people need and how we can help. Across each industry, we noticed that questions tended to fall into five main categories, you can read the full post here for more information on these.
3. Talkwalker
Talkwalker Alerts delivers the top results and tweets that make up your digital footprint from across the web and Twitter to your inbox.
4. HARO (Help-A-Reporter-Out)
HARO is usually used for link-building, but it also helps with content ideation by giving you a cursory look at what the news is going to cover.
If you have a service or product that can help solve a problem within the realm of those topics, you have a unique opportunity to give expertise on and be an authority in the space.
Revisit Channel Targeting
8 in 10 Americans have been impacted by travel restrictions, school cancellations, government acts, and/or small business closures as the US attempts to halt the spread of the coronavirus.
These fundamental changes to our daily lives draw corresponding trends in media consumption that will continue to have a significant impact on digital marketing.
Case in point--Vodafone found that our internet usage is up +50% since the start of the outbreak. In turn, WordStream reported:
Store Visit conversions plummeted by 90% in one month

The SERP is dominated by completely new searches

Mobile search traffic is down by nearly 25% in March

Cross-network opportunities grow as Google search traffic falls
For PPC marketers, these developing trends will result in adjusting plenty of campaigns and potentially re-investing budget into new channels outside of traditional search engine CPC.
Change doesn't necessitate failure. The good news is that you can still reach your prospective customers online—they're just looking in different places.
Smart Display
For advertisers on the fence about Google's automation, we get it, and we've walked through the biggest objections to smart bidding along with how to get over them.
Leveraging Smart Campaigns is one way to get some time back from managing your digital efforts to focus on bigger picture strategy, optimizations, and expansions.
If you're worried about leaning on automation during this time, Google has a myriad of steps you can take with your Smart Campaigns to stay confident in their ability during COVID-19.
At Seer, we make an effort to lean into the engine's automation wherever it makes sense.
We've found that advertising using Smart Display campaigns, for example, is a way to allow Google (which is MUCH smarter than any human as much as we hate to say it) to use its algorithms to our advantage by giving our team time back for the bigger strategic work that's necessary during COVID-19.
TAKE A LOOK AT SMART DISPLAY RESULTS
YouTube Ads
YouTube advertising allows you to promote your brand using rich video content. This enables the opportunity to differentiate yourself from the competition and develop your voice in a unique format.
Millions of people around the world are turning to YouTube for various reasons:
Parents putting an educational channel on to entertain kids while WFH

If the product you're advertising isn't meant to target children, be sure to negate children's channels.

Kids are playing

on their parents' ipads and watching YouTube videos, then clicking on the ads. This makes it seem like that person is interested, but really, it was an irrelevant click!

DIYers looking for tutorials for their next home project
People stuck at home searching for some cooking inspiration
Anyone looking for uplifting or funny content to boost his or her mood

Some folks are just surfing YouTube with no end goal in mind
As advertisers, we have the ability (now more than ever) to reach our audiences with quality content while they are already highly engaged.
Seer recommends leveraging relevant in-market audiences for YouTube to hone in on people actively searching for the product or service.
Discovery Ads
Google has reported seeing an increase in clicks/impressions driven by Discovery following changes in media consumption during COVID. Released as a Beta in 2019, Google Discovery is an ideal ad format to increase brand awareness and capture attention.
These ads are visually impactful and are seamlessly served only to an audience that will find them most relevant. Discovery ads show in the Discovery feed and YouTube - allowing advertisers to meet customers where they are at that moment. It's important to note that Discovery Ads offer similar benefits to Gmail Ads (appears on Gmail UI, optimized for mobile and offers GDN audience targeting), however, Discovery Ads are designed to reach a greater number of people at an efficient cost.
We found for one client that the Discovery Ads drove 62,116 more clicks at a -29% lower CPC than Gmail Ads. Moreover, visitors generated by the Discovery Ads converted at a +90% higher rate than Gmail Ads.
Across several clients at Seer, we've pivoted PPC strategies from emphasizing bottom-funnel conversions, to instead focusing on higher-funnel, more awareness tactics.
Depending on the business you're advertising for, you may want to consider shifting to this strategy as well!
Remember to Practice Sensitivity
Google's Marketing team recommends asking these five questions before running your campaigns:
Is this campaign right, given the current context in a local market?
What are the most relevant brands, products, or campaigns our media can support right now, and do we need to shift budgets?
Though we greenlit this campaign last month/last week/yesterday, is it still right for the context and moment?
Are all of the creative elements — tone, copy, visuals, keywords, placements — appropriate and relevant to this new reality?
What ways can our brand — and even our owned media channels — be helpful to people and businesses in this moment of need?
THE 5 COVID-19 MEDIA PRINCIPLES
Personal Life
Working From Home
These posts have helped our own team cope with some of the new challenges raised with our changing work environments:
Conclusion
During this unprecedented time, it's more vital than ever to monitor performance, understand your audience, and remain agile in your marketing strategy.
If you're uncertain about how to respond to users' volatile online behavior, ask yourself these questions to determine if you should enlist professional digital marketing experts.
The best response to COVID-19 is not a one-size-fits all solution that will work for every website. Every industry will have specific nuances, and what works best for one site may not be the most ideal solution for you.
Now, more than ever, it's important to streamline your digital strategy, monitor trends and performance, and collect data to truly understand what's working and what's not.
If you're unsure of the best course of action, we can help.
Contact us to hone in on the best digital strategy to navigate the search landscape.