New Search Partner Requirements Launching June 2020
Google Search Partners Program has announced that beginning in June 2020, they will be requiring new protocol to earn and maintain partner status. The company sent out the following tweet on February 13 releasing the news: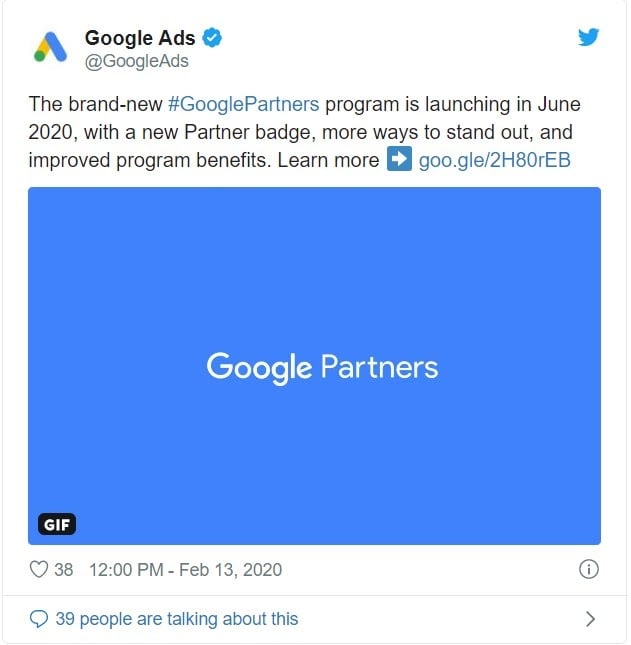 Source: @GoogleAds
What Will Be Changing?
Google has begun alerting current partner companies by sending out email reports summarizing their current standings and calling out any red flags that may threaten their status come June. In order for current Google Search Program members to maintain their partner badge, Google is updating the following enforcements:
Company Performance

Currently, Google monitors performance over an 18-month period and requires at least 12-months of spend activity in your manager (MCC) account.
Here's What's Changing: Google Partners is setting the performance threshold at a 70% optimization score. You can access your optimization score under the 'Recommendations' tab in the engine.

Spend

Minimum spend requirements are now set at $10,000 within a 90-day window across managed accounts.
Here's What's Changing: Minimum spend duration will stay at 90-days but ad spend will now be increasing to $20,000 across managed accounts.

Certification

As of now, Google Partners requires one certified Google Ads user who has admin or standard access to the MCC account.
Here's What's Changing: A company is required to have at least 50% of eligible users earn and maintain certifications from Google Skillshop.
Curious about how Google updates have affected organic traffic in the past? Check out this blog post on Google updates and how they've historically impacted local.
How is the industry reacting to these changes?
Public response hasn't been so great...
Opinions around the update suggest that this change is another move in Google's playbook to increase the company's revenue from advertisers. Advertisers are concerned about the pressure to adopt Google's account optimization recommendations, in order to satisfy Google's algorithm preference, versus prioritizing client KPIs.
As it exists now, Google defines healthy performance as, "solid overall ad revenue and growth, and maintaining and growing your customer base." After the changes go live, the minimum 70% score requirement will solely be based on following Google's optimization recommendations.
The change in certification requirements for account users is also raising concerns for smaller staff agencies. There has been speculation around how Google is counting for which users in the account are admin owners and which are management users.
As practitioners, it's crucial to be proactively monitoring accounts and providing the Google algorithm feedback in order to learn and make more appropriate recommendations. Seer PPC Account Manager, Molly Nash, shared her thoughts:
"Being able to add a reason also seemed like it would be valuable in assisting Google in making better recommendations. All of that said, knowing that there is a secondary score and that saying no to things that are not within reason for your account would hinder that score, is disheartening. As AM's we need to be able to do what is best for our client and sometimes that it outside of what Google thinks.
My opinion is that Google should take a step back and assess the reasons why their partners are not implementing certain recommendations and consider removing them or reducing the penalty if they truly are not something that makes sense for the account."
What are the next steps?
This update sparked a fire amongst marketers to act quickly and brainstorm new account strategies that will maintain their Google Search Partners badge. It seems all signs point toward a push for automation and optimization.
Moving forward, we recommend keeping an eye on your account performance, and while not applicable for all recommendations, if a recommendation does not seem relevant, be sure to dismiss it so Google's algorithm can learn to improve suggestions in the future. If new suggestions, such as dynamic search ads (DSA) are confusing to you, reach out to your Google support representatives for tips on best practice and ways to implement.
Be sure to subscribe to our newsletter for performance recommendations and updates as changes launch in June 2020!