Introduction
Not to brag or anything, but I have always been a fairly early-adopter of automation tools over the course of my decade-long career. That's why I've always been somewhat disappointed when they turn out to be lackluster and harm my campaign performance! I still vividly remember using early bidding algorithms (around late-2013) introduced by a previous third party management tool, only to have them tank volume and triple CPA.
Fortunately, "fool me once…" mentality has never been part of my personality. Especially in this industry, anything that was once terrible will, inevitably, eventually become good. The algorithms that Google has developed over the years are one of those things, so I've always been pleasantly surprised by how good Smart Display has performed for my clients where I've deployed it.
So, as you're thinking about your 2020 project plans, read on to learn about what Smart Display is, how it works, and what kind of performance we've seen across Seer's portfolio in 2019.
Smart Display History
Smart Display campaigns were first introduced as a beta in 2016, then later officially released to the general public in mid-2017.
I launched Smart Display for one of my biggest clients shortly after the official release, in August 2017. Even in this early phase, it worked well, bringing in significant conversion volume at a CPA comparable to our best-performing search campaigns - not bad for a Display campaign. It performed so well, that what started as a 1-2 month test, was extended to the end of that year, and then made a permanent part of our marketing strategy ever since.
What We Know About How It Works
The concept is simple: you don't set any targeting options yourself at all, just let Google's algorithms do their thing, give it a few creative elements to work with, then sit back, and let the conversions roll in.
At its core, it's powered by three Google technologies: automated targeting, automated ad iteration, and automated bidding. Each of these is a venerable vantablack box on their own, but the main behavior here is that these robots will work together to identify users who are highly likely to convert on your website, what messaging will get them to convert, and how high to bid to make the conversion happen.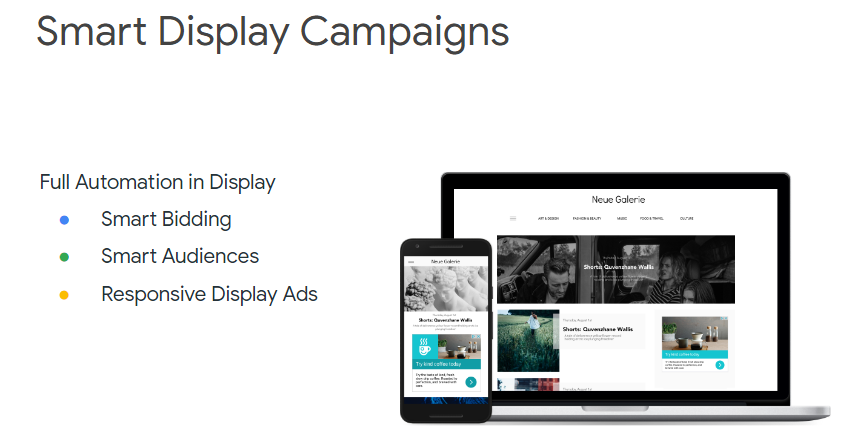 Source: Google
You can check out this Google post if you want to learn way more about how Smart Display works and how to use it. But let's take a look at Smart Display in the hands of Seer, across all the client accounts in our MCC.
Results Speak for Themselves

Overall, Smart Display represents only 17% of Display spending across Seer's entire MCC, which directly translates to only 17% of display Impressions as well. The bigger takeaway here is that this 17% of spend represents a whopping 41% of total Display conversions across our client accounts! It's impressive that a campaign type comprising less than 20% of our total spend commands nearly half of all conversions. But how do the important metrics look?
On average, the Smart campaigns have generated a 0.49% CTR compared to Traditional Display's 0.31% -- a 61% improvement in favor of Smart display. And it's done this at a 39% lower average CPC. The truly amazing stat here is in Conversion Rate, where Smart Display campaigns have averaged a 110% improvement over Traditional Display.
Such improvements in performance are thanks entirely to the three machine learning algorithms mentioned at the top of the post. Google is using its knowledge of the client website and each user to find the right user, at the right time, to serve the right combination of creative elements, to bring them to the site at the right time that will be more likely to lead to a conversion.
Caveat Emptor
As well as Smart Display has performed for Seer clients on the whole, it's by no means perfect. As my colleague has indicated in his past blog post, some of the inventory on the Google Display Network can be attributed to low-quality placements that APPEAR to perform well. From our analysis, the quality of sites between Smart Display and Traditional Display are fairly equal; but it's important to stay on top of your Smart Display campaigns, just like any other display campaign, and audit your placements consistently.
Go. Test. Be Smart.
Overall, Smart Display has been a great addition to our PPC marketing toolbox. Even with the issue of GDN placement quality, it's become an easy-to-implement and effective method for conversion-focused advertising on the Display Network. And given the strides Google has made in machine learning, smart algorithms, I would expect performance to continue improving in 2020 and beyond.
But what do you think? What's been your experience with Smart Display? Let us know!
---
Looking for more PPC advice around automation? Sign up for our newsletter below or get in touch!