I recently wrote about uncovering a bunch of low-quality parked domains within the Google Search Partners network using Supermetrics. I'm now going to walk through how to pull your own Google Ads data. I'd love to hear how much you uncovered was being spent on these domains!
---
Step 1: Get a 14-day free trial for Supermetrics (...but the paid version is SO worth it if you manage a lot of accounts!)
I use the Google Sheets plug-in which starts at $99/month per user. Unless you know how to extract data directly from the Google Ads API, this is a great connector to get the data with limited knowledge of the Google Ads API. It has many more use cases than what I will review in this guide.
Step 2: Once installed, create a new Google Sheet and launch the Supermetrics sidebar
After you create a new Google Sheet, you can launch Supermetrics under the "Add-ons" drop-down menu.
Step 3: Select your data source, accounts, date range, metrics, attributes, and segment
You can play around with some of these but here are my recommendations:
Data source: Google Ads (required)
Account: select whichever ones you want to analyze
Dates: select whatever date range you want to analyze
Metrics: these are key to identify placement quality, and you can calculate other metrics like CTR and Conversion Rate

Impressions
Clicks
Cost
Conversions
Conversion Value (optional if you're tracking revenue)

Split by: these are how the report will split up by rows

Campaign name: where are you targeting Search Partners
Placement URL: displays actual website URL where your ad was displayed
Network (with search partners): will show if that placement is within Google Display Network, Google Search Partners or Cross-Network which includes placements from campaigns like Smart Shopping and Discovery

Filter: feel free to filter by "Network (with search partners)" if you want to focus solely on Search partners

"Network (with search partners)" contains "search"
Step 4: Get Data to Table!
Once you've set up the appropriate items listed above, hit the blue "Get Data to Table" button to begin the query. Note: this can take a LONG time if you are pulling a large data set. This could be a long date range or an account that has gained a lot of traffic from these networks. When I was pulling this data across all of our clients, I had to do so in 7-day intervals because the data set was too large and the query would timeout.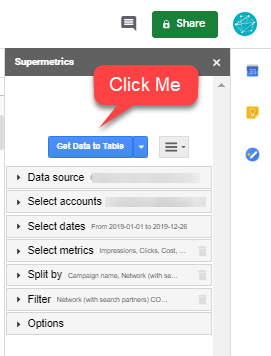 You'll see a pop-up once you click that shows the progress of the query: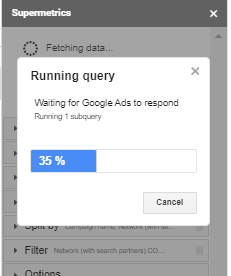 Step 5: Analyze (...and exclude!)
Now you can see exactly where your ads are displayed and how they performed on those list of Google Search Partners sites. What I did was visited the domains listed to see how many were parked domains vs. legit sites (most were NOT legit!). You must decide whether you want to keep targeting Google Search Partners or exclude Parked Domains.
---
Ready to try this out and have questions? Be sure to reach out! Also, don't forget to sign up for the Seer newsletter to stay up to date on all things digital marketing.