Overview:
The State of Google Search Partners:
Its goal is to expand where users can find your text ads outside of just Google.com Search
It does this by displaying your text ads on non-Google SERPs, on-site search directories, or other pages related to a user's search
By default, you target Search Partners when launching new search campaigns in Google Ads
You cannot see the Search Partner placements in the Google Ads interface -- shout out to Microsoft Advertising for providing this data for years!
You'll Learn:
What tools to use to [finally!] pull Google Search Partner data by placement
How to identify Parked Domains that drive fraudulent traffic and conversions
Put Your Learnings into Action and You'll be Able to:
Get up to 30% of your partner networks spend back
Re-invest that budget in tests, proven ROI campaigns, or underfunded initiatives
The Data We Used:
221,240 unique placements across the Google Display Network (GDN), Search Partners, and Google's cross-network that includes placements from newer campaign types like Smart Shopping and Discovery
3,785 of those were specific to Google Search Partners
Waste Hides in Positive ROI
At Seer, we pride ourselves on getting the most return on our clients' budgets. We look beyond a positive ROI to truly understand if every dollar spent is driving value to the business.
We've created free public tools and innovative services that help us do so at scale.
Those savings can fund new tests, improve results and expand your reach.
We had to look beyond the Google Ads user interface to find these insights, and we want to help others do the same. Ultimately, if we're all as an industry, working together to make a better web for users to quickly find answers to their questions, we're all winning.
I'm going to walk through how I analyzed data across 221,240 placements within Google's partner network and uncovered those that are delivering low-quality, or dare I say, fraudulent traffic. For some clients, this fraudulent traffic comprised up to 30% of the money spent on the overall partner network. This includes placements across the Google Display Network (GDN), Search Partners, and partner sites within new campaign types like Smart Shopping and Discovery.
Most of what I saw derived from Search Partners…but wait, that data isn't available in Google Ads.
What are Search Partners?
Google's definition is:
"Sites...that partner with Google to show ads. Search partners extend the reach of Google Search ads to hundreds of non-Google websites, as well as YouTube and other Google sites.
On search partners sites, your ads can appear on search results pages, on-site directory pages, or on other pages related to a person's search."
They do not share who exactly is in this network nor disclose placement performance data within the Google Ads interface, similar to the GDN.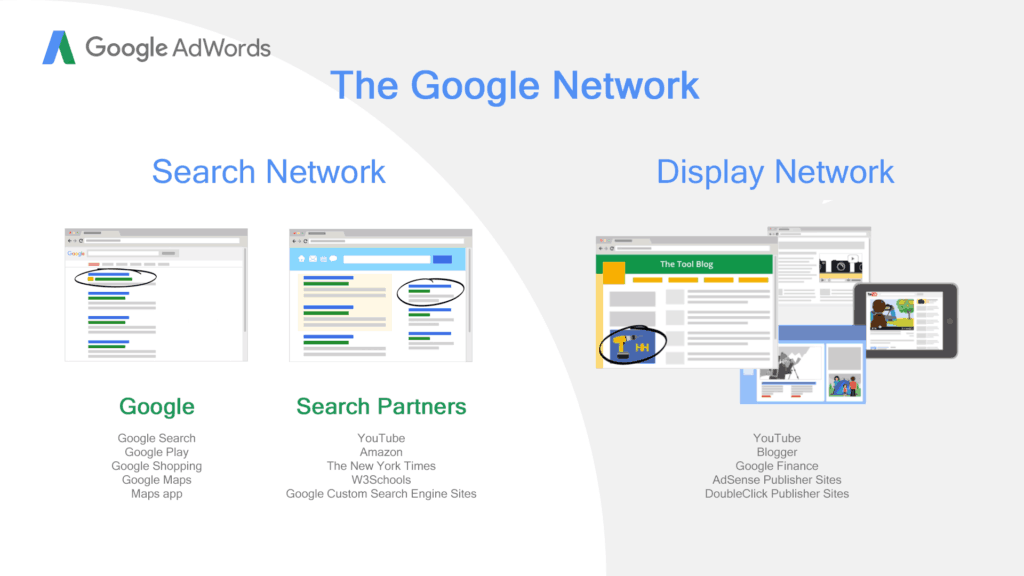 (source: twinword.com)
Examples in the past included sites like AOL.com, CNN and even Amazon searches being powered by Google.
Bing is powering the ads on the search results pages for DuckDuckGo and now AOL.com, as seen in the screenshot below. All sites you may have heard of before and where users would typically perform a search.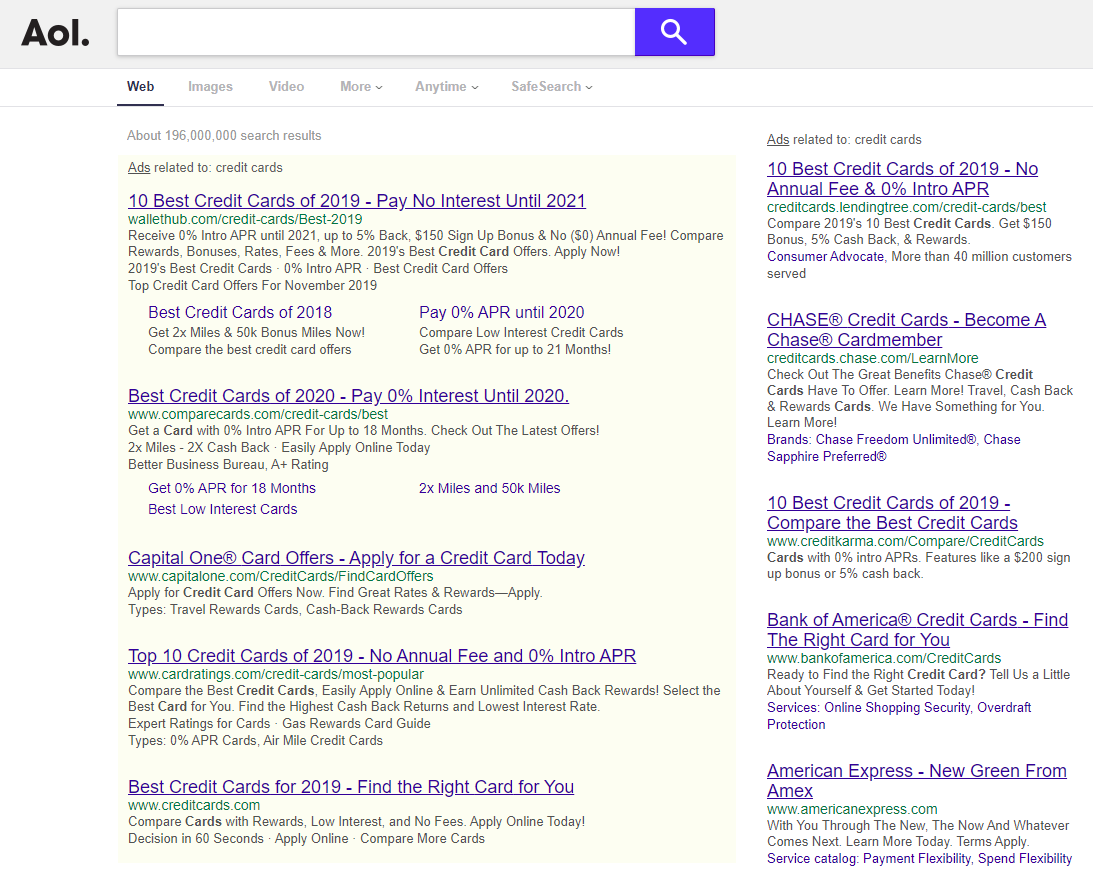 By default, you will target Search Partners when launching new search campaigns so you may not even realize you're targeting Search Partners unless you purposely unselected the targeting option.
So when you are viewing Search campaign performance in Google Ads, that data includes performance from their partners as well.
You need to add the "Network (with search partners)" segment to see performance but that's total Search Partner network, not broken down by each search partner.

Now, while Google calls out search results pages, site directory pages and other pages related to a person's search, Google's network also includes parked domains.
No user searches are happening on parked domains.
What are Parked Domains?
Per Wikipedia, "domain parking is the registration of an Internet domain name without that domain being associated with any services such as...a website."
So your search ads are showing up on "search networks" like this: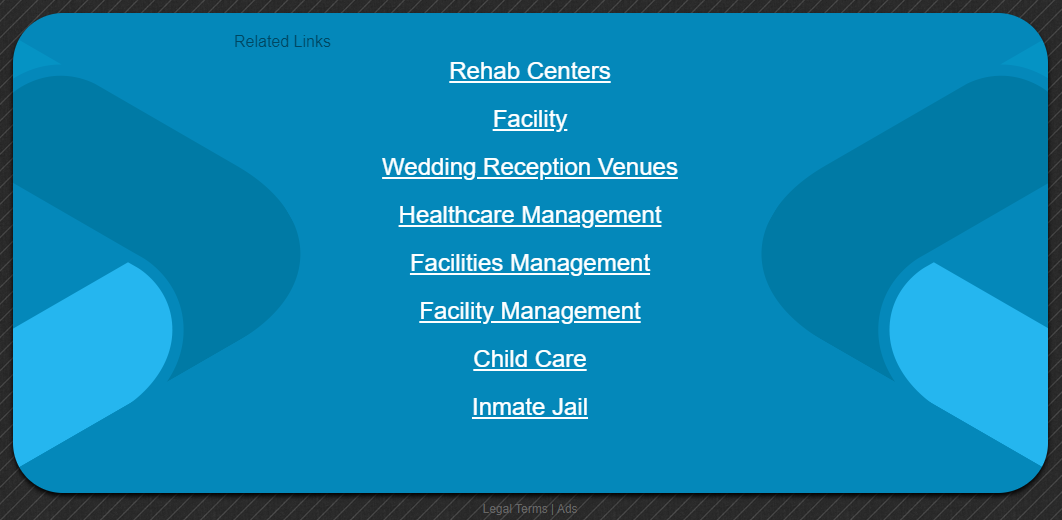 What the heck is that page? It's mimicking a user's search query!
Once you click one of those links ["search queries"], you're shown a set of Google ads: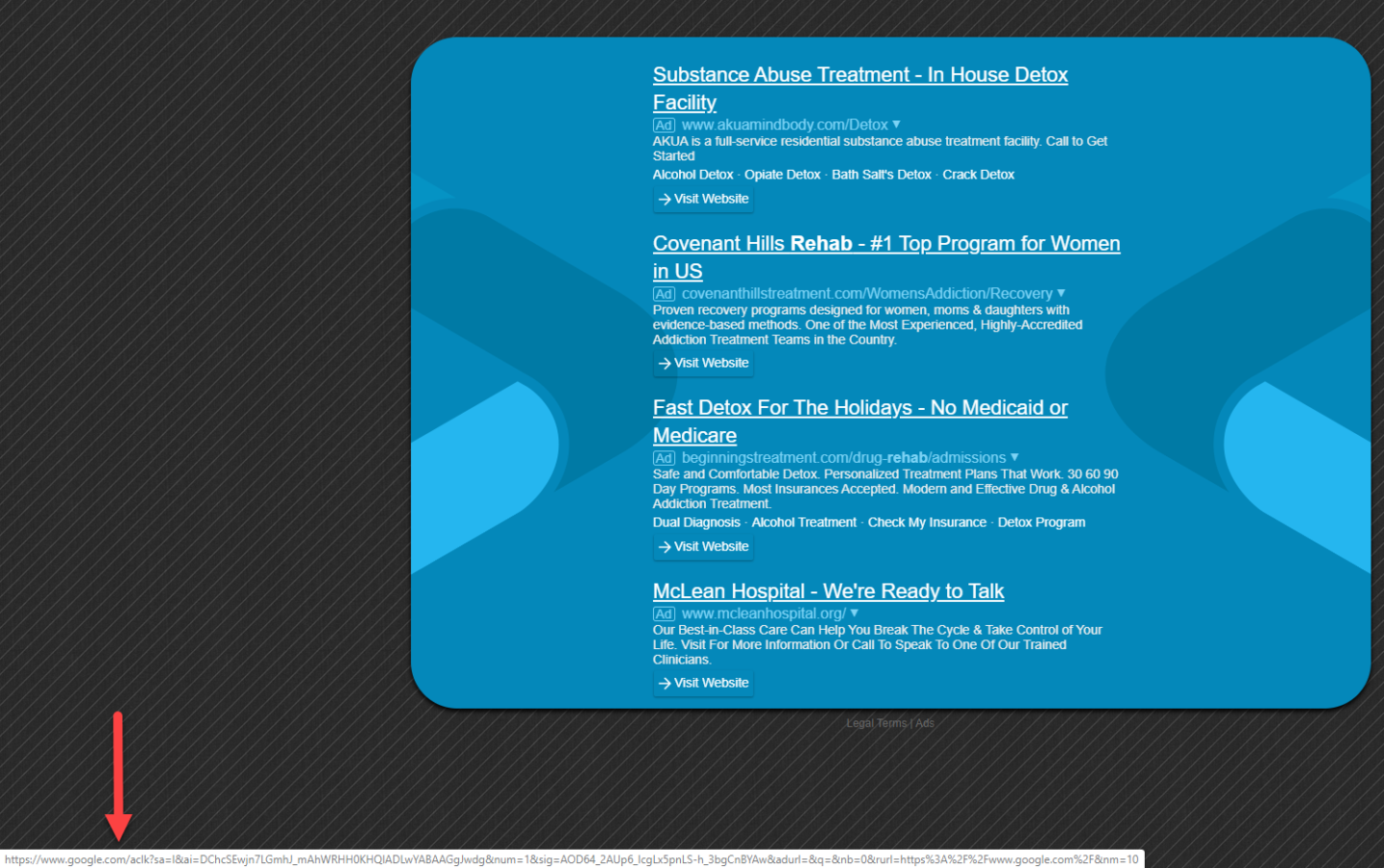 The link below the red arrow is what appears when you mouseover one of the URLs. If you look closely, you can see it's a google.com link similar to what you'd see on a Google.com SERP if you mouseover a paid ad.
So false traffic is then being sent through these links to your website and performing desired actions on your website that make it look like high performing traffic!
And you're paying for it.
How to Fix It
I'm still a bit confused as to why this is even a targeting option within Google -- especially since they went as far as to create the ability to exclude it -- but thankfully Google does allow you to exclude Parked Domains via Category Exclusions.
Most search marketers may have known you could exclude them from the GDN, but Parked Domains are the only category that will apply to both Search and Display. I've been in the paid search industry for over 12 years and I didn't know that until last month.
I recommend you do this immediately if you are not excluding Search Partners already. Here's a video walkthrough:

---
How Can I Pull My Placements?
As discussed, Google doesn't share performance details directly in the Google Ads UI.
For now, the gist is that you have to pull the placement data from the Google Ads API and the Placement Performance Report with the AdNetworkType2 segment.
I used Supermetrics as I am no means an expert in their API, so the connector made it easy to extract. Here's our how-to guide on how to do this yourself!
But My Data Shows High Conversions, Francis!
At face value, many of these placements were crushing it.
High CTRs and traffic. And look at those conversions coming!
Totally going to hit my clients' goals :)
But some of these were a little too good to be true, and even the URLs were suspect. Here's a screenshot outlining exactly that:

I'll admit there are some legitimate sites like t-mobile.com and metropcs.mobi and if you're solely relying on the overall Search Partner data in the UI, then everything checks out...
Then look at those URLs highlighted and their respective CTRs and Conversion Rates (CVR). If the URL itself wasn't suspicious enough, then those metrics ought to stand out.
For some context, this client's CTR on Google.com search (where people are actively seeking their services) was closer to 2.5% for non-brand campaigns, where we saw the highest volume of Search Partner traffic.
Even studies from SparkToro are showing only 4.42% of all Google searches result in an ad click. Well then how the hell are those metrics so damn high?
But without looking under the hood, you would have only seen the total 2% CTR and 4% CVR in Google Ads.
---
So, What's Next?
We'd love to share whatever we can to ensure you're doing what's right for your business and/or clients and driving the most value to their bottom line.
Outside of our how-to guide on pulling this data with Supermetrics, we intend to report back in early 2020 on any major impact on our clients' performance that we're able to share.
We also tapped some folks on our Tech SEO team to identify any potential "tech fingerprints" across the domains we're finding. In other words, is there a common thread that would allow us to identify a poor placement as soon as it shows?
Sign-up for our newsletter to be the first to know when we release those updates: