Tracy McDonald, Jason Stinnett, Alex Murrietta, and Ally Rosencrans also contributed to this post.
With the economic downturn brought on by business shutdowns and social distancing efforts -- marketing budgets are one of the first places companies are cutting in order to stay afloat.
There are plenty of opportunities to make your marketing budgets more efficient by cutting out areas of hidden wasted spend. Check out our guide on how to find hidden wasted spend on paid search in minutes as well as our proprietary keyword relevancy tool, Saving Benjamin Lite.
This post is a follow up on a previous post where we shared our methodology for identifying poor quality display placements. This time, however, we performed the analysis across all of our clients and are sharing the full list of poor quality placements with you.
---
Why So Many Bad Placements?
If you have ever looked through the placement performance of your display campaigns, you may have noticed URLs that make you question, "do humans actually go here?" and "is this the best place to be showing ads to my target audience?"
Check out some of these examples that we pulled from our analysis:
facebookwiki.net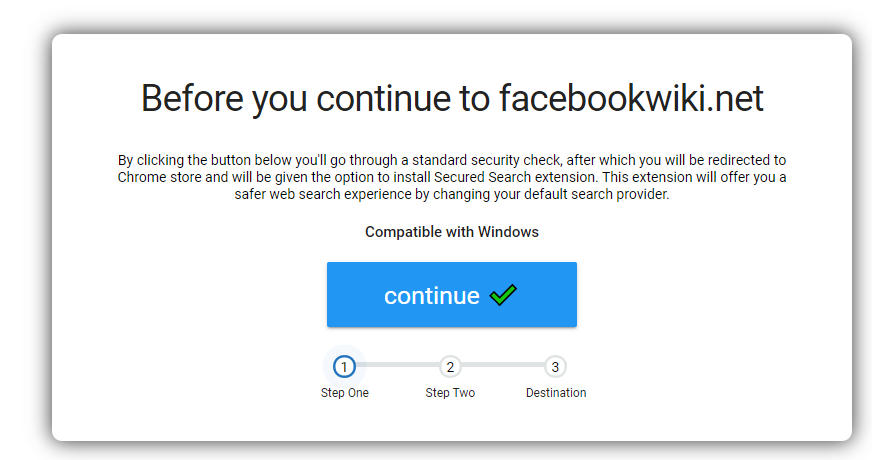 rbxnow.gg

stuffonmycat.com
Why do programmatic display vendors feature sites like these in their inventory?
Ad Fraud, cookie-based audiences, and asymmetry of incentives between advertisers and vendors are just some of the reasons.
Ad Fraud
e-Marketer's Digital Ad Fraud Report estimates that money lost from digital ad fraud is estimated to "vary from $6.5 billion to as high as $19 billion, a range that points to the difficulty in measuring fraud's true impact."
"Ad fraudsters game the display advertising ecosystem by setting up hundreds of seemingly reputable sites and driving illegitimate bot traffic to them in order to profit from ad revenue."
While display vendors have stepped up against ad fraud with initiatives such as ads.txt, they are losing the war as digital ad fraud may be worse than ever. Ad fraud hackers are great at innovating new ways to go undetected by display vendor's inventory filters.
Cookie-Based Audiences
Most display vendors will target your ads based on audiences that are built from cookie data. But how accurate is cookie data? Using the Oracle Data Cloud Registry, you can see the types of cookie-based third-party interest segments associated with your specific browser/ computer. According to this, I am a married homeowner whose primary language is Spanish - all of which is not true. The inaccuracy of cookie data may be one of the reasons bot traffic is able to fly under the radar and fuel ad fraud revenue.
Asymmetry of Incentives
The notion is that the more clicks and impressions your display vendor can deliver, the better. But how do you assess the quality of that traffic? Does it actually match your target audience? Whether or not clicks are coming from bots or someone in the market for your product/service, display vendors are paid regardless.
In our analysis, we found that our clients had spent over $2 million in 2019 to place ads on poor quality placements. Why would any display vendor want to give up that revenue to clean up their placement inventory?
The only recourse for advertisers is to ask for a refund (extremely rare) or blacklist poor quality placements after the ads have been served.
Our Analysis
For this analysis, we downloaded 2019 placement performance data across all clients and aggregated the data in our data warehouse. We then took the list of unique placement URLs and ran a bulk backlinks report through Majestic SEO to get URL quality metrics. Working with our SEO team, we established the following criteria to determine a poor quality URL:
Trust Flow < 10
Citation Flow < 10
Referring Domains < 100
💡 For explanations on what these metrics mean, check out the Majestic SEO Glossary
We then merged the datasets in Power BI and created this dashboard to surface insights.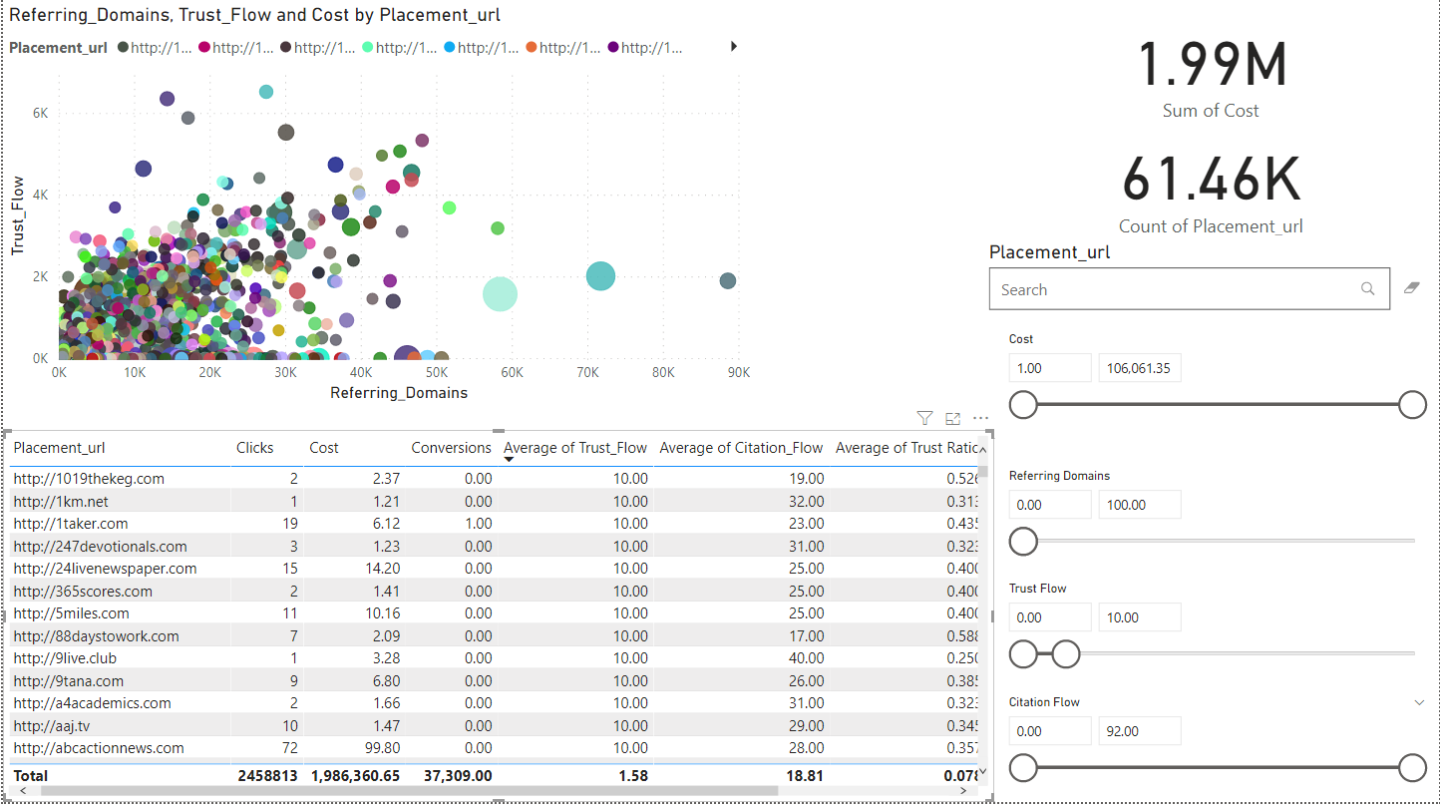 To reiterate our findings, just filtering for "Trust Flow below 10", we found $2 million in spend on poor quality placements.
What you can do
Perform this analysis for your display advertising campaigns. You are likely to find sites that are not in the list attached to this post. If you need help, feel free to reach out to us!
Consider only running display ads on websites you know and trust. This is often referred to as managed placements or direct buys.
Leverage Recaptcha v3 to prevent bots from polluting your conversion base, detecting suspicious behavior even before bots reach converting forms.
Moving Forward
This is by no means a comprehensive solution for poor quality placements. Ad fraudsters will continue to innovate, while display vendors will "try" to filter out poor quality sites. I hypothesize that if we run this analysis for last quarter, we would likely find a whole new list of poor quality placements. This is an ongoing effort, not a one and done analysis.
If a display vendor is offering 'premium display advertising inventory', should it be their responsibility to ensure placement quality? Or is the onus on advertisers to navigate the complex web of programmatic display networks and blacklist poor quality placements after their ads have served?
We believe that it is imperative for display vendors to work with their advertisers in order to step up efforts to vet their placement inventory. Only then will we start to see lasting progress on this issue. For now, we recommend that advertisers conduct this analysis for themselves and continue to ask questions from their display vendors.
Let us know what you find in the comments below or on Twitter so we can continue to update our list! If you have other methods for quantifying the quality of a placement URL, we would love to talk with you.
---
Looking for more ways to fight PPC waste? Check out our free tool Saving Ben Lite or reach out for some help.