You just landed a killer Internship at your Dream Company — Congrats! While that's definitely reason to celebrate, it's actually only step-one in the process. Whether you realize it or not, you're about to embark on the longest, most important interview of your life. Why? Every Internship is essentially a semester-long working interview.
Part of my role as a People Operations Manager, is to oversee Seer's Digital Marketing Internship Program. Over the last two years, I've had the privilege of working with 21 incredible Seer Interns. Of that group of stellar students, 5 have joined Seer as full-time team members upon graduation. We are honored that these folks chose to continue their careers at Seer: Jackie Schulth, Laura Kane, Darryl Grier, Greta Hartsell, and Gabrielle Rodier.
So, why did those 5 Interns receive full-time offers? How did they manage to stand-out from the other interns; not to mention the hundreds of external candidates? I'm pulling back the curtain to share some tips and tricks on how to turn your Internship into a full-time job.
#goals
During your first week, map out some short-term and long-term goals for your Internship. I'd recommend writing down your goals and sharing them with your manager/teammates. Accountability is crucial so, putting your goals in writing makes them 'real' and increases the likelihood that you'll achieve them! In fact, former Seer Interns, Greta Hartsell and Gaby Rodier, created an entire Goals-Tracking doc and shared it with their respective mentors. By the end of the semester, they had built extremely compelling case for why they should be hired full-time.

Act like a full-time employee; not an intern
Steer clear of the phrase "I'm just an Intern." Although you might not be a subject matter expert, undermining your abilities won't do you any favors. In my experience, the best Interns at Seer blurred the lines between part-time Intern and entry-level Associate. Stop worrying about overstepping boundaries and start challenging yourself to exceed expectations. Darryl and Greta each exceeded expectations by presenting competitive analyses to clients on SEO. Gaby proved to be an asset for the Analytics team by completing weekly/monthly reporting for several clients with the help of a few Analytics Associates.
Get in front of key decision-makers
The idea of approaching someone on the Leadership Team may be intimidating, but you absolutely have to get on their radar if you're seeking a job offer. Ultimately, these folks are making the hiring decisions so, at the very least, you want your name to ring a bell. Schedule time to sit down for coffee with the applicable Point of Contact on the Leadership Team for a specific reason. Their calendar is probably jam-packed so you'd want to explain the purpose of the meeting upfront.
Maybe you want to review some of the client deliverables that you impacted within their Division or you'd like to teach them about a new tool that you've been testing. Let's say you just want to pick his/her brain. You should come prepared with at least 10 questions that couldn't be answered from a simple Google search. Darryl met Seer's Founder, Wil Reynolds, to discuss how he'd improve the training process at Seer. His insights were so impressive that we hired him as an SEO Associate and Wil felt compelled to tweet about their meeting:
Take initiative + be proactive
Contrary to the popular idiom, opportunity rarely comes knocking at your door. Similarly, employees probably won't tap you on the shoulder with an awesome idea for a project. Keep your eyes peeled for areas of improvement within your organization and approach each problem with a solution-oriented mindset. Of course, not every Internship allows for the autonomy and freedom experienced by Seer's Interns.
Even if your sole task is to fetch coffee, you should be on the lookout for opportunities to improve the efficiency of the coffee ordering and delivery process. No matter your job description, you can always take things one step further by identifying ways to do your job more effectively.
Feedback is your friend
One of the biggest components of Seer's Internship Program is feedback. Our Interns are formally reviewed twice during the 12-week program but, they're encouraged to seek out feedback whenever possible. After completing a project, schedule a 15 minute sit-down with the recipient to discuss feedback. Take notes on their recommendations and be sure to implement their suggestions moving forward; you'll show continuous improvement. If they raved about your work then, be sure to reference their feedback when you're explaining why your employer should hire you full-time (See Make your Intentions Known)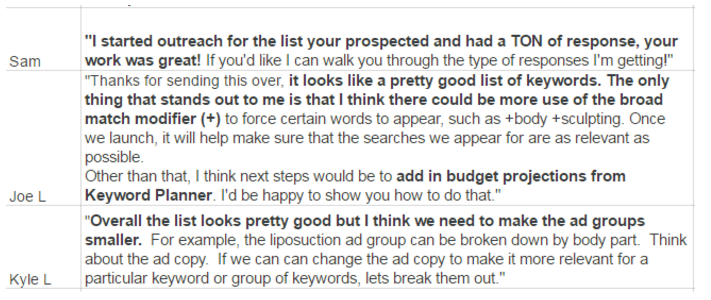 Leave a legacy
The only thing worse than being a 'bad' intern is being a forgettable Intern. Flying under the radar won't get you in trouble but, it won't make you a must-have in the eyes of your employer either. The Interns who we've hired full-time have truly left their mark on Seer. Although their Internships only spanned a few months, they've impacted Seer for years to come. Remember that goals-tracking sheet that Greta and Gaby created? We share it with our Interns at the start of every single semester to encourage them to track their progress.
Let your work do the talking
Ultimately, these tips and tricks will be ineffective if you aren't producing quality work. Scheduling coffee with a Director is awesome but, all the lattes in the world can't make up for a semester of half-assed work. Think of your Internship as a trial-period for the company to see how you'd perform as an employee.
That's why anything that you put your name on should be something that you're proud to call your own. No one is perfect but, at the very least, your spelling and grammar certainly should be :) Before clicking 'Send', be sure that the deliverable is client-ready; even if it will never be viewed by someone externally.
Make your intentions known
Inquiring about job opportunities can feel a bit awkward but, it's an absolutely essential step in landing a post-graduation gig. When it comes to starting a dialogue about your career, there's definitely a right way and a wrong way to go about things (I wouldn't suggest storming into the CEO's office unannounced to demand a job); instead I'd recommend scheduling 30 minutes with the Hiring Manager to review your progress and discuss long-term goals. Do not go to this meeting empty-handed.
The five Interns we hired came prepared for these meetings with accompanying presentation decks. You're essentially pitching them on why they should invest in your career so, be sure to highlight how your work impacted the business and include any feedback that you received from team members.
I can't promise that your Internship will turn into a 40 hours/week gig if you implement these recommendations, but I can guarantee that you that you'll:
Make a convincing business case for why the company

should

hire you

Receive a great reference from that employer

Create a long-lasting business relationship that you can call upon for years to come

Learn a TON going through the process which will influence your confidence as you search for a full time gig. You'll likely have some take-aways that will help you actually score that gig.
Want to learn more about creating a meaningful internship experience? Check out how to make the most out of your next internship.
Learn more about career opportunities at Seer!