Showcasing Seer's Willingness to Evolve & Quickly Take Action
Seer prides itself on being the type of employer that collects feedback in a meaningful manner, and takes initiative to address any persisting problems"
Addressing organizational challenges with a solutions-oriented approach is a labor-intensive undertaking, and Seer's dedication to leaning into that has allowed us to create positive changes for everyone. We'd like to showcase a few benefits and perks we've implemented based on employee feedback in the last couple of years.
3-Weeks min. PTO & Team Appreciation Days
Seer has always been a high-trust organization that is firmly committed to transparency and giving individuals the space to do their best work. In other words, we don't believe in micromanaging employees or dictating how much PTO they can take throughout the year. Thus, implementing an unlimited PTO policy was a no-brainer from Day 1.
Unfortunately, we failed to anticipate some of the apprehension associated with taking advantage of an Unlimited PTO policy. Seer's People Team frequently received questions from new hires regarding the average amount of PTO that employees took every year, to avoid exceeding the norm. Clearly, offering unlimited PTO wasn't empowering employees to take PTO in the way that we'd hoped so, we'd have to expand upon our current policy, to reduce any hesitancy around taking time off.
3-Week Minimum of Required PTO - In addition to still offering unlimited PTO, Seer also implemented a 3-week PTO annual requirement for all employees at the start of 2022. When you factor in the 2.8 weeks of Paid Company Holidays, that brings the grand total of annual PTO to a 5.8-week minimum.

Employee Appreciation Days

- In 2022, decided to give the Seer team the gift of time. We added 2 back-to-back Employee Appreciation days to Seer's holiday calendar. In other words, Seer employees were able to enjoy a 4-day weekend between Friday, March 4th and Monday, March 7th. In fact, Seer's President of 10+ years, Crystal, even shared the exciting announcement with her Linkedin network. As a working mom to 3 awesome kids, she truly understands the value of time,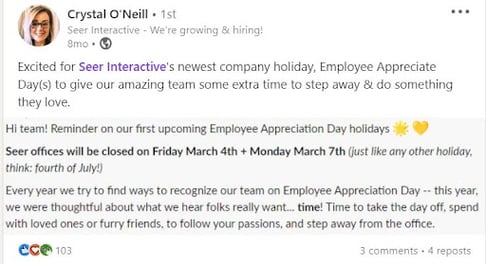 2022 Results - Since implementing the new 3-week PTO minimum, Seer employees have taken an average of 3.48 weeks of PTO YTD overall. This data was pulled in early November, and many folks tend to take more time off at the end of the year for the holidays. Based on this historical data, we're expecting an uptick in PTO usage before the close of the year.

We understand that new hires can be especially cautious when using unlimited PTO, so we filtered the data based on tenure, and found that our employee veterans who have been with Seer for more than 1 year have taken an average of 3.97 weeks (and counting) of PTO. We're also excited to report that 43% of our newbies, who have been here for less than 1 year have already taken 3 weeks of PTO. It's important to note that not all of them will be able to reach the minimum 3-week requirement because their start dates were later in the year.
Intentional Business Model & Relief Funding
Seer intentionally developed a business model that allowed us to retain employees, even when faced with the financial dips that occurred as a result of the COVID-19 lockdown. In fact, Seer purposefully doesn't take on any clients that would make up more than 12% of our total revenue. We consistently work towards creative solutions to avoid having to lay people off; whether it be having employees work on other initiatives outside of their assigned divisions, or digging into that long-forgotten project work during down times, it's important to us to discuss alternatives as much as we can.
As a people-first organization, we are deeply invested in doing right by the Seer team and their loved ones. Although Seer was fortunate enough to avoid furloughs & pay cuts at the onset of COVID-19, the Executive Team was aware that employees may have family members or partners who were drastically impacted by the pandemic from a financial perspective.
Then, when Hurricane Ian hit in 2022, Seer felt compelled to go the extra mile to support our 5 Florida-based team members. (Not to mention, the individuals who had family & partners based in FL) Unfortunately, we also anticipated that this wouldn't be the last natural disaster that would impact our team & their families' so, we had to start thinking bigger.
Disaster Relief Program - If a Seer team member is impacted by a natural disaster, they may be reimbursed for up to $1200 for expenses related to lodging or disaster-related expenses. Additionally, they'd receive up to $700 for an immediate family member for lodging or disaster-related expenses. We simply asked team members to fill out a form & provide receipts for reimbursement
COVID-19 Relief Fund (2020) - If a Seer employee's family member was adversely affected by the pandemic, (i.e. layoffs, furloughs) they were able to apply for a $1,500 payment to help them through that challenging setback. Over the course of 2020, there were 25 different families who applied for relief and received funds.
Recharge Week
'Recharge Week' - Every new full-time employee at Seer gets 1 week of paid time off prior to their official start date. 
At Seer, we are committed to helping our team achieve consistent work/life balance. Ideally, Seer new hires would get the opportunity to enjoy some time off before showing up for their first day of work.
Unfortunately, not everyone may be in the position to take unpaid time off between jobs. In fact, several team members said that their former employer needed them to stay on for 3+ weeks, in order to support the transition and train their successor. Other folks noted that they were nervous about the lag in paychecks. That's exactly why we launched a brand new benefit in 2022, to ensure that our newest team members could join Seer feeling rejuvenated.
"Recharge week gives all new team members a paid week off before starting Seer to transition and recharge prior to their official start date."
Guru for Knowledge Management
For nearly 2 decades, the Seer team was able to get by by using Google Drive to store all of our documents & procedures. While that system was sufficient when we were a 50-person company, we needed a more robust and sophisticated system to accommodate our 200-person remote team in 2022.
In a company-wide survey, 84% of respondents said that they were not able to easily locate the documentation, resources and knowledge at Seer Information was dispersed across 14 different platforms, including Google Drive & an Internal Wikipedia page.
Guru onboarded

- Seer made a $72K+ annual investment into a new internal knowledge management system called, Guru.
That being said, it was far from an overnight fix and it required a significant amount of preparation across the entire company! We spent several months auditing existing content, establishing internal governance rules, hiring knowledge management SMEs, and formally implementing the tool.
Implementation & Expected Results - Over the course of 2022, we've transitioned all of our internal documentation, including training, client resources, and internal processes, over to Guru. With the implementation of the system, we hope to see improved findability of Seer resources, decrease in search-time required to locate resources & an overall decrease in the number of tools that team members need to use, in order to do their jobs.
Coursera for Formalized Training
Upon reviewing the results from Seer's 2022 anonymous, company-wide Energage survey, it was clear that the team has a desire for more formalized training. While Seer's new hire training is rather robust, Seer's ongoing, formalized training left more to be desired. The Seer Kaizen Budget still allowed folks to seek out formalized training, however, we recognize that it still requires employees to take a lot of initiative, in order to locate.
We have to give credit where credit is due!
Scott Taft is currently serving as Sr. BI & Analytics Lead and he has been with Seer for a whopping 8+ years. He was the person who put Coursera on Seer's radar, as an opportunity for us to offer formal training and learning options for our team.
Coursera Onboarded

- Seer invested in an open online course provider for the entire team to leverage. Coursera enables our 200+ person team to continuously elevate their skill-sets by taking advantage of their directly-relevant course offerings. In fact, the Grow with Google learning program through Coursera provides access to more than 155 courses and certifications across IT, Data Analytics, Project Management, UX Design and Digital Marketing.
What's Next - We've launched a Learning Opportunities Seer Slack channel, to encourage folks to share takeaways and recommend courses. (Several Seer employees have already raved about Coursera's Intro to Python course) Over time, we'll also evaluate building out more specific training paths within Coursera, to align with our various teams and role levels.
Our Re-Commitment to Volunteering & Community Impact
Community Impact has been the cornerstone of Seer's company culture for the past 20 years. Since Day 1, we've offered unlimited PTO for volunteering, organized monthly volunteering opportunities for the Seer team, and donated 100% of the proceeds from our events to charity. While our team headcount and company revenue have increased exponentially over the past decade, we didn't see that same incremental lift in our team's volunteer hours & charitable contributions. That confronting data point didn't sit well with our Founder, Wil, and he immediately dove into developing an action plan, in order to make a community impact one of Seer's top priorities.
Since then, Seer has also committed to making a $15M impact on the lives of people in our communities over the next 10 years. In order to reach that ambitious goal by 2032, we made two significant investments into Seer's community impact efforts.
Community Impact Manager

- In April 2022, we hired Joanna, to lead the charge on volunteering efforts at Seer (

Fun fact:

We received nearly 300 applicants for this position & Joanna aced every single aspect of the interview process!) She's less than a year into the job and she already launched several big initiatives

Community Impact Slack Channel & sharing weekly volunteering stats
October's 31-Day Volunteer Challenge
Team-based Volunteering Contest (Innovation team is in the lead)
Investment in Brightfunds

- Seer also invested in a CSR platform, called Brightfunds, in order to centralize all of our volunteering & donation opportunities. Community Impact Manager, Joanna, evaluated several CSR platforms, before ultimately selecting Brightfunds, due to the system's Slack Integration and Guidstar-vetted nonprofits.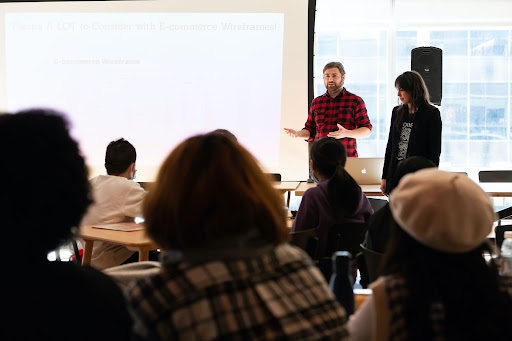 Christina & Chris teaching a Coded by Kids class on the Fundamentals of Wireframing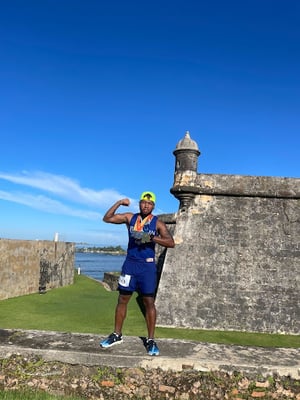 Leroy volunteers with Philly youth via Students Run Philly. He also completed the Lola Challenge in Puerto Rico, which raises money for women who have been impacted by Domestic Violence
2022 Results
Joanna has already made a tremendous impact on Seer's overall community impact efforts.
In fact, we've already seen a 380% YOY increase in volunteer hours in 2022. The Seer team logged 884 volunteer hours in 2021 and, so far this year, we've tracked a whopping 4,053 YTD volunteer hours. Additionally, prior to this year, 2012 was the year we tracked the highest volunteer hours: 1,788 and we've already more than doubled that in 2022!
Remote Employee Engagement Opportunities
Over the past 2 years, nearly 80%+ of the Seer team has been working remotely 3+ days/week. While folks have gushed about the positive impact that WFH has had on their work-life balance and ability to focus, they also cited feeling slightly disconnected from the overall Seer culture. Both remote and in-office employees were yearning for more meaningful team engagement.
Virtual Classes - Seer has organized a variety of virtual events, in order to facilitate learning and enable the team to have fun together. (despite the geographic distance) We've hosted a sign language course, cooking classes, guided meditation sessions, and fitness classes. We even hosted a family-friendly Magic Show in October 2022, to encourage team members to get in the Halloween spirit with their kids.
Coffee Roulettes & Scavenger Hunt

- Seer's award-winning Sr. Executive Assistant, Stephanie, organized Quarterly Coffee Roulettes and a company-wide Summer 2022 Scavenger Hunt. Coffee Roulettes mimic the organic drive-by conversations that may happen more frequently in-office. The platform's algorithm matches people up at random across the company– usually, groups of 4-7, in order to allow everyone to contribute to the conversation.



Quarterly

Rally Days

- Seer's People Team rolled out Rally Days back in 2020, in an effort to boost employee engagement at the height of the pandemic. Essentially, Rally Days are company-wide activities that rally the team through a shared, collaborative experience. Best of all, everyone gets a half-day of PTO to complete the unique activity every quarter.

Denver Team Meet-Up

- Recently, our Denver-based remote employees got together for a full day of working sessions and discussions regarding community building. (Followed by a happy hour, of course) In fact, Seer's Founder, Wil, funded & attended the in-person strategy meeting, along with Stephanie. They walked away with some seriously eye-opening insights and an overall deeper feeling of connectedness.
Organizational Challenge

Seer's Course of Action

Seer's anonymous Energage Survey showed that employees were confused on how compensation are determined (2016)

Developed a formalized & data-driven Compensation Strategy that includes Salary Transparency




**9% >> 97% Team understanding of how salary decisions are made

Employees in the 6-12 month tenure bucket are disengaged & experienced a higher turnover rate (2019)

Training & Onboarding Overhaul: Moved to cohort-style Tuesday start dates, 1:1 meeting with your Team Lead on Day 1 or 2

Launch Universal Role expectations and Associates monthly meeting




Reduced Employee Turnover in Year from 41% (2018) >> 17% (2019)

Seer New Hire Survey revealed that folks were feeling overwhelmed with back-to-back training sessions & homework assignments in their first 2 weeks (2020)

We revamped our virtual onboarding process to ensure that new hires were limited to 1-hour training blocks, followed by a break. We reduced the overall training material & chose to exclusively focus on the most important information in the first 2 weeks.

Homework time went down from 14.3 hours to just 2.3.

The satisfaction rate increased to 92% with this shift.

Seer's recruiters bubbled up concerns regarding our inability to quantify the value of the total Seer compensation package. The details pertaining to Seer's impressive perks and benefits package were dispersed across the Seer website; there wasn't 1 centralized place to direct candidates to if they wanted to compare Seer's package against other offers.

In a matter of <2 weeks, the People Team published an external-facing
Seer Total Compensation Calculator
Interested in working at Seer?
Check out our Careers page for a full list of job openings.
If you're not seeing a position that aligns with your background, sign up for our Monthly Career Round Up via Seer's newsletter. You'll get notified about any new job openings at Seer. Follow Seer on Twitter, Linked & Instagram.