Salary Transparency
Transparency; a value that we consistently do our best to live into throughout every aspect of our business.

How companies choose to pay their people is typically a "behind the scenes" strategy that team members don't have visibility into. That doesn't jive with us, our values, or today's job seeker's market.

Over the past year, our People Team dove deep into Payscale data, our industry, and our values to evolve our compensation strategy.
While we don't have it perfect, we've done our best to create transparency surrounding how we look at compensation as an organization, how we make decisions about pay, and what we pay within each division and role level at the company in this guide.
[NOTE]

While we don't have it perfect, we've done our best to create transparency surrounding how we look at compensation as an organization, how we make decisions about pay, and what we pay within each division and role level at the company in this guide.
Compensation Strategy
At Seer, compensation strategy is driven by data and refined by our values.
Our values are a huge part of who we are, and it's important our compensation reflects that. Here's what to expect about total compensation working at Seer:
Holistic – Compensation includes more than just salary
Competitive – Relative to organizations like us in size, etc.
Consistent & Equitable – Built location agnostic
Grounded in a Living Wage – $65K minimum salary
"Only one company is the best-paying company. That's just math. You're creating a package that runs across compensation, flexibility, culture, mission and team. "
— Dave Carhart; VP People, Lattice
Holistic compensation is more than just salary. At Seer, it also includes:

Profit Share and/or Phantom Equity

Raises

Discretionary and/or experience bonuses

Employer Funded medical premiums and funds

Wellness program

Employer matched 401K

Student Loan repayment
Outside of compensation and salary, we offer a total package with perks and flexible policies aligned to Seer values and culture, including:

Unlimited PTO and Remote work flexibility

Paid parental leave and domestic partner coverage

Volunteer time off and donation matching

And more!
Compensation Structure
We have four core pillars that make up our compensation structure. Each pillar layers on external market data and/or internal factors that determine compensation ranges. All pillars are encompassed by Seer Interactive's values: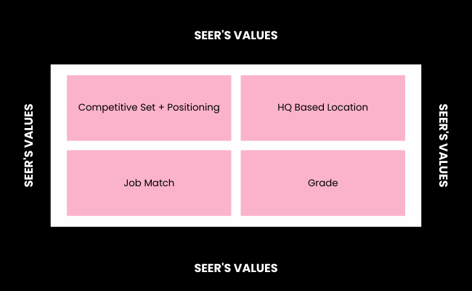 To understand how competitive and equitable our compensation package is stacked up against companies like Seer Interactive, we measure ourselves against for-profit businesses in the Marketing, Advertising, and Media industry.
As we've grown in size (surpassing a headcount of 200), we are now positioning ourselves in a more competitive set — amongst companies with 500+ team members:
PayScale provides us with benchmarking and research on similar roles from other companies in our competitive set. This is how we align our job descriptions with the market. Now we have data that helps us understand how:
The market pays for certain roles, responsibilities, and skills
Other organizations account for inflation and market fluctuations
We use this data as a guiding light for how we structure compensation at Seer.
Salary Ranges
+$14K increase in salary range midpoint since 2019
To live into our transparency values, we share salary ranges in every job description and provide visibility internally through training and resources.
Across all divisions at Seer, here's what salary ranges look like by role level:
Values-Based Liveable Wage
At Seer, a liveable wage is defined as the minimum someone is paid in their role.
We believe everyone (regardless of role level) deserves to make a liveable wage, EVEN if it's higher than market ranges. This is why Seer's liveable wage is 31% above market ranges ($65K minimum salary) for associate-level roles.
Market-Based Percentile
Given our competitive positioning and livable wage standard, manager-level roles at Seer and above are within the median 50th percentile of the market.
Location Agnostic
As a remote-first company, it is important for us to have a salary structure that is consistent across all team members no matter where it is they may call home.
While some companies will adjust your compensation if you move from a higher market to a lower market and vice versa — we don't.
We use our founding city and HQ location, Philadelphia (which carries a cost of living 17% higher than national average) to calculate liveable wage estimates. This ensures we remain competitive without the need to adjust compensation based on where a team member lives.
[TIP]

Even if Seer isn't a prospective employer on your list, try our total compensation calculator to compare different offers you're considering to make the most informed career decision.
Raises
+4-12% in annual salary growth on average
Annual Raise – Every 365 days for all team members in good standing
Promotion & Raise – For team members accepting a new role (~30% of our team promoted annually)
Off-cycle Raise – For team members with exceptional performance or as a result of market rate adjustments
Inflation
34% of our team received market increases in salary since 2021
As a response to inflation, the majority of organizations plan to increase average raises in 2021 from 2.5% (or lower) to 3% in 2022.
In the past 5 years, Seer consistently outpaces inflation and industry averages for raises. In 2021, Seer exceeded the industry by 5% (with a median raise of 8%).
All in all, we're proud of our compensation strategy for the transparency it provides our team. It's something we continuously work on and strive to improve each year.
What's Next?
We're Hiring and We'd Love to Meet You!
Be a part of an organization that is passionate about its values and its people:
Make the Best Career Decision For You
Learn how to evaluate and compare competing job offers in this guide:
Join our Career Growth Community
Be the first to hear about exciting opportunities at Seer and get advice, resources, etc. to support advancing your marketing career: