Thank you to everyone who attended our webinar on how to leverage your existing data to uncover SEO + PPC opportunities within the Search space. Teresa Lopez & Jordan Strauss walked us through how irrelevant references are sneaking into the SERPS and unexpectedly stealing our spend. We learned:
✅ How to catch pop culture and news references that waste spend
✅ How to identify searches that result in real dollars for your business
✅ How to find the searches where financial institutions can and should rank
✅ How to catch affiliates ranking with snippets for your brand keywords, confusing customers, and in the worst cases, misinforming them
✅ What content to create to capture long-tail informational searches
✅ Who is ranking for search features that you can win
✅ How to turn PPC data into "Big data" and get more value from those clicks you've been paying for
Here's the full webinar or you can skip to the next section below to read the blog recap.
The SERP is a Changin'
As anyone in the SEO space knows, the Google SERP has changed over time, creating more competition for organic results. Google has added in features like Carousels and "People Also Ask". Even the position of a #1 ranking has moved way down the page (as in 330 pixels in 2013 to 1,050 pixels in 2019).
It's not just the SERP itself changing, it's pop culture and news, too.
It's no surprise that affiliates are creeping into the SERP and winning valuable space from other businesses. In this case, news articles and financial affiliates (Nerd Wallet and Mint) are creeping into the rankings alongside financial institutions such as Visa, Mastercard, Bank of America, and Chase.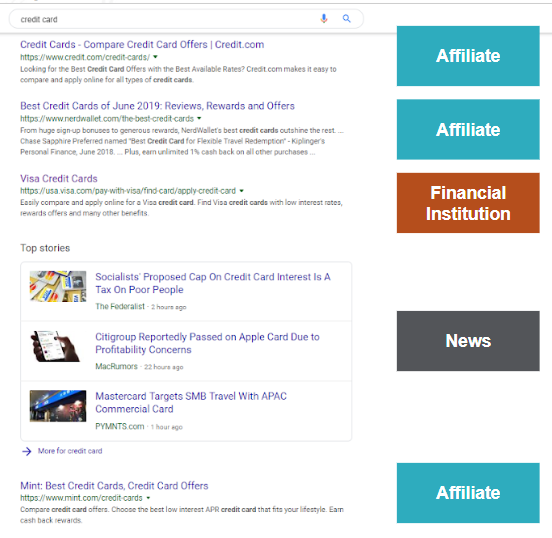 These financial institutions have to fight for even less space on the SERP than before. Even further, of 60K converting searches, 80% did not have a bank ranking on page 1.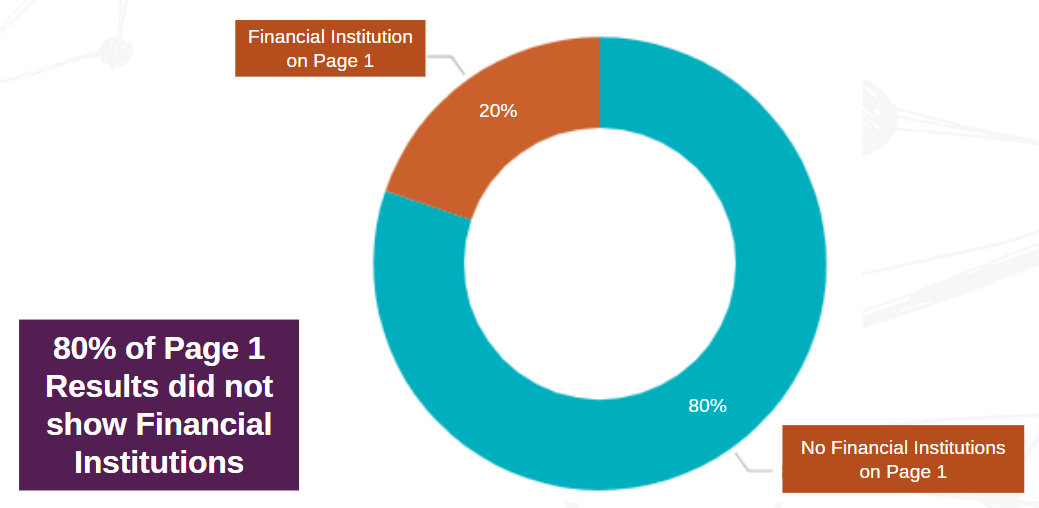 How to find opportunities in the face of all this change
Pay attention to what the user is feeling while searching to better understand what he or she is going through. People are asking the internet personal questions! It's our job as marketers to learn from these searches, and better understand what the users are concerned about. From there, we can create content to answer these questions.
This is where paid data comes in! Through examining queries, we are able to tell if we are giving those people what they're looking for. In the case of people wanting to open a bank account, Chase is not answering the questions those searchers are asking:
"What do you need to open a bank account?"

"What do you need to open a bank account at Bank of America?"

"What does it take to open a bank account?"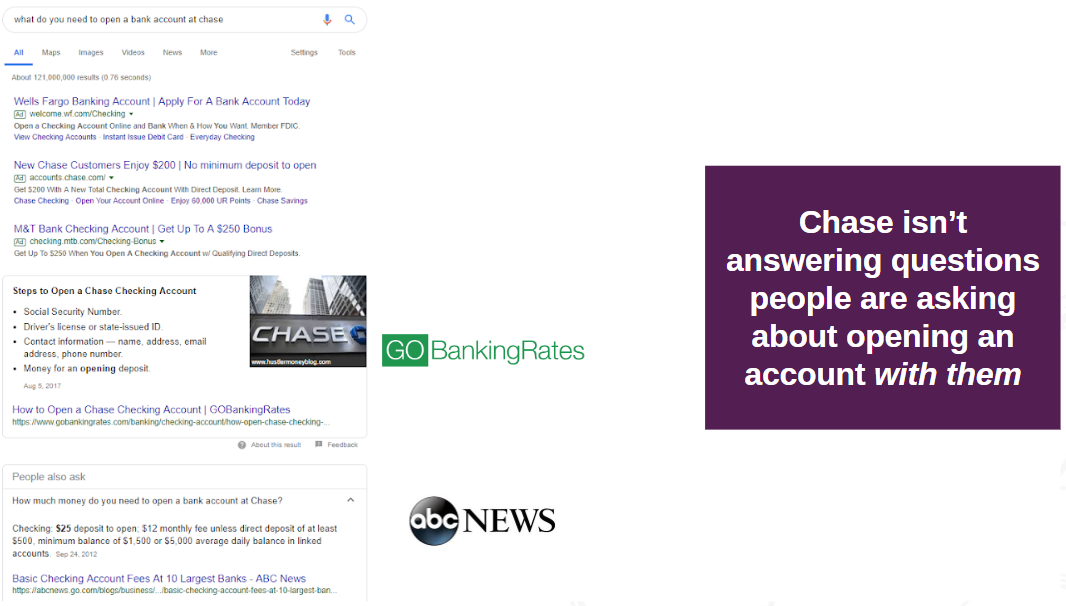 We can't emphasize enough the importance of leveraging ALL of your available data to create a competitive advantage. Not sure where to begin? Let's start small!
Ask yourself, "do we own our branded search features?"
In this example, Wells Fargo does not.
Instead, Nerd Wallet is answering the questions the customer is asking, therefore, Wells Fargo is missing out on hundreds of thousands of clicks, and oftentimes more importantly, valuable conversions.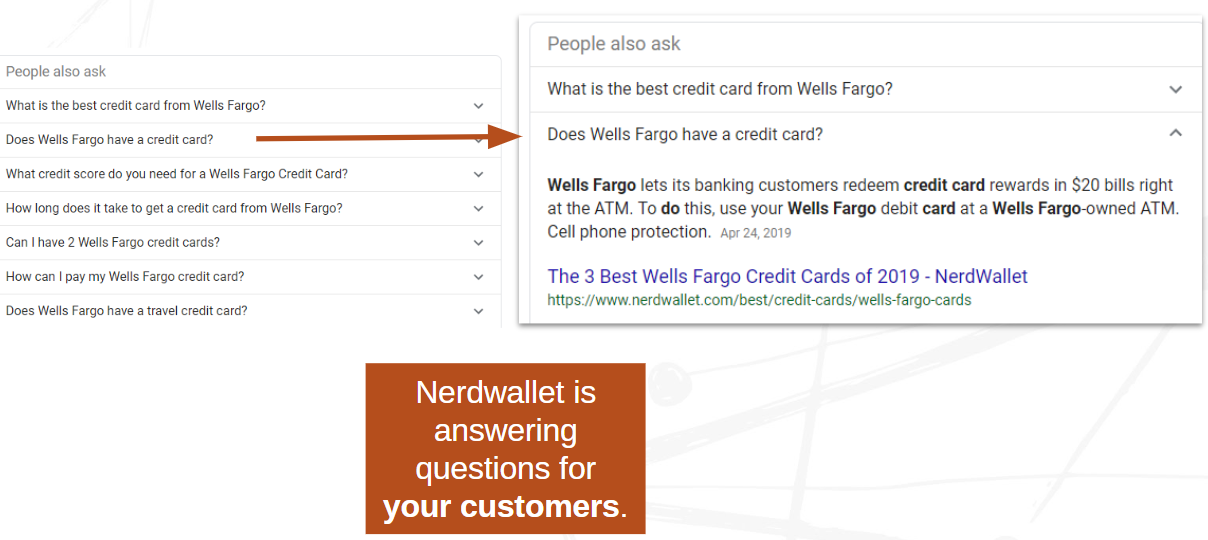 So, how do you avoid affiliates stealing your thunder? Jordan walks us through several ways you can leverage data to learn about your customer and from there, make strategic decisions to improve the user experience.
First, find out what else your customers ask
Next, use PPC & organic data to capture your most valuable questions
At Seer, we combine paid data from Google Ads with organic data from STAT and SEMrush into PowerBI. From here, we're able to bridge the data sets and manipulate as needed to visualize and analyze the data, allowing us to paint a picture for our clients and make sound, data-driven recommendations.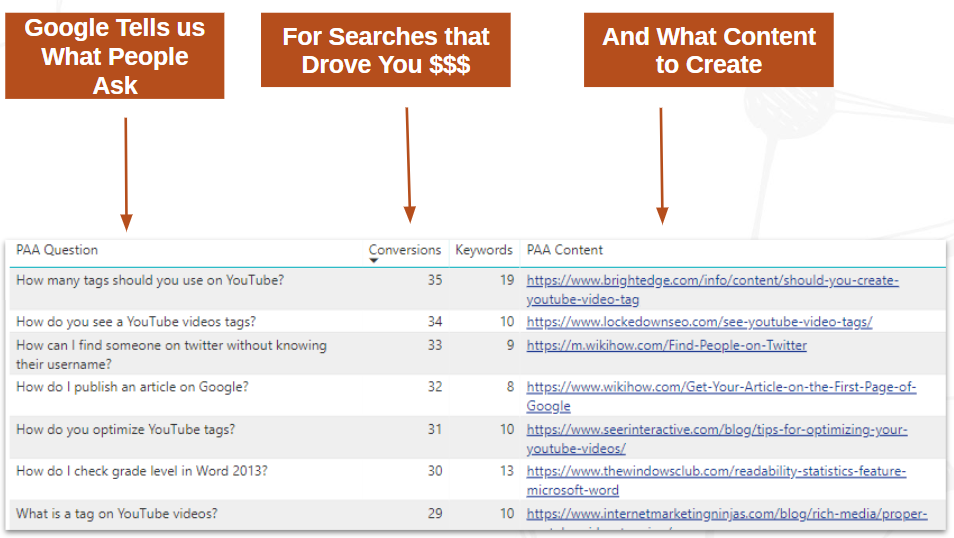 Also, use PPC & organic data to find converting keywords for any feature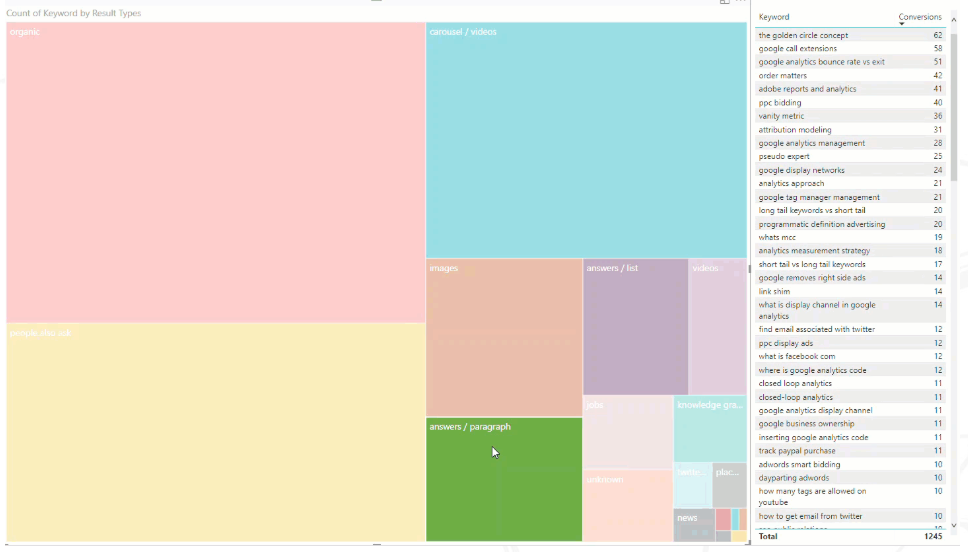 Be sure to watch the full webinar to learn more ways Jordan finds opportunity on the SERP.
We know this sounds like a lot of work, but don't fear, we have tons of resources to help you out! Our founder, Wil, has released a whole series on combining data sources and finding insights using PowerBI. We've also recently done another webinar on How to Prioritize Your SEO Work with PPC Data: Leveraging Big Data Tools.
Ok, but what happens if I read this recap but don't end up doing anything about it?
Let me tell you a quick story. Back in 2017, Wil saw a spike in searches for the search term "bank account." He wondered what caused it, and after doing some digging, discovered that rapper, 21 Savage, had recently released a music video for his song "Bank Account."
Turns out, several banks were paying to show up in ads triggered by these keywords. Unfortunately for them, the search result was a music video of a rap song, rather than information provided by financial institutions.
In 2019, almost three years after uncovering this, these banks are STILL paying to show for these terms.
It's been almost three years of banks spending money on this "bank account" search term. Don't be those banks! The data is at your fingertips. Don't ignore it for another few years.
You had questions, we had answers
Our attendees asked some great questions at the end of this webinar - check out Teresa and Jordan's answers to a few of their favorite questions below.
Are there any industries in addition to Finance where you see affiliates creeping into the SERP?
Insurance, cars, colleges - Any space that needs thoughtfulness behind the purchase of the product or service

People are looking for different types of insurance or the best deal for them
Outside of SEMrush and Moz, which tools did you use to complete this analysis?
Google Ads

Stat to collect organic ranking data for those search queries

Then, bridge those data sets together using PowerBI to visualize and analyze the data
What do you do to create content for areas of opportunity that you find while completing this analysis?
For branded searches, you should look at the exact question and do your best to answer that question. Google is finding other websites that are answering that question better than what's currently on your site

That way, you can ensure that your website is specifically answering those questions
With new songs constantly being released, how do you keep track of negating all the right terms?
When we're using rank tracking tools, we can see where different search features start to show up over time

You can dig into searches that are trending which will point you in the right direction to look in

Ex: Videos may be appearing more often than they used to. Rather than trying to negate all song titles, you can assume that those are music videos and then look into the music industry
To wrap it up...
Learn more about combining data sources and finding insights using PowerBI today. Run into any questions? Hit us up! We're more than happy to help ya out.
Be sure to sign up for our newsletter below to hear about upcoming webinars and events.
---