This is part 4 of 5 posts on how integrated teams can build killer assets for your eComm website.
Part 1: Prioritization Part 2: Audience Interviews Part 3: Design & Creation Part 4: Paid Social Part 5: Organic Promotion
-----
After you spent all the time creating a great piece of content, you want to make sure it gets in front of your target audience.
Before putting any dollars behind promoting your content, you should sit down with your team and plan out key considerations for promotion such as defining your audience, determining KPIs, setting a budget, and the duration of the project.
Determine goals
Your overarching goal determines what engine and ad type you should prioritize.
Want to get as many people to your site? Use a traffic campaign to drive as much traffic to your site as possible for users to download content guides there.
Want to ensure your guide is being viewed? Run a conversion campaign with standard event tracking set to record a download or click on the content guide as "the event." The campaign can then be optimized towards this event.
Want to get as many eyes on your content as possible? Build awareness. Tease it on social and create infographics with strong engagement potential directly on the engine.
From there, determine what success looks like for this campaign. Do you want 10K site visitors, 5K guide views ... what will make you sit back and feel good about this campaign when it ends?
Determine budget
In a perfect world, you would be able to always determine goals before defining the budget.
But, we know the real world exists and sometimes budget defines the goal. In either case, you want to establish realistic budgets to meet your goals and vice versa.
Is your content piece speaking to a wide range of consumers or are you trying to get a technical medical device guide in front of healthcare administrators?
In that second scenario, be prepared to spend more to get in front of the more niche target audience.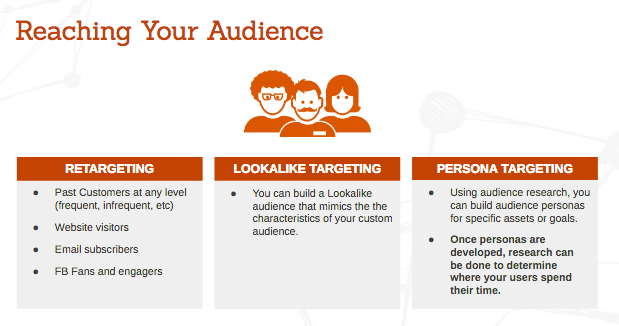 Content promotion duration
Using all the information you have at your disposal, it's important you set a campaign length that can help meet your goals. We recommend a three-week minimum as this allows times for your campaign to gather data for you to base optimizations and future strategy on.