On the heels of a NoFollow announcement from Google in late 2019, a core algorithm update in January, a major SERP change, and of course, the search landscape changing due to COVID-19, what's next for link building? Changing our perspective on how we build links should start to shift from creating context to generating revenue.
If you're paying for a link building agency you should start to ask what's the goal of building links?
Let's Take a Step Back
Traditionally, link builders, marketers, and business leaders have used links to help Google understand how our site is connected to other sites.
The more links, the more authoritative our site is.
And more links from authoritative sites, the more authoritative our site appears to Google.
Our tactics were focused to garner as many DoFollow links as possible to show the most equity, with NoFollow links as the ugly stepchild of the link-building family.
The Present
While DoFollow links are still a priority for link builders, now Google uses NoFollow links as 'hints' to understand the search ecosystem, forging a new way to approach link building. Google's algorithm is so good that providing context clues for location, topic, and industry is now somewhat antiquated.
The update has changed my focus and approach to NoFollow links, and link building in general, leading me to focus more on revenue from links in 2020 than building link equity signals for Google.
Where to Start
Looking at your referral traffic and identifying the types of sites that have brought you the most referral revenue to your site is a good place to start.

I would also suggest looking at year-over-year data to see which sources have brought you more or less revenue.
Assisted conversion data is another untapped goldmine. Set your lookback window to 90 days to get the most out of your data and select Source as your primary dimension.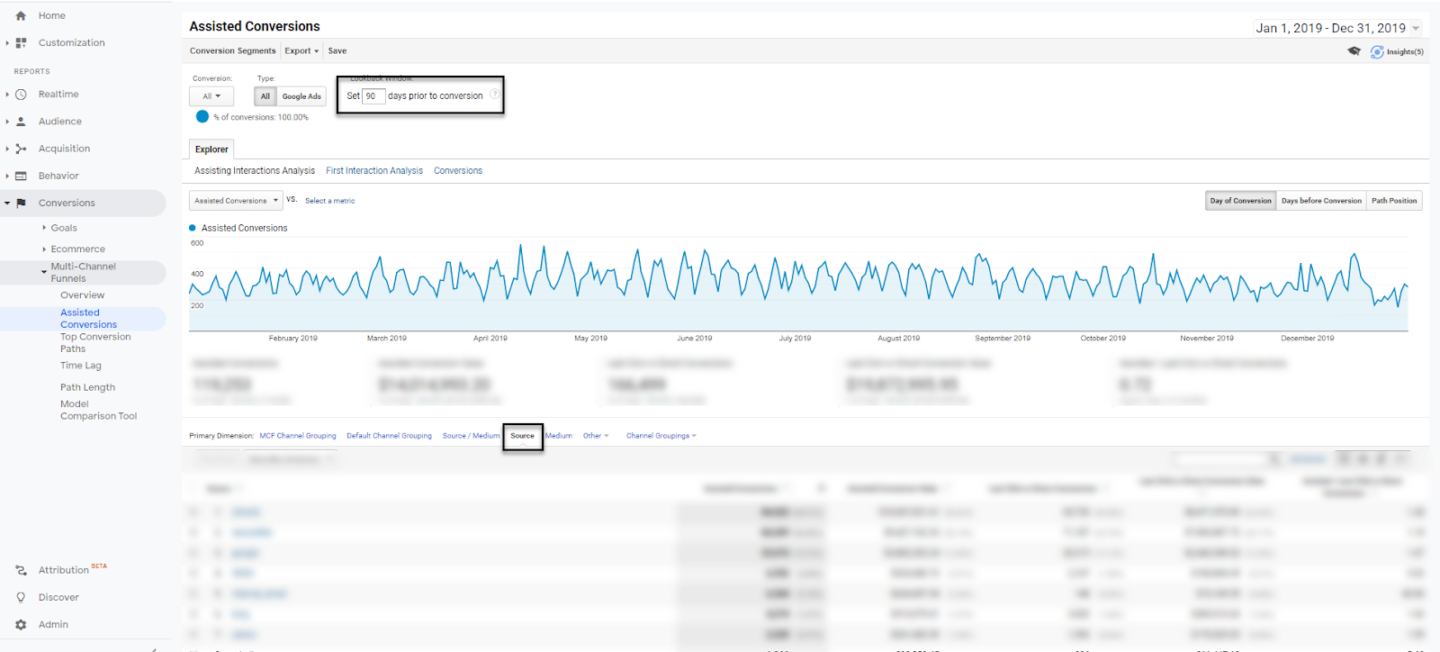 If your site doesn't have transaction data, look at goal completions followed by referral sessions.
The Moneymakers
When I group the sites that have sent the most referral revenue to my e-Commerce clients, I see two themes in source types: coupons and forums.
eCommerce: Coupons
For coupons, the strategy may take the form of military, student, or other discounts your client offers. Discounts like these get picked up naturally for listicle (sometimes annual or frequently-updated) posts.
At the very least, your client should have a coupon or discount page to set exceptions and the best way to save, like signing up for a newsletter. If your client doesn't do discounts, a page can say that too while also letting the customer know not to spend their time on sites like Retail Me Not.
eCommerce: Forums
Forums require a bit of finesse but are not impossible to infiltrate. Start by following subreddits particular to your industry. Here's a great tool that can help identify additional subreddits to follow.
Proceed to quietly stalk the forums to get a tone for the subreddit. You can also do a site search in Reddit and look to see where your client is naturally mentioned and respond.

Responding when mentioned in forums, such as Reddit, makes you look like an authority, not a marketer.
Lead Gen: News + Blogs + Local Organizations
For my lead gen sites, it's a bit different (but somewhat expected), with a healthy mix of news, blogs, and local organizations as the predominant conversion drivers.
On the topic of blogs, I've noticed that when my client is mentioned by a publication that's tangentially related (as opposed to directly related), we see more generated assisted conversions. SprakToro has a great Compare Audience feature where you can compare two audiences and export a list of sites where the two audiences overlap.

Local: Non-Profits
For the local play, I'll leave you with a feel-good favorite, partnering with local non-profits on annual races, galas, and any in-kind support you can offer.
With walks and annual galas, being linked as a sponsor could be a low effort/high reward if you've got the right goods. Sponsorship can be in the form of in-kind support, like loaning your truck fleet or drivers to help with operations.
The best part is that you'll have created an annual opportunity, and more importantly, a friend in the community.
The name of the linking game is changing thanks to Google's ever-evolving algorithm, but to stay ahead and win for your client or your own site, shift your focus to revenue for a foolproof plan.
Want more link-building tips? Subscribe to our blog!