Featured Snippet-Apocalypse: What Happened?
Could you hear it?
On January 22nd, 2020 at 4:30 pm SEOs around the world collectively groaned at the announcement that Google has begun to deduplicate results on Featured Snippet pages.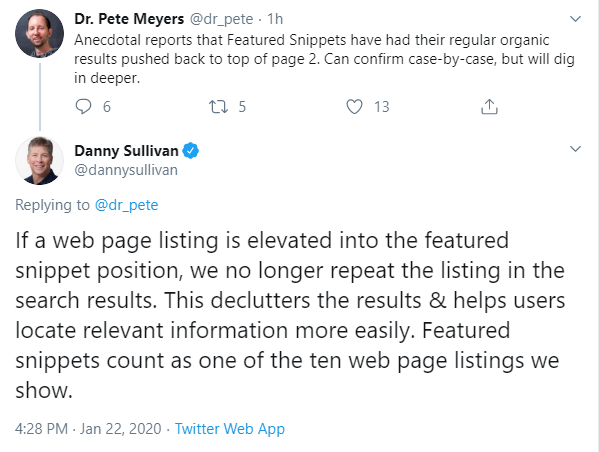 In other words, Google is now preventing URLs from appearing twice if they own the featured snippet. While Google has been testing this update since at least November 2019, this still caught a number of SEOs off guard.
Previously, a website could capture the featured snippet (position 0) as well as capture the first organic result (position 1.) With this update, there are no longer 11 ranking positions on page 1 (featured snippet + 10 blue links), as the snippet is now counted as one of the 10 organic listings.
Let's take a look at an example from the Seer blog and walk through how this update has changed search results.
Before: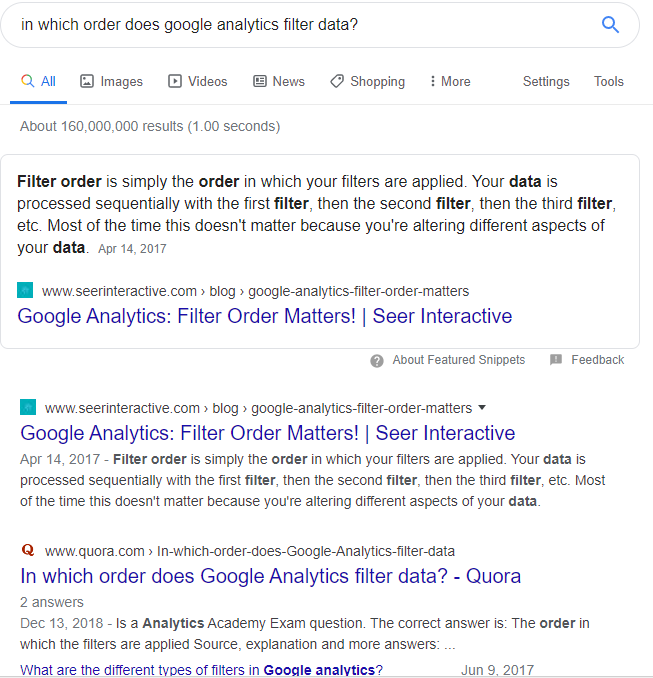 After: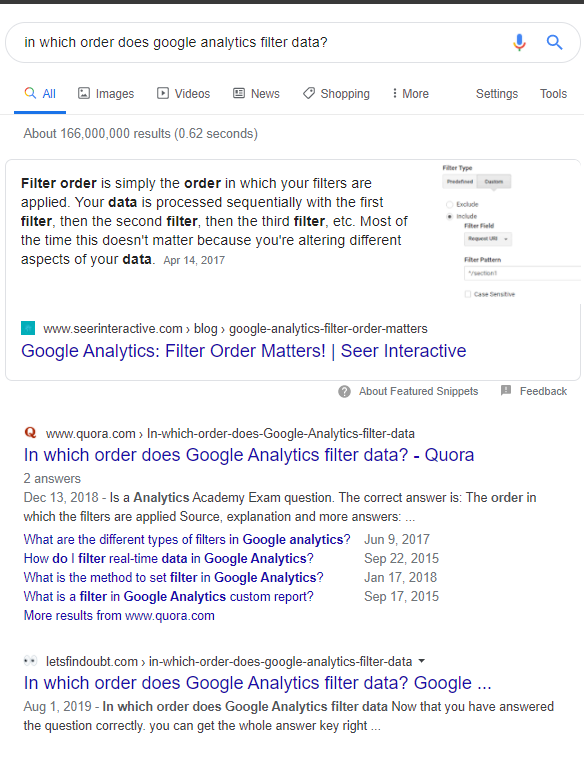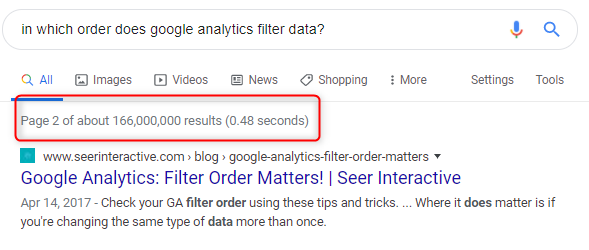 On January 22nd, the Seer Interactive blog ranked in both position 0 and position 1. On January 23rd, we still own the featured snippet, but our organic rank is now in position 11 and Quora has moved up to capture the new position 2.
At this particular time, it is unclear how this will affect traffic to our page, however, SEOs seem ready to believe that we'll see a lower CTR, despite having the most visible result on the page.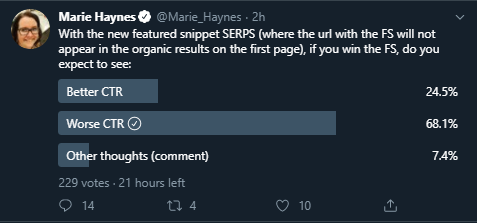 So What Else Do We Know?
As usual, the SEO-Twitter space has been lit up with questions and concerns about this change and the extent to which it will impact other elements of Google's search features. We've compiled some of the questions and responses from Danny Sullivan, Google's Search Liaison, here. Danny's responses are in italics below each question.
1. In the case of Featured Snippets with an image from a second URL, there is nothing to deduplicate
Jeff Flowers: "[...]What about a scenario where the text in a Featured Snippet comes from URL-01, but the image is from URL-02…..Will both URLs be removed from SERPs?"
Danny Sullivan: "Image didn't have a web search listing, so there's nothing to deduplicate"
Russ Jones: "Take this current example for "who is the smartest SEO in the world" which has a picture of Britney Muller but claims Tom Crewe is the smartest in the snippet. http://Adido-digital.co.uk, I imagine, would lose its regular position, but http://mozseoclass.com would retain ranking?"
Danny Sullivan: "When featured snippets show images from another site, those sites weren't in the web search results to begin with. So no change. That works independently of each other."
2. This will not apply to other elements of search
Jeff Flowers: "[...]Will this also apply to other Rich Results, such as image carousels, interesting finds, PAAs, etc?"
Danny Sullivan: "No"
Gennaro Cuofano: "Is this affecting also Knowledge Panels? Because for what I can see from this example, it does. Though it seems inconsistent to me to use the same approach for knowledge panels - on desktop results - where the position of the panel on the SERP is on the right side…"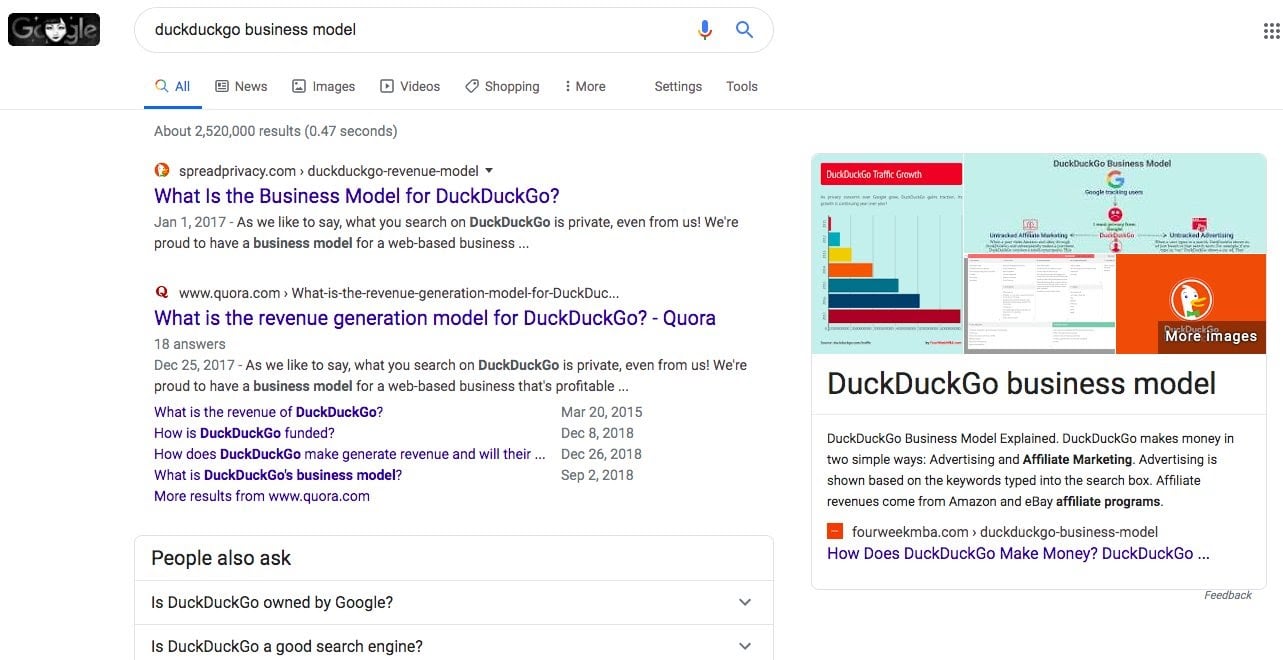 Danny Sullivan: "That's not a Knowledge Panel. It's a featured snippet-like variant. We are deduplicating there. On mobile, where most people search and these are inline, it especially makes sense."
3. There are only 10 net and unique listings in SERP results
Barry Loughran: "I get there are now 10 unique listings but net listings are down one, right?"
Danny Sullivan: "If there's a featured snippet, it was 11 net listings, 10 unique. Now it is 10 net and unique. If there wasn't a featured snippet, it was 10 net and unique listings. That's unchanged."
4. If you lose your featured snippet, you will likely remain at the top of the SERP
Alan Bleiweiss: "[...] Site X has FS. Organic for that page/query specific combo, disappears. What if they lose the FS? Will they instantly regain the previous high organic position for that page/phrase combo?"
Danny Sullivan: "I would expect so. To be a featured snippet, you had to rank in the top results. Then we elevated. And now we deduplicate. If you don't get featured, deduplication ends"
5. Deduplication only applies to the first page
Alan Bleiweiss: "2) In the example I found earlier, both had their organic on page 2. Except neither should have ANY organic in this new scenario."
Danny Sullivan: "Nothing I've shared says you can't have duplication happen beyond the first page of results. Deduplication is only about what happens on the first page. As things evolve, the whole "it's showing up on page two" might not happen. So I wouldn't say that's how it works."
Dustin Woodard: "Starting today, Featured Snippet URLs in #google #serps will only occupy one placement on page 1. A FS is now counted as position 1 of 10 & the non-featured snippet version will live in position #11 (page 2). Is my graphic accurate?"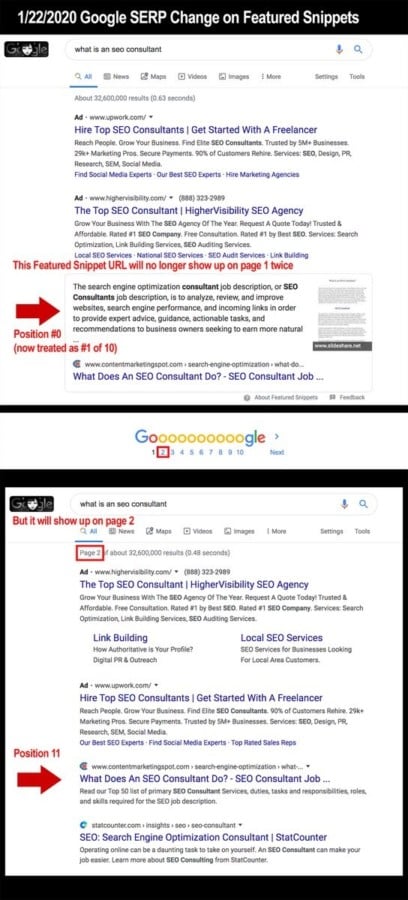 Danny Sullivan: "No, it is not. We are simply deduplicating on the first page of results. There's no guarantee that the listing will then show up on the second page in position "11" or any spot like that. We haven't said that. It might happen. Might not."
6. Deduplication applies to SERPs with two featured snippets as well
Danny Goodwin: "Not sure if it's already been asked but what if there are 2 Featured Snippets? Do both sites go to Page 2? How would Position 11 vs. Position 12 be determined?"
Danny Sullivan: "Deduplicate both. The whole page two stuff, by the way, people shouldn't get hung up on. It's about deduplicating on the first page. It's not always guaranteed the URL will somehow come back up on the second page."
What Can We Do About Featured Snippets?
First, you'll want to identify which pages on your site currently trigger featured snippets. At Seer, we love using STAT to quickly create a dynamic tag to track the keywords triggering snippets. This allows us to then dig into the impact on rankings for those terms using Google Search Console and Google Analytics.
Once we've identified which keywords and pages are triggering snippets, we're able to dig in to see whether or not remaining in the featured snippet - and losing the additional page 1 organic listing - is actually valuable for the site. Stay tuned for a follow up as we review the impact of this update.
Use NoSnippet Tags to Opt-Out of Featured Snippet Rankings
As featured snippets are typically served for informational queries, and can result in a lower click-through rate, you may find that you no longer want your website to appear here. Fortunately, Google has released a NoSnippet tag that will prevent your page from being served in the snippet. Using the nosnippet tag will block all snippet rankings (featured and regular) from picking up your tagged pages.
You can also use the data-nosnippet tag to prevent specific text from appearing in featured snippets. This allows SEOs to control the specific information being pulled into snippets and served by Google.
If you're not a fan of the particular content being pulled into the snippet for your page, you can use the data-nosnippet tag to exclude certain sections of text from being shown in the snippet. Note that if you use these two tags in conjunction, the nosnippet tag will take priority and no snippets will be shown at all for your page.
Now, another important thing to point out is that these nosnippet tags apply to all snippets. If we want to prevent our site from appearing only in featured snippets, but retain all others, we can use the max-snippet tag to lower lengths. So, if you want a page to opt out of featured snippets, then use max-snippet. But if you want your site to opt out of all snippets, then nosnippet is the way to go.
Use FAQ Schema to Provide Value
Fortunately, opting out isn't the only way to further capture clicks from SERPS. Claire Carilie points out that although you may have lost out on the informational featured snippet, you can still use FAQ schema to provide value to users.
For websites that are now ranking in the new position 2, below the featured snippet, this can be a great way to further distinguish your page from the snippet, and ideally a way to capture that click from users. In some instances, using FAQ schema in a position 2 result may provide even more relevant information to searchers than a featured snippet might, as you can write the exact answer that will appear in the schema.
So Wait, How Did We Get Here?
If we take a step back and look at Google's shifts over the last few months, this update seems logical, but there are a few things to keep in mind.
First, Google has actively been shifting from providing results to providing answers that solve a user's problem. You can even see this within their mission statement:

So how are they organizing the world's information in a universally-accessible and useful way? At this point it should be obvious: through featured snippets. This helps to explain why we've seen such a dramatic increase in results triggering featured snippets.
The next question to ask is, how is Google ensuring they're providing useful (or accurate) information to users? Since August 1st, 2018, Google has steadily rolled out Broad Core Algorithm Updates that are largely centered around reducing the visibility of low-quality or irrelevant content and rewarding articles that accurately answer user questions. In other words, Google has been visibly working to provide users with the best piece of content to answer their query for years now. This is also seen through the rise of E-A-T.
So how did we get to today?
We've already gone through one Diversity update in July 2019, which was intended to provide more answers from more domains in search results. We consider this update to be the natural evolution of the diversity update (Diversity 2.0, anyone?), as the whole goal behind this is to, in Danny Sullivan's words, "declutter the results & help users locate relevant information more easily."

OK, That Was a Lot. What's the TL:DR?
A page that captures the featured snippet will no longer have the ability to also rank elsewhere on page 1
Deduplication does not happen for video featured snippets, top stories, interesting finds, people also ask boxes, and other SERP features
There are no longer 11 organic results on a SERP that contains a featured snippet
There is no more "position 0", only position 1, which now includes featured snippets
A page that captures the featured snippet may still share that snippet with an image from the same page
There is a chance, but no guarantee, that your featured snippet URL will rank on page 2 of search results
Google has already released tools to help control or indicate which URL should or should not be served in a featured snippet, as well as what specific content should be served
For more information, we highly recommend following this thread from Google's Search Liaison Danny Sullivan.
Additional Resources:
Search Engine Round Table - Google Now Drops A Site's Normal Snippet When Featured Snippet is Displayed
Search Engine Journal - Google: Webpages with Featured Snippets Won't Appear Twice on Page 1
Don't Miss Another Update
You may be sad to say goodbye to your page 1 double real estate on Google, but you'll be happy when you sign up for updates from Seer! Sign up for our newsletter to stay up to date on the latest news in search.