The Efficiency Gods Have Spoken
2020 was a big year for LinkedIn in terms of product updates. We were introduced to conversation ads and continued improvements in the platforms remarketing capabilities across video and lead gen forms.
But this product update is one we've all been waiting for.
LinkedIn has officially started rolling out bulk actions to ~50% of all advertiser accounts. If you were one of the lucky ones, you've already had the pleasure of leveraging this feature. If you're not seeing this pop up yet, don't you worry. LinkedIn expects a 100% rollout will happen near the end of the month.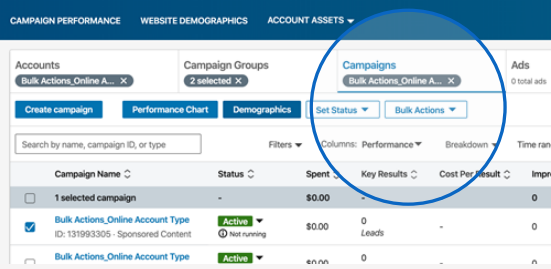 Read along as we dive into tips and tricks about the new feature and how to use it!
Use Cases & Limitations
Save time with this feature by:
Duplicating a large number of campaigns
Creating campaigns "shells" to attach ads to later
Edit budget and schedule across a large number of campaigns
The current limitations we're working with include:
No ad-level creating/editing, and bulk actions is only available in the "Campaigns" tab
Cannot refine targeting:

This means that you cannot delete or add individual targeting facets.
You can, however, copy and paste whole audiences from another campaign or saved audience.

Campaign Manager IU limitations apply:

You cannot change objectives, ad formats and profile language to non-draft campaigns
You must use the combination of objectives, formats, optimization goals, and bid types allowed by Campaign Manager UI. See the full list of dependencies below: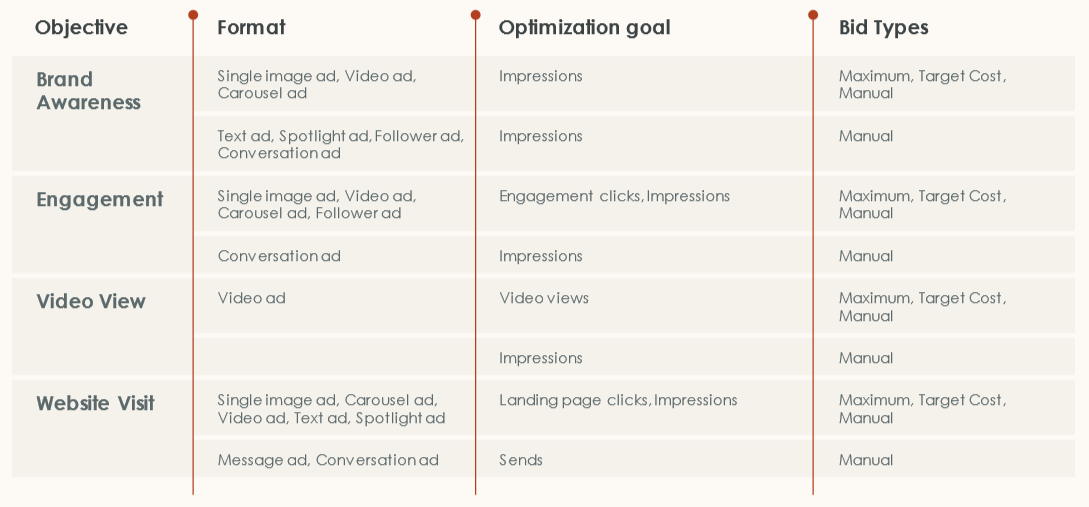 (Souce: LinkedIn)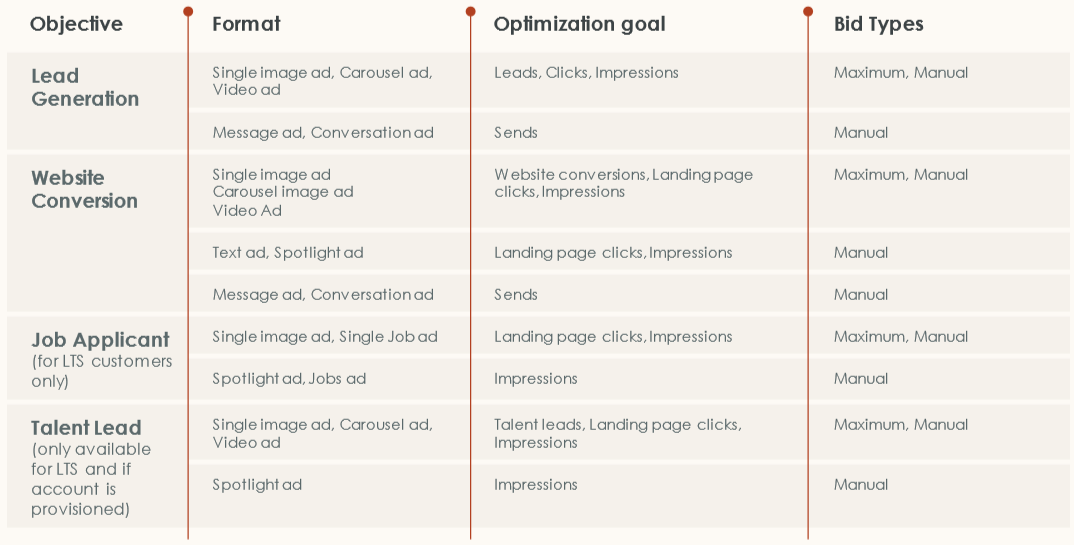 (Souce: LinkedIn)
Limited Campaign Group functionality:

You cannot create new campaign groups or edit campaign group budget, schedule, or status
Available 5 Functions
Export All: This feature exports all campaigns in an account or campaign group as a CSV file in order to edit and duplicate campaigns.
Export selection: This feature exports only the selected campaigns in your account or campaign group.
Import file: Upload the CSV curated to your new campaign shell to Campaign Manager for processing.
💡 Pro Tip: Be sure to import from the account where you want the changes to be made.
Download template: Use this feature to download the CSV template in order to start a new campaign shell. You'll need to fill in all of the required fields and then re-import.
View import history: This feature shows the progress of current and past imports.
Click on the "three dots" next to "import" to download the errors in your bulk upload file
LinkedIn Tips for Using the CSV Bulk File
When downloading the CSV file, it's recommended that you expand the columns to see the instructions in row 4. Row 4 will be your guiding light, offering you information about the available values for each column.
But how do I know if a field is required or not?
Look for the *asterisk on the column headings, which will indicate to you whether or not a field is required for the bulk upload feature. It's important to note that some fields are read-only, while others are editable.
But don't worry, when you download a net new CSV template, you'll be reminded of these functionalities in the first 3 rows:

It's recommended that you also start with an exported campaign as a template when creating new campaigns. You can download a campaign with similar targeting to help guide you, meaning less room for error.
Remember to delete old campaign IDs and leave the column blank so the UI knows to create a new campaign.
In order to copy and paste an audience from an existing campaign you can utilize the audience string exported from an existing campaign. Make sure to copy and paste the entire cell exactly as exported to ensure the targeting imports without errors.

Source: LinkedIn
Audience strings can be copied across accounts and between users!
If you're wanting to use a saved audience, utilize the audience template ID associated with the saved audience. See the steps on how to find the template ID for your saved audience below:

(Source: LinkedIn)
There you have it folks, a quick and painless way to create new campaigns on LinkedIn. Give it a go and see how you like it.
With this being the first introduction to this new feature, there are bound to be updates as users begin to utilize it. We want to hear your questions and thoughts on it, so drop us a comment below to continue the discussion, and remember to stick around by signing up for the Seer newsletter!