Approximately 93% of online searches begin with a search engine.
(Source).
Let that sink in for a second.
With more consumers than ever turning to the internet to solve their problems:
It is mission critical to understand what SEO is and how it works to ensure you (& your clients!) are successful in navigating the web's most popular search engines, namely Google.
---
What is Search Engine Optimization or SEO?
The practice of improving the content, user experience, and technical crawlability of websites to result in higher visibility in natural search…
OK, but what does that mean?
Providing the best answers to the questions your audience is asking and the most relevant information they are seeking.
And how does Google actually work?
The short answer:
Google discovers and stores your content

Google understands your content

Google ranks your content
The long(er) answer:
Google and other search engines have created algorithms that evaluate over 300+ ranking factors to understand which sites will provide the best answer for a user's query.
The mission of these search engines is to provide users with the most relevant and high quality information possible.

The Google algorithm can change up to

600 times per year

.
The search landscape is ever changing, but there are 5 tips that are important to use as a north star no matter the chaos from the most recent Google Algorithm update.
1. Understand Your Audience's User Intent
It's no secret that businesses are in fierce competition for the number one position in the search results. An astounding 71% of consumers never scroll past page one during their search journey, and that number is growing every day. Recent Spark Toro research has also revealed that the number of zero click searches is creeping upwards of 50%.
How can your website compete with the estimated 644 million other sites vying for one of the 10 lucrative spots on page one? It's simple: create content with your audience first.
Customers are using Google to search for a solution to their needs. As a practitioner of SEO, it's important that we understand who we are talking to and what they are looking for through the different phases of their purchase journey.
Through analyzing search trends, businesses can:
Create content that solves user needs

Encourages sharing with others

Inform purchase decisions

Exhibit authority
2. Assess the Competitive Landscape
Once you understand user intent, you can work towards identifying who your competition is from a search perspective, as your offline business competitors are not necessarily your competition online.
Gone are the days of manually combining through search results and five of your closest competitors, utilize big data to understand how the competitive landscape affects your business and your ability to capture that valuable page one real estate.
Analyzing where competitors own the search space and identifying opportunities to gain market share in the industry are critical to understanding how to grow your business through search.
Learn more about how Seer is utilizing big data to gain actionable insights for our clients here!
3. Use Contextual Relevance to Develop Your Content Strategy
Search engines scan content on a site to see if it's relevant to what a user is searching for.
How Do You Optimize a Website for SEO?
Break your content opportunities into two buckets:
Existing Content:

What's already on my site, and does it match what the target audience is searching for?

New Content:

What's not yet on my site, but should be because the target audience is searching for it?
Think back to the conversion funnel: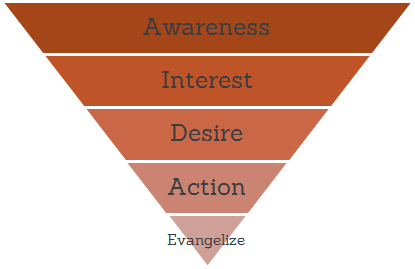 Content should be created inline with a purpose for each stage of the consumer journey.
Awareness:

Create educational information for potential purchasers

Interest:

Be present for prospective purchasers

Desire:

Drive engagement & interaction

Action:

Drive leads and conversions

Evangelize:

Create lifelong advocates
Once you've determined what content to create to cater to each stage of the funnel, don't forget the basics!
Conduct keyword research using tools like Keyword Planner, semRush, or aHrefs to optimize your content!

Create keyword rich (but not stuffed!) URL, Title, Meta Description, and Header recommendations
*Reminder: Just because keywords are high in monthly search volume, doesn't mean they will result in more conversions! Studies show that keywords that are considered "long tail" are more likely to drive goal completions!
And now that you've hit publish, how long until your content is indexed?
It's important to remember that there is no set time for content to index, all websites and industries are different. A good rule of thumb is to expect to start seeing results in 4 - 6 months. The longer content is up on your site, the more time it has to gain value (evergreen content vs. seasonal / temporary content)
Keep in mind that SEO is a marathon, not a sprint!
4. Create an Engaging User Experience
Search engines rely on usability data to understand the quality of the content users are being served.
Search engines also monitor how people interact with sites and pages in order to rank content that provides users with the best answer to what they searched for.
The journey goes a little something like this:
A consumer searches for an answer to their query

A consumer clicks on the search result

A poor user experience causes the user to leave the page and look for a better answer elsewhere

Google bot realizes that consumers aren't finding what they need by clicking on that result and begin ranking that site lower for that query
5. Ensure Your Site is Accessible
Getting into more technical but important SEO concepts: site accessibility. Search engines must be able to access, crawl, read, and index the site's pages, otherwise all of your hard work will never have a chance to reach your audience.
In order to rank, Google needs to find and understand your site. In order for Google to find, understand, and rank your site, make your site accessible by:
Provide information that answers consumers questions and other sites will want to link to

The greater number of sites that link to yours, the greater visibility your brand will have

Build a site with a navigation and structure that makes sense to both consumers and Google

Make sure your site has a good bill of health and is technically sound, check site speed, proper URL structure, duplicate meta data, errors and crawl issues.
---
Learn more about SEO best practices and let us know what you're currently learning about SEO in the comments below.