What is Performance Max (PMAX)?
Google recently made their once Beta campaign type now accessible to all advertisers. The ever-improving and always automating king of Search declares Performance Max campaigns "a new way to serve Google ads across YouTube, Display, Search, Discover, Gmail and Maps from a single campaign. They complement your keyword-based Search campaigns to help you grow performance across Google's full range of advertising channels and inventory."
We've found this to be true in our first rounds of testing at Seer - Performance Max has consistently helped our account teams scale lead volume while maintaining a relatively efficient CPL.
Of course, it's a newer product and there are still some gaps in capabilities, which we've listed from our experience below. As all experienced advertisers know, there is more to campaign success than solely lead volume and CPLs, such as lead quality, ROAS, and user engagement. With that said we wanted to provide our fellow PPCers with the results we've seen so far, as well as our learnings up to this point. Performance Max and campaigns like it are the future of PPC, so let's embrace this thing and find ways to make it better and work for our clients!
How to Set Up a Successful PMAX Campaign
Similar to any other Google Ads campaign, you'll choose an objective (Sales, Leads, Website Traffic, etc), then set the daily budget and bidding.
We highly recommend leveraging Conversion Values if possible, and Google does too! We've seen lead quality improve through this optimization.
Once location and languages are determined, you'll get into some of the more nuanced settings, such as:
Ad Scheduling

Final URL Expansion

Campaign URL Options
Start by turning URL Expansion off, or at the very least negate any irrelevant pages from your client's site that you don't want showing. Google will replace your given URL with one it deems appropriate if this setting is on. It's definitely worth testing but with caution! Either by negating pages you don't want seen, or by monitoring closely.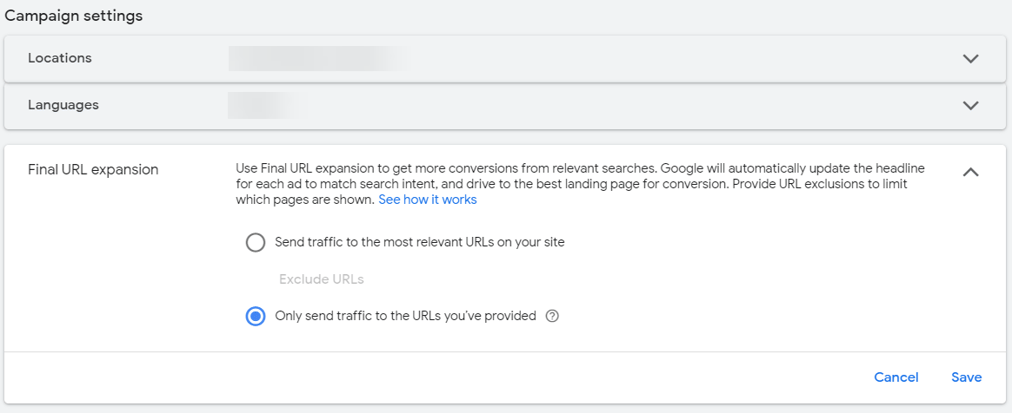 The asset groups are similar to Discovery or even Smart Display in that you feed the engine several assets for it to optimize with.
You'll create just one asset group upon initial setup and then can duplicate that to create more after the fact. These assets will be automatically combined into relevant formats to serve across YouTube, Display, Search, Discover, and Gmail. Google recommends keeping an asset group all a single theme or audience.
Up to 20 images

Up to 5 logos

Up to 5 videos

Be sure to upload a video or Google will auto-generate one for you using the other creatives you provided! Again, something that might be worth testing with a close eye.

Up to 5 headlines (30 characters)

Up to 5 long headlines (90 characters)

1 short description (60 characters)

Up to 4 descriptions (90 characters)

CTA

Ad URL options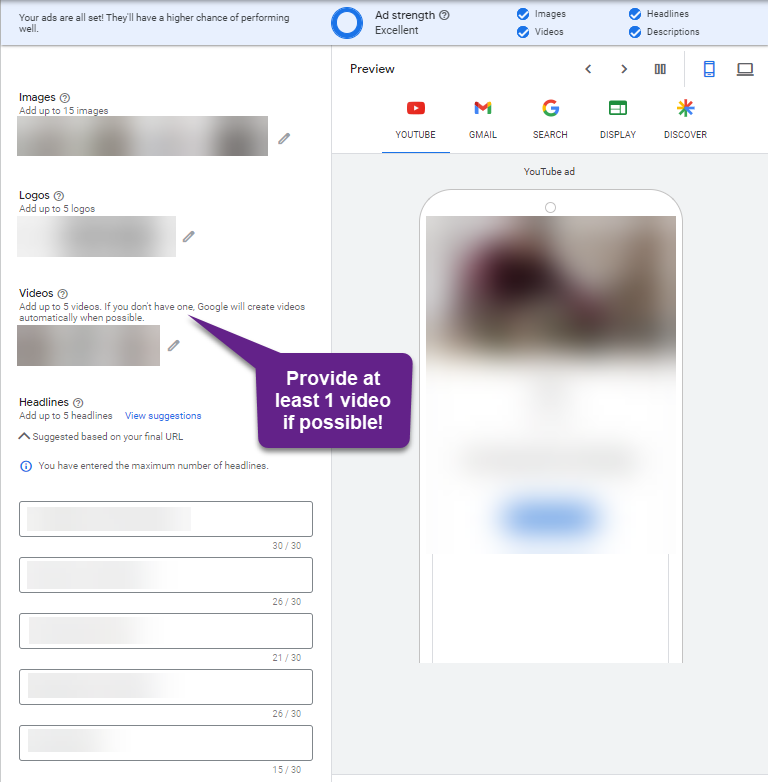 Another nuance to Performance Max is that it uses audience signals (essentially audience suggestions to Google) that allow the automation to optimize for the previously selected goal.
This is a totally optional step although it aids the machine learning and improves performance, so we recommend it! You can always go back in and add or update later, this isn't a one-and-done feature.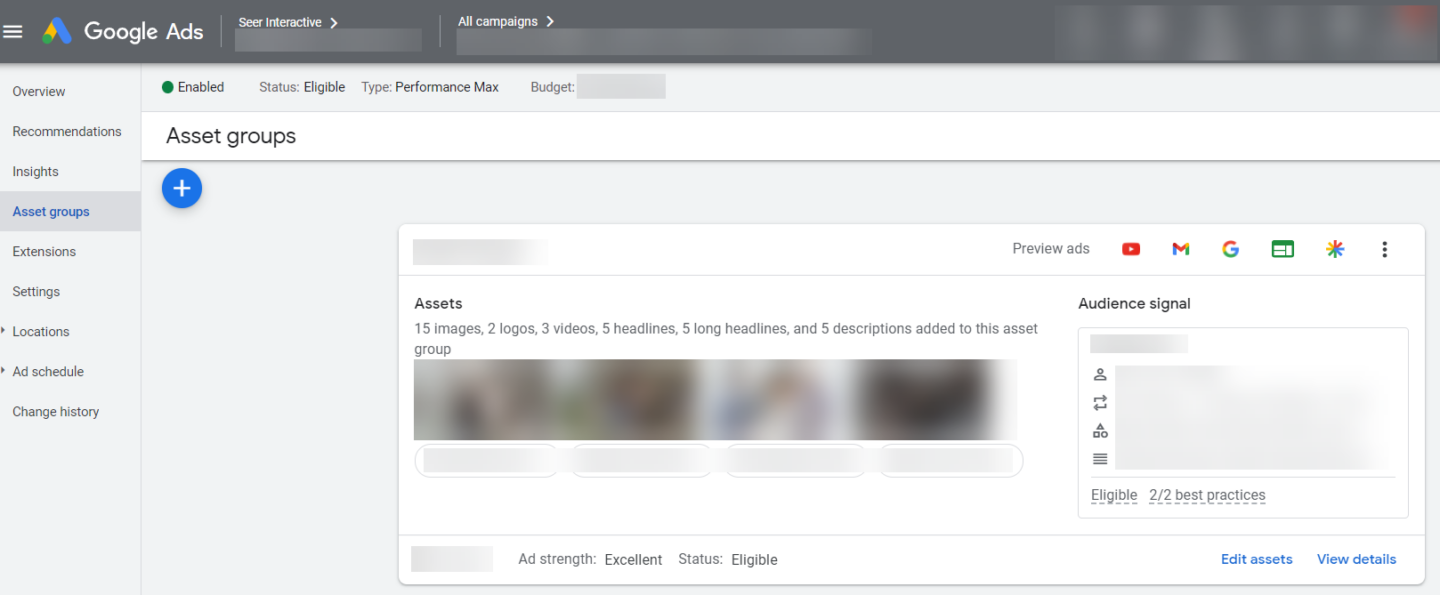 Once targeting is taken care of, you'll wrap this build-up by incorporating any relevant extensions: locations, prices, callouts, and more.
Scale Leads Effectively, But Sometimes Without Quality (For Now)
Since launching in December of 2021, PMAX has driven +107% more leads at a -55% lower CPL than our Discovery campaigns in the same timeframe for this particular client.
CVR was also +275% higher (both below 1% CVR, so take that with a grain of salt)! We're #blessed to have access to this client's Salesforce data (we're able to regularly compare engine performance to back-end data).
It's that data that tells the real story here… the high funnel nature of this new campaign type enables leads to come flooding in. When looking at the quality of those leads, however, we saw that PMAX had a significantly lower CVR than Discovery (and all of our other tactics for that matter).
Since switching its bid strategy to Bid to Conversion Value, this campaign's CTR has increased +173%, engine CVR increased +71%, and CPL improved slightly. We're also seeing back-end quality consistently improve! We've been successful in slowing that influx of engine leads and are consistently improving quality through optimizations like applying negative keywords, leveraging Value-Based Bidding, and continuously swapping creative assets.
If you're already incorporating sales data into your Google Ads account, definitely bid to a conversion value to add a level of control, and feed the algorithms as much as possible.
Similar to Discovery, We haven't yet been able to identify a trend in why most assets are ranked "Best" vs. "Good" vs. "Poor" with the exception being Video. Our Video assets are consistently top performers.
We advise always launching with at least one video asset. If you don't, the engine will create one for you.
We recently launched a landing page test between three pages with the intention of improving overall lead quality. It's a simple dupe of an asset grouping to launch a test like this, so we recommend it as a way to find a more qualified audience.
Google automatically launches with a setting called "Final URL Expansion" flipped on. This means the engine will direct traffic to whichever page it deems relevant.
It's ok to test Final URL Expansion, but we recommend excluding any pages that might not align with your campaign's messaging.
What You Should Do Now
Starting in April, existing Smart Shopping and Local campaigns can be upgraded to Performance Max to access additional inventory and formats across YouTube, Search text ads and Discover. Then in July, any remaining Smart Shopping and Local campaigns will be automatically updated to Performance Max by Google.
There is a whole slew of benefits that come with Performance Max, including but not limited to unlocking new audiences across networks, steering automation with campaign inputs, and simplifying campaign management.
While it's still a relatively new capability and improvements are happening every day, we encourage you to test this campaign type where relevant and see what you find!
---
Sign up for our newsletter for more PPC posts like this: