You might have seen a recommendation in your Optimization Score Recommendations tab for "Implement Smart Display campaigns." If you felt your eyes crossed at yet another "smart" option, don't worry - we'll walk you through Smart Display from Z to A. After this walk-through, you'll have the knowledge to test this campaign type from every angle.
What is a Smart Display campaign?
Smart display campaigns allow you to show ads in a variety of formats across Google's Display Network. Due to the ads' responsive nature, they allow advertisers to reach a variety of audiences and goals without having to create assets, targeting options, or bid strategies, for each unique group.
In a traditional display campaign, the advertiser must provide the engine with assets in each ad format and size that they want to be eligible for in the auction. Smart Display, however, leverages Dynamic ad creation to combine the ad components that the manager provides.
Smart Display means less time creating assets, and less time testing asset combinations, as Google will automatically test and optimize ad format for you.
When Should You Use Smart Display campaigns?
If you want to broaden your customer base and increase general brand awareness. Smart Display campaigns help you reach people at all stages in the buying cycle (from "interested in" to "ready to buy") and especially those that are more likely to convert.

These campaigns go beyond basic remarketing display campaigns to help you capture searchers a lot earlier in the buying process.

If you want to quickly set up and optimize campaigns. Save you and your team's valuable time and resources by streamlining ad management.

After you upload the basic asset requirements, the system will handle asset creation and optimization testing by automatically resizing images and creating multiple ad combinations based on the copy and images that you provide.

If you want to test different ad creatives and determine which combination of assets is the most effective.

These campaigns ultimately streamline ad testing, yes, but they also provide transparent feedback on ad performance over time. This means you can track exactly what is working and use those results to inform future asset design and creation.
Smart Display Targeting Options
Smart Display ads use automated targeting and are incompatible with audience & user list targeting, meaning you are not able to control what audiences, websites, or placements your ads are being shown on.
Automated targeting uses performance data to drive conversions with a combination of 2 targeting methods:
Automatic Remarketing - Automatically includes anyone who has previously visited your website
Automatic Targeting - Catches customers mid-funnel by identifying the best targeting to reach your most likely customers
Although not having the control over your audiences may sound scary, you have the option to manage where your ads do not show with:

Bidding Strategies Available
Because Smart Display ads are conversion-focused ads, they leverage the following automated strategies:
Target CPA
Max Conv.
Target ROAS
These strategies (when used appropriately) will optimize your smart campaign in a way that prioritizes auctions most likely to meet your specific conversion, CPA, and ROAS targets. An additional strategy for eligible campaigns that use tCPA is Pay for Conversions.
If you are feeling or receiving some hesitation on smart bidding, check out Taking Smart Risks on Automated Bidding.
Asset Requirements for a Successful Campaign
The assets needed for Smart display mirror those of Responsive Display Ads.
Images Assets (Required)

Min: 2 Images (1 Landscape & 1 Square)
Max: 15 Images & 5 Logos

At least 1 Landscape image (ratio of 1.91:1 and be greater than 600 x 314. and a square image (image should be greater than 300 x 300).

Images must be less than 5 MBs

Logos are optional that must be square (1:1) with the specs of 128 x 128 or greater in size.
Some additional functionalities that the setup offers are automatically scanning the URL and or manually uploading it.

Video Assets (Optional)

Minimum Requirements: Optional
Available Options: Up to 5 videos

Videos can be imported manually and/or synced with the connected YouTube account.

Text Assets (Required)

Min: 1 Headline, 1 Description
Available Options: Up to 5 headlines, 1 long headline, 5 descriptions lines, 1 Business name
How to Set Up Your Smart Display Campaign
Once you're in the Google Ads interface, navigate to the Display Campaigns section on the left-hand side,
Click on the blue circular button and select "+ New Campaign",
Select the goal that best aligns with your campaign goal,
Options: Sales, Leads, Website Traffic, Product & Brand Consideration Brand Awareness & Reach, App Promotion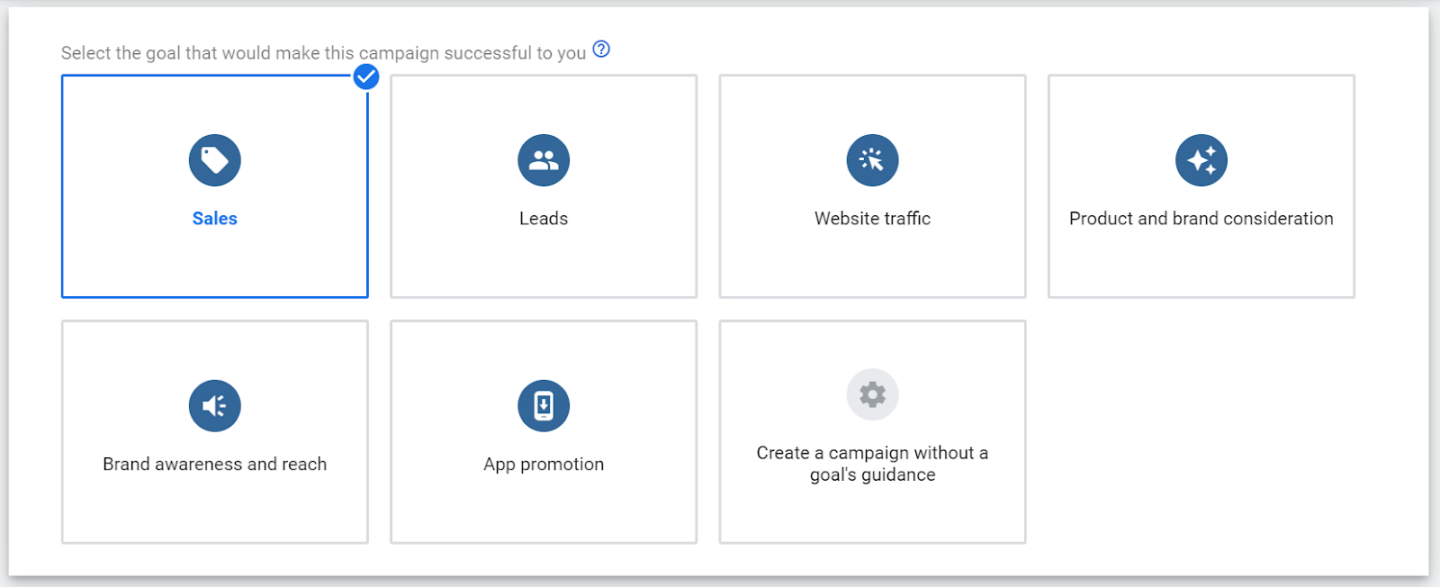 Select "Display" from the list of campaign type options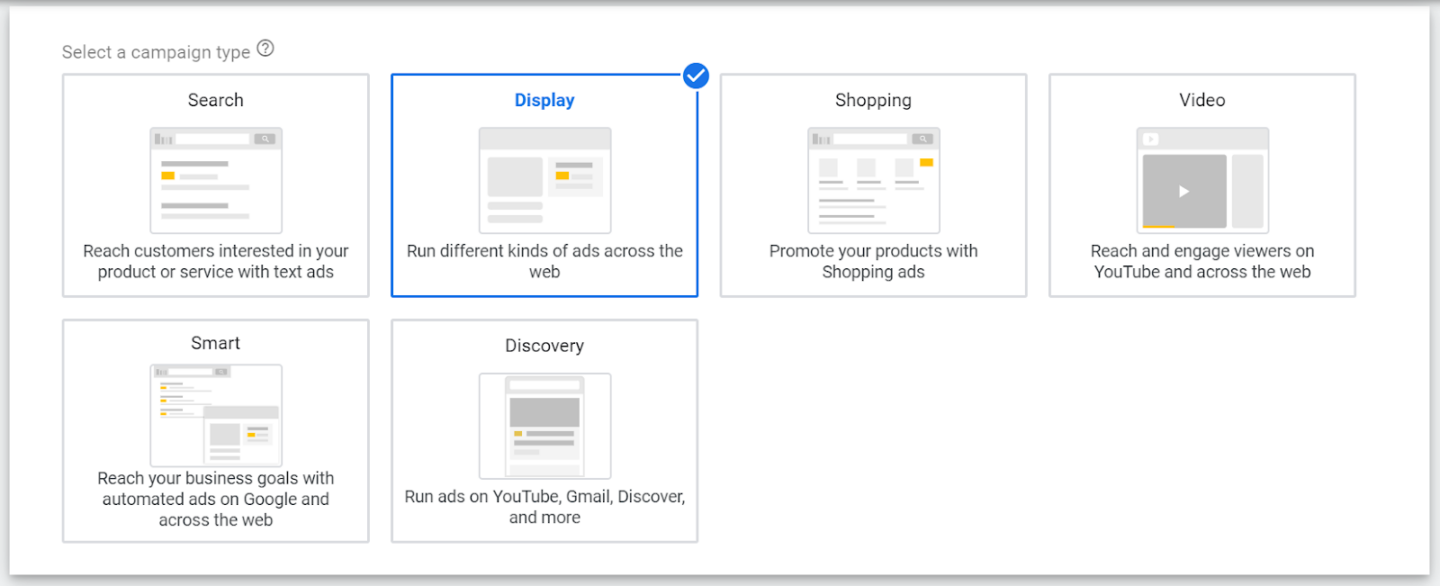 Choose "Smart Display Campaign" as the campaign subtype > enter your business's website URL in the last field and click "continue" > input your campaign name.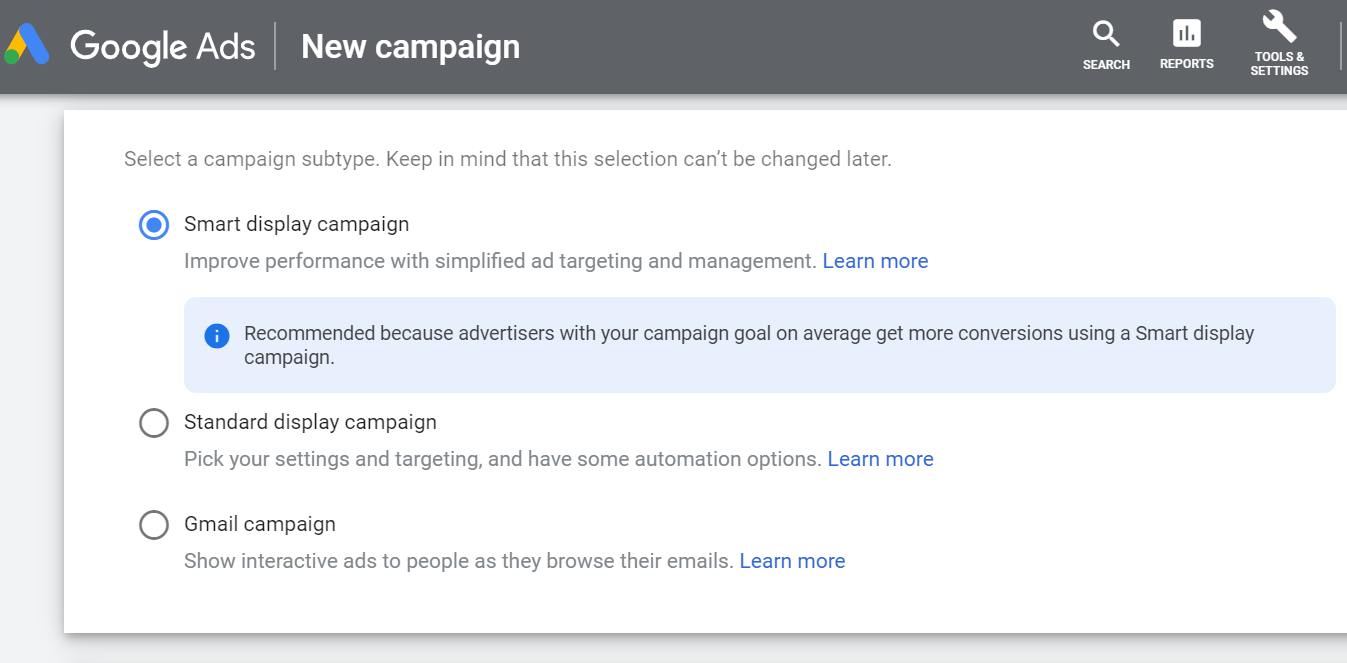 Enter the locations you wish to target and exclude, then open the "location options" to choose your targeting method and exclusion method, language, etc.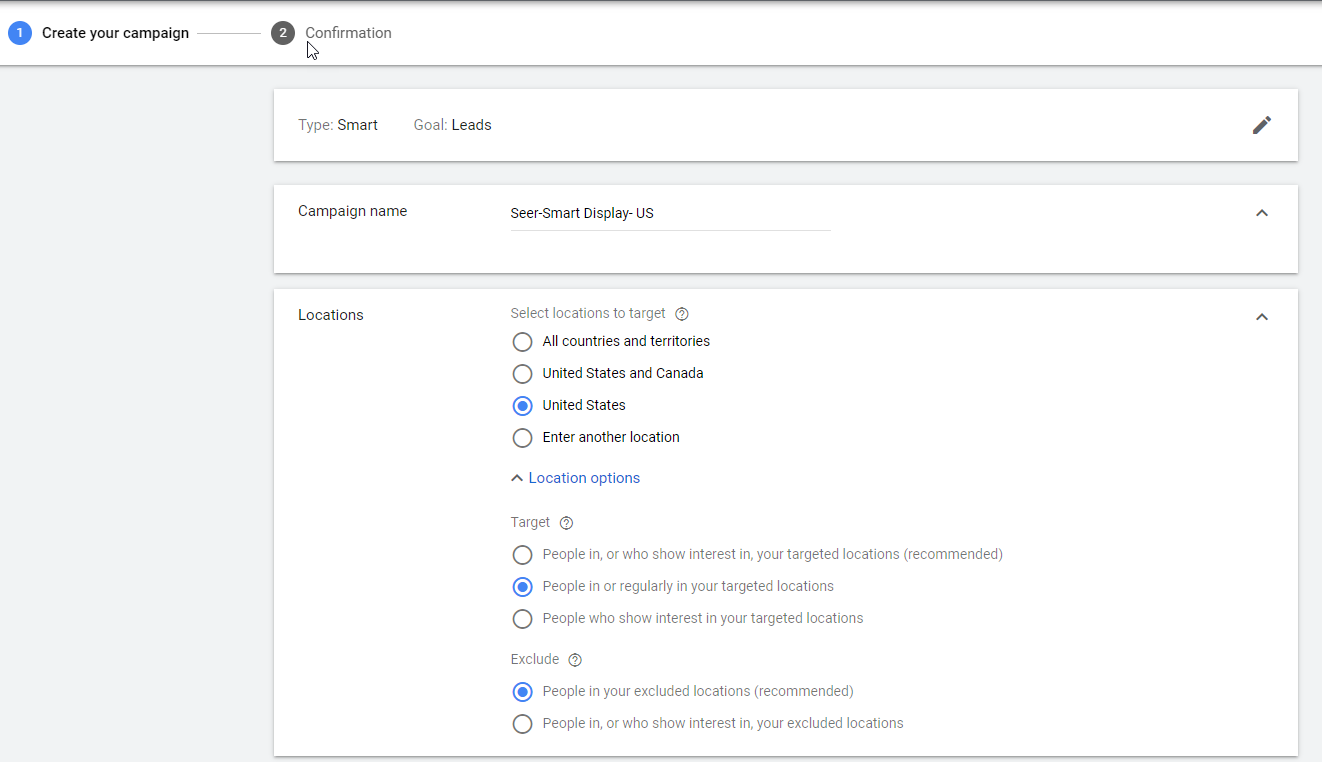 You will have a few options within the Bidding section: Choose the metric you'd like to focus on in your campaign (this should align with your campaign goal), then complete the rest of the bidding fields based on the metrics and goals you've chosen.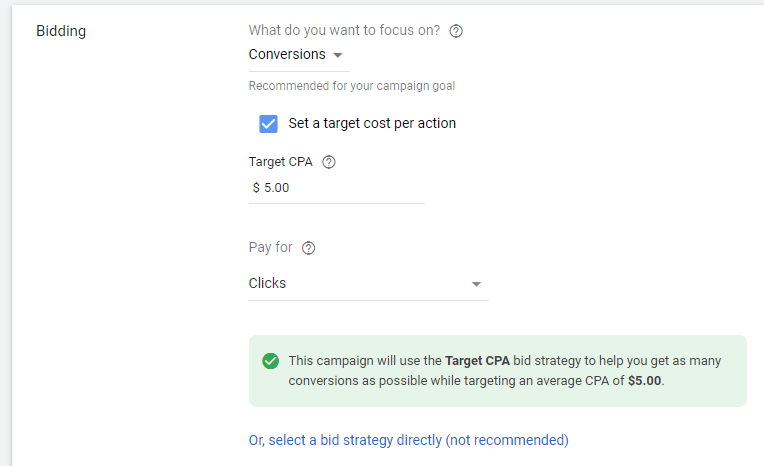 Next, enter the daily budget for your campaign. You also have the option to apply a shared budget from the shared library,
If you plan to use dynamic ads, check the box "use a data feed for personalized ads" and select the appropriate data feed.
Open the additional settings section to adjust the following: Start and End Dates, Conversions, and Content Exclusions,
Next, create your ad groups and responsive display ads! This will be the opportunity to add your images, logo, headlines, descriptions, and ad URLs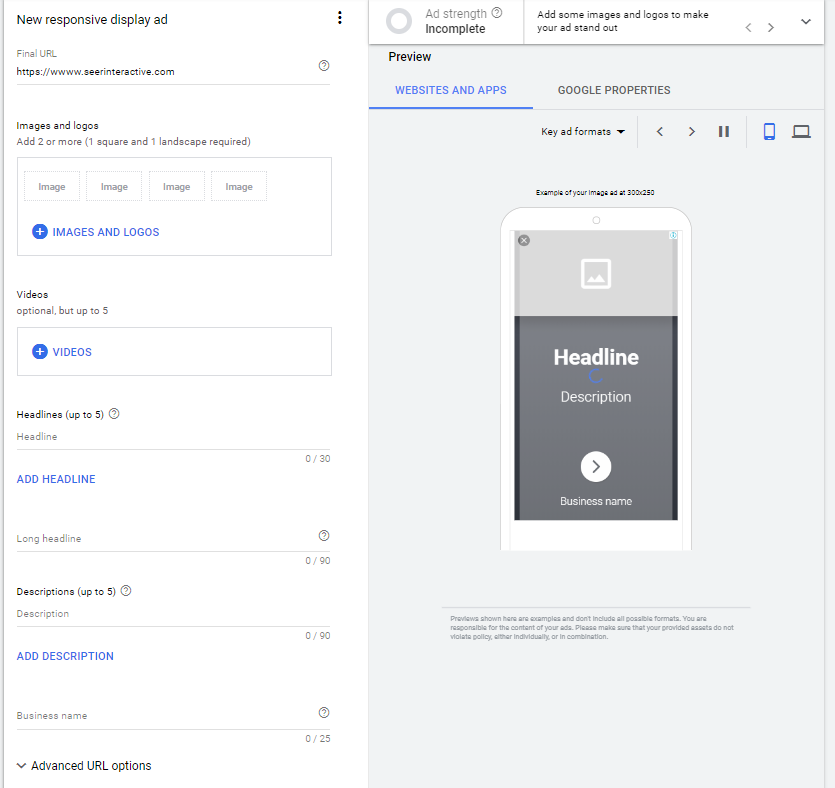 Finally, click Create Campaign.
Set yourself up for success:
Negative Placement Script
For all smart Google Ads campaigns, it's very difficult to pull placement level data directly from the UI. Luckily, we've found the right people to get us what we all are looking for with these campaigns! And we're here to share that information with her (fun fact, it's already been shared on our blog).
Check out one of our display blog posts, "Why Google Smart Display Campaigns are not so Smart." Within this post, you'll see the exact script that was customized to be able to pull placements at your desired timing.
We recommend setting a schedule weekly and combining through the placements / negating on a regular basis.
Ensuring Correct Conversion Tracking of Smart Display Campaigns
Now that you've finalized your campaign goal, it's time to make sure you have the proper measurement strategy to gauge success. Before you launch your campaign, make sure you have the proper conversion tracking set up in your Google Ads Account. The conversion actions should reflect your business's goals.
For example, you want to set up a conversion action for online purchases if your business sells athletic shoes on your website.
How to create a new conversion action
When you're in your Google Ads Account, select "Tools & Settings" in the top ribbon

Click on "conversions" under "Measurement"

Click on the blue circular button to create a new conversion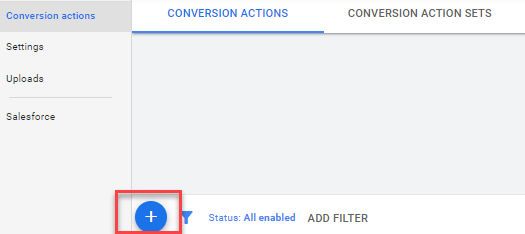 There are two options to create a conversion:

If you want to create the conversion directly in Google Ads, select a website, app, or phone calls
If you wish to import a conversion from Google Analytics or another source, select the import option

From there, complete the next steps to create your conversion
After you have created your conversion action, place the tracking code on your website so you can start tracking conversions
Complete a few test conversions before launching your campaign to ensure conversion tracking is set up accurately.
So, you might be thinking… How do these campaigns stack up against traditional Google Display campaigns? Results we've seen across Seer clients using Smart vs. Traditional Display below: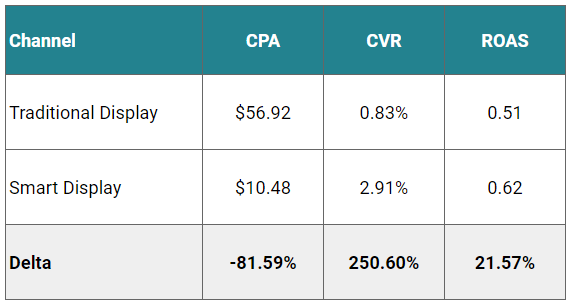 ...with those results, what's stopping you from testing this campaign type out? Happy testing!
Sign up for our newsletter for more posts like this - delivered straight to your inbox!