What's Your Current Keyword Research Method for SEO?
If you're only using one tool to find keywords, you're going to miss something. Learn how we figured out how we can stop guessing which keywords to target and start driving conversions!
The most fundamental building blocks of SEO are keywords and keyword research. In order for a search engine to understand the context of your web content, it needs to contain a sprinkling of relevant keywords.
Ideally, your piece of content will contain a mix of keywords with high monthly search volume as well as long-tail, highly-specific keywords.
These keyword groupings have one thing in common: you have to find them from somewhere. There's plenty of keyword research tools available to SEOs, but if you look closely, you'll find that not all of them return the same results -- in fact, they vary wildly.
If you're only using one tool to find keywords, you're going to miss something.
Which Keywords Does Your Site Rank For?
Problem: When plugging a URL into your favorite tool to see which terms it ranks for, some tools will show the page ranking for a keyword that others do not.
For example, for the term "premium google analytics," Ahrefs shows a rank of 6, Google Search Console shows a rank of 2, and Moz and SEMrush show that Seer does not rank at all for this term:
Experiment: Based on a number of tests and comparisons to live SERPs, Seer has determined that Authority Labs provides the most accurate ranking information. Using Authority Labs ranking data as a baseline, we ran a keyword set through four other tools: Ahrefs, Google Search Console, Moz, and SEMrush and then uploaded the data to our favorite visualization tool, Power BI.
These results were plotted in comparison to the Authority Labs data - with Authority Labs' ranking position data for seerinteractive.com on the x-axis, and the other tools' ranking position data on the y-axis.

We visualized the same data using a box and whisker plot in order to compare the max, min, and median of the ranking positions returned by each of these tools for the same set of keywords.
Note that Moz does not show results for any terms that rank higher than position 50 (beyond page 5).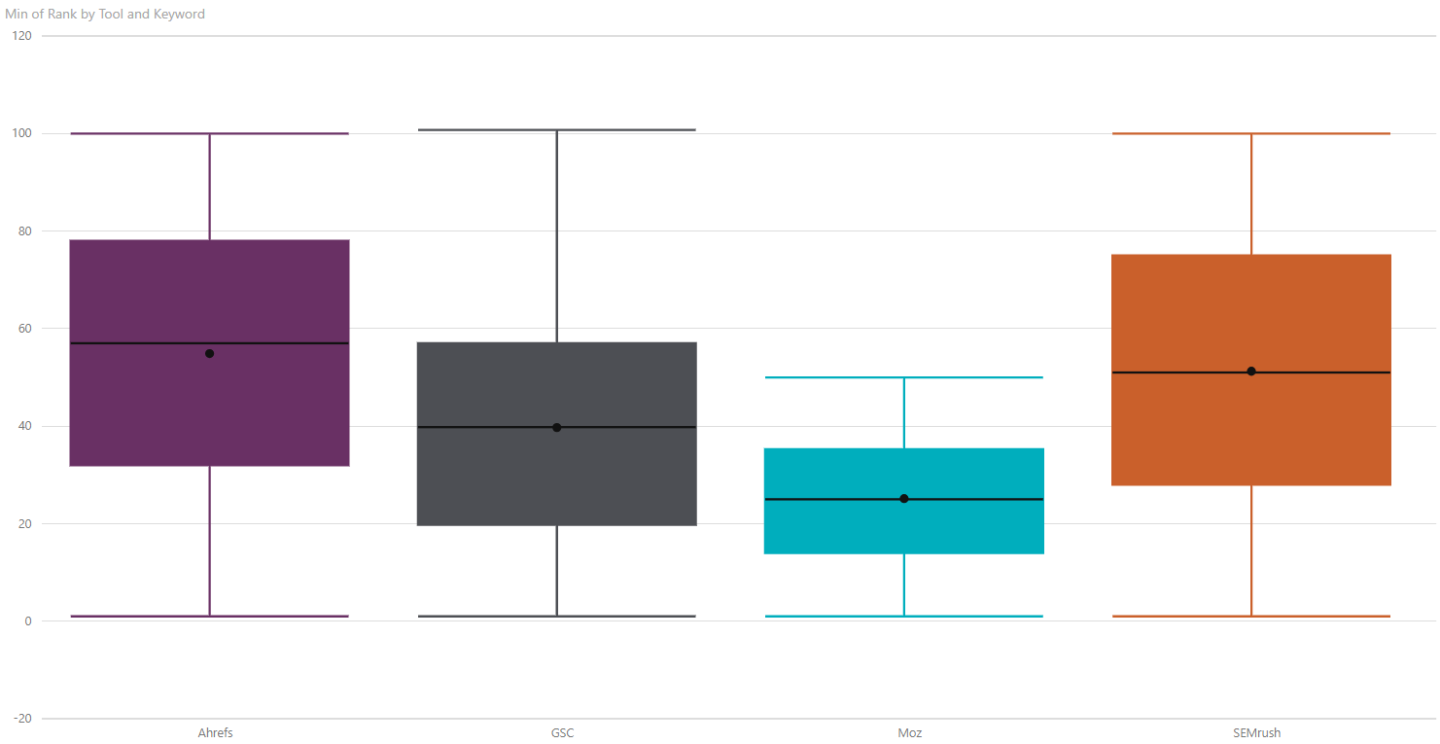 Result: Each of these keyword tools returns different ranking positions, making for a strikingly different trendline on each of the scatter plots and boxplots.
In theory, the results from each tool should be the same if they all pull data directly from Google SERPs.
How Can You Find the Best Keywords?
Pro Tip #1: Don't Rely On One Source
Listen - we're not saying any of these tools are bad, we're just saying that they're all fundamentally different.
If you pull keywords from just one of these tools, you're going to miss a ton of opportunities to create visibility for your content, and subsequently, miss out on potential revenue.
The solution? Don't choose just one tool -- use 'em all!
Combine data from multiple sources so you don't miss any opportunities.
💡 We like Power BI for aggregating and analyzing large, disparate data sets. Bookmark this guide to kick your analysis up a notch.
Pro Tip #2: Combine Your PPC and SEO Data
If you're not using your paid search data to guide your SEO efforts, you're still living in the dark ages of digital marketing. Let's say you rank in position 1 for a search term with extremely high search volume. That's awesome, you've achieved some brand visibility! But are you making money by ranking for that term?
Imagine if your keyword research tool gave an estimate of how many times your content would convert, putting money in your pocket based on how you're content is ranking for a given term...
Fortunately, there is a quick and easy way to see which terms already convert for your brand so you can optimize your content with keywords that will drive conversions: pull your paid search data into your keyword research process! Even a term that has 0 MSV can be a high-converting term for your brand, but if you're only using a single keyword research tool to find opportunities, you could completely miss this.
💡 Learn how we helped our client save over $40,000 in wasted ad spend by analyzing all available search data (PPC + SEO).
Pro Tip #3: Understand Your Audience
While it may sound like a cliche, knowing your audience even 10% better can help you massively boost conversions.
Remembering that people make up the numbers in our data sets will ensure you are creating content that speaks to them and what they care about most.
💡 Watch our webinar with Rand Fishkin and Teresa Lopez for audience research tactics that will get you started!
---
Tackle Keyword Research The Right Way!
Ready to stop guessing which keywords to target and missing opportunities to make money?
Seer has plenty of resources on how to connect your paid and organic data sets in order to find new insights that will drive revenue -- start by checking out Wil's video!