Here at Seer, we love saving money (and our clients' money, too). When it comes to SEO, there are hundreds of tools out there, some with a pretty hefty price tag. Of course, premium tools are super valuable when you require high limits, advanced functionality, or stored data.
But here's the truth: For most SEO tasks, especially keyword research, a free tool does the same as one with a premium price tag.
That's why we've asked our team about their favorite SEO tools. Here's a list of impactful, easy-to-use, Seer-tested tools. The best part? They won't break the bank.
We have included a description to help you understand how to use each of the tools below, but you can use this table of contents if you want to learn about a specific tool or application.
---
---
Analytics Tools
Bing Webmaster
Bing Webmaster Tools offers insights into your site with a holistic dashboard, sitemaps, crawl control settings, page preview feature, and much more.
Google Analytics & Data Studio
This one may seem like a no-brainer, but many forego that Google Analytics is the bread and butter of digital marketing. Track your SEO efforts and take advantage of a number of metrics, including site visitors, traffic, and more.
Data Studio allows you to piggyback on your data and create sleek, easy-to-build custom reports and interactive dashboards. In terms of free data visualization tools, Google Data Studio is definitely a Seer favorite. Using Data Studio for the first time? Check out our guide!
Google Search Console
Google Search Console, formerly Google Webmaster Tools, provides some of the same data as Analytics, but more focused on search optimization. It provides information about how Google crawls your site and provides uber-accurate keyword data. One of the most valuable aspects of this tool is the ability to check indexing status.
Enhanced Google Analytics Annotation Extension
Unsure if a Google algorithm update was released, causing a spike in your data? This nifty extension has your back. This extension allows you to see both confirmed and unconfirmed Google Algorithm Updates as well as global holidays in Google Analytics.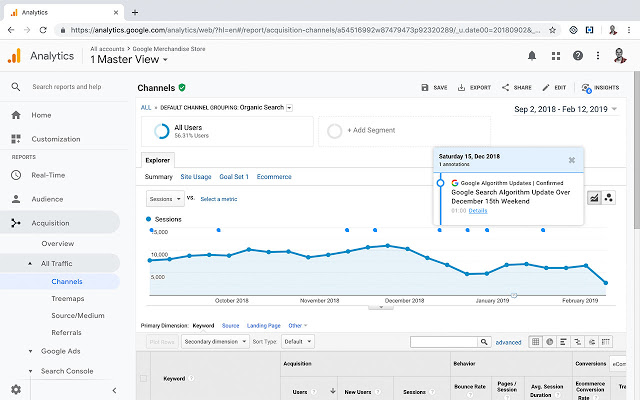 Crawling & Indexing
Beam Us Up
Beam Us Up is an SEO crawling software that allows users to discover broken links, uncover missing page titles, duplicate content and more. This tool allows you to find errors easily and save time with exporting options.
Redirect Path Extension
This chrome extension flags 201, 302, 404 and 500 HTTP status codes and client-side redirects. It allows users to identify potential issues with a click of a button.
Link Redirect Trace Extension
Link Redirect Trace is an all-in-one redirect path analyzer with the power to analyze HTTP headers, canonicals, and robots.txt. Instantly identify if a page is blocked by robots.txt, has noindex/nofollow tags, or other technical issues.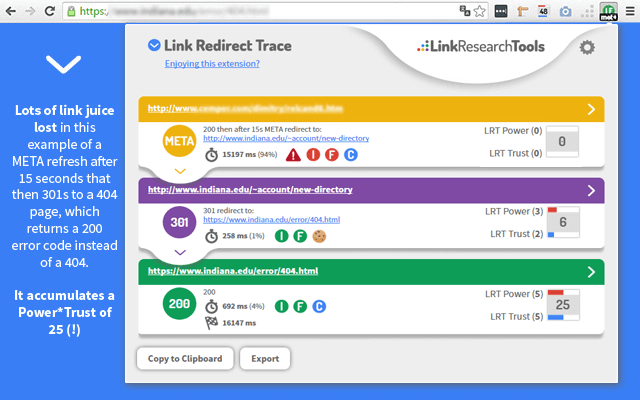 Screaming Frog
Screaming Frog is definitely a Seer favorite for link crawling. While unlimited access is a premium feature, this software offers a free version that allows up to 500 URLs per crawl.
The free version does not have all the same functions as the paid version but it's a great option for small projects. New to Screaming Frog and unsure where to start? Check out our SF guide to doing almost anything!
Xenu's Link Sleuth
Xenu's Link Sleuth checks your site for broken links. Search engines crawl sites regularly checking through inbound and outbound links. You don't want to stock up on broken links. What's better? It's named after a galactic ruler and is super easy to use.
Keyword Research
AnswerThePublic
AnswerThePublic is one of my personal favorites for finding questions that people are asking around your keywords. It's a keyword data visualization tool that helps you find content ideas by organizing your keywords into categories that consist of who, what, when, where, and why as well as how, can, are, which, and will. While the free version doesn't display MSV, it's a great tool for identifying questions your audience has.
Keyword Planner
While Google's Keyword Planner is a Google Ads feature built for PPC use, it's still super helpful and relevant for SEO. Unsure about the Google Ads UI and where to start? Discover how to access Keyword Planner and start discovering new keywords in no time.
Keywords Everywhere Extension
While I am absolutely devastated that Keywords Everywhere took away MSV from the free version, it's still super useful for keyword inspiration since it allows you to view relevant keywords as you search the web.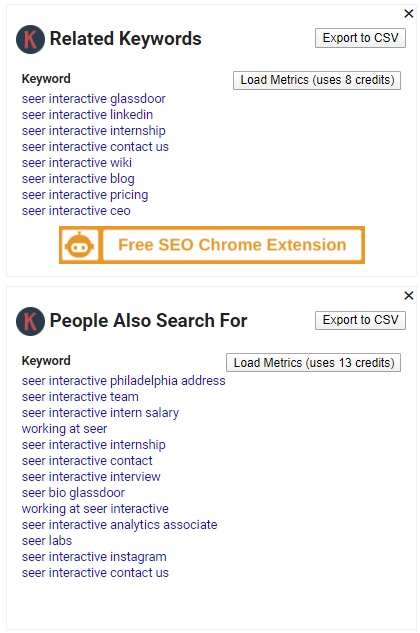 Keyword.io
This free keyword research tool is not only easy to use, but it's also great to help you develop a comprehensive list of keyword suggestions to create and improve your messaging and better connect with your audience.
CanIRank
CanIRank utilizes AI software to show you which terms offer the greatest potential specifically for your site. Not only is it great for general keyword and competitor research, but you can also opt-in for notifications of new content ideas, ranking opportunities, linking, and more.
Mergewords
This tool does exactly what it implies: merges words. A huge part of SEO and PPC keyword research is concatenating one seed keyword with another to form longer keywords. This is especially helpful with merging the names of your products with a list of buying modifiers to create long-tail keywords, such as "buy product x".
AlsoAsked.com
AlsoAsked.com is a tool super similar to AnswerThePublic, but without the judgy man on the homepage. It's super helpful in gaining an understanding of how questions are asked on search. One key difference of AlsoAsked.com vs AnswerThePublic is that AlsoAsked.com uses People Also Asked data, while AnswerThePublic is based on suggest data. Combine insights from both to get a holistic view of opportunities.
Link Tools
Google's Disavow
Thankfully, Google offers this easy tool to ask Google not to take spammy backlinks into account when assessing your site. You can use the disavow feature If you believe your site's ranking is being harmed by low-quality links you do not control.
Moz's Link Explorer
Not only did the Seer Team get an exclusive opportunity to test out this tool pre-launch, we got an inside scoop on all things Link Explorer. This highly-accurate link tool lets you check the backlink profile and Domain Authority of any site.
Link Miner Extension
Use this simple browser extension to quickly identify broken links on each page and see basic link metrics as you search Google.
Detailed
Detailed's motto is "Links that drive traffic & rankings, without the fluff" and they sure do live up to it. This free link research engine focuses on what's driving links to the most popular niches. These feature over 3,400 hand-picked and documented traffic sources you can actually use.
Local SEO
Google My Business
Google My Business is a must-have for Local SEO. This tool allows you to claim your business, manage your listing, and respond to your Google reviews. Show up on Search and Maps when people look for your business or organization.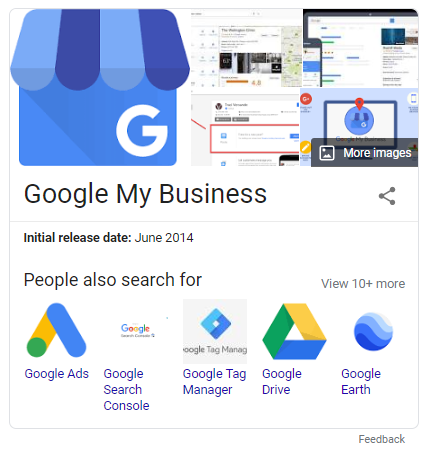 Google Review Link Generator
We all know the power of reviews for businesses. Looking to grow your Google reviews? Whitespark's Google Review Link Generator is your new best friend. Use this free tool to easily generate your unique Google Review link and share the URL with your customers.
Mobile SEO
Mobile-First Index Checker
Mobile versions of websites differ significantly than on desktop. Since Google switched to mobile-first indexing to support the tremendous growth of mobile, it's important for your site to be accessible and support all devices. Mobile versions of websites differ significantly than on desktop. This tool will allow you to ensure the mobile version of your site is up to par.
SERPerator
Interested in how your mobile search results vary by location and device? Use MobileMoxie's SERPerator tool for free up to five times a day.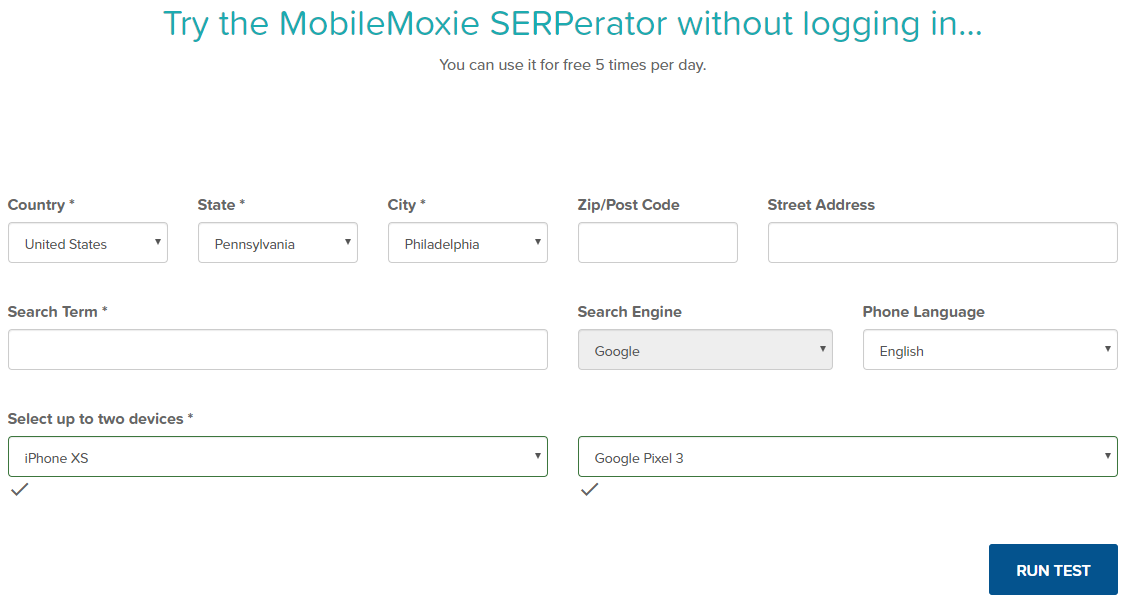 Google's Mobile-Friendly Test
Google's tool for testing whether a page meets mobile requirements is a great place to start when evaluating the mobile version of your site.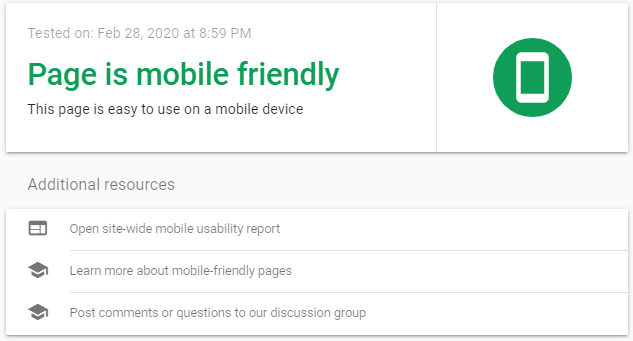 On-Page SEO
Google's Rich Results Test
Does your page support rich results? Rich results are represented on SERPs as images, carousels, etc. and have been known to increase CTR. Use Google's free tool to evaluate if your page contains the structured data required to support rich results.
Google's Structured Data Testing Tool
Test your structured data with Google's Structured Data Testing Tool. The best part of this tool is that you can edit the code within the tool in order to troubleshoot. Looking to perform a competitive analysis? Test your competitor's structured data as well.
Tag Manager
Efficiently add and update the tags on your site without editing the code with Google's Tag Manager. Better understand your conversions, user interactions, and more.
View Rendered Source Extension
See how the browser renders a page, not just what the server sends. Use this extension to understand how search engines see your page.
Research
BuzzSumo
Looking for new content? Search popular topics with BuzzSumo. Find the content that performs best as well as identifies relevant influencers.
BuiltWith Extension
Unsure of what a site is built on? Find out with a simple click with BuiltWith's free site profiler tool. BuiltWith will return all technologies used on a page!
Panguin
The Panguin tool helps you investigate whether you've been impacted by Google's algorithm updates. Unsure whether that spike in data is from an update? Pair this tool with the Google Annotation Extension for double the action.
Siteliner
Find duplicate content on your site with Siteliner. Duplicate content can directly impact performance. Once identified, you'll be able to revise that content and improve rankings in no time.
FATRANK Extension
Find out where your website ranks in Google for specific keywords and phrases with the FATRANK extension. Simply go to your site, input a keyword, and see which of your pages is ranking and where.
Scrapers
Scrapers are super easy to use and powerful for research. A web scraper scrapes a specific page for data and organizes it to be exported in a spreadsheet. This is extremely beneficial to pull data from review pages of your site or forums to see how users are talking about you. My favorite is this Scraper extension.
Page Speed
Lighthouse
Run Lighthouse, Google's open-source speed performance tool, to analyze your page's performance. Choose a Lighthouse workflow that suits you best and start auditing pages that are holding your site back.
PageSpeed Insights
Make your web pages fast on all devices with Google's PageSpeed Insights. This tool analyzes the content of the page, then generates recommendations to make the page faster.
SpeedMonitor.io
Use this free and easy-to-use tool to track your website speed and performance every day. SpeedMonitor.io runs off of Lighthouse data to check the performance of your website. What's nice about this tool is the option to opt-into email or Slack alerts to get notified when your page speed drops.
Sign up for our newsletter for more posts like this - delivered straight to your inbox!