The
4th Essential Tactic
The last time we saw you, we shared our tips and tricks in setting up a holistic paid social & search strategy. You didn't think we'd forget about the 4th essential tactic of creating remarketing audiences, did you?
Haven't read it yet? Head on over to read about the power of cohesive messaging, creative assets, & stages of the funnel tactics across your paid media efforts.
First, we'll show you how to create remarketing audiences in Facebook Ads Manager based off of your paid search efforts
Second, round out your remarketing strategy by creating remarketing audiences in Google Ads Manager based off of your paid social efforts
Creating remarketing audiences off of your paid social & search campaigns has never been easier.
How to Build Remarketing Audiences in Facebook:
All Tools > Assets > Audiences > Click the "Create Audience" button in the left hand corner and choose the "Custom Audience" option:You'll be prompted to choose which source you'll create the custom audience from. In this instance, we'll want to create a custom audience based off of the landing page used in your Social & Search campaigns: In the drop down menu, choose the option "People who visited specific web pages" & choose the number of days you want your audience to populate for. Enter the landing page into the URL option and include the specific parameter that would trigger your search campaign:
💡 Including the UTM parameter "youtube" will trigger Facebook to populate consumers who have landed on your brand's landing page from your YouTube campaign. 💡
Create a name, save & let your audiences work their magic! Ensure you're checking back periodically to see if your audiences are large enough to launch your remarketing strategy.
Create lookalike audiences off of your custom audiences in order to start targeting more users who are more likely to be interested in your brand.
How to Build Remarketing Audiences in Google:
Log into Google Ads > Find the "Search" icon in the top ribbon > Search for "Audience Manager":

In the "Remarketing" tab, click on the blue "+" button & you'll be prompted to add an audience from a list of sources. Similar to Facebook, we'll be creating a remarketing audience off of the shared landing page: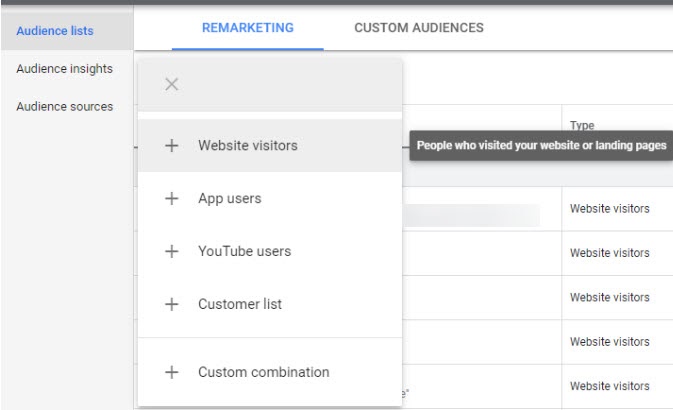 Add in your final URL, including an "And" statement of the UTM parameter specific to your social campaign: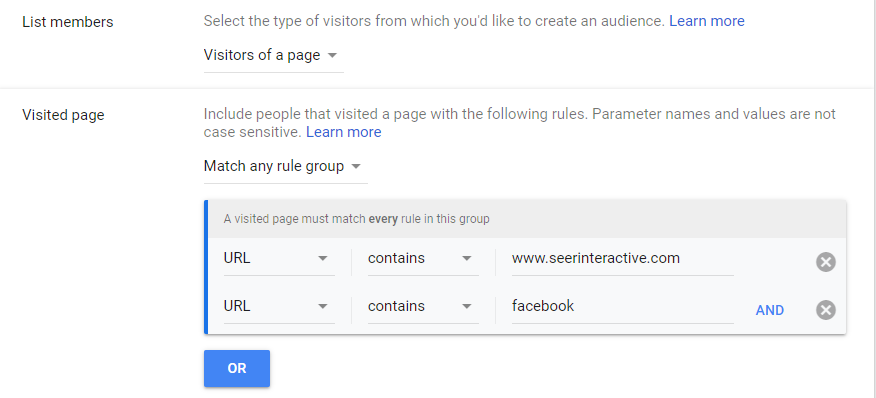 💡 Including the UTM parameter "facebook" will trigger Google to populate consumers who have landed on your brand's landing page from your Facebook campaign. 💡
Save your audience & let Google begin populating. Layer this audience onto your remarketing efforts once the audience has 1,000 users over the last 30 days.
Don't forget to take advantage of the same remarketing capabilities on Microsoft Ads!
And voilà! Let the remarketing audiences begin to work their ROI magic.
Ensuring Proper Tracking
The only way your cross-channel remarketing audiences will be built out successfully is if you have the appropriate UTM parameters added to the end of your URLs.
Not sure how to properly set up UTM parameters? Don't fret! We give you a step-by-step breakdown on how to use UTM parameters & tracking templates.
Be sure to reach out with any questions & stick around by signing up for the Seer newsletter, with new content posted weekly!
Sign up for our newsletter for more posts like this - delivered straight to your inbox!