How Banks Can Minimize Long Wait Times, High Call Volumes & Frustrated Customers
The percentage of bank Tweets that included the word "sorry" or "apologize" increased by 8,273% from March 14, 2020 to April 15, 2020. Seer evaluated the Tweets & Replies of Twitter Accounts for 52 different banks and looked at over 12,000 tweets to determine the most common complaints from customers.
Overwhelmingly, banks were apologizing for long wait times caused by high phone call volumes.
This isn't too surprising considering inquiries to banks and other financial institutions are skyrocketing across the consumer, small business, and commercial sectors causing unprecedentedly long wait times.
To put these long wait times into perspective, the average call wait time:
2013: 60-seconds
2018:3 minutes and 45 seconds
Today: we're seeing wait times as long as 3 hours
These long wait times to speak with a customer service representative result in customers venting their frustrations publicly. One of the common ways customers are bringing their concerns to light is through Twitter.
Some of the most extreme customer dissatisfaction comments include the threat of switching banks.
So how do we thwart this retention issue? Through team integration - Customer Service teams and Marketing teams working hand in hand.
Banks Need to Leverage their Online Presence to Answer Questions Before They're Even Asked
Seer's approach to Digital Marketing has always been Audience first. That hasn't changed in the current climate.
In fact, it's more important than ever to show up for your concerned customers in this time of uncertainty.
Getting ahead of customer questions online has the potential to:
Reduce call volume which reduces wait time and overhead call center costs
Earn web traffic today that will also earn dividends in the long term through the creation of a more authoritative brand presence
Banks can start taking action to answer common customer questions today.
We strongly encourage bank marketing teams to speak with their customer service representatives and compile the most important list of questions for their customers.
4 Tactics for Minimizing Banking Customer Frustrations with Long Wait Times:
1) Answer Common Questions with an FAQ Page
Creating this comprehensive resource allows banks to answer common customer questions, like those related to online/ mobile banking.
This may be the first time customers are taking advantage of this experience. Linking to demos and informational pages are a quick fix to save customers time. This can eliminate the need for a phone call. Fewer phone calls can lead to lower call volumes which can result in fewer complaints.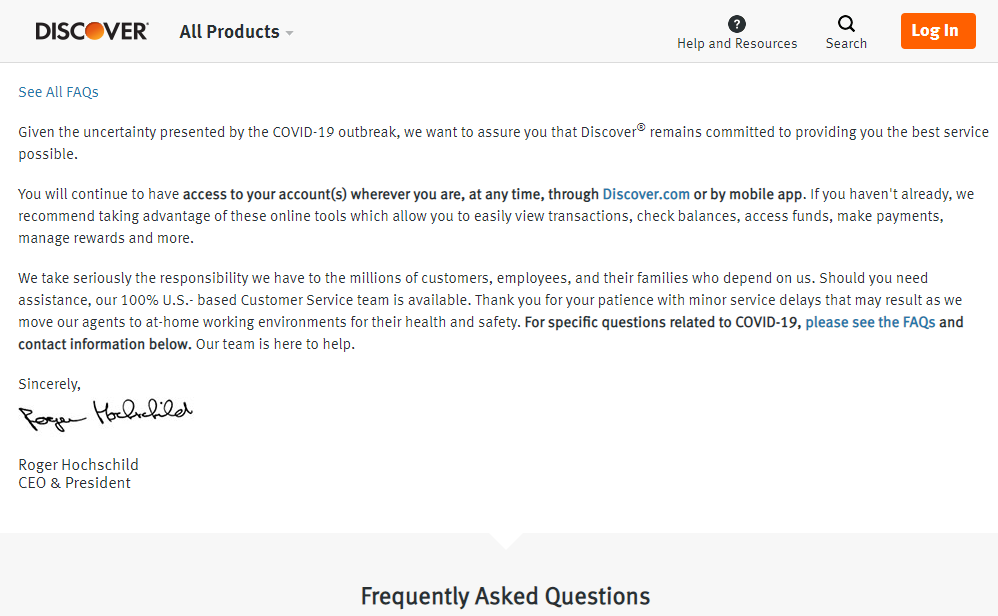 2) Add Sitewide Banners to Manage Expectations
The Financial Industry is not the first to be impacted by high call volume and customer pushback. In fact, banks can learn a lot from the practices of Travel companies.
At the beginning of March, the travel industry received heavy call volumes as COVID-19 forced worried travelers to cancel or change their trips.
To organize the chaos, travel sites like Expedia.com managed expectations of long call wait times with banner alert information and alternative paths to getting their questions answered without calling:
BONUS: Direct site visitors to FAQ pages to quickly answer their questions.
Use Google Optimize to deploy banners on your website and keep users informed for FREE. Get the how-to guide here.
3) Direct Phone Callers to Your Website
People are making the phone call in order to have a question answered. If that question is already answered by site content, urge the customer to forego the wait time for a more immediate response.
4) Ensure Relevant & Important Information is Consistently Available to Customers
Sometimes, people come to a website because they have questions that need answers or are unsure of where to look. While an FAQ page is a great means of answering those questions, don't stop once you've created an FAQ page and assume people will find it on their own!
For example, say you have a Question and Answer on your FAQ page that addresses a common concern around online banking. This presents an opportunity to include a callout or link on your Online Banking page that directs people to your main FAQ page so they can see other common questions they may not have considered.
Want More Financial Industry Insights?
---
Subscribe for emails to receive updates like this directly in your inbox: