Using Google Optimize to Communicate Timely Changes to Your Business
As COVID-19 continues to impact our way of living, it's important to provide up-to-date communications on your website and share any areas of your business that are being impacted with your users.
Google Optimize recently released a new feature to help you keep your customers informed - for free!
New Website Banner for Business Updates

All users with a Google Optimize account now have the option to create a COVID-19 Banner using a quick and easy template from Google. The banner can be further customized to:
Match your brand guidelines in terms of color, language, etc.
Appear on all pages of your site or only certain pages
Target all website visitors, or only a subset of visitors
Link to other pages on your site, such as a COVID-19 Updates Page
The COVID-19 Banner Template will appear in the list of experience types when you go to create a new one. From there, you can Edit your banner appearance, and adjust page and audience targeting.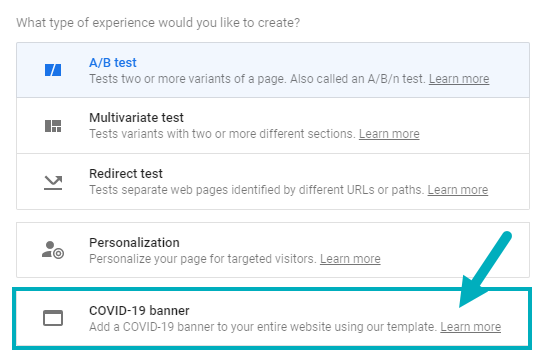 Once you create a COVID-19 Banner Experience, you'll be able to use Optimize's editing interface to easily adjust the size, text, colors, and links within the banner.

Unlimited Personalizations
Google Optimize has also temporarily lifted the number of personalizations you can run at once if you do not have the 360 enterprise version of the tool.
For the next 90 days, you will be allowed to run simultaneous personalizations on your website instead of being limited to 10 in the free version of Optimize.
Personalizations allow you to make quick adjustments to your site without needing to go through a development team. This is especially important when business needs are dynamically changing and website updates are needed more frequently and quickly.
By removing the limits, you can use Google Optimize to update as many pages as you need to. Some examples of personalization updates you can make are:
Add information to only be shown in your target geographic markets
Modify your homepage to highlight relevant COVID-19 content on your website
Update your policies to include relevant information regarding safety, cancellations, etc.
If you don't already use Google Optimize, be sure to set up a free account to start using these personalization tools to improve your website messaging!
For more resources to help you navigate the impacts of COVID-19 on your business, sign up for Seer's weekly newsletter or check out our COVID-19 Resource Hub.
---
Sign up for our newsletter for more posts like this - delivered straight to your inbox!