67 percent of users are influenced by online reviews when making a purchase (Moz). Customers rely on reviews to find brands that will provide them with the best - product, service, experience, you name it! Taking the time to communicate with both satisfied and dissatisfied customers is extremely important via review and social mediums, particularly on Yelp.
Yelp reviews are a crucial part of a user's experience online. For example, when a user searches for a local term, such as "pizza near me," search engines now understand that users highly value reviews when choosing to visit a store location - thus Yelp reviews typically rank in the top 1-3 positions. Which leads many companies to ask,
How should our business respond to negative Yelp reviews?
To help you navigate the treacherous waters of Yelp criticisms, I gathered some examples. Below are a few of the good, the bad and the ugly responses to undesirable reviews and my analysis of what they did right and wrong.
The Good
Mother Bear's Pizza (Bloomington,IN)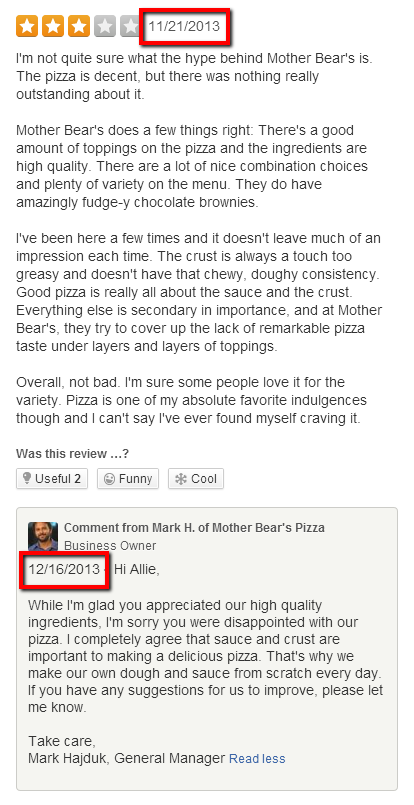 What they did right: Let me just say that Mother Bear's Pizza is an exceptional example of customer service done right! The owner indicates he read Allie's comment by making a specific reference to the review and apologizes (which is important to do, even when you think you've done everything right). He defends his restaurant without sounding defensive (which is very hard to do) and then asks for suggestions from her so he can improve. His reply is short, sweet and to the point - all of the factors that make for an exemplary response.
What they did wrong: The only critique I have refers to the timeliness of the response. Almost a month went by before the owner responded to Allie's review. I want to note that all of the other responses made by Mother Bear's Pizza were perfect and timely. I just think this is a good example of a business that does everything right, yet, a late response can really impact the effectiveness. Replying within two weeks is a perfectly acceptable period of time; however, keep in mind that when responding to these comments, the quicker the better!
Earnhardt Honda (Avondale, AZ)
What they did right: Much like the previous example, Earnhardt Honda handled this negative review with class and excellence. Once again, the manager apologized for the reviewer's poor experience and defended his company without sounding aggressive. The cherry on top of this answer is the signature he included. I recommend all businesses include their name, title and contact information. If you don't want to reveal your phone number, that is entirely understandable (it is the internet after all), however, sharing your email promotes transparency and trust in your company.
What they did wrong: This response was timely, specific to the reader and apologetic. I wouldn't change a thing!
Want more content like this? Sign up for Seer's newsletter to get digital marketing updates straight to your inbox.
The Bad
San Pedro Fish Market and Restaurant (San Pedro, CA)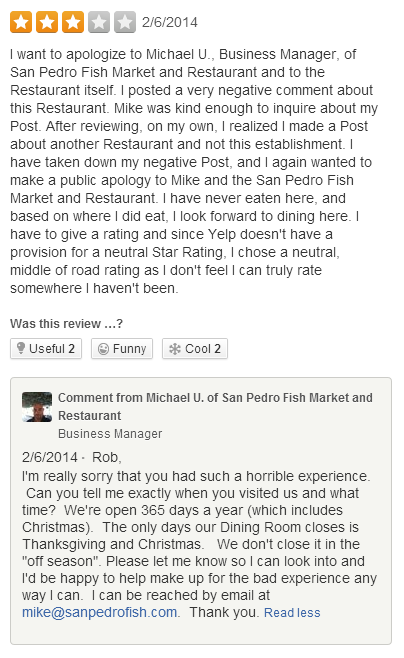 What they did right: The fact that the owner responded to this comment the same day it was posted, is fantastic. The inclusion of his contact email is also a great practice.
What they did wrong: Michael's reaction to Rob's review made it very clear that he did not really read the initial comment. Rob stated that he evaluated San Pedro's Fish Market & Restaurant by accident and had never eaten at the restaurant before. In the reply, Michael asks for the time and date of his visit. This is a perfect example of why it is so important to thoroughly read the reviews before responding. You can further aggravate a disgruntled customer or deter a future patron from trying out your business, if you don't give each review the proper attention. Read before you write!
Men's Wearhouse and Tux (Plymouth Meeting, PA)
Men's Warehouse responded in a private message to the customer:
Customer replied to their message with this response:
What they did right: Unfortunately, the only positive tactic I can muster up for this business is that they sent a response at all. Harsh, but true! The response was polite and well-timed; however, there are many changes that could be made to improve the customer's experience.
What they did wrong: The first faux-pas was the content of the message. The response is clearly automated for the most part. The only personal addition was to offer congratulations for his upcoming wedding. Other than that, the response lacked personality.
Secondly, sending a private message to the customer may help ease the concerns of that specific client; however, it does little to help future patrons making snap judgments about your business as they browse through your reviews. The benefit of allowing companies to respond is that it shows dissatisfied customers you want to hear about their experiences and you care about their opinions. If you are taking the time to respond, you want those people reading your Yelp reviews to know!
Finally, when the customer followed up with Men's Warehouse to further air his concerns, he received no response. Very few customers actually take the time to reply more than once, therefore, when they do, you should continue the conversation. Leaving them high and dry is not the way to instill confidence in your customer service!
The Ugly
This section is dedicated to those responses that are offensive, callous and, at times, obscene. That being said, I will only be examining the mistakes made in these responses (which I hope are obvious to all). Now, although these reactions to displeased customers can be seen as informative, others may find them down-right hysterical. Therefore, continue reading to determine how to NOT scare off your customers or if you just need a good laugh!
Jo's (New York, NY)
What they did wrong: I assume that everyone knows the expression, "the customer is always right." Though, before reading the Yelp conversation from above, I also assumed owners knew not to call their customers "idiots." And this instance is exactly why people say you shouldn't assume things.
Anyway, it is obvious that this reply is beyond appalling. Not only did the partner insult the customer, but he is overly defensive to the point of sounding hostile. After calling her an idiot, he goes on to suggest that they go to the Applebee's down the street instead of returning to his establishment. Personally, if the place was still in business, I wouldn't go within a ten block radius of his restaurant in case his head exploded from all that pent up anger.
Let me offer an easy way to avoid giving an equally hostile answer. When in doubt, this answer will suffice: "Thank you for your honest feedback! I'm very sorry to hear you had such a bad experience and will be sure to review your comments with my staff in an effort to improve the experiences for our future customers." It may be automated, but it's sure better than the ranting!
Ten Bells Tavern (Dallas, TX)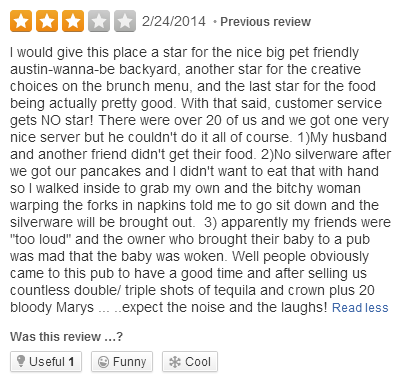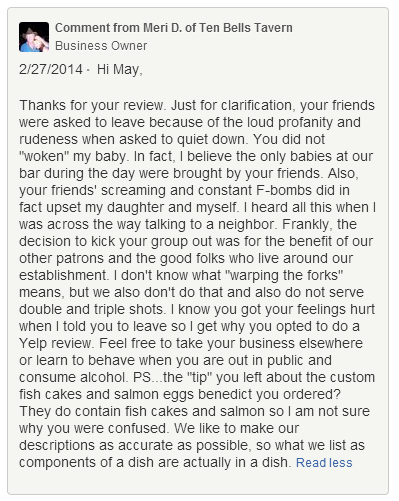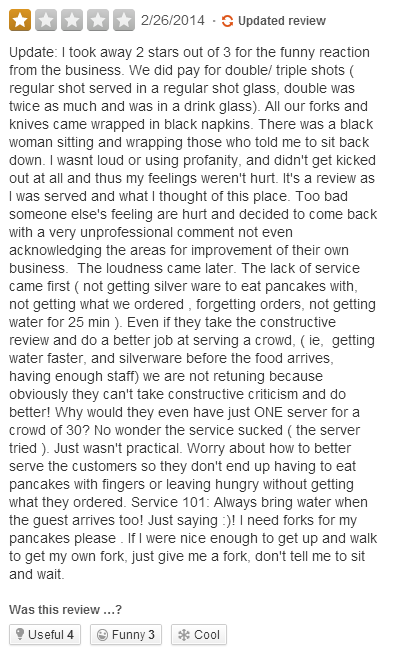 What they did wrong: Insulting the customer is never a good call. Yes, there are cases in which a rude customer will be offended enough to write a horrible review even though it was their bad behavior that received "NO star." And in those instances you may want to rant to your co-workers and friends. Nevertheless, to the rest of the world (most importantly, your client base) you have to be diplomatic.
You should never insult a customer and tell them to frequent another establishment. That simply angers the customer further. In fact, in this case, the reviewer updated her comment and lowered her rating due to the owner's response. When you fly off the handle, your fuming response tells future customers to steer clear of your business as well as current patrons.
Once more, I will reinforce using this canned reply: "Thank you for your honest feedback! I'm very sorry to hear you had such a bad experience and will be sure to review your comments with my staff in an effort to improve the experiences for our future customers." And just a friendly note - if you consider yourself a hot head or loose cannon, you may want to have a ready response prepared for the reviewers that are bound to get under your skin. You can never be too prepared!
It is my hope that the examples shown above help businesses understand the dos and don'ts of responding to negative reviews. Remember to keep your responses timely, succinct, and when possible, use the critiques to improve your business. Stay calm and Yelp on, my friends!
Have you responded to negative customer reviews? Have you received a bad or ugly response from an owner? Share your experience in the comments below.
**This post was originally published in 2014 by a Seer Alum. The current Seer team updated its content on 3/25/2016.