What is Local SEO?
Local search increases online visibility for businesses interested in driving customers to brick-and-mortar locations in the real world or winning customers within a specific service area.
While traditional Search Engine Optimization (SEO) focuses primarily on search engines like Google and Bing, Local SEO encompasses a wider range of platforms spanning from traditional search engines, to mobile apps, to voice search platforms.
Google, Google Maps, Apple Maps, iOS Spotlight Search, and Yelp are all examples of platforms on which Local SEO would aim to improve visibility.
Local SEO (Search Engine Optimization) is the practice of optimizing your site to appear in the search results for localized keywords with implicit and/or explicit local intent.
Explicit keywords include "take out restaurants near me" or "take out restaurants Philly"
Implicit keywords do not directly include a location modifier, but based on the user's device, location and intent - Google can assess that users are looking for a local result. For example, ''take out restaurants"
Why is Local Search Important?
Local search is important for businesses because people who are searching locally are inherently lower down in the funnel as they are likely looking for a nearby solution to an immediate problem or need, like where to eat for dinner or finding a doctor.
This is backed up by data - according to Google,
"76% of people who conduct a local search on their phone, visit a physical place within 24 hours and 28% of those searches result in a purchase. Expanding that date range to a week - the percent who make a purchase jumps to 88%."
Which Businesses Need Local Search?
If your business has at least one physical location that customers can visit or if you visit or serve customers on-site, you need to have a presence on local search.
Examples of businesses with a strong local component include restaurants, banks, doctors offices, retail stores and local services like plumbers. These types of local business can also be categorized into different groups that typically have different goals and needs:
Small Hyperlocal: Single location, mom & pop businesses
Mid-sized Regional: Business with multiple locations but are typically contained to a particular area or region
Enterprise: Large, often well-known businesses with a multi regional footprint
Which Businesses DON'T Need Local Search?
If your business is conducted exclusively online, such as an ecommerce store or you don't serve customers in-person, local search isn't for you. Additionally, per Google's guidelines, the following types of businesses are ineligible for Google My Business profiles:
Rental or for-sale properties such as vacation homes, model homes, or vacant apartments (Sales & leasing offices for apartment complexes and housing communities are okay, though!)
An ongoing service, class, or meeting at a location that you don't own
Lead generation agents, agencies, and/or B2B companies
Local SERP Anatomy
Being able to look at the SERP and tell the difference between the types of results is key. For the majority of businesses, local search results consist of 'local pack' and 'organic' local results, but you may also see local service ads for some searches.
Local Pack
Local Service Ads
Localized Organic Results
Map Pack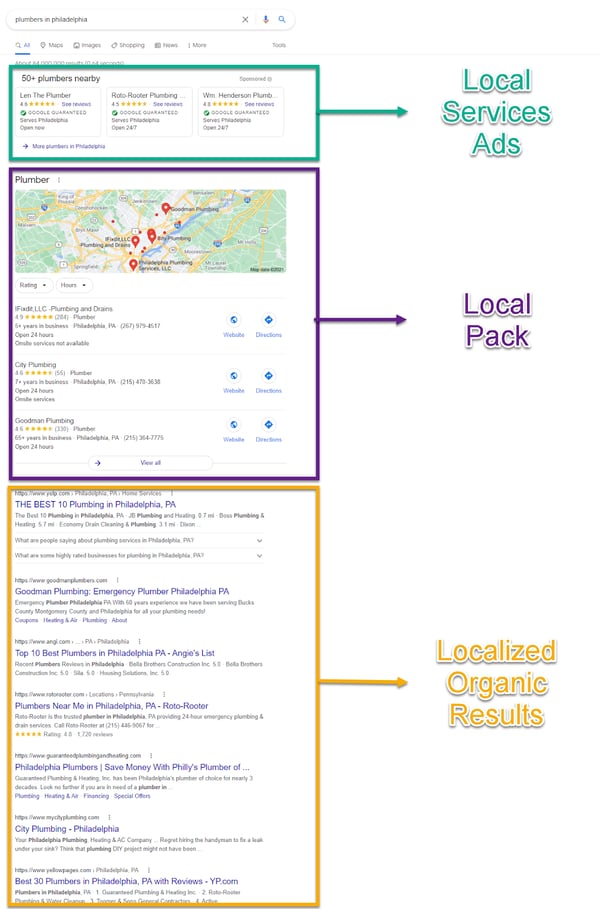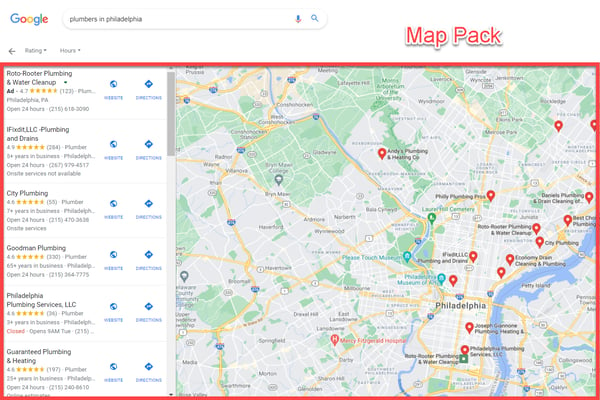 What is NAP and How Does it Impact Local SEO?
NAP is an acronym for Name, Address & Phone Number, which represent the key pieces of business information that needs to be correct and consistent when optimizing your online presence across the web.
Name: What your business is called. This should reflect your real-world business name and not include additional keywords.
Address: The physical location of your business. Be sure to include any suite numbers and keep formatting (including abbreviations) consistent across platforms.
Phone Number: The phone number where your business can be reached.
Having a consistent NAP across the web sends strong signals to search engines that your business is active and it can trust sending customers to your business.
Local Ranking Factors
Local ranking factors are the SEOs best friend, a concise list of actionable elements that can have a positive or negative impact on a local result.
SEOs from around the globe came together to compile a list of the most important factors, and produced an incredible resource for local search ranking factors.
Local search experts, like our very own Cori Graft, focused on many aspects of the local search landscape, below are some of the most important aspects of the report, these pieces will get you on your way to a strong foundation.
Qualifications for a Local Search
Proximity (cant fake it), confidence (NAP), and customer experiences
Google My Business
Google My Business is, of course, a large chunk of the ranking factor equation, with Local Search experts giving this piece 33% of the weight in the local pack ranking consideration. Understanding this, it is important to make Google My Business management a priority for you and your business.
Focusing on aligning primary, and secondary categories as well as ensuring all information across every listing is correct will set your GMB profile up for success. GMB signals have been growing dramatically, year over year, and this is a priority area that should not be overlooked.
Reviews
Managing and responding to reviews can be a challenge, but as another important ranking factor, taking the time to manage reviews properly can be impactful.
Earning reviews is the most difficult piece of this, but simply asking can be helpful. Google suggests business owners to provide a simple message and link when asking for reviews, but solicitation through payment goes against GMB policy.
Responding to reviews acts as an opportunity to provide your expert voice to public facing piece. Review response is an extension of your brand and should be handled with tact and patience to ensure that five-star reviews are appreciated and one-star reviews are acknowledged. We'll discuss review response more below, but for now it's worth noting that responding is key!
On-Page Signals
On-page signals are another piece that will be discussed in more detail later on in this guide.
On-page signals act as your way of telling crawlers that the local information relating to your local profiles is also displayed on your page. Including business name, address, and phone number on the page gives additional credibility to your page.
These signals extend beyond just the NAP and into more conventional SEO elements, such as keywords, domain authority, and local links on page.
Local Links
Link building has always been an important part of SEO, and it's no surprise that links play a piece in local SEO as well.
Albeit smaller than a GMB profile, local links are still relevant and important to search engines, and can provide an opportunity to connect with the local community. Local links can be earned through a number of different avenues, but these efforts should be primarily focused on the business-specific location.
Reaching out and engaging with local groups through sponsorship and involvement in initiatives can be a fulfilling way to not only earn links, but build brand awareness in your community offline.
Behavioral
Behavioral signals are one aspect of the ranking equation that marketers have less control over, these signals are things like click-through rate, actions on GMB profiles, and views to photos or posts from local search.
Optimizing for actions can help build audience engagement, but these actions still need to occur for Google to give behavioral value.
Local Citations
Citation signals consist of the information that exists about locations across all sites, from yellow pages, to Facebook & Yelp. The consistency and volume of citations is important, and certain tools or services can act as aggregators to spread consistent citations across the web.
Local citations play a role in many parts of local SEO, and the topic is covered in greater detail later in the article.
Google My Business
What is Google My Business?
Google My Business (GMB) is a free tool where you can create a business listing to manage how your business appears on Google Search & Maps.
Via the platform, you're able to:
Provide key business information like your business name, address, phone number and hours directly to Google
Enhance your listing with rich features like photos, product info and promotions
Engage with customers by responding to reviews and answering Q&As
Google dominates the search landscape, so by claiming your business and creating a Google My Business profile, you can take control of how your business appears on search and maximize your visibility.
Key GMB Features
Google My Business has several features to be aware of, as they can make or break your business listing by attracting more (or less) engaged users, as well as providing context to Google about your business.
Photos: There are several different types of photos that you can add to your Google My Business listing, such as a Logo & Cover Photo. While these tend to be the most visible, Google will also prominently display photos of products or the location in the local pack or the knowledge panel.
Categories: Categories are used to describe your business and connect you to customers searching for the services you offer.
Business Description: This is the "by-line" that appears underneath the business name. As with all Google's features, it has strict guidelines to provide users with as much relevant and accurate information as possible.
Reviews: User can leave ratings and feedback on their experience with your business
Google Posts: Google Posts are social media posts that show up in Google search in your Google My Business listing (in the Knowledge Panel and on Google Maps).
Q&A: On all GMB listings, users can pose questions. Google encourage users familiar with a business to answer the questions directly.
How to Optimize GMB Listings
Okay, now that you understand the importance of Google My Business, what can you do to optimize your listing and improve your visibility on Google?
Claim or create your profile: The first step is to make sure you have full ownership of your listing by either claiming your profile or creating a net-new listing.
Ensure that your profile is as complete as possible: Fill out the recommended fields, plus optional fields like services and
Choose primary & secondary categories that map to your business: Add a primary category and 2-4 additional secondary categories to maximize your visibility.
Write an engaging business description: The business description can be up to 750 characters, but the character limit for the knowledge graph is 250 characters.
Add photos: Although it isn't required to include photos on your GMB listing, users actively look at images to better understand a business.
Utilize Google Posts to promote your business: Google Posts are a great way to engage users and build a local brand image with original related content.
Answer customer questions: It's important that businesses monitor user questions and respond as often as possible.
Actively respond to reviews (both positive and negative!): Be sure to keep responses professional and productive.
Add products and services: These can help Google to better understand your offering.
Keep your profile up-to-date: Be sure that addresses, phone numbers and other business information is accurate, so that customers can find and contact you.
Other Local Platforms
While Google might be the biggest local platform, it is not the only one you should be aware of and actively managing.
Bing Places
Bing Places is Bing's answer to Google My Business and allows you to manage your presence on Bing in a similar way. The feature set may not be as robust, but you can update business information, respond to reviews and add photos.
Apple Maps
Ensuring that your address and business information is accurate on Apple Maps can be crucial for ensuring that people can find and get directions to your business on the go.
However, Apple Maps' platform can be clunky to manage, particularly if your business has multiple locations. You will not find the rich features that GMB or even Bing Places offers, as this platform is in a more nascent stage and is still growing, despite Apple's mobile market share.
Yelp
For some industries, like hospitality, Yelp profiles can be a highly visible and influential platform. However, Yelp's management ecosystem is geared toward people who are advertising on Yelp, so it can be difficult to claim, manage or edit your profile if you are not spending money on the platform.
Off-Page Local Search Factors
In addition to on-page ranking factors, there are a few off-page optimization ranking factors that can help signal to Google your website is relevant for local search.
Local Business Citations
A local business citation is anywhere on the web your business is listed that mentions your:
Business name
Address
Phone number
Website
This information, also known as NAP, can appear on local business directories, social media, map apps, and search engines. It is important to maintain consistency across platforms to make sure you are serving users the correct information, instead of leading to frustration if the phone number isn't working, or they drive to the wrong address. It is also important for Google, so they are able to connect all the "online" puzzle pieces together regarding your business.
The most common data aggregators include:
Apple Maps
Bing
Facebook
Foursquare
Google My Business
Yahoo!
Yelp
For example, let's say a business is listed on Google My Business, Yelp, Facebook, and Yext. All these platforms are means of communicating business information to someone searching for relevant keywords.
Local SEO citations can help your online presence by establishing prominence and help rank on Google Maps.
How to Check your Business Citations
There are two ways to check your location citations across the internet.
Manually – Navigate to each major platform your business is listed on and manually check the information to make sure it matches the others.
Local Citation Tools – There are a multitude of tools out there that can speed up the process of looking for your business information across the web. Some of the most common include:
Yext
Whitespark
Moz
Brightlocal
Local Link Building
Local link building is the process of obtaining links from local businesses to help increase relevance for location-specific keywords.
Local links help your online presence by building relevance and authority. Relevance is the key factor in local link building because it signals to Google that other websites in the area are able to verify the importance of that business to the locale.
Building local links can help your business rank higher in the map 3-pack which may help drive more traffic and leads to your site.
Easy places to get started with earning local links can include:
Chamber of Commerce
Local Sponsorships
Local Organizations & Associations
Local Media Outlets
Other Relevant Local Businesses
Obtaining quality links from local businesses can be a tedious process, but the key behind is it building quality partnerships and establishing relationships with other relevant business owners in your area.
Managing Local Presence
Local presence means creating a voice and environment that appears across the entire local search landscape. Accomplishing this will come indirectly through curating local listings, but the upkeep is just as important.
Maintaining a strong local presence can extend beyond SEO style optimizations, and into how you collaborate and communicate with your local community.
What are Local Listings?
Now that we have an understanding on how to establish your local page, it is important to look at the holistic search landscape. Local listings play an important role in establishing your business in the search landscape.
Local listings are the name, address, and phone number of your business that will be picked up by local directory sites, some of which cater to the most niche searches. Your local listing will act as your single source of truth for these directories and after establishing your local listing, it is important to disseminate the information to high profile directories such as Google My Business, Facebook, and Yelp.
The important pieces of your local business listing should go in order and be accurate across all directories where searchers may find you. Your local business listings should contain:
Business name/title
Address
Phone number
Website URL
Categories
Description
Tagline
Social profiles
Images
Video or Additional Media
Certifications
Brands carried
Payment forms accepted
Attributes
Keeping these pieces of information accurate and up to date across all directories will have a positive impact on your local SEO. Beyond the local SEO impacts, maintaining these directories keeps your potential customers informed and up to date.
Maintaining Your Small Business Local Listings
Local listings are important to establishing each business location as legitimate, trustworthy, and informative for your clients. For businesses with fewer physical locations, it is possible to manage these listings in house, as an extension of the marketing team.
To appear in map searches, it is important to prioritize directories such as Google My Business, Facebook listings, Bing, and Yelp, which are then pulled into the local search landscape (e.g. map packs, apps, and map pages).
Maintaining Medium to Large Multi-Location Business Listings
It is possible to manage all physical locations, but at a certain point, scaling listings updates becomes challenging. The importance of maintaining and publishing correct information regarding your locations is the same no matter how many locations a business might have.
Managing Local Listings
Manage Listings in House: This option can be manageable for businesses with few locations. In house team members generally have ability to communicate with locations and the process for managing and updating listings is more time-consuming than difficult. Being proactive with updates and organized with what directories can make in house management a viable option.
Hire an Agency: Agencies can be great partners and a wealth of knowledge, providing the local listings to an agency, is a hands-off method for local listings management. Many marketing agencies can handle this type of ask, and there are certain agencies that specialize in local listing management.
Utilize a Listings Management Software: Software strikes the balance between in house, and agencies, allowing an in house marketing team to manage and publish listings and listings updates at scale.
SEO Challenges of Local Listings Management
Managing multiple listings across different directories, all which ask for different sets of information, creates some challenges. What seems to be a simple task of telling clients your name, address, and phone number isn't always that simple.
Here are some common challenges of dealing with local listings:
Duplicate Listings: Many directories pull information from different sources, and if inconsistent names or addresses start to populate, other aggregators may see these as a new listing, which then populates with certain overlaps on existing listings. Through tools, or agency services, corrections can be submitted at scale to correct/dismiss these duplicates.
Unclaimed Listings: Prioritizing owning these listings is an important step to ownership within the search landscape. Unclaimed listings mean the ownership is not in your control. Claiming these listings will allow the company to update the information and use the listing and maintain accurate information moving forward.
Unverified Listings: Sometimes it can be difficult to verify a listing through Google or other search engines. Verifying a listing should be a main priority to ensure that information can be updated and posts can be published on every account moving forward.
All of these challenges can be managed through individual portals or support contact or marketing agencies, and the sooner a company has full control of all listings, the sooner optimization efforts can take full effect.
Review Management
The importance of maintaining local business citations has already been covered above, but an important aspect of these business profiles is not just the information being put out by the company, but how the company responds to reviews that are submitted.
Review management and response can be a challenging game, but the most important aspect to remember is that this is your company voice being promoted across the web.
Here are some tips to help you manage your review responses:
Always acknowledge reviews from business profiles – If possible, responding to all reviews, even with a simple acknowledgement, can show searchers that the business is active.
Appreciate five-star reviews – Responding to five-star reviews is important as it shows the business appreciates those who had a positive experience at the location.
Respond to one-star reviews with tact – Just as important as five-star reviews, a one star review can be a dramatic mark on a local profile. Taking time to understand and responding with patience and tact gives the business a voice in the narrative.
Spam Management
Understand that as a company, there may be times when fake or spammy reviews can affect your accounts, these reviews should be addressed with the same tact as a regular review, as they are customer facing reviews.
On the back end, spam reviews can be flagged across many sites, Google even has a support team to help remove reviews (after thorough review). Removing these reviews will help maintain your legitimate reviews are showing up on search results for customers to see.
On-Page Local Search Factors
In addition to using local platforms, local search can also be a part of your broader content strategy to strengthen local signals for local organic search results.
For example, if you own a tour guide business in Denver, you may want to create a guide on the best things to do in Denver. This can help signal those local SEO ranking factors:
Signal to search engines that your business is located in Denver
Show you are a knowledgeable source of information for Denver tourism-related searches
Keep your readers engaged and provide them with a great user experience
Act as an opportunity to encourage readers to buy your tours
These on-page signals can help boost organic search results for keywords with local intent. So how do you begin to incorporate local SEO into your strategy?
Local Keyword Research
In general, a local keyword will follow this format:
"[core term] + [modifier] + [location (or near me)]"
Keep in mind that types of locations can vary from broad to specific, including cities, regions, counties, states, countries.
For example, a search query could look something like this:
vietnamese restaurants in Denver
gas stations near me
best place for an oil change
campgrounds in Colorado
Some of these searches, like "best place for an oil change", don't contain a location, but Google's algorithm will make a connection that the user is looking for an oil change service, which is a physical place.
The intent behind each of these searches is that the user is trying to gain more information about a specific place or business that they may plan on visiting in the near future. Long tail keywords that are location specific tend to convert better, and the more specific the location is, the more likely a user is to convert.
As a marketer, it is important to do local keyword research for clients to understand how users are searching for your client's business in their geographic region.
Local Landing Pages
Another tool for multi-location businesses can deploy is local SEO landing pages.
A local landing page is one specific page on your site that targets one specific location. If your business has multiple locations, you should dedicate a page for each location.
Examples of local landing pages are:
/about/locations/philadelphia/
/about/locations/san-diego/
/about/locations/remote/
Each of these showcase the office headquarters, where users might land on if they search "SEO agency philadelphia" or "seo agency in san diego". These pages may help increase lead generation in that specific area.
Additionally, if your business services multiple locations, you should list each location on an additional page. These types of pages are known as locator pages. They should provide a high level overview or map of the different locations.
Local landing pages and locator pages can also help improve user experience and your website's local search authority, which help make a connection that your website offers services in that area.
Local SEO by Industry
How Types of Industries Can Utilize Local SEO
Depending on the type of industry your business or client is in, your local strategy and presence online may differ. Each industry will have slightly different features that will be available for some businesses but not for others. Knowing what features are available to your vertical is a must if you want to improve your local ranking.
Below are some top industries and category-specific features for local SEO:
Travel & Hospitality
With the rise of online travel agencies, Google is capturing market share by allowing people to book hotels, flights, and activities directly on search in one to two clicks. This also includes people searching for accommodation-related queries with 'near me' modifiers.
For instance, take a user who is looking for hotels. Google offers attribute buttons that help users narrow down the type of hotel based on factors like location, pricing, and flexibility. These callouts include:
Top-rated
Budget options
Luxury stays
Free cancellation
Deals
For tonight
Other features that travel and hospitality businesses on the SERP are:
Flight information is now easily available with pricing in one search, where users can pick their destinations and travel dates, and compare common carriers, travel times, pricing, and connections.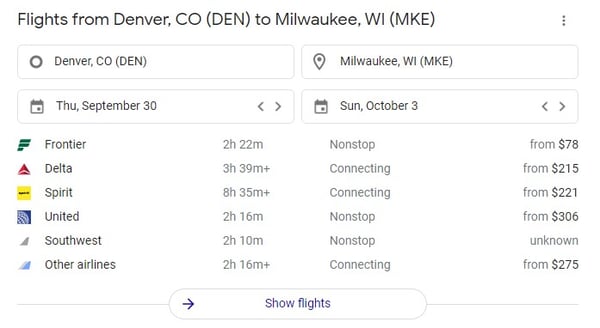 Healthcare
The healthcare industry should utilize local SEO for a multitude of reasons:
People may be experiencing specific symptoms, may be searching for specialized doctors near their residence
Primary care physicians may be unavailable, and they need another doctor
May be new to town and searching for new healthcare providers or facilities
In this instance, searchers can sort healthcare providers by rating and hours. This is because when are searching for a new doctor, they read online reviews about doctors/facilities before scheduling an appointment, and hours may be important if they are looking for same-day appointments or have an urgent medical concern.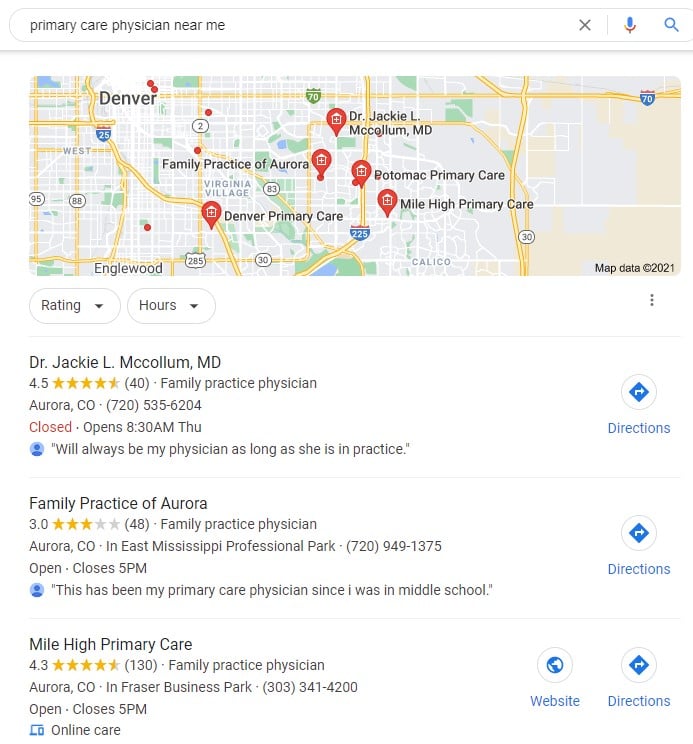 Newer additions to Google include online care and telehealth options that allow patients comfort and convenience, especially throughout COVID-19.
Higher Education
Local SEO for higher education can help connect universities with potential students who are doing preliminary research on schools near them or want to see the courses and program offerings a school may have. This can help both with the keyword searched with local intent, and different GMB features display on the Knowledge Panel.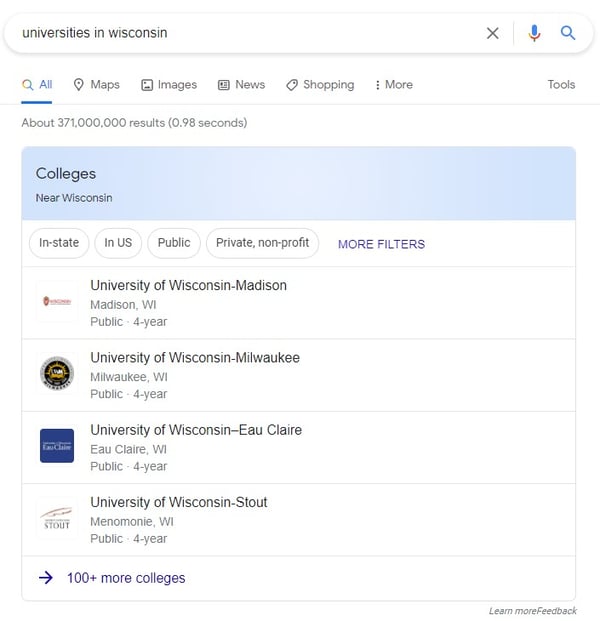 Universities can create GMB profiles. Specific to higher education, these knowledge panels contain information about average costs of attending, graduation rate, and acceptance rate. Some schools may also pull in data for average ranking, average annual in-state cost, and in-state cost by household income.

Each program or school can also create a separate GMB profile. Similarly, it will display ranking and acceptance rates, as well as when it was founded and any additional or former names.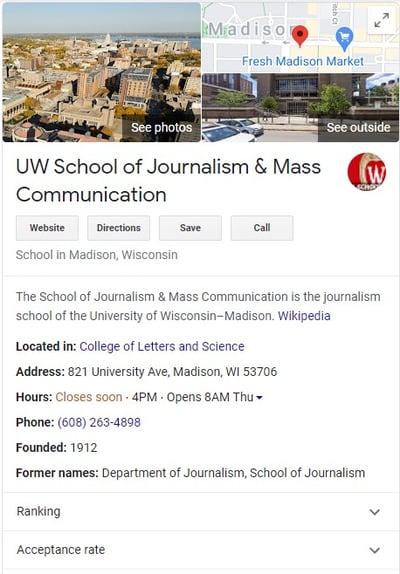 Insurance & Legal
Local SEO for the Insurance and legal industries is important because readers are likely searching for a very niche type of lawyer or insurance agent based on their location.
Users are likely doing research online before making an insurance purchase, meaning that reviews are likely to play a role in consumer sentiment. Google displays a rating filter to help connect users with highly-rated businesses.
GMB features include how many years the company has been in business, as well as if they offer online/onsite services.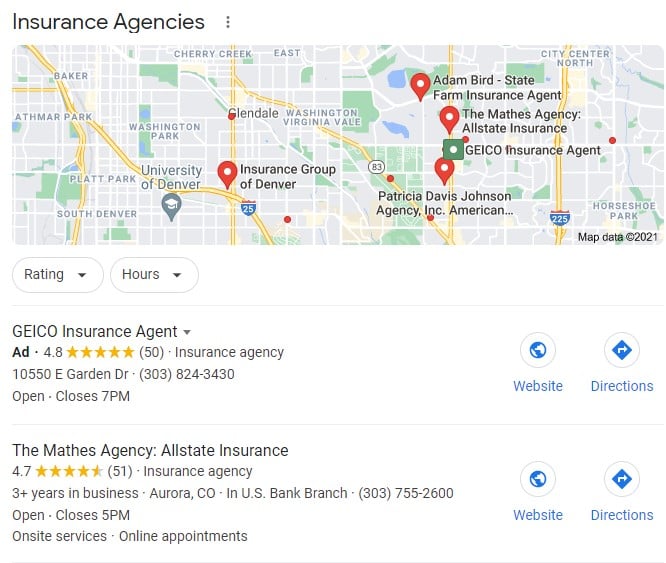 Restaurants
If you have ever ordered food online or were searching for a restaurant to try out, you may notice some pretty neat SERP features when performing a search.
Having an SEO strategy for restaurants is important for this industry for a multitude of reasons:
When people are searching for a specific type of cuisine
When people looking to order food online
When people looking for restaurants in a particular part of town
Reader's looking for restaurant offerings, such as outdoor seating, dine-in/take-out, how expensive, etc
If you search for a particular type of cuisine, you'll see that Google allows you to filter based on rating, cuisine, price, and hours.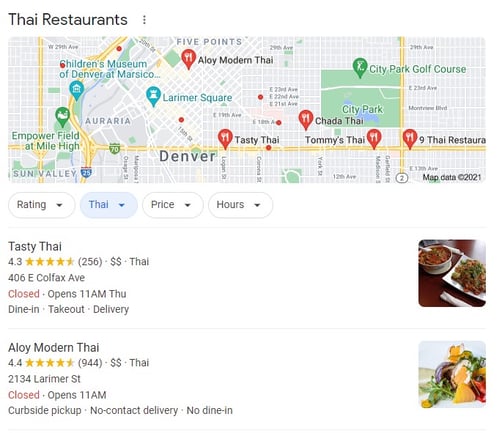 Additionally, there are also capabilities to order takeout directly on Google, instead of having to navigate to a third-party service or the restaurant's website.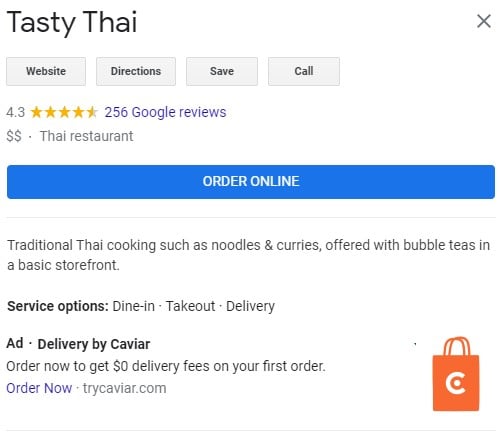 Service Area Businesses
In some cases, some businesses may not have a physical address or location, or may serve customers at other locations. Google's approach to this is allowing business owners to select a radius of where they offer their services.
For example, a cleaning service company will travel to their client's locations to perform the service. It wouldn't make much sense for them to display where their headquarters may be located, since users aren't visiting the office.
Less awareness of the company due to lack of storefront means that online marketing should be strong to help bring in leads.
Local SEO Reporting
Local SEO reporting can act as an extension of your standard SEO reporting, and can give a greater insight into certain business goals and sales projections as it helps define peak hours, where searchers may be traveling from, and how customers are interacting with local profiles.
By tracking local metrics, it can create an opportunity to dig deeper into the local landscape and enables deeper business conversations.
Keyword Tracking
Following keywords at a local level is important to understanding if optimizations are having the desired impact.
If keyword tracking is not available at a local level, consider focusing tracking on n-grams with local intent, such as term+location or local term+near me. These are ways to adapt existing keyword tracking abilities to match a specific local intent.
Google My Business Actions
Understanding what the actions on Google My Business mean can help guide marketing actions and help forecast future traffic. The types of actions users can take are listed below:
Visits to Website – Visits are a standard SEO metric, and it is valuable to understand when these visits are being driven directly from Google My Business.
Direction Requests – Refers to the number of times a searcher requested the location of a business and the data is broken down into zip codes. This information can be particularly helpful to understand where marketing efforts can be focused in the future based on localized searches.
Phone Calls – Refers to the number of calls a business receives, Google My Business breaks down this information into greater detail, such as days of the week and times of day. This information can be leveraged to understand when more effort might be needed to assist on phone calls, or where there is an opportunity to leverage a social media post.
Messaging – Google My Business has a messaging feature built in, and feature alone can be valuable to interact with clients.
Tracking Mobile
The last important piece of local reporting is to understand that searches will be conducted primarily on mobile devices.
Understanding the devices that potential customers are using can help guide reports to include more valuable and actionable information.
Local SEO Tools
Local SEO can be a lot to manage, but with the right tools, you can make it easy to manage your business (or even 100s of businesses!).
Below are some of our favorite tools and software, both free and paid, that our agency has worked with in the past and present.
Free
GMB

– Setting up a Google My Business account is free to all business owners, and should be your first step when optimizing for local search. Google is constantly releasing new features on the interface that can help you show the value of your business to future customers.
Nifty – Formerly known as Maptracker, helps to track keywords on Google Maps using location modifiers. This service is able to track keyword movement daily, weekly, or monthly into a quick email roll-up.

Local SEO Checklist

– download the free local SEO checklist with 30 quick and easy instructions to optimize your business listings. This checklist encompasses on-page SEO elements, and they also offer a free scan tool to understand how your business listings are doing online.
Freemium
Moz Local

– Receive a free listing score on how you are performing online. Moz local offers a tiered system based on your business needs. With this paid service, you can manage multiple local listings, schedule google posts, and monitor reviews from single dashboard.

Whitespark

– offers local citation services that can help you identify new opportunities on where to list your business across the internet.
Paid
Need Local SEO Help?
At Seer Interactive, we offer local SEO services, including local listing management.
Learn more about our capabilities or keep reading our SEO resources:
VIEW SEO SERVICES READ SEO POSTS