How to Use Google Analytics for SEO
The main goal of Google Analytics is to understand business and market trends as a whole. Analytics is integrated into a business function and can be used by agencies and individuals alike. SEO and analytics work hand in hand to report on progress and get a general understanding of the health of a business. In order to see what an organization needs, you must inspect where a business has been in the past, how they are impacted, and now and what the trends are for the future. That's where Google analytics steps in!
What is Google Analytics?
Google Analytics is a tool that enables you to curate data on a website over periods of time. From this platform, you are able to extract learnings both qualitative and quantitatively to understand historical trends and future projections. Within this tool, you can find insights pertaining to conversion metrics, channel acquisition, user behavior and consumer journey using a myriad of functions within Google Analytics along with Google Chrome add-on extensions.
How Does Google Analytics Work?
Google Analytics works on three levels:
Accounts
Properties
Views
Accounts are attributed to the individual websites associated with the business in which properties and views will fall into. Properties typically reference specific pages of the website related to products or services. This is most commonly seen with websites containing E-commerce functionality. Last, views are where you can get specific and unique with your data. Views allow you to divide primary data you would like to see and is also where you will be grabbing your insights from.
Below is a visual representation of the dashboard structure.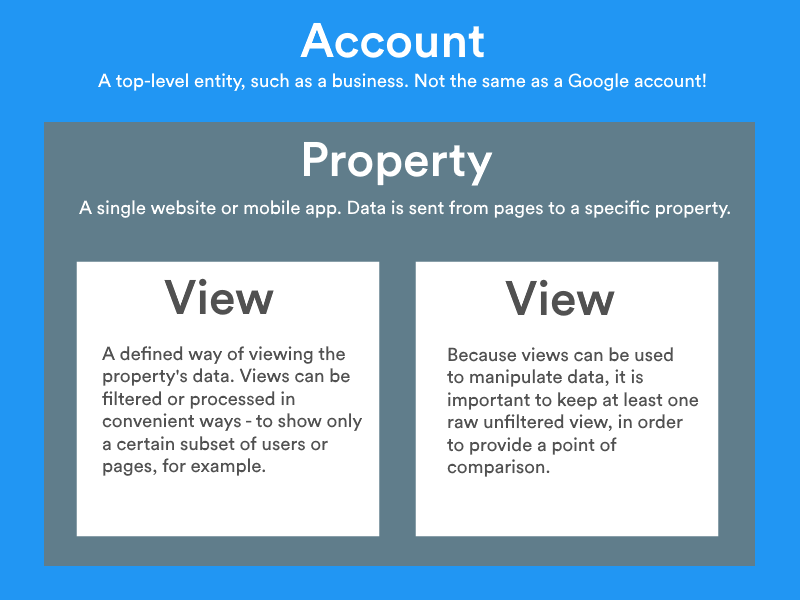 Source: Builtvisible
Helpful Hint: I recommend including a 'Test' view in order to test different filtering in order to make your data as helpful and useful as possible for the business.
How to Use Google Analytics for Reporting
As an SEO, you have a plethora of resources as your fingertips. You may be wondering, where should I start when diving into Google Analytics?
As a jumping-off point, I would recommend 2 important functions for SEO within Google Analytics:
Traffic Acquisition Channels
Specific Landing Page Metrics
How to Find Channel Acquisition Metrics in Google Analytics
In order to find insights off the bat I would recommend jumping into your acquisitions tab! Here you can find any information regarding sessions, revenue, users, and many more metrics!
In order to access this data you first need to:
Click on Acquisition tab
2. Hit the 'All Traffic' Dropdown
3. Click on Channels and you will see the breakdown of channel acquisition to your site
From here, feel free to explore by clicking the respective channels within the 'Default Channel Grouping' column. Of course, for SEO purposes, you will most likely be interested in Organic Search!
How to Look at Specific Landing Page Metrics from Organic Traffic
So you want to learn about specific landing page information? Look no further. Below I will outline 2 strategies that will allow you to filter for only the pages you want in a swift and efficient way!
Within the Acquisition channel view, click on "Organic Search"
2. Next, click landing page at the top of the following screen next to 'Primary Dimension'
3. Once you are here click advanced next to the magnifying glass icon
4. You will be brought to a filter setting as seen below:
5. Within the filter you will want it to read 'Landing Page' containing your landing page URL
Helpful Hint: Paste the landing page URL without the HTTPS information
If you want to input multiple URLs, you will have to create a regex which is the second strategy!
After reading Joe Meola's fantastic regex breakdown, take that regex and plug it in!
Within the same 'advanced' filter view, change the 'Containing' command to be "Matching RegExp' and plug in your brand new regex containing all of your URLs
2. From there you will be able to see each URL's metrics as a collective filter!
Google Analytics, in itself, can yield many useful insights for reporting, revenue streams, and consumer demographic information overall. Utilizing these two main functions mentioned above can most certainly help identify past, present and future performance for SEO strategy and help give historical context to your data findings!
Sign up for our newsletter for more posts like this - delivered straight to your inbox!