Judging from our recent blog posts like whether or not ChatGPT is going to kill Google (it's not) or how we can embrace AI as a tool - AI has been top of mind for us. If you're reading this, we're betting it's probably been top of mind for you as well.
We've been thinking about how we can use ChatGPT to increase efficiencies not only in how we're combining data sources for maximum impact, but also as a mechanism to act on trends faster than ever before to drive growth for our clients in an increasingly competitive landscape.
Table of Contents:
Identifying Top Competitors
Let's pretend we're kicking off a new project with Ring.
I want to learn about their business as quickly as possible so we can start to drive positive results towards our KPIs immediately.
And I want to start by understanding their competitive landscape.
Chat GPT Prompts:
"Who are Ring's top competitors"
Answer Evaluation: From our own manual research, this is pretty spot on - easy stuff.
This is a big list, let's focus in on the top 3:
"What are the UVPs of Ring's Top 3 competitors"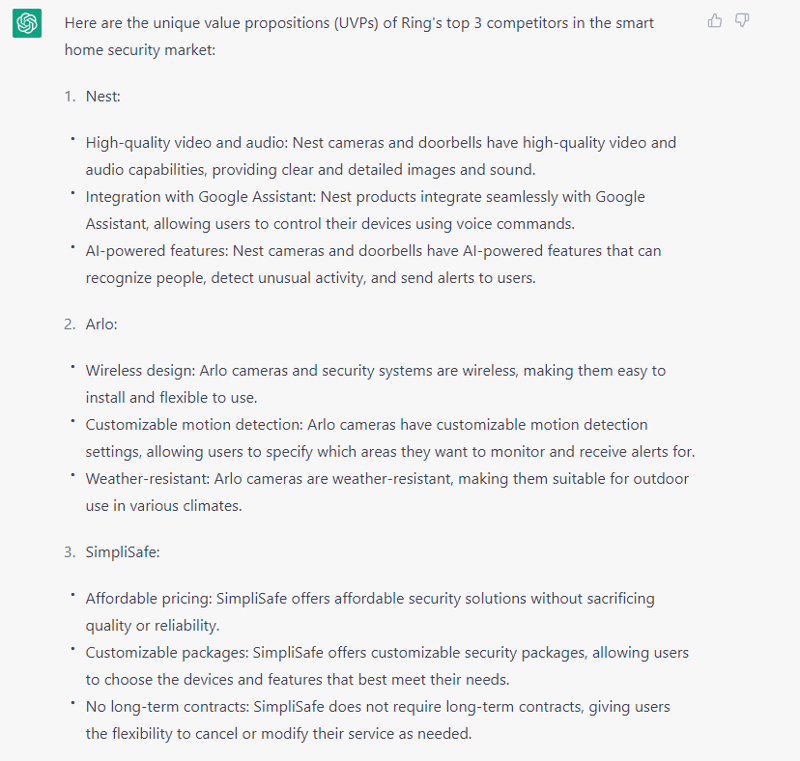 "What are Ring's UVPs?"
Answer Evaluation:
This starts an interesting conversation around what Ring is known for in the market vs. their competitors.
This can reveal opportunities to highlight a client's UVPs more in creative, website and ad copy, etc. It may also reveal gaps when we review a brand's competitors and notice UVPs that overlap but are not recognized by ChatGPT as something we can better focus on in our content and creative strategy.
The same strategy can be applied to evaluate recent advancements your competitors are making that you can bring to your product team. Or, consider conducting audience research to understand consumer perceptions, which could present opportunities to better target them in ad copy (especially in a market like home security that is saturated with products with very similar capabilities).
SWOT Analysis
This then led to our curiosity about the Strengths, Weaknesses, Opportunities, and Threats (SWOT) for Ring vs. its competitors – according to ChatGPT.
Chat GPT Prompts:
"Can you do a SWOT analysis for Ring and it's top 3 competitors?"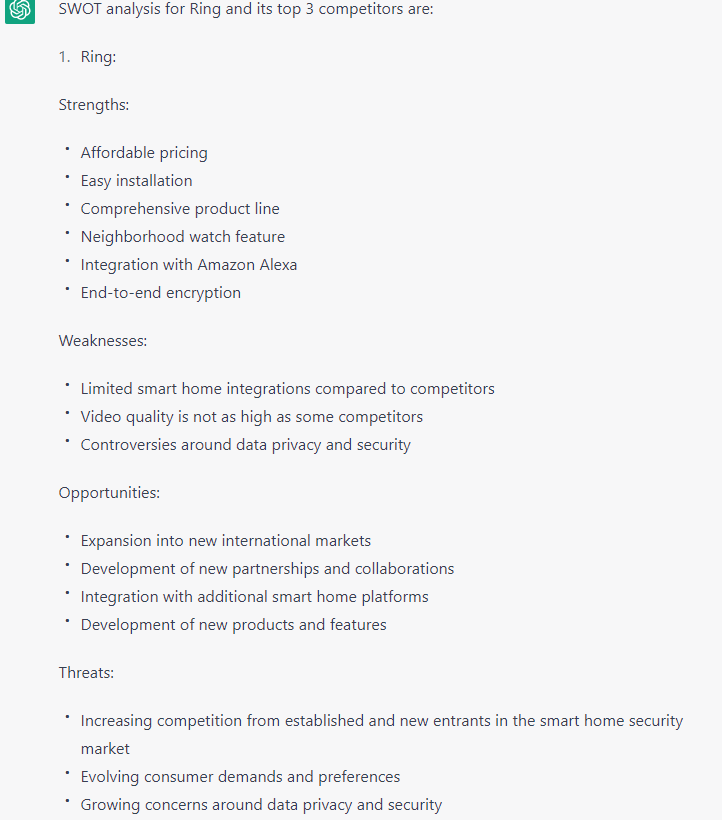 Answer Evaluation:
This type of exercise can be valuable in a few different ways as it relates to planning out your or your client's business strategy:
Where you should be building on your strengths
What weaknesses exist that need to be addressed
Where the opportunity lies to gain additional market share, revenue, share of voice, etc.
Where we need to have our guard up as it relates to threats in the market
The downside of doing this with ChatGPT is that it can't prioritize these areas for you, but it can at least give you a jumping off point for you to work with your strategy, analytics, product and marketing teams on those priorities and action plans.
Doing a SWOT analysis like this for your competitors is equally as important as it reveals that same information that you can use to your advantage.
For example, by understanding your competitor's weaknesses, you can craft conquesting strategies that allow you to capitalize on those weaknesses by highlighting how your product or service directly addresses those. ChatGPT allows you to identify and address those much more quickly than manually conducting these analyses.
Content Analysis
From there, you may want to understand what type of content your new client and their competitors are producing on their websites.
What are the most common topics they address?
What types of content exist in the space?
How can we apply what we learned during our SWOT analysis to take advantage of any gaps?
Chat GPT Prompts:
"What type of content is popular on the ring.com website?"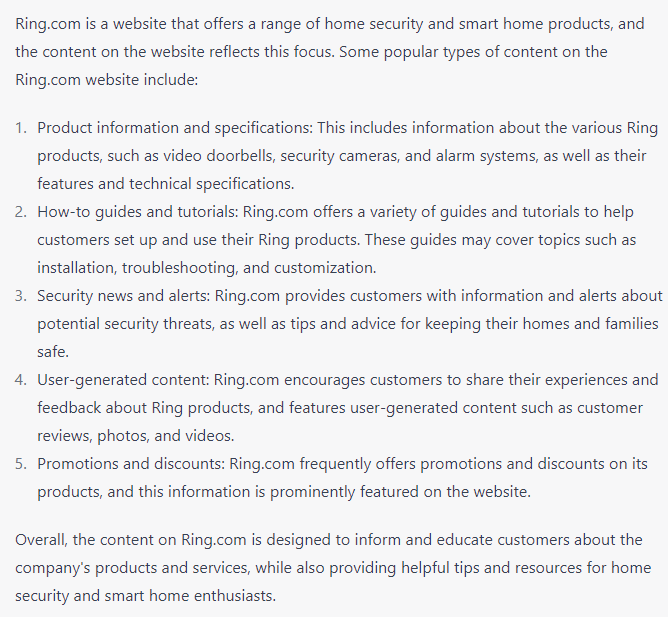 Answer Evaluation:
If Ring were our client, we'd start to have discussions that sound like:
"In our SWOT analysis, we see growing concerns around data privacy as a potential threat to your business.
In our website analysis, we see this insight verified as your users consume a lot of security news and alerts content from you. Can we discuss what value you may see from investing resources to generate more information addressing user's concerns around privacy? We have technology that can catch these concerns as they change and arise so you can quickly create content and gain user trust."
To take it a step further, how does Ring's content compare to their top 3 competitors?
"What type of content is popular on the ring.com website, and how does that compare to its top 3 competitors?"
Answer Limitation:
First, we should call out one of the limitations with ChatGPT: it's based on historical data through September 2021, not real-time, as you can see in the first sentence.
However, it can still be valuable.
We asked a similar question to evoke a somewhat different response with the biggest difference being - not focusing on what's popular, but rather asking in general what type of content exists.
"What type of content is on the ring.com website and how does that compare to its top 3 competitors?"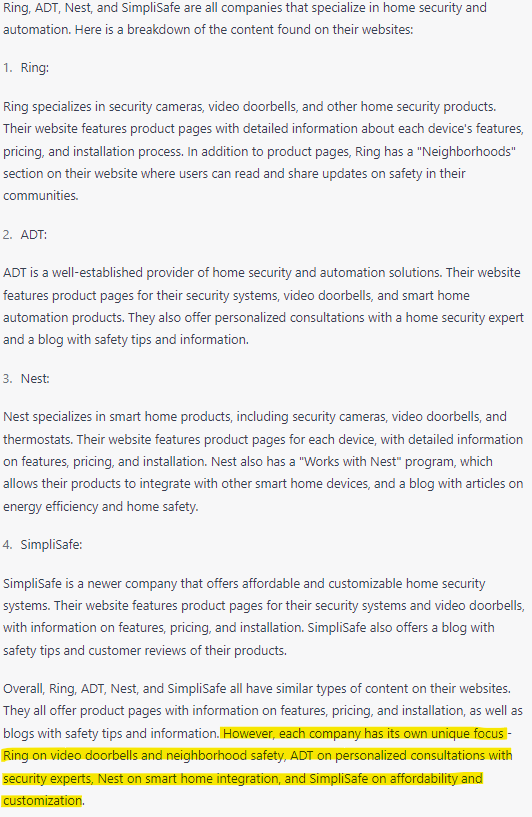 Answer Evaluation:
This last sentence really hit home as it focused on the uniqueness of each, which can highlight opportunities for all.
Beyond content – can we help provide data to our client to power parts of their business beyond marketing? What about product or capabilities expansion?
Site Section Analysis
Another way to scale content research is asking about specific sections of the website.
In this case, let's focus on the blog as we're looking for ways to build awareness to new customers, while providing support to current ones.
Chat GPT Prompts:
"What are popular blog topics on the ring.com website?"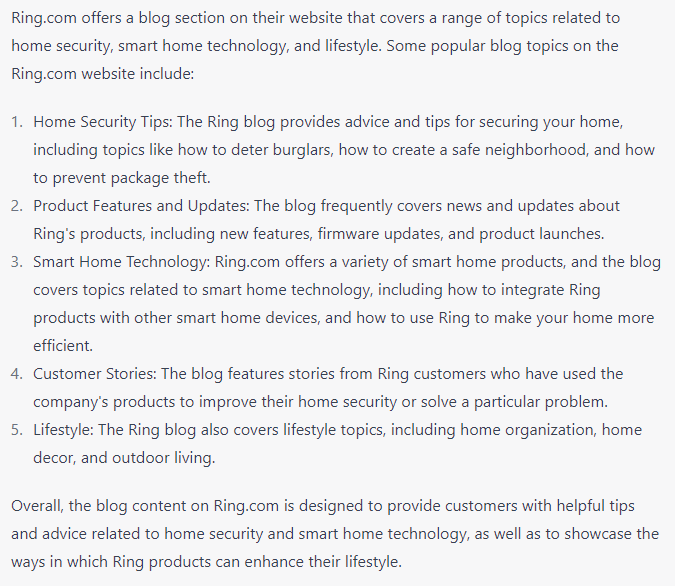 "What are popular blog topics on the nest.com website?"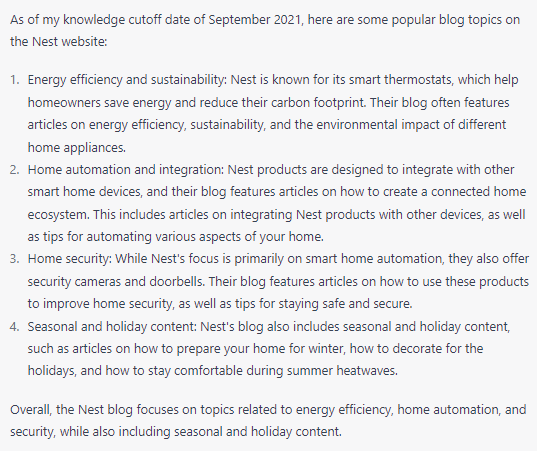 Answer Evaluation:
Two immediate potential opportunities that stand out are:
1. Energy efficiency
2. Seasonal content
*Again, we'd emphasize that content around those topics may already exist on the Ring website since ChatGPT only looks through September 2021.
Regardless, ChatGPT immediately shines a light on potential gaps rather than needing to look under every rock!
Or, let's just flat out ask ChatGPT what type of content they would recommend for Ring.
"What type of content would you recommend ring.com write?"
Answer Evaluation:
You can see a few differences in the type of content and categories ChatGPT said was present on the Ring site already.
For example, the last output suggested content for seniors and people with disabilities.
Google is currently only showing 22 results for disability content on the Ring website.
Only 2 of those are the blog posts with the majority being submitted by their community. This could be an area to explore more deeply, especially with Nest not ranking for any related content.
Media Mix Analysis
Finally, let's take a step back and look more broadly at advertising.
While we may be focused on their online presence, their offline exposure can have a large impact on demand.
Are they active in those channels?
What can we learn from those campaigns and apply to our efforts?
Chat GPT Prompts:
"Where does Ring advertise?"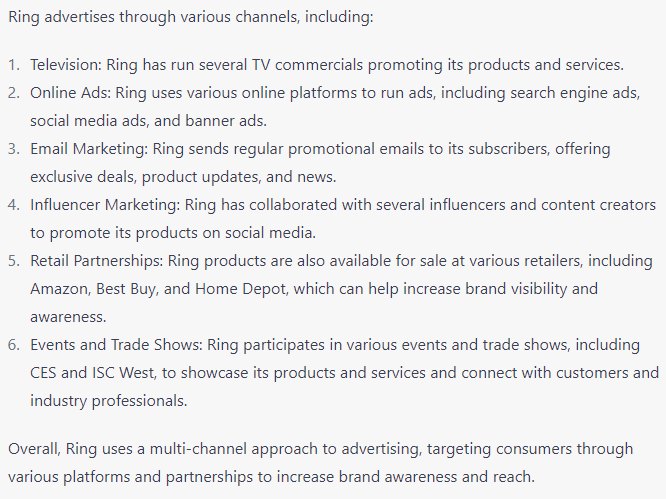 "Where does Nest Advertise?"
Answer Evaluation:
A question that comes to mind for us: is there an opportunity to explore more traditional media, like magazines or newspapers that are popular with our target audience, or ways to showcase how it integrates with other smart home devices that may not be owned by Ring?
How Else Can I Be Leveraging ChatGPT & Similar Platforms?
Doing competitor research is one of many ways you can leverage AI to augment your own client's strategies. Need some ideas for new ad copy or meta descriptions? What about new keywords? Use it to start your research!
However, keep in mind that ChatGPT does come with some limitations, such as only having information up to September 2021, and questions around plagiarism so don't expect to fully automate your work. It does provide a great starting point though and quickens some of the more manual parts of research, giving you more time to focus on strategy.
Keep an eye out for upcoming posts that showcase other use cases for ChatGPT or other topics around AI!
---
Want more posts like this? Subscribe to the Seer Newsletter: