This post was written by: Yuzuka Akasaka, based on Seerfest 2022.
What is the (Perceived) Role of Business in Social Issues?
The ongoing COVID-19 pandemic has changed everything, and continues to affect our everyday lives.
One result is a significant global decrease in trust in institutions like governments and media. This has led people to have higher expectations for businesses to step up and fill the gaps.
In fact, a majority of people across all generations agree that, "companies and brands are an essential part of the solution for the challenges facing humanity today".
Pandemic-Driven Trends
As brands consider how their messaging reaches audiences, they must consider how to continuously adapt, and even step away from their pre-pandemic assumptions.
Ever think, every COVID-19 ad was basically the same? @irenekaoru just dropped this gem and it is a doozy - 3 minutes of bland, repetitiveness and pianos: #seerfest https://t.co/cJqW0PrOp8

— Wil Reynolds
Notice the many things in common between these ads from 60+ companies:
Somber piano music
Some variation of the phrasing "challenging times," like "unprecedented times" and "troubling times"
Old stock footage
Ending on an optimistic note like "we're all in this together"
Viewers noticed these eerily similar commercials, and felt like companies were just hopping on a trend.
This is one observation about a point in time at the beginning of the pandemic, but consumers' responses reflect larger, ongoing attitudes that began years before 2020 and continue now.
How Do Consumers Think About Engaging with Brands?
Advertising used to focus more on pushing consumers to try to attain the unattainable: the perfect outfit, the perfect car, and more, in an effort to live the perfect life.
But in the past few years, consumers are overwhelmingly seeking authenticity from brands. They want to trust brands to make bold promises, and follow through on them.
Most of Gen Z (93%) agree that they would be motivated and loyal customers and employees to environmentally and socially responsible companies. They understand that their purchasing power is one way they can make an impact for social change.
This isn't a passing trend, but a growing sentiment. Even seven years ago, most of Millennials (81%) surveyed globally expected their favorite companies to make public declarations of their commitments to social and environmental causes (and of course, actions backing that up). This outlook is a big deal, as now more than half of the U.S. population includes Millennials, Gen Z, or the younger generation.
A Brand that Proudly Honors its Promise
Businesswoman and musician Rihanna launched the Fenty Beauty makeup brand and Savage X Fenty lingerie brand "so that people everywhere would be included," and celebrate "fearlessness, confidence, and inclusivity."
Both brands honor these intentions and commitment to customers:
Fenty Beauty initially offered 40 shades for its foundation makeup, and has now expanded to 50
Savage X Fenty features sizes ranging from 32A to 40H in bras and XS to 3X (now up to 4X) in underwear (especially important as about 70% of U.S. women wear a size 14 or larger, while less than 20% of apparel is made in those sizes)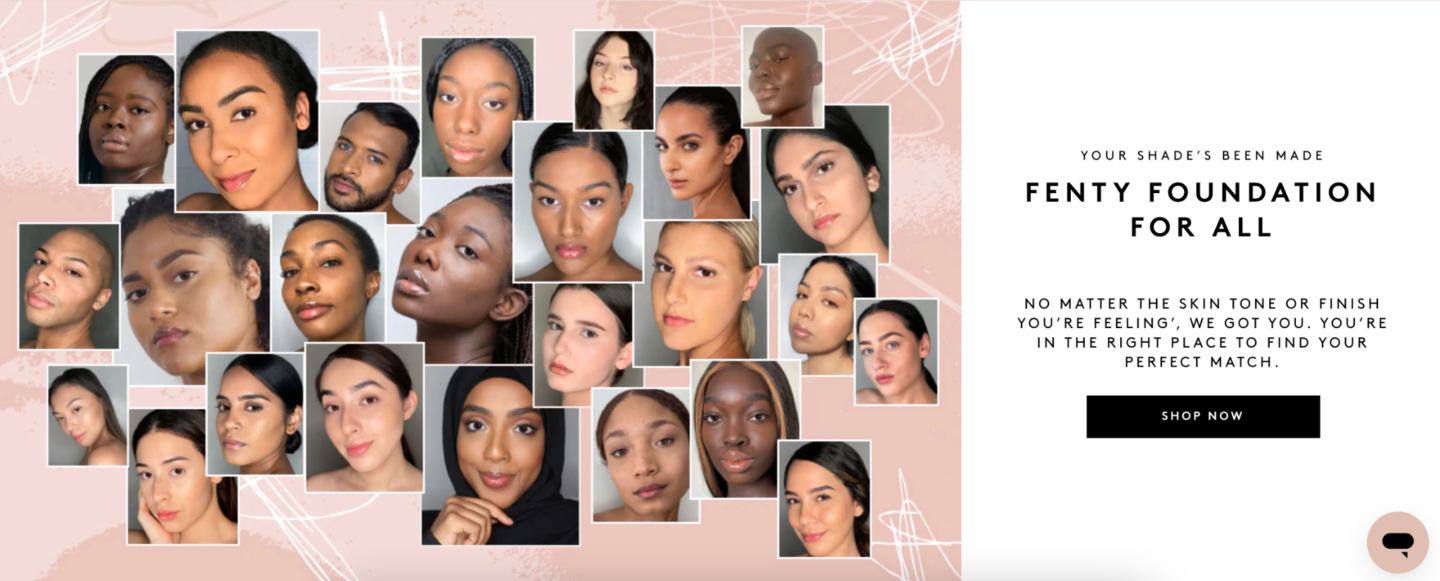 The more people who can enjoy a product and see themselves using it, the more people will become customers.
A shared commitment to a social cause (in Fenty's case, diversity and inclusion in the makeup and apparel industries) -- only strengthens the brand-consumer relationship.
What Makes a Brand Authentic?
Authenticity is how brands connect their promises to consumers with their behaviors. Companies can't blast out a message and hope it resonates with the audience.
Consumers view the relationship between company and customer as a two-way conversation. They want to build relationships and buy from companies that understand their problems, and care to offer solutions.
Have you ever seen brands that share their customers using their product in their marketing? Current and potential customers can see themselves or people like them in the brand and identify with it.
Letting the Product Speak for Itself
Activewear brand Girlfriend Collective, strives to be as eco-friendly and inclusive as possible and makes clothing from recycled materials like plastic bottles. Not only does the business feature models across race, gender, body types, and age on their website and social media, but its Instagram also shares pictures of their customers wearing their products.
Also, Girlfriend Collective values customer feedback to not only improve their experience but also the brand's environmental impact. For example, they shared their 2022 resolutions based on consumer input, like greater transparency around new releases and product innovations for sourcing materials.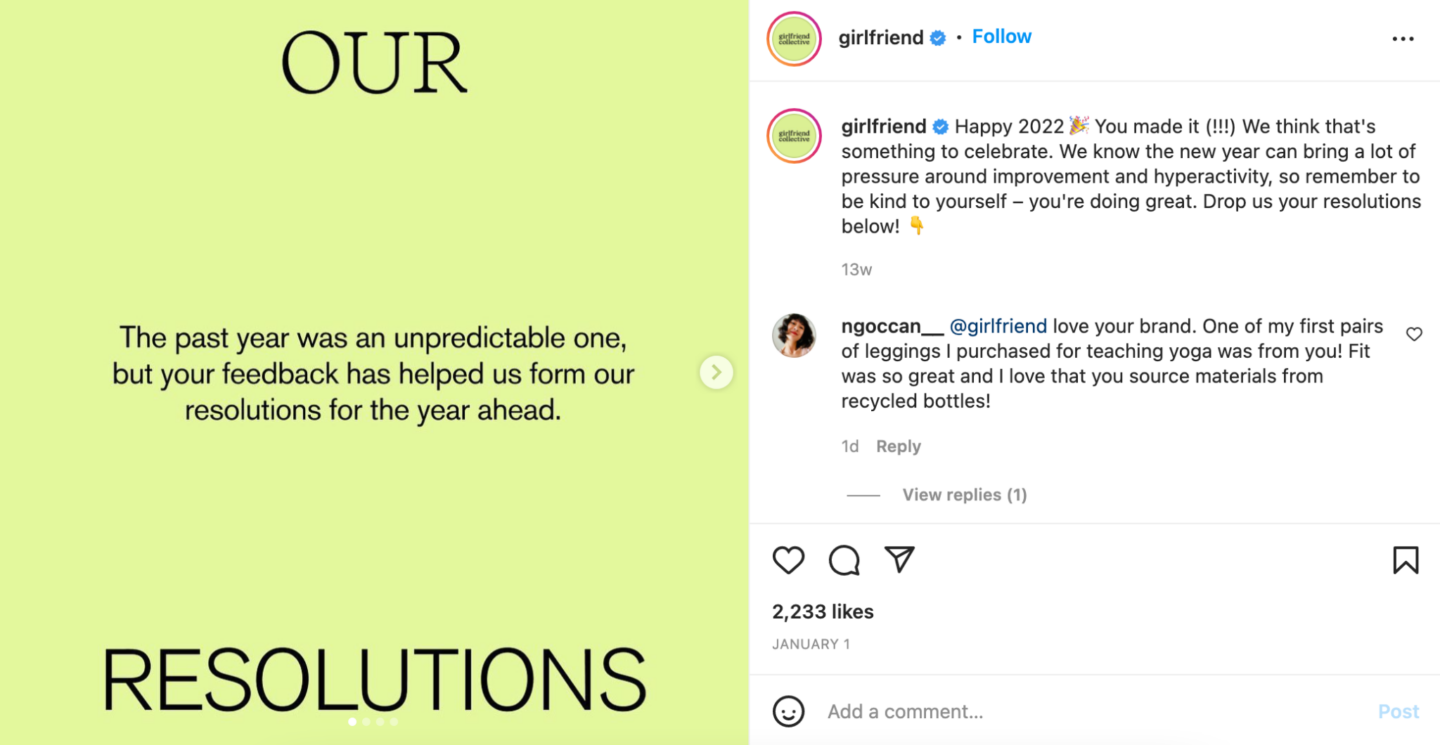 People under 30 are interested in "sharing ideas and experiences with companies to help them develop better solutions to social and environmental problems".
This highlights an enormous opportunity for purpose-driven brands to build more trust, loyalty, and market share -- especially with younger generations -- while helping solve environmental and social challenges.
Aligning with a Greater Purpose
For a brand to be authentic, it has to have a purpose that guides it.
Purpose isn't defined simply as picking social, political, or environmental causes that the company publishes social media posts about or distributes money to. Without a purpose, when brands try to speak or act upon pressing issues, consumers view this as an afterthought, or tacky way to ride the coattails of the current trend or hashtag, and may choose to shop elsewhere.
Instead, purpose is the motivation behind the brand's decisions, and the direction that guides it forward. It's about the emotional and social values it can bring, rather than simply the solution its product addresses.
This seems grand, but correctly defining and aligning with purpose gives companies a tremendous advantage to:
Grow into new markets and reach more customers to create a larger influence
Inspire innovation and change to be a trailblazer in the industry
Unite employees, stakeholders, customers, and the general public around a common passion or cause
Defend against the competition, industry, and cultural shifts
For example, Patagonia, an outdoor clothing and gear store, has several core values, including "use business to protect nature."
This purpose doesn't directly talk about its products, but has led to a reliable and mission-driven brand within the outdoor clothing space, while venturing out to offer:
Also, the brand strives to become more environmentally and socially responsible and pledges a portion of its sales to protecting the natural environment. These different products and services make sense in the consumer's mind, because they all connect back to Patagonia's purpose to use its resources to fight the climate crisis. And this is all while remaining consistently profitable.
Trust built upon a clear purpose in one area can translate into another, even if it seems unrelated at first glance -- like clothes, food, and drinks.
A purpose-driven brand's impact doesn't just serve its customers.
With a deeper sense of meaning, employees are better supported and motivated to rally together to deliver greater social impact, revenue, and market share.
What Can Marketers Do Next?
A purpose-driven brand encourages authentic consumer engagement, which then adds to greater customer loyalty and wider appeal. This consumer connection is valuable for brands (and their customers) to succeed.
Start by asking yourself:
How can the brand reflect the diversity of our customers?
How can we shine a light on them?
How can our marketing be as accessible as possible for them?
When a purpose connects everything across a brand, that leads to greater diversity and perspectives across the company, wiser decision making, superior products and services, and better business outcomes.
The work needed to dig into the brand's purpose and align with it can seem overwhelming, but the benefits are limitless.
Learn More About Purpose-Driven Marketing
---
Subscribe for more insights, POVs, and strategies: