One of the most common questions I hear as an SEO consultant is "Where do I start?"
Getting started with an SEO project is exciting, but it can also be very overwhelming. There are almost always a ton of opportunities to tackle in order to improve your client's website and meet their goals? But since it's impossible to manage everything at once, prioritization is key.
Here's how we recommend prioritizing SEO strategies:
1. Prioritize by Conversion Potential
Focusing on keywords that convert means that you're prioritizing ROI. So use a data visualization tool like Power BI or Tableau to merge your organic ranking data with your Google Ads conversion data and prioritize keywords that convert on paid campaigns.
For example, in this scatter chart, each dot represents a keyword. The keywords within the orange box convert well for PPC and are within striking-distance (positions 5-30) for SEO.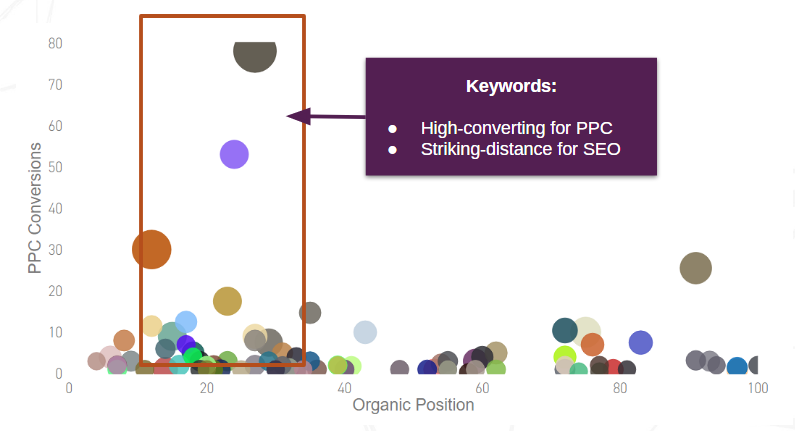 Need some help pulling the data and creating the visuals? Check out Wil's Power BI Basics for SEO & PPC Marketers video series.
2. Prioritize by Seasonality
If your client's business is impacted by seasonality, you should ensure that your optimizations are aligned with their calendar. If they've got a product that peaks at a certain time of year, make sure that the product content is in good shape several months beforehand, so that Google's got time to rank and index your improvements.
For example, if you're working on an e-commerce fashion site, prioritize products like sweaters and boots early in the year, so that your client can implement by spring and be good to go by early fall.

Pro-tip: Even within those categories, you'll most likely need to prioritize, so don't forget to layer in that PPC data to find the most high-converting keywords to target.
3. Prioritize by Implementation Resources
Even the most impactful strategies won't make a bit of difference if your client doesn't have the resources to implement them. So make sure that you align with your client on their dev and content schedule.
Does the dev team have a code freeze coming up in a few months? Then prioritize your most impactful technical SEO recommendations immediately so that the team can implement them while they have the chance. If the dev team is has a backlog, move forward with your most impactful content recommendations.
How do you prioritize your SEO opportunities?
Do you have any tips or strategies for getting started with an SEO project and prioritization? Comment below to share your wisdom!