Are you ready for PPC in 2016? We're not even halfway through the year and there have already been major game-changes to the paid search landscape!
If you didn't happen to attend Seer's Paid Search in 2016 event you missed out on essential answers to this very question delivered by four top experts in the paid search industry. That's right: these are the folks who eat, breathe, and sleep PPC every day. (If there was a PPC beer, you bet they'd drink that too.) With this event, they delved into topics such as paid social advertising, the importance of testing, the value of mobile, and understanding your audience along with some quick PPC pro-tips you can start implementing today.
We got the insider scoop on what goes into making a successful paid search campaign, particularly in light of some recent changes in the industry (such as the removal of Google's right side ads), from some of the biggest names in paid search:
Although we know that the paid search landscape is always changing, Seer's event championed that the way to conquer this change is to welcome it with thoughtful innovation. Tactics that are new, impactful, and strategic allow you to pivot in such a way that goes beyond minor accomplishments and result in success! Below is a recap of the event, photos, and key takeaways that our special guest speakers shared.
Larry Kim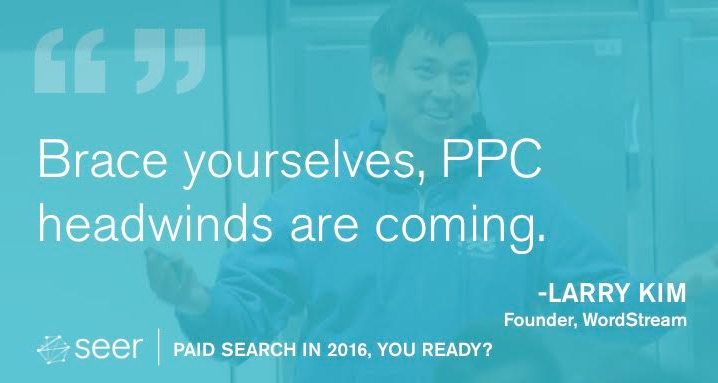 Larry Kim has paved the way to great success in the digital marketing industry with hard work, ingenuity, and a pocketful of fast-talking, pop culture laden humor. He founded Wordstream, a search marketing software and services provider currently headquartered in Boston, MA, in 2007 and acts as company CTO. He's also a regular contributor to the online PPC community through the WordStream Blog, #PPCchat on Twitter, and has been recently named "Most Influential PPC Expert" for 2015, 2014 and 2013 by the PPC Hero Blog.
Important PPC Announcement
Before Larry presented his strategy on how to approach the future of PPC, he tackled what was at the tip of everyone's tongue: the removal of the right hand ads in Google.
Don't believe everything you read on the internet. You should have a healthy amount of skepticism when it comes to the hasty responses to industry changes. Upon Google's announcement in removing the right hand ads from the SERP, industry blogs were (and still are) buzzing with the possibilities of its effects on performance.
Some had quickly concluded that CPCs would get higher as a result. After analyzing data from Wordstream customers across several performance metrics (desktop clicks are up, ad impressions are down slightly), Larry argued CPCs weren't getting higher-- they actually remained the same. Similar to the conclusion of Seer's blog post on Google's right hand ad removal, he showed that supposed nuclear-level impact was actually pretty minimal.
State of PPC Marketing in 2016 & Beyond
With this, Larry launched into the real problem facing our industry today: PPC search ads are not creating new demand, only addressing current demand. "The greatest strength of PPC search ads is also its greatest weakness," Larry explained. The ideal function of PPC search ads is to fight competitors and capture existing marketing demand. So, what can we do to combat this limitation and create new demand for our products? Larry advocates using the power of social ads. Below are three of your need-to-know tips on how to create demand for your products through paid social in 2016.
Find your best content.

Be picky in choosing good content over the subpar, or as Larry would say, knowing the difference between plain, boring donkeys (i.e. 'just okay' content) from the sparkly, head-turning unicorns (i.e. amazing content). Promoting less than quality content pieces is not only unwise, but also is a waste of valuable time and money!

Remember your content should be memorable; PPC acts an amplifier.

Just because you

can

promote something, doesn't mean you should. Social ads allow you to extend the reach of your product, but if your initial piece of content isn't all that great to begin with, you may not see the boost in performance you're hoping for. It's best to go with something already organically successful and capitalize on what you know will perform well. This way, you can expect to see social shares and gain free traffic/clicks at no cost.

Stand out from your competition. In the age of 'going viral', it's not enough just to rely on the power of awesome content. Once you find your top performing content or, uh, I mean, unicorn, "you have to go all in on the unicorn," Larry recommends. Combine a strategy of social media ads, display ads, social remarketing, and RLSA to create a powerful approach that creates new demand for your product!
Interested in hearing all the groundbreaking stats, details, and funny memes used by Larry Kim?
Audrey Bloemer
As a seasoned PPC veteran here at Seer, it was no surprise to see our own Audrey Bloemer take the stage for the Paid Search in 2016 event. For over two years, she's worked directly with clients to establish PPC goals, tactical and creative strategies, as well as execution and optimizations. After explaining that she was basically a celebrity from a real-life run in with Marky Mark himself, she discussed with us the crucial need to understand the why, what, and how of paid search testing.
The Why, What & How of Paid Search Testing
In the fast paced environment of digital marketing, we all feel the pressure to act reactively rather than proactively in coming up with solutions to our PPC problems. We get it-- all of us want to see great results immediately. However, Audrey encouraged the audience to take a step back from day-to-day activities and think of our approach in a broader, more long term way. While it's easy to get lost in the minute details, you should never lose sight of the bigger picture of what we ultimately want to accomplish. To ensure that you're setting up your PPC campaign for success, every PPC marketer should be strategically testing. Strategy is a vital element to paid search; it crafts the framework for the entire optimization process from beginning to end. With real time data, a perpetually changing industry, and the constant need to confront problems, it's a no-brainer to integrate testing into your strategy. But, folks often start with suggesting tactics with little to no data when a problem comes to the forefront. However, Audrey explains that "a strategy is only as good as your understanding of the problem you're fixing." Want to know how to create a testing strategy that is smart, thoughtful, and bound for success? Look no further. Audrey shared her process in this four step breakdown!
State your goal.

Know the objective of your test, why you are testing, and what you hope to accomplish. While it seems like a simple line of thought, not all of us actively do this, whether it be due to time constraints or the pressure to make recommendations quickly. According to Audrey, "Having a defined hypothesis and goals from the start is crucial to determine success." This also allows you to know what success looks like, especially when accumulating large quantities of data isn't an option.

Identify your problem.

Think about what's standing in the way of achieving your goals. "This becomes your problem and the driving force for your next steps," Audrey notes. A problem doesn't have to be a huge fire that needs to be put out-- it can be as simple as something you want to improve!

State your hypothesis.

This is where your goal and your problem come together. What kind of solution are you suggesting your client or business take? Keep in mind that you can't solve all the problems at once, so weigh the benefits of your investment and time along with what's actually possible in the scope of your project.

Identify your strategy and tactics.

"A strategy is always in response to some challenge and is the solution to addressing the challenge," Audrey notes. You should think of this as the 'what' and the 'how' of your approach-- the specific, nitty gritty details of how to execute your hypothesis.
Interested in learning more about Audrey's approach to strategic testing and other PPCers advice at Seer? Sign up to have them sent straight to your inbox.
Roman Gancberg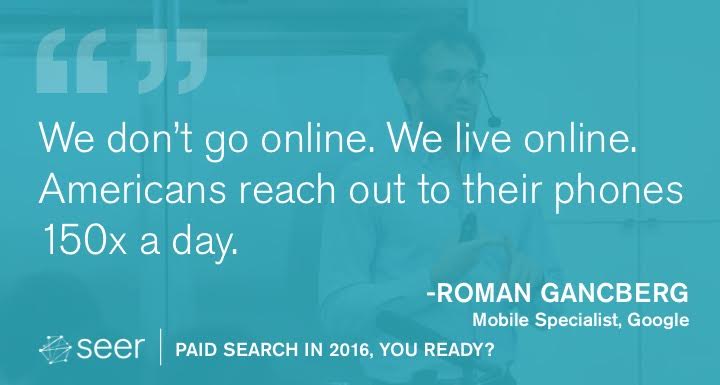 After traveling from his home country of Argentina to become a Mobile Specialist at Google's HQ in NYC, we can say with confidence that Roman Gancberg knows all about the importance of mobile in 2016. Phones are involved in various aspects of our lives-- it's the place where all of our information lives and where we connect digitally with the world. Don't believe us? Roman asked the audience to get out their phones, open their photo album… and then pass the phone to the person sitting to their left. Needless to say, no one passed the phone to the left (except people who are startlingly unafraid of their selfie-game). This mini-experiment established the core of Roman's presentation: mobile phones have not only become a valued, if not indispensable, part of our lives, but a personal one.
Paid Search 2016 - Mobilize Your Business
"We live online, with our phones next to us," Roman remarks, as he shares some startling (and yet, unsurprising) statistics on the degree how much people value their phones. It takes people an average of about an hour to report a missing phone compared to twenty-six hours with a missing wallet. And our personal favorite: 46% of people would rather go a week without brushing their teeth than be without their phones for a week. Crazy, right?
So, what are these powerful, personal feelings toward mobile devices? Google calls these micro-moments, or according to Roman, "When people are looking for answers, discovering new things, or making a decision." As marketers, it's critical to understand a person's intent and the context of their search to help you hone in on what a person needs during that particular moment. But, are we structured for success in our paid search efforts on mobile?
Lucky for us, Roman express three specific points where PPC campaigns should focus on for success below:
Incredible experiences.

Deliver to your target audience not only what they need, but what they want. People want an easy, simple path to get there. Think about your landing page and how long it takes for folks to convert. Is the site slow? Better yet, is it optimized for mobile? Roman states that "1 second [load time] is the sweet spot for most users!" Think about whether or not your content is up to snuff. It's important to look at your product and campaign with a critical, consumer eye.

Relevant experiences.

Mobile marketing offers a journey for people to find your product. You want to ensure that your product is visible on the search results page (SERP) when people are looking and top of page rate is incredibly important when it comes to mobile. Due to the smaller size of the SERP, competition is high to ensure you're in the top position-- ad extensions such as sitelinks, callouts, and review extension can help you take up more real estate.

Insightful measurement.

Appropriately and accurately measuring your performance is key to understanding mobile success. Indirect and micro-conversions are valuable, as many people conduct research on their phones before going on to making a purchase or download. This is essential in understanding the road your audience takes to finding your product, researching, and then finally converting.
John Gagnon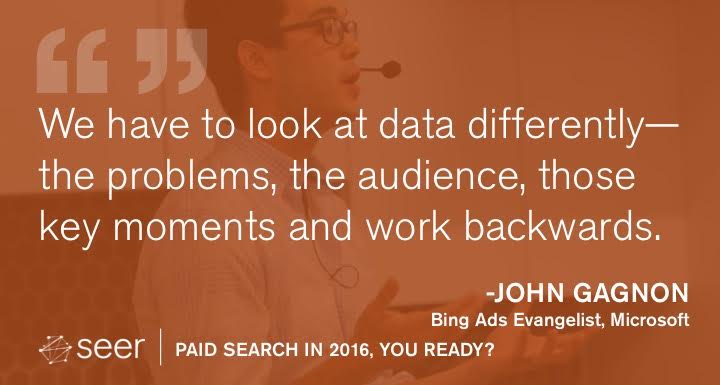 Even after hopping on a redeye from Seattle to Philadelphia, John Gagnon approached the stage with zeal to discuss the impact of better understanding your audience through data. As a Bing Ads Evangelist at Microsoft, John's helped businesses grow by making smart and, data driven recommendations. Additionally, he's contributed to blogs such as Search Engine Watch, ClickZ as well Huffington Post Small Business as well as participating in over eighty speaking engagements, ranging from the likes of Search Engine Strategies, Search MarketingExpo, TechMarketing 360, PubCon, SearchFest and more.
Trends & Techniques for Marketers & Data Geeks
To successfully progress in PPC in the new year, marketers should strive to better understand and address changing audience behavior. "Understand what's kicking off the need and the initial search, and plant yourself there," John states. It's easy to get lost in the data and forget that the numbers are actually people; folks should remember that marketing is all about your audience. Have search patterns changed in 2016? The answer is: yes! With the rapid advances in technology, PPC should be addressing all the fields that have yet to be discovered by marketers, but well tread by consumers (ex. voice search). Also, quite fortunately with the advances in technology, PPC also benefits from the additional insights through telling data sets on audience behavior.
With this in mind, John compiled a list of four new, big trends based on audience behavior for 2016.
Remarketing and audience bidding.

Always being present for your audience is essential, but when you're dealing with budgets, it's better to target with a precise and smart strategy. Remarketing and audience bidding allows you to target and show ads to sets of people (ex. gender, age, location) who have already shown a vested interest in your brand or product. By bidding on these groups, you're able to stay top of mind!

Voice search.

With personal assistants programmed into your phone like Cortana, Siri, and Google Now, voice search has an integral, personal part of people's lives-- even if they don't realize their questions are actually searches. Voice searches tend to be more for the person on-the-go, local, and more conversational (ex. "Ok, Google…") and question phrases (ex. "Who/What/Where/Why"). This changes the game when you're dealing with cut and dry keywords.

Predictive marketing.

This is a combination of location, timing, and intent to produce profit for you and your client. Real life situations are just as telling as behavior. John provided the example that if you were out late and at a bar, and your personal robo-assistant asks if you need a cab back to your apartment. It knows

where

you are and

what time

it is and makes recommendations off of those factors. This kind of marketing understands your needs even before you search.

Iterate.

The definition of 'iterate' is to try repeatedly. John introduced the audience to the marshmallow challenge, a test that required a team to raise a marshmallow as high as possible in eighteen minutes with limited and semi-ridiculous tools (using 20 sticks of spaghetti? REALLY?). It turned out that newly grads business school performed the worst and

kindergarteners

did the best! The difference? Iteration. According to John, the emphasis on trying, testing, and trying again is

crucial

to success in any PPC endeavor.
Wrap Up
The Paid Search in 2016 event at the Search Perch raised over $7k for charity! Seer would like to extend a warm thank you to all who attended the event, as well as our special guest speakers who offered their time and effort into presenting their thoughts on the present and future of paid search.
(Photos by Leigh Wetterau)