There's no denying it: The world of search revolves around Google. The search engine behemoth retains the majority of the search engine market share, and, to no surprise, the majority of advertiser's dollars. Between Google's massive reach and constant evolution of its ad platform, many advertisers likely feel justified in dedicating their entire paid search strategy to Google Ads.
To these advertisers, I'd like to pose the following question:
Is there more to (paid search) life than just Google?
Microsoft Advertising, formerly known as Bing Ads, is the other side of the coin. With a significantly smaller slice of the search marketing pie, Microsoft Advertising is often an afterthought among advertisers. However, there are several unique benefits the platform brings to the table that are important for paid search marketers to understand.
My goal for this blog post is not to challenge anyone's use of Google Ads for their search campaigns. Rather, I hope to clearly outline what sets Microsoft Advertising apart from Google, and hopefully, provide some valuable insights for anyone looking to develop a comprehensive paid search channel strategy.
Let's dig in!
Reach & Market Share
While it's not Google, Bing's reach isn't insignificant. With continual growth over the past decade, and steadily improving year after year (aided by the transition of Yahoo/Verizon Media traffic), Bing owns 36% of the PC market share in the US.
Overall, this comes out to 122 million unique monthly searchers making approximately 5 billion monthly searches. One of the most compelling reasons to consider advertising on Bing is this distinct audience that cannot be reached on Google.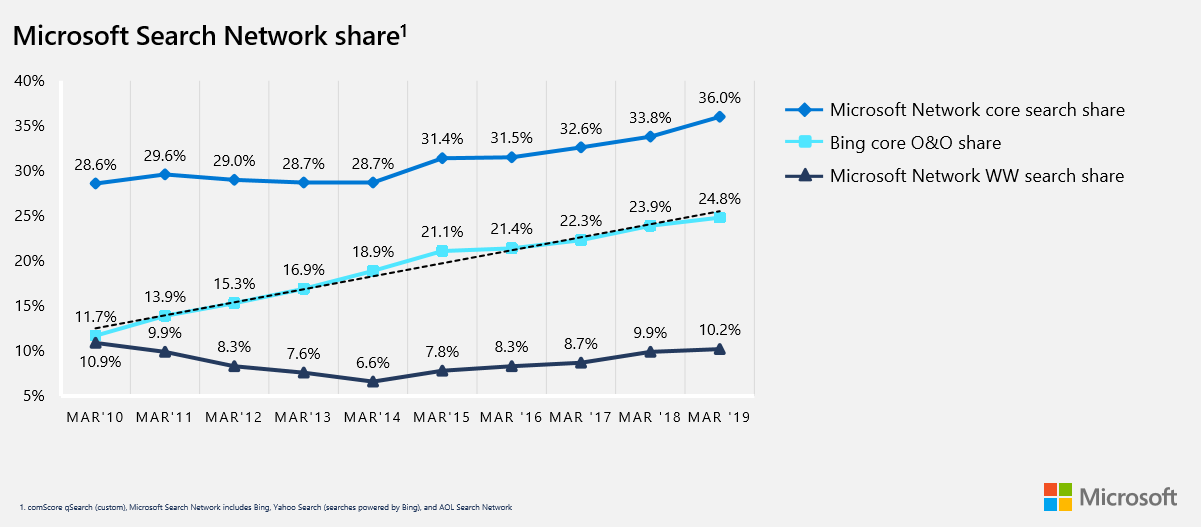 Audience
The Bing user base consists of a diverse audience. Evenly split between men and women, nearly 50% of users are under the age of 45, half of the users are college graduates, over one-third of users have a household income of $100k. To me, this means that there's an affluent user group with buying power searching on Bing every day.
Unique Features
The Microsoft Advertising platform contains unique features you can't find anywhere else. First, the Microsoft Audience Network provides advertisers with ad placements that are cross-device and include brand-safe experiences on premium sites. Think of partners like MSN, Microsoft Outlook, and Microsoft Edge.
Next, following Microsoft's acquisition of LinkedIn in 2016, powerful B2B audience targeting dimensions have been rolled out from an integration with LinkedIn that include industry, company and job function targeting.
Finally, ad extensions unique to Microsoft Advertising, like action and multi-image extensions, give advertisers more ways to reach users.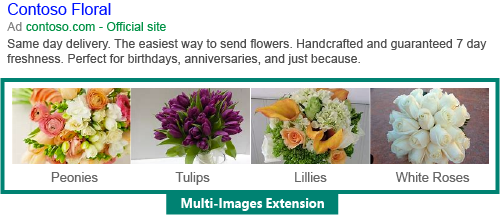 Import from Google
Microsoft Advertising has a direct connection to the Google Ads API that makes it easy to import campaigns from Google Ads. The same connection can be done for Google Merchant center to sync with shopping feeds. Advertisers can even schedule syncs frequently to help with management.
A word of caution: Microsoft Advertising still handles some things like ad extensions and location targeting differently. You will need to make these adjustments and manually adjust your budgets after the import is complete.
Schedule a weekly negative keyword sync to make sure you're negating irrelevant terms across both engines.
Wrapping Up
Interested in testing your paid search campaigns on Microsoft Advertising but unsure where the budget will come from? Here's an idea for you: Use our free tool Saving Benjamin 1.0 to help you find irrelevant keywords in your Google Ads campaigns, then re-invest those savings into campaigns on Microsoft Advertising.
Looking for more PPC expertise? Check out our blog or get in touch with us!