#SeerGivesBack
Giving back has always been a part of our cultural DNA and we are so proud of that. #SeerGivesBack is a team-driven initiative that was implemented to help us live into our values by providing more volunteer options for our team, donating to causes near and dear to our clients and our team, and by fostering relationships with these organizations.
With all the hopes and wishes that come with new year's resolutions, how do companies hold themselves accountable to remain consistent in giving back? Without a plan to achieve donation and volunteer goals -- the reason behind giving starts to become, 'just because". At Seer, we believe that giving should be intentional and purposeful but truth is -- that is easier said than done. It requires hours of planning and collaboration, but with a Volunteer Task Force and a yearly goal and plan, it can most certainly be achieved.
In this post, we'll give you an inside look at the ways Seer has continued to increase our impact in the communities we serve.
Charitable Giving
New client donations - For every new client we sign, we make a donation to a charity of their choice.
Monthly Volunteer Awards - Each month, we reward team members who do philanthropic work with a donation to their charity of choice.
Sponsorship - We have a monthly sponsorship fund that is used to support organizations that are requested by our team.
Fundraising - Proceeds from all of our events are always donated to charity.
Volunteering - We donate both time and money to organizations where we volunteer each month
Giving Tuesday - We participate in #GivingTuesday by donating to any organization our team requests on that day
Holiday Gifts - During the holiday season, in lieu of traditional gifts, we gift our team, our clients, and friends of Seer, with a charity gift card so that they can make donations to their favorite charities
In 2019, we donated over $175K to non-profits - raising over $30K for Hopeworks Camden
Volunteering
We offer unlimited time-off to volunteer

We volunteer together as a team every month, in and out of the office

At least once a year we invite our clients to volunteer with us for our #VolunteerWithSeer event
In 2019, the team volunteered over 1,480 hours
Some highlights from our volunteer efforts: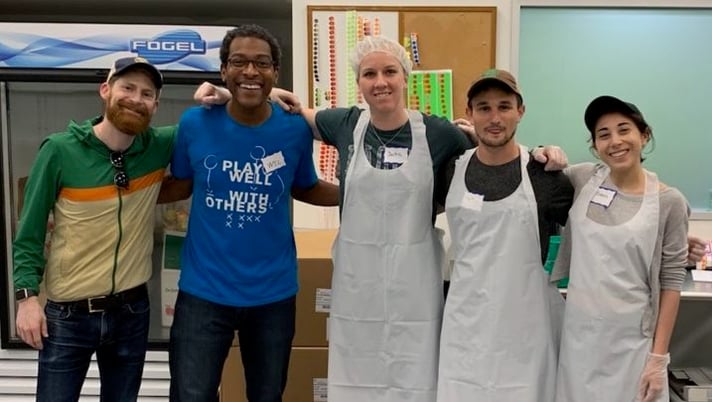 How to Get Started Giving Back
Set a goal - How are you looking to make an impact? How much can your company donate?
Start a Volunteer Task Force - Source volunteers from your team to be a part of a volunteer task force who will be in charge of planning volunteer events and tracking charitable giving. At Seer, we started with two people and now we are at five, who meet for 1 hour once per quarter.
For Volunteer events, start with in-office events. This is where we see our biggest turnout. Examples of this include making care packages for shelters or the homeless, writing cards for children in the hospital or for our troops, clothing drives and making animal toys for local animal shelters. Check out VolunteerMatch.org for more ideas on how to help communities near you.
For Charitable giving, start with a team or client driven approach. At Seer, almost every dollar we donate is on behalf of a team member or a client. We use Forms to collect names of organizations supported by our team and clients. Our team can submit this form at any time to request a donation from Seer.
If your company has set donations and/or volunteer goals -- have you found success implementing a process within your organization? Let us know in the comments below.
If you're a nonprofit organization, it's critical to ensure a positive and informative experience for your communities online. Check out our new Digital Marketing Guide for Nonprofits here! And hey, if Seer sounds like your kind of company -- apply for our open positions or contact us to work together on a project!
---
Sign up for our newsletter for more posts like this - delivered straight to your inbox!