eCommerce is a massive revenue opportunity for businesses. Last year alone, online sales accounted for a third of total retail sales growth! (*1)
If you're searching for a way to capture this type of growth for your company - or just to hope to continue to skyrocket online sales - Shopping Ads are a must-have in your paid search arsenal.
Google and Seer partnered up to create an internal company-wide "Shopping Expert Day"-- the second in a quarterly series of advanced agency training sessions to learn more about the latest features, industry stats, and strategies to the brands that we help every day. Seer's team dedicated an entire day to immerse the team in the world of Shopping: from the growing impact of product listing ads to new features ready for testing. We've compiled some of the most important lessons for you to bring back to your own marketing team!
Beginner to all things Shopping? Start below. Already familiar with shopping ads, and want to jump ahead to the new features? Jump ahead here.
Shopping Novice - Shopping Ads = Brand Exposure
You can double, if not triple serve your ads on the search engine results page by adding PLAs (Product Listing Ads, which are pay-per-click ads set up in AdWords).
Google Shopping can offer your company an additional source of revenue - that can result in big bucks. According to third party data, Product Listing Ads (PLA) retail revenue has increased 52% year over year. (*2) PLA ads can be shown multiple times in Google's Shopping section, not to mention that these ads can also appear with your search campaign text ads.
That's a lot more real estate and brand exposure -- or what Google calls it "taking up more on the digital shelf." A consumer who sees text ads and PLAs are 83% more likely to make a purchase (*3). Need more convincing? Google has tons of resources for to you start testing your own PLAs!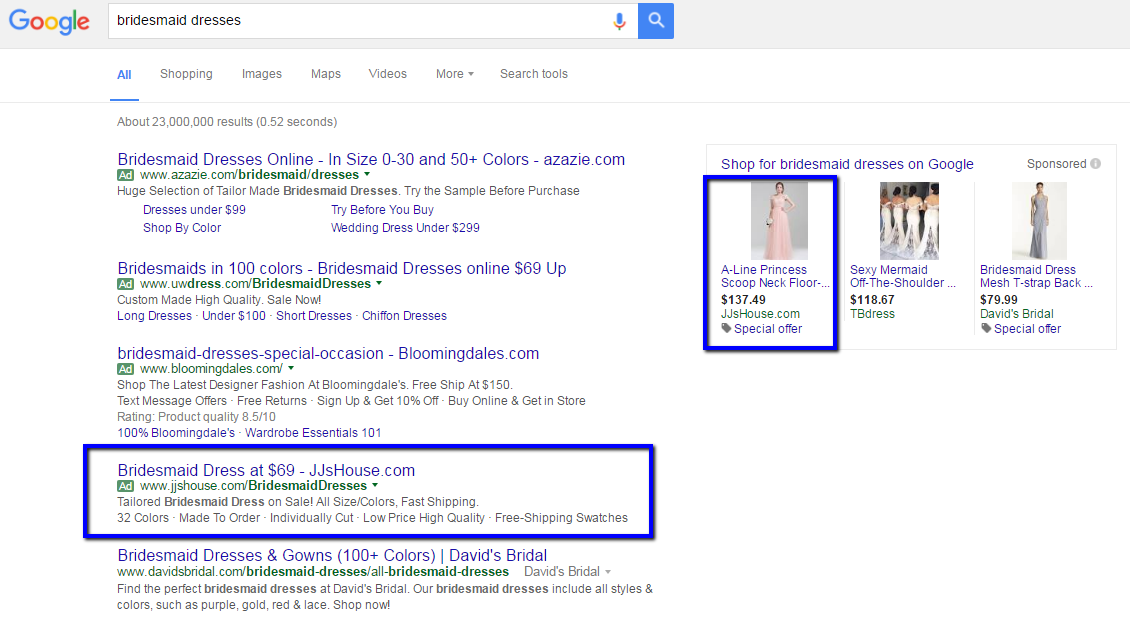 Now that we have the facts, let's talk tactics.
Shopping Dabblers: Successful Shopping Ads = Optimized Data Feeds
You can only optimize your PLAs to a certain point in the interface. The real opportunity lies in the data feed.
PLA ads are set up in the AdWords interface after you create a Merchant Center account and upload your feed, but the true Shopping journey starts with your product catalog. This raw inventory data is the root of what you sell - once it's organized and translated into "Google's language," it can lead to more opportunities (not to mention successful performance after launching PLAs).
What do we mean by Google's language?
Think about all the different ways your product can be categorized. For example, let's say that you sell shirts:
Shirt > long-sleeved shirt > cotton long-sleeved shirt > red cotton long-sleeved shirt > plus size red cotton long-sleeved shirt….and it goes on and on.
Google has its own set of categories called the product taxonomy. Currently, there are over five thousand categories that Google uses to best identify your products. The more descriptive you are with raw inventory data, which will make up the attributes of the product feed, the more qualified your shopper ad will be. These "back to basics" optimizations will eventually lead you to better ROI.
Got the feed down? Let's test.
Shopping Experts: Testing Strategies=Shopping Growth
Running PLAs is only the beginning. How are you growing Shopping opportunities?
PLAs are usually top of mind when considering Shopping ads, but Google offers many other options. Some of these features covered in our Shopping day included Shoppable Trueview, Dynamic Remarketing, and Local Inventory Ads.
Shoppable Trueview - Top of Funnel
According to Google, "64% of shoppers say that YouTube influences their purchase decision." (*4) With Shoppable Trueview, shoppers can watch your in-stream ad and shop from an array of products, all within YouTube. If you've seen success with PLAs on the search engine results page, try testing YouTube for added reach and increased brand exposure.
Dynamic Remarketing
- Mid Funnel
Similar to remarketing, this is an ad format favored by Seer as the ROI is often incredible. It works like this: a shopper views your website then leaves the site to browse the Internet. While visiting other websites, they see an ad from your brand. Instead of a static banner image used in a traditional remarketing campaign, this dynamic image shows the products the user specifically viewed. A more qualified shopper, one who is already familiar with your product, is more likely to convert. If you aren't using this ad format as part of your remarketing strategy - get on it!
Local Inventory Ads
- Bottom Funnel
Google's findings indicate that "83% of shoppers are more likely to visit a store if they check the availability of an item online before heading to the retailer." (*5) This ad format is essential for brick and mortar retailers who want to connect online efforts to in-store results. It works by displaying your product to shoppers within close proximity. Once clicked, the landing page is a Google-hosted page where the shopper can view inventory, store hours, and more! You'll need a Google My Business account, an In-store Product Feed, and Local Product Info to run these ads.
Bonus: Mobile Shopper Updates
Online shopping has been growing due in part to another huge shift in our industry - the rise of mobile. Regardless of your product or industry, consumers are researching and buying from their phones. In fact, mobile PLA sales have increased by 164% year over year! (*2)
What's causing the huge increase in mobile sales? Shopping ads show above text ads on mobile, which gives these ads a greater advantage in already small space. It's also a compelling ad format: at a quick glance, your eyes favor images over text. Google is partial to PLAs on mobile (depending on query intent) since it's easier for users to scroll within a shopping carousel display and it helps increase interaction!
Get started with your own shopper ads!
Overall, Shopping Ads offer a smart way to not only increase brand's exposure, but drive additional revenue. Optimizing your data feed, constantly testing new strategies, and catering to mobile performance are quick wins to keep your PPC shopping game strong.
Feeling like you're behind the ball on all things Shopping related? Don't panic! Contact Seer to start working together with our PPC team. We were recently named a Google Premier Agency Partner!
Sources
(*1) Source: U.S. Commerce Department - QUARTERLY RETAIL E-COMMERCE SALES 1ST QUARTER 2016
(*2) Source: IgnitionOne, Q1 2016. Business Insider Report, 2016
(*3) Source: IgnitionOne, Q1 2016. Business Insider Report, 2016
(*4) Source: Google Think Insights - November 2013 looking at the Milward-Brown study measuring shoppers and natural search behaviors
(*5) Source: Google/Ipsos MediaCT/Sterling Brands, Digital Impact on In-Store Shopping, March-May 2014.