Shopping campaigns are a great way for e-commerce retailers to sell their products online. Many retailers find it easy to set up shopping campaigns, as their product feeds are setup in a way that makes it easy to import to Google (and Bing) Merchant Centers. For other retailers, though, there is a significant lift needed to launch shopping campaigns. Along with the time investment, some retailers face critical questions such as,"How should I optimize my product titles?" "What product attributes do I need to add to our feed?" And of course, "Do I really need to submit the same product in different sizes/colors?"
The PPC team at Seer has helped many e-commerce retailers optimize product feeds over the years. Below are our recommendations on best practices for Google shopping campaigns to drive the most return on your investment:
The Bare Minimum
Every retailer needs to provide the required attributes from Google Adwords in order to run shopping campaigns:
Product ID
Title
Description
Link
Image link
Price
Availability
Google product category
Brand (2 out of 3)
Manufacturer Part Number - MPN (2 out of 3)
Global Trade Item Number - GTIN (2 out of 3)
Shipping
But you're not trying to just meet the minimum, right? Providing more attributes on your product feed increases the likelihood of your ads showing for specific queries. Because there are no keywords for shopping campaigns, providing additional product attributes can increase your quality scores and drive more traffic to your site, leading to more transactions and a higher return on ad spend (ROAS). Below are the additional attributes we recommend for product feeds:
Recommended Attributes
Sale Price
GTIN
Identifier Exists
Color
Size
Age
Custom labels
Promo_ID
PRO TIP: Adding GTINs to your products makes them eligible for shopping comparison on Google. Be sure to add the GTIN to reach more customers!
PRO TIP: Add the promo code for any upcoming promotions to the promo_ID column to run merchant promotions!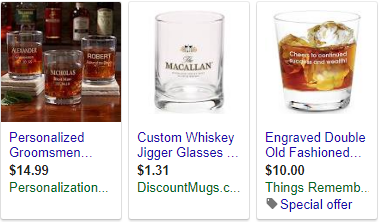 Best Practices: Title Testing
Now that you've updated your product feed with additional attributes, you can start testing optimization tactics. Many of our clients at Seer choose to test different product titles to see what customers respond to best. Over time we've compiled shopping campaign performance on different title tests across a wide variety of industries. We recommend including the following details in the product title to improve searchability:
Brand name
Model number
Color
Size
Take a look at the two titles below. Which one do you think customers are more likely to be interested in?
"Used iPhone 6s – Good"
"Refurbished iPhone 6S – 32GB – Black – Good"
Custom Labels
While custom labels are not required, adding labels to different products can make building and segmenting your campaigns much more effective. Custom labels allow advertisers to segment their product groups by specific attributes outside of the category and product types. For example, many retailers choose to add price tiers to their products: $39,99 and below, $40.00 to $99.99, and so on. An advertiser can then segment their product groups based on price and adjust their bids and budgets to products with a higher average order value. This also helps when it comes to adding negative keywords for shopping campaigns.
You can add custom labels and segment by almost any product attribute. Some other ways advertisers may prefer to segment are by "Top Sellers/Bottom Sellers," "Spring/Summer Collections," and much more!
Custom Products
Retailers looking to sell custom products are required to provide additional attributes. Along with the required (and recommended) attributes listed above, custom products also require the "identifier_exists" and "item_group_id" columns to their product feeds. The "identifier_exists" column is specifically for the Merchant Centers to determine if it's a custom product or not. The "item_group_id" column allows advertisers to group similar custom products together. For example, if you sell custom T-shirts in multiple colors and sizes, you can group them together using the "item_group_id" column. See the example below for reference:

Third-Party Solutions
If you have thousands of products or are looking to outsource your feed management, partnering with a third-party feed management vendor may be an ideal solution. These platforms give you the option to send your product feed to a vendor, who will then optimize and manage the feed. This can save you tons of time to focus on building and optimizing your shopping campaigns.
Data Feed Watch
DataFeedWatch is a third-party vendor that helps advertisers prepare their product feeds for Google, Amazon, Facebook, and other platforms. Their platform downloads product feeds everyday to manage inventory and allows advertisers to optimize their feeds without technical knowledge through pre-populated templates, or they can setup advanced optimizations to supercharge your feed. Their platform provides analytics to help advertisers determine which channels and products are the most efficient, along with customer support and training videos.
Feedonomics
Feedonomics is another third-party vendor that also helps advertisers with their product feeds. Feedonomics' platform helps advertisers optimize for Google, Amazon, Facebook, and other platforms well. One of the differences between Feedonomics and DataFeedWatch is that Feedonomics focuses on feed optimization and does not help to manage inventory. Feedonomics does offer amazing 24/7 customer support through their FeedFillment team, and will even provide a free product feed audit for prospective advertisers.
Closing Thoughts
Having a robust and optimized product feed can make all the difference between barely hitting your goals and crushing them. If you're looking for ways to get more out of your shopping campaigns, start with your product feed. Most retailers see a huge spike in traffic & sales during Q4 and the holiday season.. Testing out different titles, custom labels, and other tactics now can set you up for a smooth and successful Q4. Happy retailing!