When you're managing an SEO campagin, it's part of your job to catch things while the catching is good. Wouldn't you rather find out a competitor is doing something really smart (or shady) - and in affect rising in the rankings - before they've already started ranking? Or, let's say a page on your site is ranking on page two for a potentially great keyword that has a high search volume of targeted visitors you didn't catch in your initial keyword research. With a few tweaks to the content and title tag, you could jump onto page one and expose your website to a plethora of new business. Wouldn't you want to know that before you miss your opportunity?
This is where the SpyFU Recon Files Report comes in. If you're not familiar with SpyFU, they provide intelligence data on not only your website, but your competitors' websites as well. They keep track of campaign progress, monitor what competitors are doing, and other useful tidbits to help you stay ahead of the game. The Recon Files takes it to another level and gives a much more detailed report of which keywords you've improved rankings on, which keywords you've decreased rankings on, and where the greatest opportunities exist; they present the data in a way where you can see improvements over time on a month-by-month basis as well.
Sometimes it's hard to place a dollar amount on the value of the SEO work you're bringing to a client's website. PPC has metrics that include data such as number of clicks, click-through-rates, impressions, and conversions; it's hard to match these set in stone numbers with things like rankings and visits which are sometimes hard to track due to the often conflicting data various tools present you with.
The Recon Report has a unique way of showing SEO value; they determine an estimated number of clicks which is based on search volume of a keyword, where the website being tracked ranks for the keyword, Paid Click numbers, and more. Having this estimated number of clicks really makes the value of SEO gains seem much more clear. With every section of the report, the SpyFU team always brings it back to how much value any gains (compared to paid listing costs) equates to in dollar value.
For the Recon Report, the SpyFU team collects data on their database of roughly 10,000,000 keywords and uses it to give you insight on your own rankings, how much value these rankings are bringing to the table, where you're biggest opportunities are, and where competitors fit into all of this. The report presents you with with three areas of data: SEO Value, Opportunity, and Competition. At SEER we decided, as with most SEO tools, it's best to just jump in and give it a try.
I found value in many sections of this report, but today I'm going to just highlight the main takeaways I saw in these reports.
First Page Graphs
Right off the bat, the first pages of the Recon Report present you with data in an easy to digest format; we all love visualization for our data. It's a great way to get an idea of how well you're doing in the search results over time: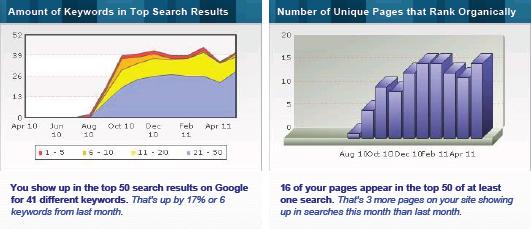 On this same page, the report gives you a visualization of how their estimated number of Organic Search Results clicks has progressed on your site, and how that translates into a dollar value by comparing it to how much you'd have to pay for these clicks with paid rankings: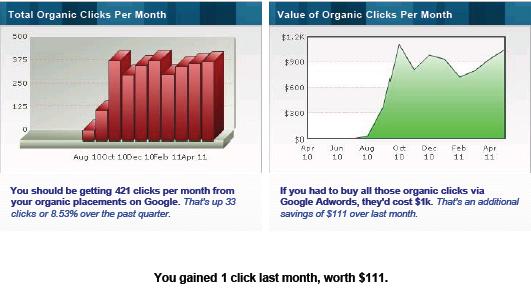 Newly Ranked Organic Pages & Keywords
While you're managing an SEO Project, it's easy to get laser focused on the pages and keywords you're targeting from your original keyword research. It's hard to catch new pages that are being picked up by search engines, especially if it is for keywords that weren't on your radar. It's for this reason that this section of the report is another great takeaway:
Disclaimer: The data in these screenshots and all following screenshots are from the default reports on the SpyFU Recon Dashboard. I'm not giving away Huffington Post's insider data
It's also hard to catch the new keywords you're ranking for. The Recon Report helps you catch this as well with the new ranking keywords graph:
Competitors
The section of the Recon Report that I felt brought the most valuable insight was the competitor section. One of the hardest things to keep track of is potential competitor websites that are now being picked up by search engines, who is making the biggest moves, and which competitors should be your primary focus. One of the more valuable graphs was the traffic share graph. This gives you an idea of where your website stands in the competitive space and which competitors pose the greatest threat:
Another part of the competition section that I think is potential gold is the competitor gains/losses graph. This shows you which competitors are getting more clicks (and in affect ranking for more keywords) over the last month, which are stagnant, and which have decreased in rankings. This gives an even better idea of who to monitor and learn from for your own efforts:
The Final Verdict
I think the SpyFU Recon Files Report brings a lot of value to the table. However, my only major issue with the tool is that for Search Volume, they're reporting on a Broad Match. In my opinion, this makes the report not something I would want to present to a client. It could potentially give them a false sense of how much traffic these keywords should be driving and could possibly derail them from the goals you've set at the beginning of a campaign.
From my perspective, the Recon Report is best used for Search Engine Optimization Specialists to get a better insight on the website they do SEO for. If a website is big enough, or if it has a variety of potential keywords that one could miss (Ecommerce comes to mind), having this data automatically pulled for you every month is very helpful; it's especially helpful when you to stay on top of multiple clients' keywords, data, and competitive spaces. The ideal website for the Recon Report would be large enough to not be able to keep track of all keyword and content opportunities.
SEER is using the Recon Report for some of our clients that fit this mold and so far I've already caught a few things that were potentially beneficial to a client. Thanks for having my back SpyFU!
In order to maximize the report's value, the following things should be changed:
Be able to choose to see Exact Match Search Volume Data, or at least Phrase Match (or all Exact, Phrase, and Broad together).
Right now you can't add your own competitors and SpyFU decides who the competitors are for you. This will change soon, with even a new report that hones in on one competitor of your choosing, according to the SpyFU team.
Right now you can't decide which keywords are included for the site on the Recon Report. You can select keywords you don't want included, but for now you can't select keywords for the report. Again, the SpyFU team says this is a feature this is to come.
What do you think; have you used the SpyFU Recon Files Report? Did you/didn't you find value in these or other sections of the report? If you haven't seen the report yourself, you can sign up for free on the Recon page and view these sample reports for yourself if you'd like to dig into what the reports offer. I'd love to hear others' takes!