Are you looking for a new and easy way to gather leads? Looking to promote some kickass content and gather leads while you promote it? Look no further than LinkedIn's lead gen forms. Lead gen forms come pre-filled with LinkedIn profile data, letting members send you their professional info with just a couple of clicks.
The advantage of utilizing lead gen forms is that a user does not have to leave LinkedIn in order to fill out a form. You choose the fields used in the form, along with who you want to target with LinkedIn's robust targeting options. See below for an example: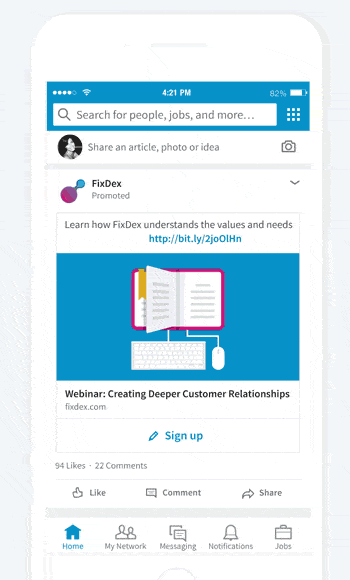 Source: https://business.linkedin.com/marketing-solutions/native-advertising/lead-gen-ads
So Lead Gen forms peaked your interest, but you're not 100% sure on why you should use them...
See below for four reasons why you should utilize these lead gen forms:
Customizable

You can easily gather any information you want from a user by selecting from a list of 20+ fields. You can also have custom fields/questions included in the form. To note, by using custom fields, it might stray users away from the form since it does not automatically fill in their information. If you need to use a custom field, I would recommend using 1-2 that require little text.
Generate high quality leads at scale
When users sign up for a LinkedIn account, they typically are more prone to input their actual information vs. other social platforms. This is due to the professionality and trust of the social network. When a user's information is automatically filled out, you most likely won't have to worry about the emails that they provide being spammy.
Promote downloadable content within one ad unit
Have an infographic that you want to promote? Maybe even a guide? You can skip the step of creating a specific landing page for those pieces of content and advertise them directly within LinkedIn. When a user has their information filled in and they submit, the download will happen in LinkedIn. The user honestly never has to leave a page! However, it is a best practice to include a link within the ad, just in case a user wants to learn more about your company/service.

Higher CVRs

Because users do not have to do much in order to send you their information, it's more likely for a user to convert within the ad unit on LinkedIn vs. the user going to a specific landing page, manually inputting their information, and submitting.
I'm sold! Now, how do I set it up?
Great question! See below for the steps to create your ad with a lead gen form:
Sign into LinkedIn's campaign manager and click into the correct account

Select create campaign

Select your objective: LinkedIn has a few available right now (website visits, engagement, video views, and lead generation)

On the top left, type in a name for your campaign

Once you select your objective, choose the profile language, choose your locations to target your ad to and select your target audience (create your own audience, retarget users who visited your site, or upload a list of users to target)

Select your ad format.

Select your budget, schedule, bid type, and bid amount

Add conversion tracking (optional, but recommended)

Click save and next (make sure you have everything entered in correctly before saving, you will not be able to change your objective or ad format once you save it)
Select/create your sponsored content. Underneath the content you select, you'll see associate a kead gen form. Click on this.

Pick your call to action from the dropdown list

Either select a form you have already created, or select create a lead gen form to make a new one

If you have one created, skip to step 15

If you select create a lead gen form, this is where you'll choose your fields for your form:

Name your form (it will not be visible to others, just internally)

Enter your offer headline (40 character limit), offer detail (160 chararacter limit), and the privacy policy URL and custom privacy policy text (so users understand how their information is being used)

Then you will have the option to select your fields. You may select up to

7 fields

. This includes any custom questions. You can also add checkboxes to the end of your form (up to 3)

Ensure to include every field that is important to your business/if you are connecting to a CRM

Once you are finished picking out your fields, you have the option to customize the message members will see after submitting the form. You can customize a thank you message (160 chararacter limit), a link to your website, and a CTA.

If you are using download now or view now, ensure that the link is a link to the PDF/whatever your content is

Click save

Once you are finished creating your ads and you associated it with a lead gen form, you are ready to launch your campaign!

Click launch campaign on the right side. You'll also be able to tell throughout your content creation the estimated audience size and performance.
Interested in learning how to set up other types of ads? Click here to learn how to set up direct sponsored content ads (including video), text ads, and sponsored InMail ads.