Ah yes, LinkedIn is finally taking the steps to align more with Facebook and is making our lives easier with their new objective-based campaign creation tool. This is something that all of us paid social lovers have been waiting for, so we're excited to try it out! This rolled out on November 14th.
What does it look like?
The new campaign creation tool looks very similar to Facebook's. When you go to create a campaign, it walks you through 2 steps. The first step includes selecting your campaign objective, your audience, ad format, placement, budget & schedule, and conversion tracking. The second step includes setting up your ads.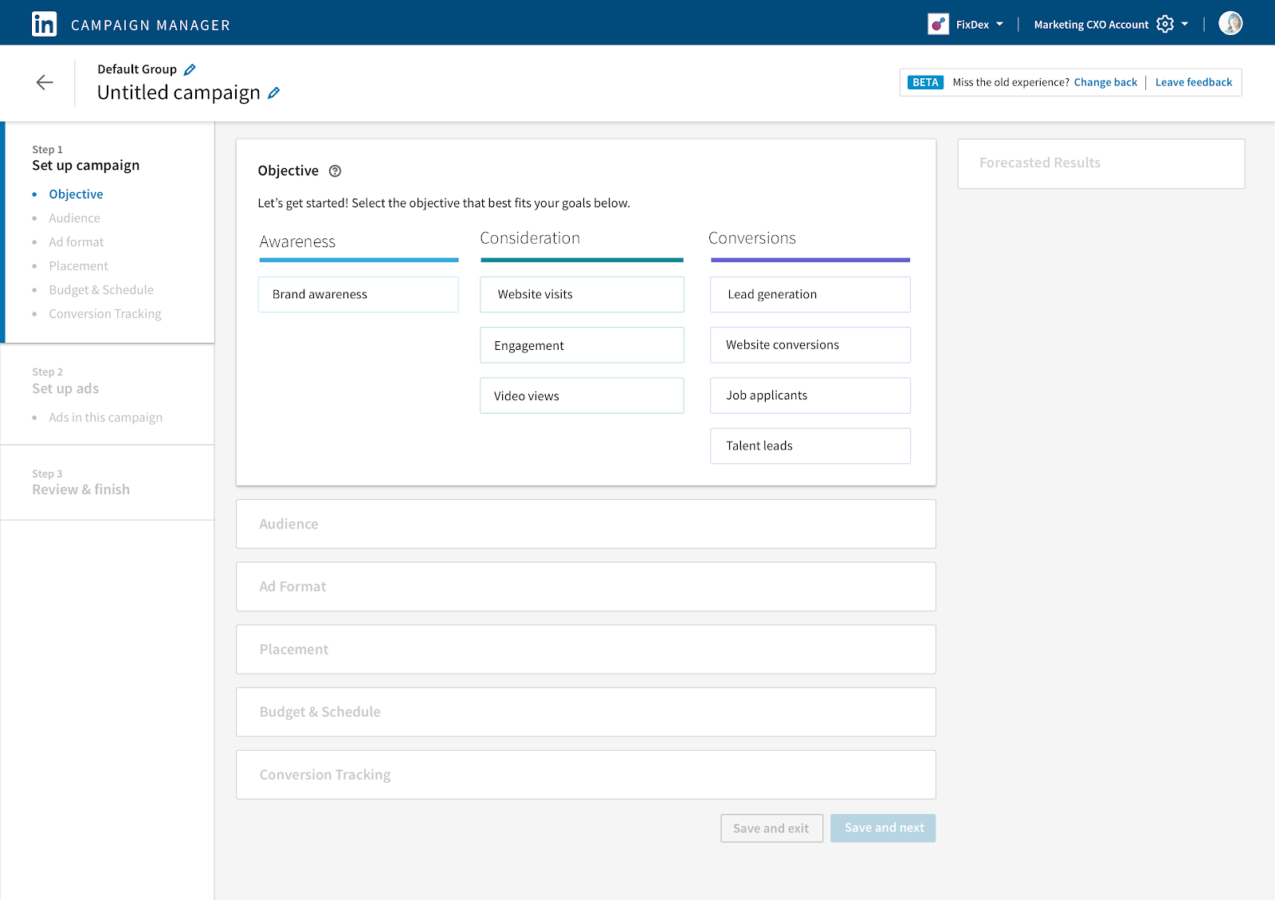 https://business.linkedin.com/marketing-solutions/blog/linkedin-news/2018/linkedin-introduces-public-beta-of-objective-based-advertising-i
How does this differ from the old LinkedIn campaign creation tool?
This is a much better experience than previously, with the most important step coming first - selecting your objective. LinkedIn wanted to create this tool to be objective based, which is music to our ears. The company stated in their most recent update, "This is a complete overhaul of Campaign Manager, designed to make it easier to create campaigns and measure their impact. The newly designed campaign creation experience will lay the groundwork for objective-based optimization and pricing to come mid-2019." They are calling this new experience "Objective Based Advertising."
This new process will allow a more streamlined process when creating ads, where LinkedIn will only have you fill out the most important features for your objective. This not only saves you time but will also allow help you increase performance since LinkedIn is customizing your experience based on your objective.
There is also a new and redesigned targeting experience. There is now a "global search" field where you can type in any type of targeting you want and a number of results will show up - regardless of the main targeting subject. For example, you can search for "Marketing" and results will come up for job titles that include "marketing" in them, degrees that include "marketing in them, etc.
In addition, there's a new "drill down" feature. Targeting criteria are now grouped into 5 major categories:
Company
Demographics
Education
Job Experience
Interests
You can click into each targeting criteria and find all of the targeting options available.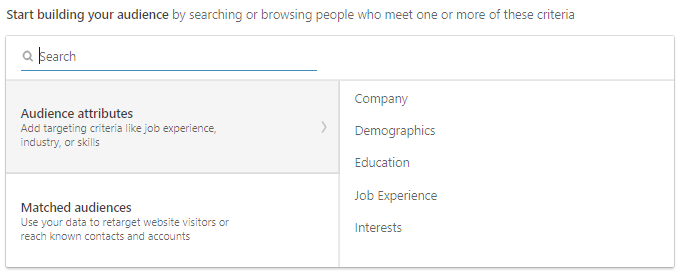 A huge update is their new forecasting panel that still includes an estimated audience size, but now also includes estimated spend, impressions, CTR, and clicks based on a 1, 7, or 30 day period. The estimates change based off of your targeting and how much you enter your daily spend to be. This is HUGE considering LinkedIn has never had a forecasting tool like this before. This will be super helpful for advertisers to understand how much of their budget can be spent on certain campaigns. It will also be helpful to agencies that want to provide more estimates other than audience sizes to their clients.
Lastly, when creating an ad, LinkedIn now includes a preview of what your ad will look like right as you are creating it. You can even see what your ads will look like on different placements. For example, for text ads, you can preview what your ad will look like in the right column, top banner (small), and top banner (large). Before, you had to create the ad, save it, and then go into it to preview it.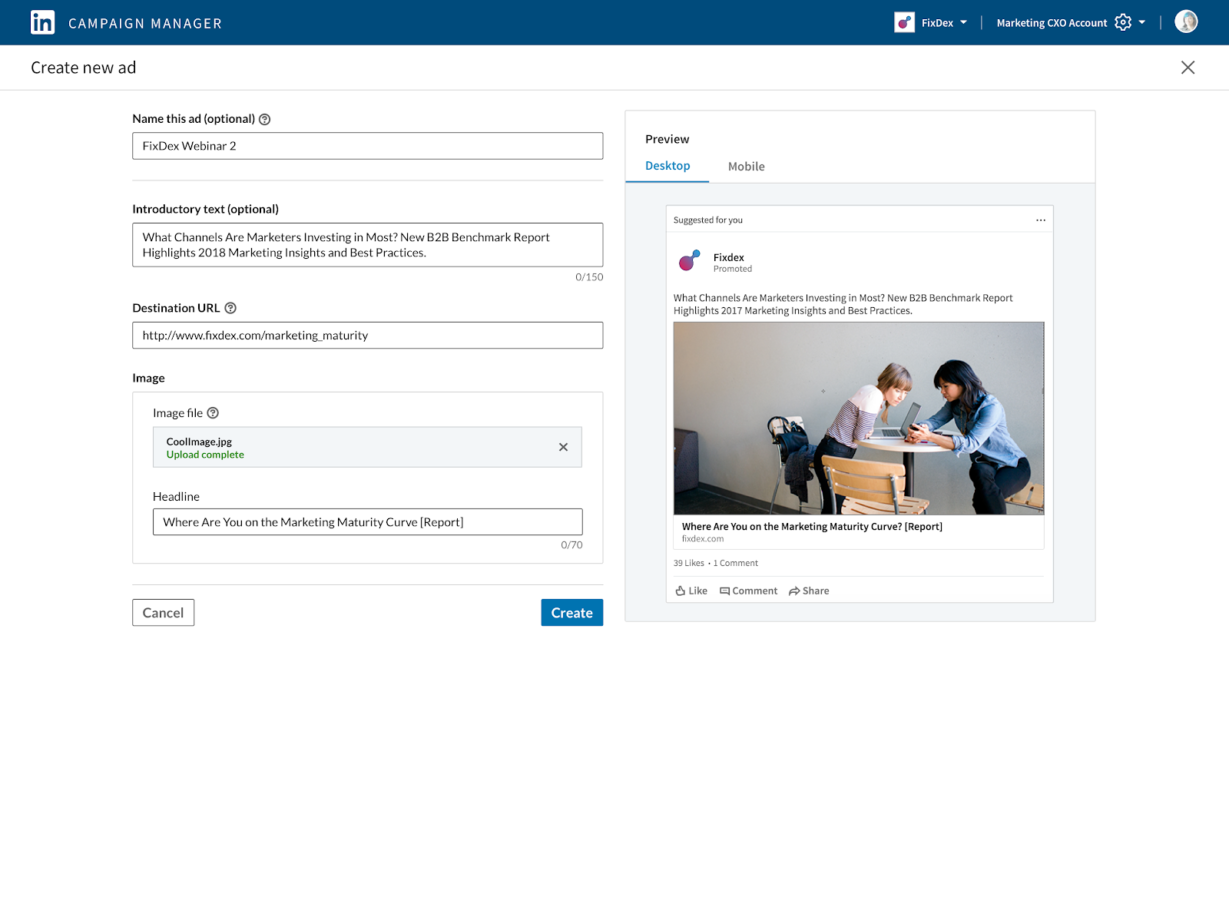 https://business.linkedin.com/marketing-solutions/blog/linkedin-news/2018/linkedin-introduces-public-beta-of-objective-based-advertising-i
LinkedIn stated in their update that "Objective-Based Advertising will serve as the foundation for future innovation to come, making it easier and more intuitive to launch ads and meet your business goals on Campaign Manager." We don't hate the sound of that!
We'll be testing out all future LinkedIn campaigns with this new campaign creation tool and will follow up with our results. In the meantime, are you feeling stuck with what type of LinkedIn ad format you should be using? This handy guide will teach you all about each ad type to help you reach your goals.