Like any service-based industry, it's easy to have an "hours-in, deliverables-out" mentality. We all have goals to hit with limited time, and marketing consultants often default to measuring through channel-specific clicks, traffic, and keywords.
But here's the problem—users don't care about channels and keywords (and neither do CEOs, to be honest). These people care about problems and solutions!
So, what would happen if you were to break down these traditional marketing channel silos, integrating data insights from SEO, PPC and analytics to better identify with the true user experience? If you were lucky enough to catch Wil Reynold's MozCon 2018 presentation, you can understand how this one question has completely revolutionized the way we think about digital marketing.
So, let's catch you up on what you missed!
---
Here are five ways to act on channel-agnostic thinking, starting with data you probably already have at your fingertips!
First: Admit your old way of doing things was sh*t
At Seer, challenging the status quo of digital search strategy started by understanding that that behind every search is a person looking for answers. When we stopped thinking about rankings and clicks, we started caring about users' problems. This started with asking people directly through audience research, and combining this qualitative data with SEO-PPC quantitative data to develop creative solutions to support (not target) users when and where they needed it.
By changing our thought process as an organization, we empowered our team to think bigger, working confidently with more complex cross-channel datasets with more robust data visualization tools in order to solve more complex problems.
We had to check our egos at the door. Looking back, our "old way" failed us on two fronts—lack of knowledge and insufficient tools. So, to fix this, we started with what we had right in front of us.
We specialize in SEO, PPC and analytics consulting, all of which had their own unique touchpoints with the same target audience. Encouraging more cross-channel team training and knowledge sharing is a long-term commitment to improving internal processes around professional development that we understand are important, and are fully committed to at Seer.
We also realized that our old dependencies on Excel and Google Sheets couldn't handle the level of data we needed to analyze at one time, which is why our team has made it a priority to build up our data visualization competencies, using more robust tools like Power BI and Tableau.
Armed with just enough knowledge to be "dangerous" and an arsenal of tools that could manage big datasets, our army of strategists could now start to uncover opportunity in general. This ultimately helped us break down our own divisional silos to collectively determine what "marketing levers" we needed to pull in order to get the highest ROI possible for our clients.
Break down silos through bigger data, better tools
Now, I realize that asking teams to work together can be difficult. It's human nature to lean into what you're used to doing. We failed to recognize this at first, but came to realize that the best way to get teams to work together is to use their data.
https://twitter.com/SeerInteractive/status/1013890208104833026
By finding creative ways to combine cross-channel datasets, we could use data visualization tools to tell the right stories that encourage the right conversations. We'd recommend starting with what you might already have access to.
Specifically, here's what you'll need to do most of the snalyses:
Google Adwords: Search term report (with conversion data!)

SEMrush, or similar (not GSC!): Organic rankings report, competitive rankings
Other fun datasets to play with:
Google Analytics: Top landing pages by session, conversions report

Screaming Frog crawl: Internal metrics, including metadata, word count, etc.

CRM data for closed-loop reporting insights
You'll want to combine your organic rankings and paid search term reports to find gaps in your current strategy. If you're feeling overwhelmed by the data, I recommend starting with a big-picture objective.
Try one of these:
How can I save money?

How can I make more money?
In Excel (ie. the "old way"), this would require hours and hours of VLOOKUPs—most of which would likely fail you once you exceed a certain threshold of rows and columns. Instead, consider using more robust tools like Power BI and Tableau to organize and visualize your combined datasets (all while saving you time). *Added bonus! These tools are free!
For quick wins, look for gaps in which you receive a high volume of clicks/impressions for a search term but little/no visibility in organic search. Try to really understand the intent of the user and how competitive this term may be to build organic content to better address the pain point and move the user down the decision funnel.
Think about it this way—your target audience doesn't care about paid search versus organic result types. They care about solving a problem. As marketers, it's our job to use insights from users' search behavior to provide the best solutions possible based on where they are at in their journey.
Build a story and focus on what matters ($$$)
Telling the right stories also means considering what matters to your stakeholders. We need to put an end to reporting on traffic and clicks and refocus on connecting ideas to conversions and revenue. This is the best way to build a story that resonates with key stakeholders who are trying to determine the ROI of their investment in their marketing dollars.
Ask yourself—how many times have you walked into a meeting with a C-level executive ready to talk about the number of organic sessions earned, or the keywords we're now ranking for on Page 1? Unfortunately, traffic and keywords don't hold up in a budgeting meeting.
Instead, consider this change to the conversation…
"I combined your paid search data and SEO organic ranking data to get a better idea for how your target audience is looking for these products/services. By doing that, I can tell you how much you're spending to show up for terms with this type of intent that may not be converting (i.e. wasted $$$).
From there, we can see how your organic market share looks compared to your competition to determine how we might be able to build content that could help capture these users earlier in the decision process. This will save you money, but also help address pain points that these users have that are keeping them from converting."
Since Seer's adoption of Power BI, we've also made a conscious effort to lower our dependencies on PowerPoint presentations for stakeholder meetings. One of the benefits of using interactive data visualization tools like Power BI is the ability to check off boxes or add filters to more seamlessly navigate through large datasets in a highly visual way. Otherwise, you're probably stuck taking down a full notebook of "follow ups" you (and your POCs) will have to sweat for later.
Learn from our mistakes. It's much more rewarding to build visuals that help tell meaningful stories that map back to money saved or money earned. This enables you to speak to executives in ways that resonate with them, keeping the data at the forefront so that you never come into a meeting with an opinion—you come in with facts. Then, you're job as a consultant becomes easy. You recommend solutions that communicate through real marketing dollars.
Five examples of how to combine SEO + PPC datasets to find opportunity
Making a commitment to breaking out of your data limits is a long-term play. Don't expect to be able to crush your "old way" overnight with the tools we're going to discuss in this next section. Instead, we recommend building hypotheses to test out using data integration that make the most sense for your business, and collaborating with others to challenge any assumptions you build in the process.
For now, we'll discuss five specific examples of how to integrate your data to build strategies that can encourage the right conversations to get your team to create solutions collectively.
#1: Keyword research (focusing on terms that actually convert!)
Old way
Take a broad list of keywords from Google Keyword Planner and other tools, group them by theme and sort by monthly search volume (MSV).
New way
Combine your organic rankings keyword report + your PPC search term report (with conversions!) to identify gaps in which you're paying for clicks that may not be converting. Ask yourself, "What is the intent behind these search terms that isn't being addressed on my PPC landing page?" From there, determine who is rankings for similar keyword intent in organic search and how competitive it may be to rank organically if you were to build out new content. Example of organic ranking data and PPC conversion data to determine which keywords are not converting in paid but could have an opportunity to rank for educational content development in organic search: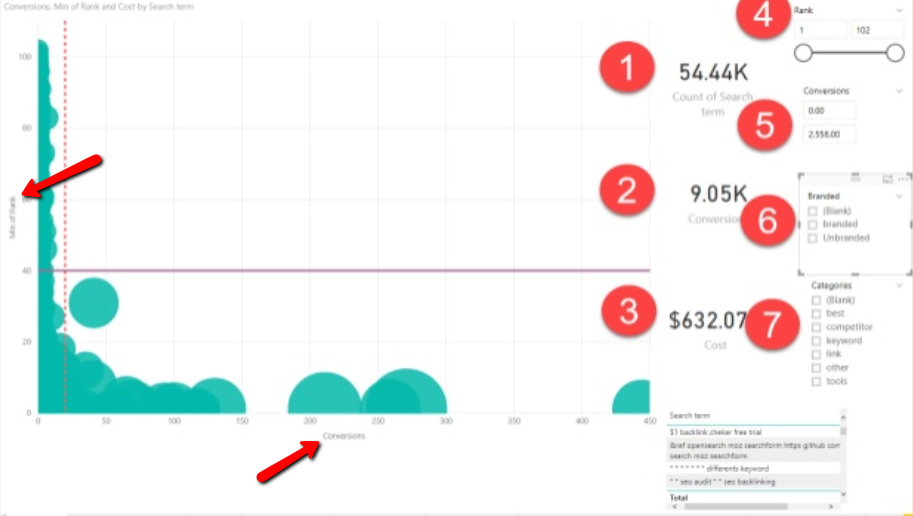 Ask yourself: If you were running this analysis, which boxes would you check off to drill down? What questions might you be able to answer with the right filtering?
#2: Competitive analysis (identifying competitors you didn't even think of!)
Old way
Take inventory from your clients' gut feel about their biggest competitors, looking into specific content highlights or market share breakdowns for 4-5 competitors at a time.
New way
Identify your current keyword market share vs. who is ranking in the top 20 positions for those terms. Build out a treemap data visualization for keyword overlaps by count, pulling out which domains are most prevalent
Treemap visual of a Top 20 export from GetSTAT, identifying more than 70K direct and indirect competitors that overlap with our sample client's priority keywords, including PPC click and conversion insights: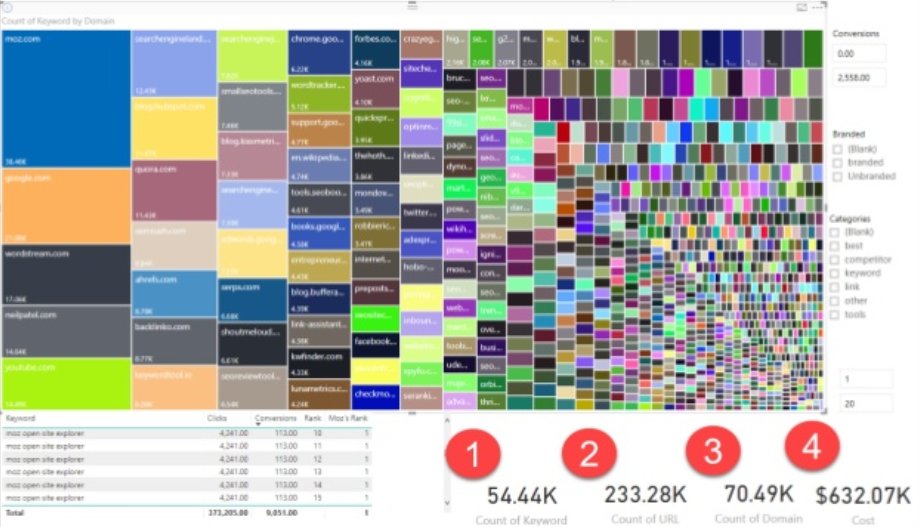 Ask yourself: When's the last time you looked at more than 70K competitors to determine what content ranks and why, helping you determine keywords you should (and should not!) compete for before you invested in content development?
#3: Long tail vs. short tail keyword targeting
Old way
Find a best practices article about keyword targeting, using someone else's data (womp womp …)
New way
Group your keywords together by theme and bucket them into number of conversions per year. You may notice that a majority of your converting keywords only convert 1-2x per year with a small percentage of your overall spend. Why? Because long-tail keywords tend to match to more specific intent, and therefore, more likely to convert (but also probably don't show up in your Keyword Planner research because of the low search volume). Sample keywords grouped by number of conversions per year, which shows that more specific long-tail search terms likely only convert 1x per year, but also have the lowest CPA due to low MSV you probably filtered out of your keyword research: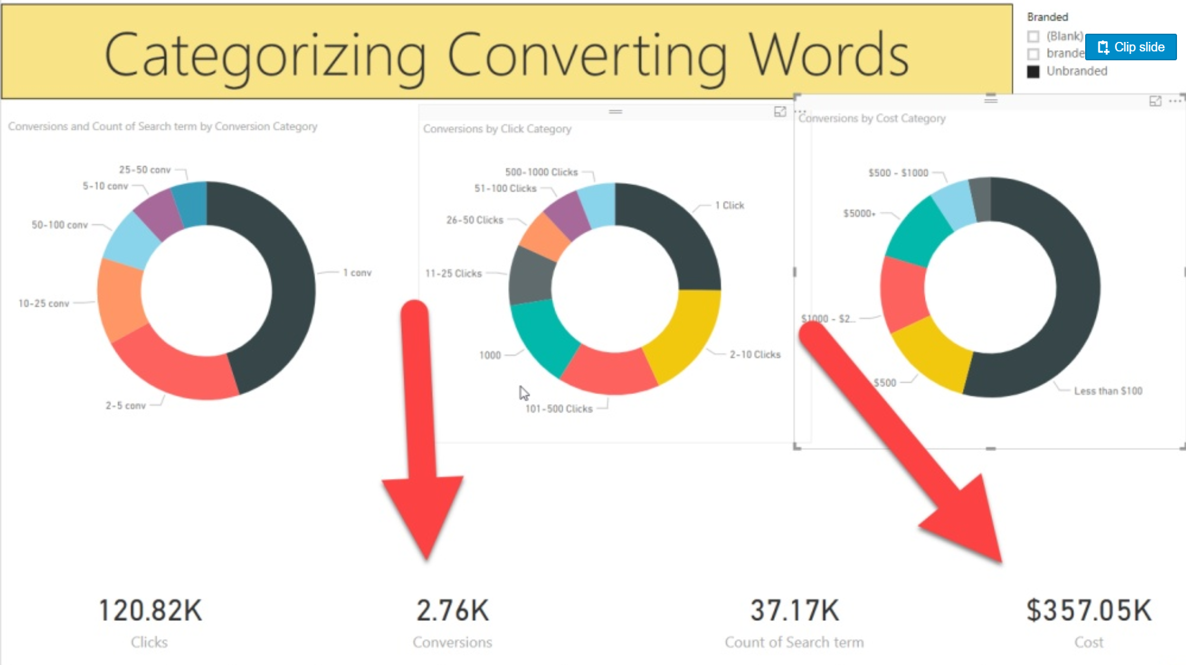 Ask yourself: What is the ROI of focusing on targeting the right search terms that are more likely to convert, versus relying on my broad match terms to be a "catch all" that doesn't blow my entire marketing budget?
#4: How much content do I need to build to be successful?
Old way
Determine how many keywords you'd like to rank for. Estimate that you can likely target approximately 5-10 keywords per page, split between your metadata and on-page content as much as you can without being penalized for keyword stuffing.
New way
Identify the top competitors ranking for the content topic you believe you can compete for and recognize that individual pages can rank for thousands of keyword combinations. Once you accept that, use these competitive insights to determine buzzwords or FAQs that your content is failing to address, and fill those content gaps in order to address user pain points Treemap illustration of keyword overlap counts by domain, as well as number of Page 1 keyword rankings by URL. This highlights that individual pages can rank for hundreds, or even thousands, of non-brand keywords. Once you sort these keyword rankings by corresponding conversions, you can start to identify gaps in your existing content to prioritize: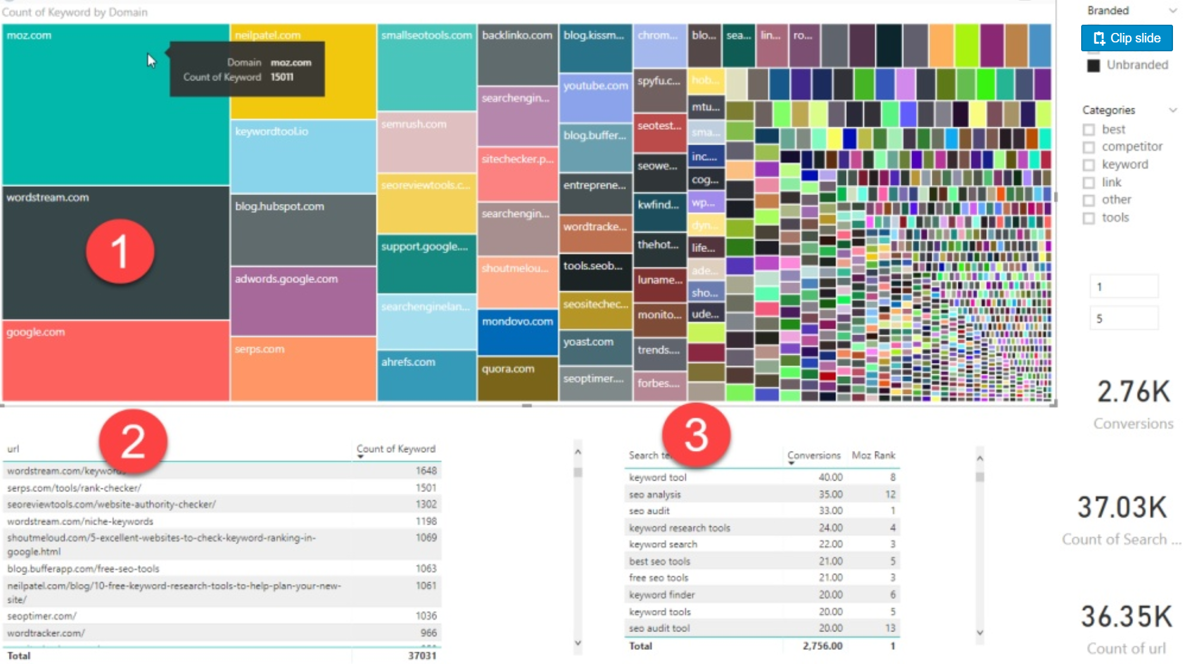 Ask yourself: It's probably not fair to assume I can rank for all of these. But if I can filter by conversions to understand which terms actually convert, I can hone in on those when building out new content or making optimizations to existing content.
#5: How to identify opportunities to rank for Google snippets (i.e. "rank position 0")
Old way
Nope, nada. There's very limited data to support which snippets convert.
New way
Identify which terms you may have bid on that convert and marry this to organic insights that indicate that these terms also trigger a People Also Ask or other rich snippet result type. Identify which domains are ranking for these rich snippet result types that you could easily compete with to win those result types. Example PAA analysis for terms we know drive leads using our sample dataset but also trigger rich snippet results in organic SERPs, which may be stealing some of our clicks. Identifying a rich snippet winner that we can easily beat with new, better content to address real customer pain points: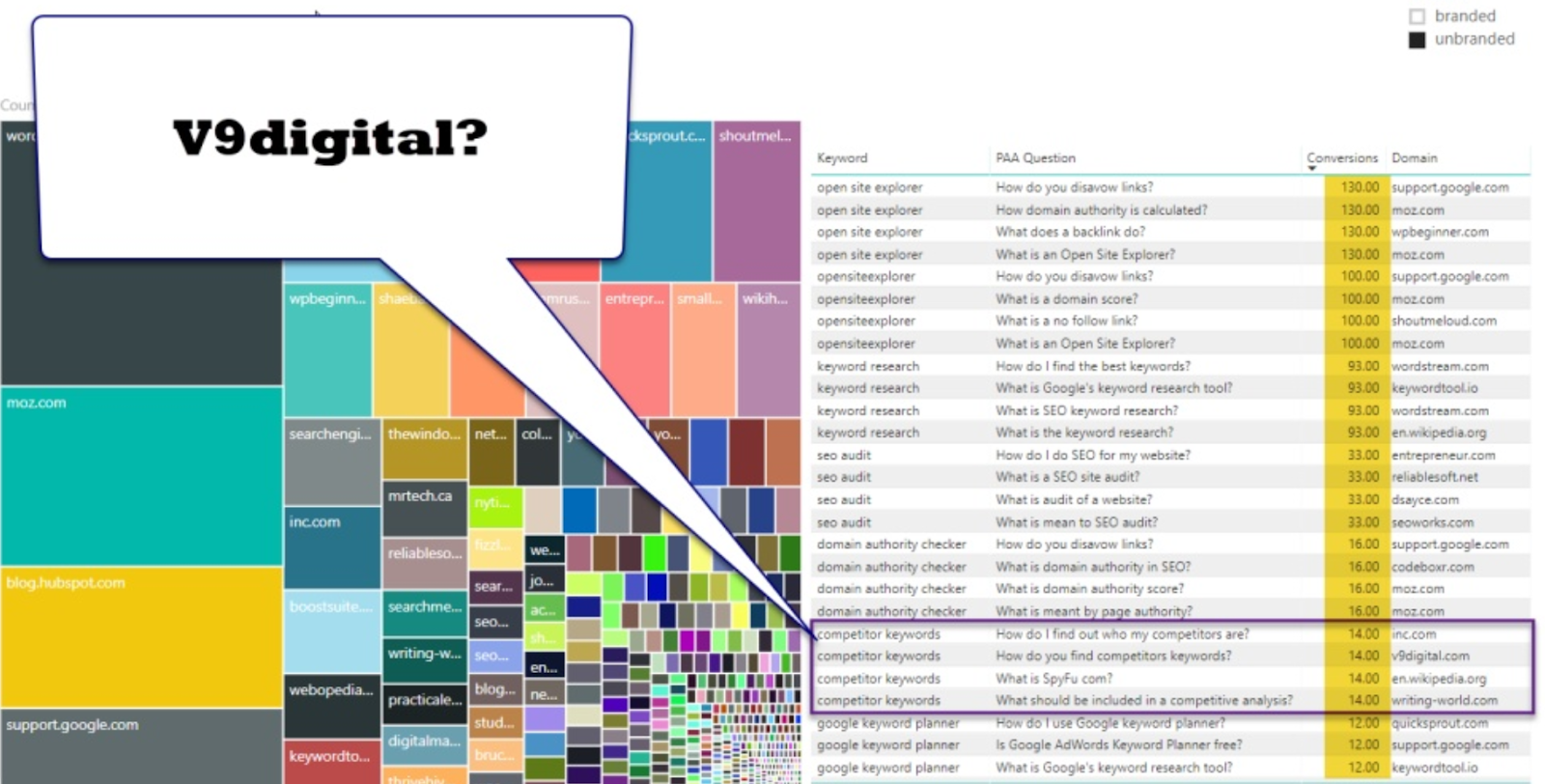 Ask yourself: What if we could be the preferred solution for questions that our customers may have? What would that translate to if they were to see our brand again, but in a better position to convert?
Wrap up
Building better analyses starts with asking better questions. If you can identify a short list of challenges you are facing and map those to accessible datasets, you can begin to analyze with purpose. Then, you can start to connect ideas to dollars, finding pockets of opportunity to save money. Pretty soon, you'll be taking the lunch money from those who choose to continue to rely on old, tired processes.
Taking a note from Wil's playbook, we owe it to our clients and our organizations to be better.
In order to move forward as an industry, we need to be able to check our egos at the door and find new ways to appreciate data. If we can lean into holistic thinking from combined data insights, we will be better equipped to handle the challenges of tomorrow.
If you're interested in joining our mission or want to see what's possible through data integration, contact our data strategy team.
Happy data mining :)
---