What You Need to Know
Google announced on 4/21/2020 that they are advancing their plans to introduce free product listings into Google Shopping before the end of April in the U.S. This change will occur on the "Shopping" tab on Google, where we will start to see organic product listings below a paid shopping carousel starting next week.
This change will mean free exposure to more product-related searches for retailers.
"Google Product Search" (also known as "Froogle") was previously free before moving to the current paid Google Shopping product in 2012 due to listing quality control issues caused by data capabilities.
Since then, Google Shopping's paid product has seen major advancements to ensure that product feeds match site data and leading to this move to bring the organic component back to Google Shopping. Ultimately this provides site owners and SEOs with even more opportunities to increase organic traffic and revenue for ecommerce sites.
Additionally, this positions Google as a direct competitor to Amazon by leveraging the full capabilities of Google Search not limited by paid budgets.
Combined with Google's new PayPal partnership to help approve merchant accounts quickly, this move will likely attract more small ecommerce stores to Google Merchant Center and increase the amount of products available through Google Shopping.
What to Expect
In line with the screenshot below, the results below the Shopping carousel will no longer be only paid listings.
Instead, they will be noted with an information tag that says "About" instead of "Sponsored" as we saw previously. We were not able to find any examples in the wild at this time, but will continue searching for emerging examples.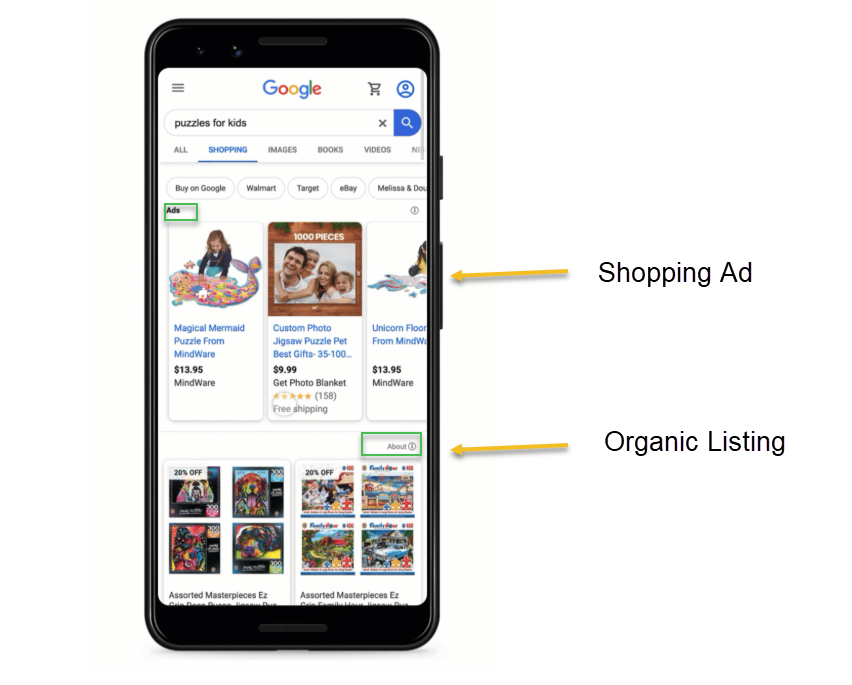 As a Retailer
Expect free exposure of your products to the millions of people who shop online every day.
As an Advertiser
Expect your existing paid listings to be supplemented with organic listings. This can potentially mean stronger brand presence throughout the Shopping results with increased visibility on paid and organic listings.
As a Shopper
Expect to see more brands and products as this option makes Google Shopping more accessible for all types of businesses.
How We Got Here
As pointed out by Ginny Marvin on Search Engine Land, the variety of products available through Google Shopping has been limited since 2012 due to the barrier of advertising. This proved to be a barrier when it came to contending with Amazon for product search.
While this does provide exciting new opportunities for organic product search optimization, organic shopping listings will still continue to appear only in the 'Shopping' tab (for now).
The main Google Search Results Page will not change and product listing ad (PLA) carousels will consist of paid ads only.
We do, however, expect Google to test and iterate on product visibility throughout various areas of search results as we have seen them do historically (ex: 'Image Search').
How to Prepare Your Catalog for Organic Product Listings
Only limited information has been released, however, there are some immediate actions you can take to prepare for the change next week:
If you have a product catalog that is not uploaded to Google Merchant Center, update it today and opt into Surfaces across Google.
Make sure your product schema is updated to provide Google with the most accurate data.
Update your product feed based on best practices to improve your presence in search results.
If you've already opted into Surfaces across Google, check your diagnostics to make sure you've resolved as many errors as possible.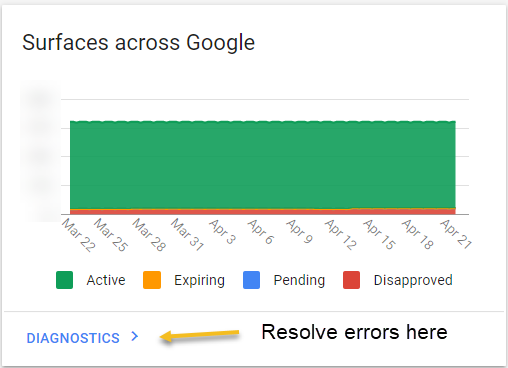 Additionally, Google's existing partnerships with major ecommerce platforms (such as Shopify, WooCommerce, Magento, etc.) have provided merchants with valuable tools for managing inventory and syncing product information to the Google Shopping platform. These integrations are expected to continue and will likely expand over time as the product evolves.
Now What?
We'll be updating this post in 2 weeks with an impact on Shopping campaigns across our clients. In the meantime, make sure you're set up for success by creating a Google Merchant Center account today!
Sign up for our newsletter for more posts like this - delivered straight to your inbox!