How to Use Google Alerts for Your SEO Strategy
A major aspect of being a consultant is being the eyes and ears for your clients. Many lean on us to be an extension of their team, so it's our responsibility to come to them with news about their competitors or industry, and how it could impact or influence our strategy.
Keeping a pulse on several different industries and competitors is a full-time job on its own, but an easy way to get the most relevant information straight to your inbox on what matters to you and your client is through Google Alerts.
💡 Through Google Alerts, you not only can stay informed about what matters most, but you can also inform your SEO strategy.
What Are Google Alerts?
Google Alerts sends an email to your inbox with a list of relevant articles and mentions of any subject you are interested in. For example, I follow "seer interactive" to stay on top of any news stories that are published mentioning our brand.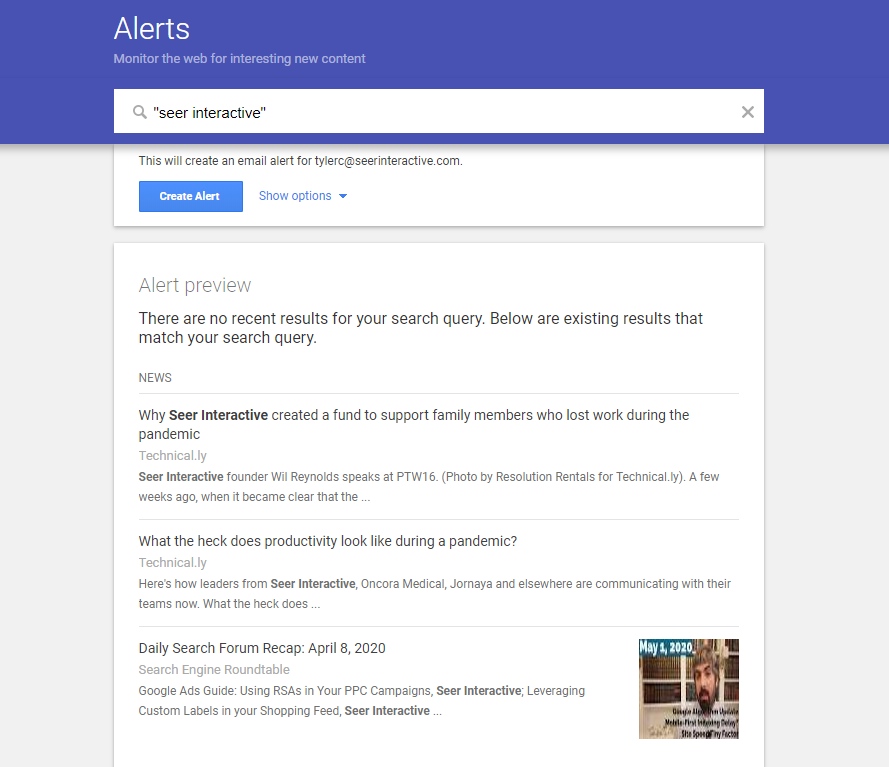 How to Set Up Google Alerts
Here's how to set up Google Alerts:
In the search bar at the top, enter a topic you want to follow.
You can use quote marks to ensure you're targeting the most relevant stories.
To change your settings, click Show options. You can change:

How often you get notifications
The types of sites you'll see
Your language
The part of the world you want info from
How many results you want to see
What accounts get the alert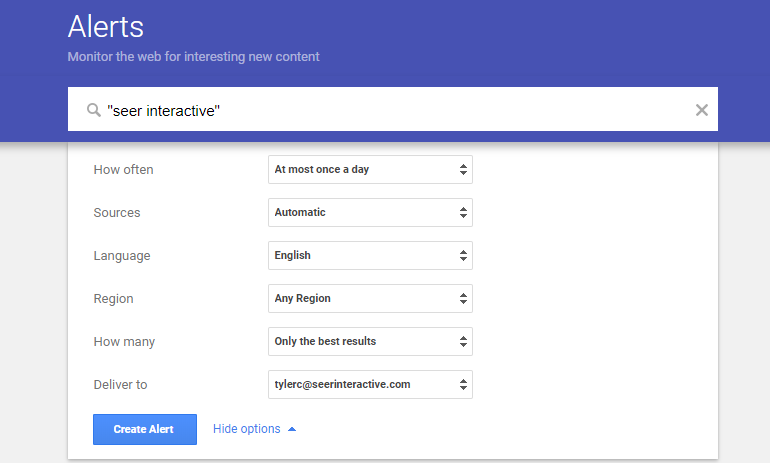 Create Alert. You'll begin receiving emails for your selected topics based on your settings.
Now that you've created your alerts, it's time to start using them to your advantage.
Monitor Your Competitors and Partners
Just like you can keep an eye on your own brand mentions, you can do the same for your competitors or business partners, like retailers or distributors. Keep tabs on their acquisition strategies or announcements on leadership changes. What insights can you glean from the changes they're making in their strategies?
If your competitors are publicly traded, you'll get news about their financial performance and business operations. Read more on how to use financial statements to build empathy for clients, learn more about the business, and enhance SEO strategy.
Using Google Alerts, you can get a sense of your competitors' PR strategy. That takes me to my next tactic.
Identify Outreach Opportunities
Using Google Alerts, you can determine where your client is focusing their PR or outreach efforts. Are they working with third-party content creators and bloggers? Are they landing thought leadership stories in industry trades magazines? Do they work with affiliate partners?
Beyond analyzing your competitors' press strategy, you can also look for opportunities to insert your client or business into the conversations within your industry. If you follow general industry terms, you can get a sense of what journalists and bloggers are writing about.
Inform Your Content Strategy
Lastly, take what you're learning about your competitors and industry and apply it to your content strategy. How can you inform your blog or resource content by addressing questions or pain points being discussed in news articles?
For example, for a higher education client, we've been seeing many articles being published about at-home GMAT testing. We consulted them on their point-of-view and found out that they were beginning to accept the at-home testing scores for their MBA program. We recommended not only addressing this update on the site but also creating guides and resources providing tips for students taking the at-home GMAT.
Are you using Google Alerts in other ways to inform your strategy? Let us know!
Sign up for our newsletter for more posts like this - delivered straight to your inbox!