Here at SEER, we've already discussed the importance Google has been placing on its top ad positions with their recent updates. Now, Google will soon announce that it will change the display of its ads for these positions. These are the ads served above the search results. From now on, description line 1 will be displayed in the headline. Two criteria must be met for this to occur:
You must be in Google's top positions.
Description Line 1 must end in punctuation.
The new look: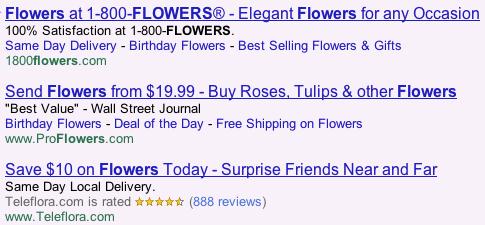 The old look: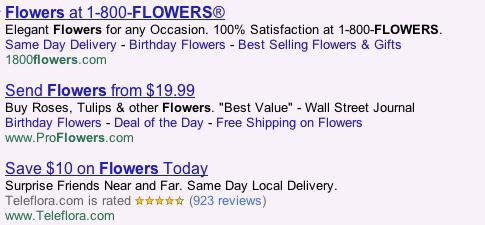 You do not need to edit your ads, as long as they meet the above mentioned criteria. As of now, you cannot opt out. But this brings on plenty of questions and ideas. Here are two that stick out in my opinion:
How will this affect the competiveness of top ad positions?
How will this affect ad copy strategies?
How will Google's new headlines affect the competiveness of the top ad positions?
We already know that many advertisers covet the top positions. Now with these new changes, how aggressive will they be to obtain these spots? Will this lead to more ad testing in attempt to increase Quality Score? Increased bids? Higher CPCs? Only time will tell, but I expect some interesting results.
How will Google's new headlines affect ad copy strategies?
As we previously mentioned, Google announced it will be changing the look of its ads in the top positions. Will this change the way people think about ad copy? I will definitely be open to testing some "long headlines". For instance, will I be more inclined to include a keyword into description line 1 in hopes that it will be displayed in the headline? Now all I have to do is to get myself in those top positions… which brings me right back to question one.
Google believes this will improve the user's experience. What do you think? Please leave your opinions, findings, and comments.
Here's a link to another blog discussing the same topic:
UPDATE: It seems that Google is not dropping the punctuation in the new ads.