What Types of Ads are Available on Facebook and Instagram?
Need to know about every Facebook and Instagram ad type but you don't have time to search and click through a million Facebook help articles? Well, you're in luck, because we're about to save you a TON of time.
We've got all of our favorite Facebook & Instagram ad types listed below to help you figure out what kind of ad to run next. We went ahead and added a few creative best practices as well. Let us know if these are helpful in the comments below!
---
Single Image Ads
Send people to your website with--you guessed it--a single high-quality image
These ads are great for any advertiser that wants to advertise a specific product or service. You can utilize this ad across all placements - Facebook Feed, Right Column, Stores, Instagram Feed, Sponsored Message, etc.
Credit: Facebook Business
We recommend you have high-resolution images and the image aspect ratios that are suggested for each placement for optimal performance.
Creative Best Practices:
Always include your logo in imagery: This will help bolster brand recognition.
Keep brand tone consistent across campaigns: Your target audience may start to recognize your brand and may be more inclined to convert.
Avoid having too much text in your image: Less than 20% is ideal.

Use the Facebook Text Overlay tool before you upload your images to ensure it will be approved.
If you don't, you can run into issues with running your ad/increasing your avg. CPC by having too much text.

Show people using your product or service: These images don't have to feel like "ads" or stock images, but can look like native posts
Video Ads
Show off product features and draw people in with sound and motion
You probably have heard this a million times - but video ads are what marketers and advertisers are really putting their focus on right now and in the future. Videos are visual, engaging, and more entertaining than a static image.
Credit: Facebook Business
According to Wyzowl, 80-87% of video marketers say video helps them with lead generation, website traffic, and sales. Another 95% plan to increase or maintain video spend in 2020. If those stats don't convince you, I don't know what will!
For videos, we recommend that you have the right sizes per placement. For more information on Facebook & Instagram video specifications, see Facebook's Video Requirements guide.
Creative Best Practices:
Keep your videos to 15 seconds or less: With humans typically having a short attention span, keeping videos short and sweet will help keep users engaged.
Put the most important & captivating information in the first 3 seconds: Again, with a short attention span, we want to ensure that users at least know the important information right away just in case they keep scrolling.
Incorporate your brand identity in the video: Like image ads, your target audience may start to recognize your brand and may be more inclined to convert.
Design your video for sound off: So many users are scrolling through their feeds with no sound due to being out in public, not wanting to hear any sounds. Rely on visuals over music or narration to provide impact & tell your story. If you do have people speaking, ensure you upload captions. This is especially important for users who might be hard of hearing as well.
Carousel Ads
Showcase up to 10 images/videos within a single ad -- each with links that people can swipe/click through
Carousel ads are ideal for telling a story or showcasing different products. These types of ads are super engaging compared to single image ads and give you the opportunity to tell a larger story with the options to input multiple images, copy, and CTAs.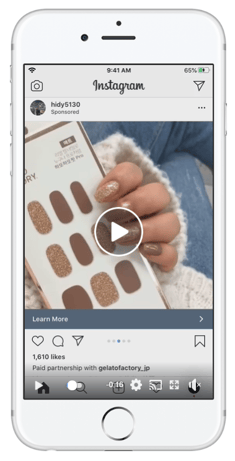 Credit: Facebook Business
Creative Best Practices:
Test different numbers of cards to best tell your story: Whether that means 3 or 10 images, test the amount of cards to see what performs best. Keep in mind CTR typically declines the further you go into a carousel ad.
Use headlines and descriptions in each of your carousel cards: These are optional fields, but they give you an opportunity to tell even more of your story or more about your product. They are additional opportunities to provide CTAs, context, and detail.
If you're not telling a sequential story, enable the feature that shows the best-performing cards first: Always utilize automation when possible!
Lead Generation Ads
Collect information from people already interested in your business
A lead ad is presented using an image, video, or carousel, and followed by a lead form when the user engages with the ad.This format is a feature that you allows you partner lead generation forms with a single image or video ad; once they click, a form will appear with pre-populated information from Facebook.
Credit: Facebook Business
Creative Best Practices:
Show your ad's value - clearly communicate why it's valuable for people to share their information with your business.
Keep it simple - avoid overwhelming your audience with too many questions or random questions. Keep your questions aligned and ask as few as possible.
Reflect your brand - your ad should reflect your brand or company and attempt to drive a response from your audience that builds intent.
Carefully consider your form fields. To get higher-quality leads, customize your forms to ask for the most important information first.
Dynamic Product Ads
Automatically show your products to people who have expressed their interest
DPAs allow advertisers to show product ads to people who have recently viewed or added to the cart but didn't purchase. This campaign type allows you to upsell products to people who have purchased certain products. For eCommerce companies, this ad type is ideal due to the fact that it is one of the main revenue drivers on Facebook.
Instant Experience Ads
Capture the complete attention of your audience
Instant Experience, formerly called Canvas, provides a full-screen, mobile-optimized experience instantly from your ad. Within an Instant Experience, people can watch engaging videos and photos, swipe through carousels, tilt to pan, and explore lifestyle images with tagged products. All of this is combined in a single ad unit. This type of ad unit is incredibly engaging and allows the user to get a feel for your product/service before leaving the Facebook or Instagram Interface.
Credit: Facebook Business
Collection Ads
Combine the beauty of single image ads and video ads into a shoppable ad format for Mobile
These ads encourage shopping by displaying items from your product catalog—customized for each individual. This ad format utilizes a hero image or video stacked on top of multiple cards with featured, shoppable products.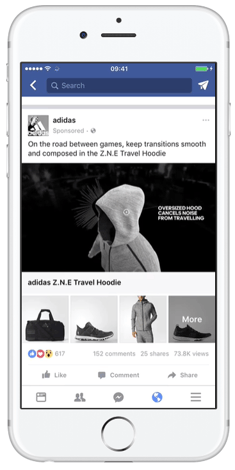 Credit: Facebook Business
Messenger Ads
Spark conversations with your business
If you're looking for a way to get more personal with your current or potential customers - this ad type helps you do just that. If you need more convincing to run these types of ads, according to Facebook, 1.3 billion people use Facebook Messenger each month.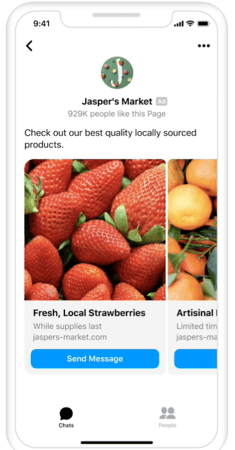 Credit: Facebook Business
Slideshow Ads
Create lightweight, affordable video ads from images you already have
If you don't have the time or resources to create a video, a slideshow ad is an ideal alternative. These ads are low lift and easier to create (lower production costs). The best part is that they have most of the same benefits of utilizing a video.
Other Facebook & Instagram Advertising Tips
These tips below can be useful for any type of ad type you choose:
Keep your copy short, sweet, and to the point: Facebook has character limit suggestions, which can allow advertisers to go over those character limits. However, if they are over the character limits, you can run into your copy truncating. If you stay within the limits, users will be able to see the full text variation without clicking "see more".

💡 You can preview your ads to see what they will look like on different placements. You can even change the text in different placements if you want users to see different text on a Story vs. Facebook Feed vs. Instagram Feed ad and so on. 💡

Include a CTA (call-to-action) of what you want your users to do: There are a ton of CTA button options available. This might be obvious, but make sure that if you want a user to shop for a specific product, don't include a CTA of "Learn More" -- utilize the "Shop Now" CTA.
Utilize Dynamic Creative: As mentioned earlier, we would recommend utilizing automation whenever possible. Dynamic creative is a great way to utilize Facebook's automation - all you need to do is input a couple images, headlines, and descriptions and Facebook will do the work for you. Facebook will optimize and show the ad combination that they believe will get you to your goal that was selected (i.e. if your goal is "Leads", Facebook will show the combination that will lead the user to convert).
Placements: We also want to note that we recommend running ALL placements when utilizing Facebook and Instagram versus setting up campaigns separately for Facebook and Instagram. We recommend this because Facebook will optimize by placement based on the goal you set.
Ready to Create Your Campaigns?
Bookmark this page so you can always refer to the different types of ad types you can run so you never have to search through Facebook help articles again. Keep reading for more tips:
---
Sign up for our newsletter for more posts like this in your inbox: