Written by: Alex Turbett, Grant Edrington, & Chris Konowal
---
This post was originally published using one day of data from this surprise Google Ads change (9/2/2020). It was updated on 9/9/2020 to reflect additional data we've collected since then. As always, we'll continue to monitor the impact and send updates on what we're seeing to keep you informed.
We will also continue our commitment to sharing our scaled, efficiency, BI methodologies and free tools for protecting your marketing dollars.
Google Ads Has Started Reducing Search Term Data for All Advertisers
Many advertisers woke up to see this notification in the Google Ads UI: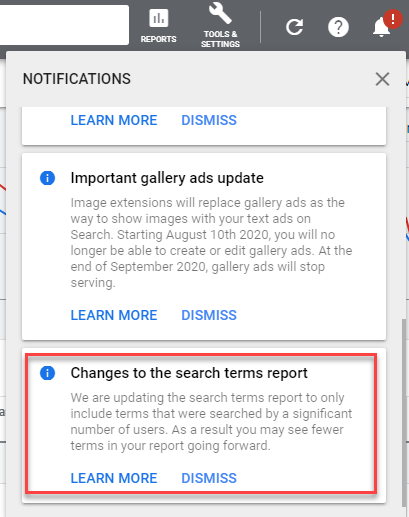 On Google's Search Terms Report support page they state,
"Starting September 2020 [AKA now], the search terms report only includes terms that a significant number of users searched for, even if a term received a click. You may now see fewer terms in your report."
In simpler words, advertisers will have reduced visibility into which search queries trigger their ads, even if they incur a click or conversion.
Per Search Engine Land, Google is citing that this change is related to privacy, stating that with this update they are trying to,
"... maintain our standards of privacy & strengthen protections around user data."
We use search term data to merge data sets and build tools that have helped us save that $40MM in wasted spend -- a lot of which has stemmed from single-click terms that fall through the cracks.
---
Losing 28% of Your Budget's Visibility
The Data Summary:
After 1 day of data collection, we've seen that Google Ads now:
Hides search terms for ~28% of Paid Search budgets
and
Removes search term visibility of 20.4% of PPC clicks
📢 As of 9/9 (7 days after the update):
We have NOT seen a significant change in the initial results above. At this point, it's safe to say that any sort of data lag is not a significant factor in our data or conclusions.
The decrease in visibility remained steady at these levels from 9/1 - 9/8 (see The Data Details below for more information).
What's It Mean for You?
Prior to the update
For every $100K you spent on Google search, you got search term data for $98,700 of it.
For every 100K clicks you got on your ads, you saw search term data for 98,300 of those clicks.
After the update
For every $100K you spend on Google search, you get search term data for $71,000 of it.
For every 100K clicks you get on your ads, you see search term data for 77,900 of those clicks.
That's ~$27K worth of search term data unseen for every $100K you spend.
The Data Details
While the full impact of this change remains to be seen (all we know from Google now is that it's "Starting in September 2020") we've set up a dashboard to help us understand and monitor the impact to Seer's clients.
To get to the numbers above, we've created a metric called Search Term Visibility:
SEARCH TERM VISIBILITY
(SUM of [metric] from Search Term Data) ÷ (SUM of [metric] from Search Network Data)
For our initial analysis, we're calculating Search Term Visibility using both Cost and Clicks as the [metric].
SEARCH TERM VISIBILITY
(SUM of Cost from Search Term Data) ÷ (SUM of Cost from Search Network Data)
When looking at all of our clients, Search Term Visibility for Cost from 8/31 to 9/1 fell 28% (98.7% to 71.0%):
📢 As of 9/9 (7 days after the update): Search Term Visibility for Cost remained steady 9/1 - 9/8, staying between 70% and 71.5%:

SEARCH TERM VISIBILITY
(SUM of Clicks from Search Term Data) ÷ (SUM of Clicks from Search Network Data)
When looking at all of our clients, Search Term Visibility for Clicks from 8/31 to 9/1 fell 20.4%, (98.3% to 77.9%):

📢 As of 9/9 (7 days after the update): Search Term Visibility for Clicks remained steady as well, staying between 77 and 78%.
*At the time of this writing… one caveat to call out is that Google does cite that Google Search term data is not real-time, and it gets refreshed a few times a day.
📢 As of 9/9 (7 days after the update): There has been NO change to the data originally reported for 9/1… safe to say at this point that data lag is not a significant factor here.
So while it is historically common for Search Term to have up to a ~24 hr lag, the initial data here paints a pretty clear picture that a big drop off has started and we'll be watching this closely moving forward.
---
How Much Does Single / Low Click Data Really Matter Anyway?
Our Answer is a Question (Rude, We Know): How Valuable is 15% of Your PPC Budget?
We've found $40MM+ of inefficient spend in mostly low-volume search terms over the past 3 years.
Seer mined 5.1 million data points across 30+ businesses running paid search campaigns and found 15% of budgets were spent on mostly hidden, low volume, search queries that weren't driving an impact on their bottom-line (conversions).
With frequent changes in search algorithms and the way we search evolving daily — your Paid Search campaigns can often match your ads to search queries that don't always make sense for your business goals.
These small (but frequent) matches result in tons of unintentional clicks from users trained to click through multiple results at the top of the SERPs.
That's real money that can be reinvested into high ROI campaigns. That shouldn't be a "cost of doing business" with Google.
Negating Single-Click Terms at Scale IS Possible!
We've built scalable tools and methods to analyze and use single- and low-volume search terms, and we've been saying for a while that up to ~20% of Paid Search budgets get spent on poor performing and irrelevant searches).
Add to that, the fact that all search clicks aren't created equal, and it's not uncommon to find single search term clicks that cost $10, $50 or even $100 a piece -- losing this data can add up quickly.
These expensive clicks are becoming more common with automated bid strategies as it takes the machines time to learn how certain queries perform.
For a quick example, we analyze n-grams to find inefficient spend and negative keyword opportunities. Let's take this list of queries, for example: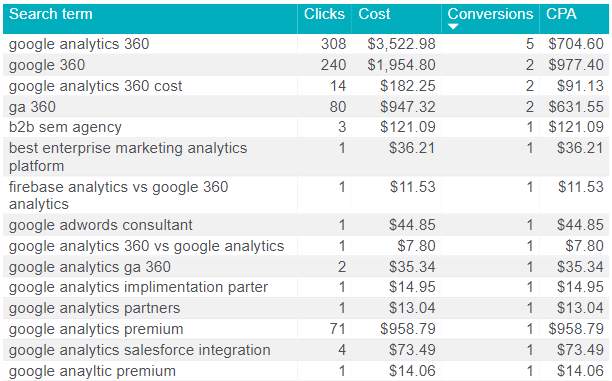 If we pull n-grams out of this export, we generate a much simpler, aggregated list that we can use to negate terms and craft recommendations.
You don't even see "ppc" in that first list and we spent $2,727 on it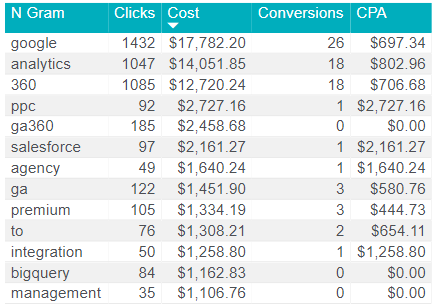 With this update, Google will be hiding many of the queries that we've used to produce the n-gram view above.
This will make it more difficult for advertisers, of any size, to find and negate irrelevant or inefficient search terms. If we've found $40MM in wasted spend across our client base, imagine what that number looks like for other agencies or companies across the globe.
---
This Impacts SEO Too
While search term data is mostly mined for negative keywords, it's also used to better understand customer intent and identify content opportunities on the SEO side.
We don't know the full extent of how much converting search term data will be hidden, but we'll be missing out on valuable search intent info if so.
Check out our POV on the "long-tail" keyword here:
---
The Future of PPC Search Terms & What You Can Do Today
Is a no search term search on the horizon? Is this the beginning of PPC's not provided? Only time will tell, but we definitely have some theories (as well as plans to keep protecting our client's budget from inefficiencies).
While there's obviously no one-size-fits-all solution here, this should definitely spark new ideas for how else you can work around the new limitations.
What Will Happen to Keyword Targeting?
Google has already been phasing out traditional keyword targeting with Dynamic Search Ads and Smart Campaigns. With less search term visibility within standard search campaigns, many expect further changes to keyword targeting in the future.
Even if this update strips away chunks of search term data going forward, will that stop us from finding innovative ways to save clients money, optimize campaigns, and better invest their marketing budgets? ABSOLUTELY NOT!
Ask your friendly SEO partners in crime if they stopped doing SEO when Google Analytics went all (not provided) on their search term data?
They adapted. They evolved. They found bigger and better ways to win for themselves and clients alike.
Know that from on Day 1, Seer has your back. We'll continue to share what we learn with the industry to ensure we aren't giving Google free money.
Leverage site search if you haven't already. Now is the time to double down on your site search strategy, which can allow you to reclaim some valuable query data on your own terms.
If a search bar isn't already present and easily accessible on your site, we recommend getting it in place ASAP.
Next, ensure site search query tracking is set up on your analytics platform -- for most using Google Analytics, this is a quick settings change.
We've found in previous analyses that up to 25% of visitors search the query they searched in Google, a second time, after they click through to a site: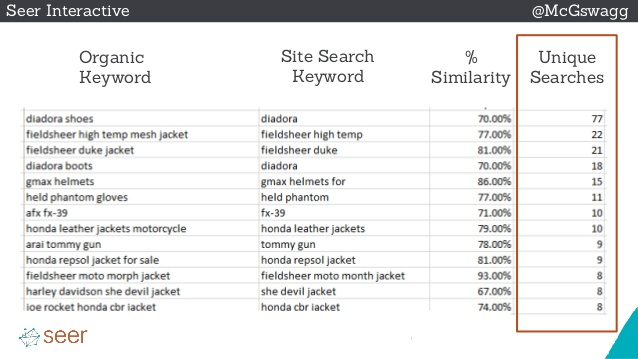 💡 Check out how we used this kind of data to optimize on-site content for an Ecommerce client.
Learn more about your audience so you can do a better job of helping them solve their problems with your content and marketing.
Advertisers can "fill in the gaps" left by hidden search terms by leveraging audience segments, surveys, and closed loop data through platforms like Google Analytics and other audience research methods.
💡 Rand Fishkin of SparkToro and Teresa Lopez of Seer Interactive recently talked through how knowing your audience 10% more can drastically increase conversions.
Adopt smart bidding strategies! Even though this will have an impact on how much search term data we can extract to work with and analyze, Google is always eager to remind us: Smart Bidding algorithms DO factor in queries and search intent into their signals.
If Google is starting to limit how much long-tail query data we can get our fingers on, Smart Bidding is certainly the direction their solutions are headed in.
So while we are working away on how else to adapt, Smart Bidding is worth testing.
If you aren't using Smart Bidding strategies in your account yet, learn how to take smart risks with automation to get started.
---
More Updates to Come
We're just getting started on this one and are already brainstorming the best ways to prep our approaches to work with the potential impact here.
No matter the outcome, it's up to advertisers to adapt and continue leveraging tools, automation, and other tactics to protect budgets and efficiently drive results.
Have comments or questions? Drop them below! We'll follow up with more data as September continues.
---
Sign up to get these updates straight to your inbox: