Google My Business has added quite a bit to their arsenal over the past year and there have been big updates related to COVID-19, Health and Safety attributes, and directly affecting the local service industry. This year has been challenging, but through it all, businesses have made an effort to keep relevant information available for customers, clients, and by extension, the average searcher. Google has stepped up their game with the number of available resources in their local search results.
It is also worth noting that now is a great time to take what might be lower in-person client engagement at a local level and reallocate that time into a local SEO strategy. Understanding what your business does and aligning across all of your search platforms will put you in a better position when in-person visits ramp up.
---
Google My Business Updates for 2021
Google My Business has been pushing out new attributes all year long. Of course, quite a few are related to COVID-19 communication, but there have also been new attributes focused on general business information in an effort to provide more comprehensive Google My Business profiles.
Keeping an open and accurate line of communication to searchers is always a goal for Google. These new updates allow for more informed searches and on multiple levels. Google continues to add information to maps allowing for Health and Safety attributes, the new COVID-19 Layer, and a new Google Guarantee badge for the service industry that started rolling out as early as May and Google Guarantee which has just recently started showing up on Google Maps.
Food, Retail, and Services can let people know what type of precautions the business is taking. This is another tool in the toolbox for business owners to put out as much information to searchers as possible. Adding in any attribute that is relevant to your business shows the business is up-to-date with relevant information.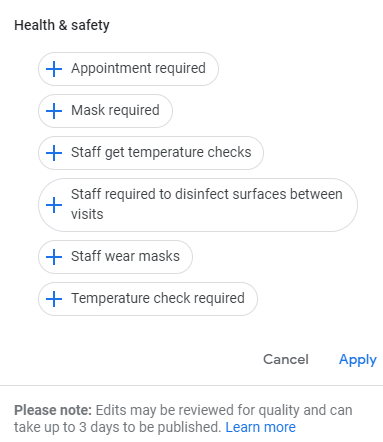 The COVID-19 layer has been around for a few months now, it is still worth noting the tool to see what color a certain business is in. Google explains that each color corresponds to a number of active cases in the area:
Grey: Less than 1 case

Yellow: 1-10 cases

Orange: 10-20 cases

Dark orange: 20-30 cases

Red: 30-40 cases

Dark red: 40+ cases

This information is sourced from many different 3rd party providers for google and can be accessed on the Google Maps app.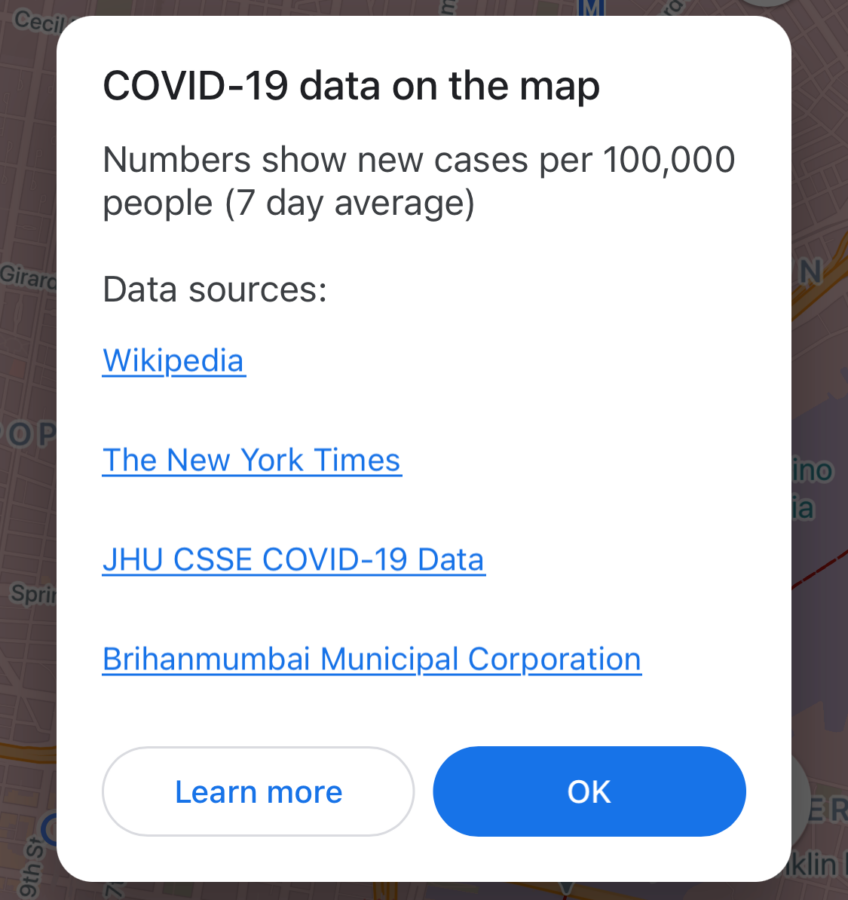 A Google Guarantee Badge means that if a client is unsatisfied with a service booked through a Local Service Ad Google MAY reimburse their costs for the service. There are qualifications to the Guarantee Badge and a fee associated with the certification:
The service must be booked through Local Service Ads

Must be a Local Service Ads Upgraded Profile

Must be a home service offering that passes a background and licensing check
The upgraded profile is an additional $50 dollars a month to earn the green checkmark next to your business.
With COVID-19 posing entirely new business challenges, it is more important than ever to keep focused on the low hanging fruit of Local SEO while keeping an eye on the updates going on in Google Maps and Google My Business. Keeping all of your company information up to date, adding all relevant categories, and consistent Google My Business posts are a good place to start.
Add one minute to your day to check Local listings, look at GMB listings, go make a GMB post, and go put your NAP (Name, Address, Phone number) on all of your pages to get those extra signals pointing in the right direction. See if any of these new updates are relevant to your book of business.

Remember, Google My Business is often the only part of your business that people will see when headed to your brick and mortar locations, make sure you're putting out helpful and relevant user information. Use "Is this valuable to a searcher" as your starting point for content and updates.
Want more information on Local SEO? Keep reading our blogs, sign up for the newsletter and check out Starting a Local SEO Strategy in 7 Steps.
---
Sign up for our newsletter for more posts like this - delivered straight to your inbox!