Thank you to everyone who attended our webinar on finding hidden budget and funding new marketing initiatives. Kim Jones and Dan Lauder showed us how to find efficiencies in your account and make data-driven decisions...

Start with questions

Find Public Data

Join with Search Data

USE Audience Insights

Explore Scripts

Try Saving Benjamin Tool
Research Smart Bidding
Here's the full webinar or you can check out the recap below!
https://www.youtube.com/embed/bAYyHt_KmH0
If your marketing experience is anything like ours, your wish list is probably just as long as your to-do list. But there's oftentimes not even budget to even fund these projects, right?
Turns out...you CAN fund those projects. Kim and Dan are here to show you how to find that "hidden" budget in your Ads accounts, and from there, determine how to re-allocate it back.
Find Irrelevant Spend
It's time to stop guessing. Instead, make decisions that are based in data! To do this, use any of the below tools to pull data.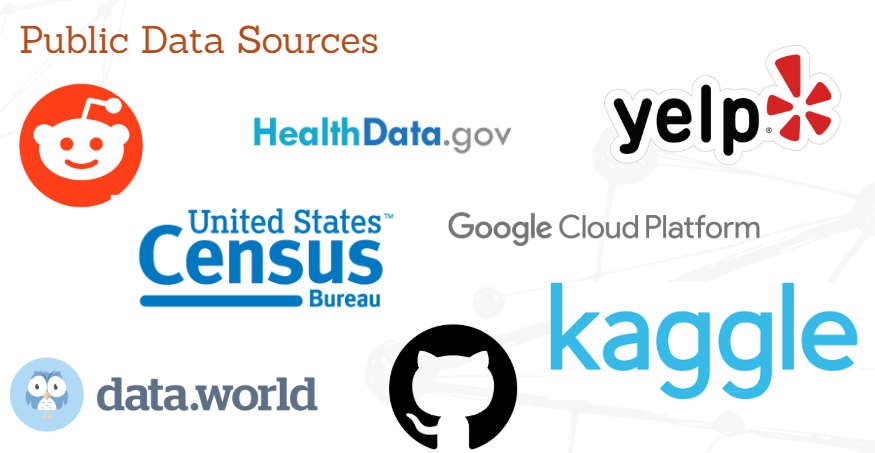 There are so many data sets out there at your disposal. To name a few…
Median income by zip code
All public schools in a region
Number of cars registered in each state
As you can tell, there's data out there for everyone. Start taking advantage of it!
Combine Your Data
In addition to combining various data sets, you can (and should) also leverage the search data you already have access to in order to find more money to save. Some examples of tactics to identify wasted spend and find new opportunities below: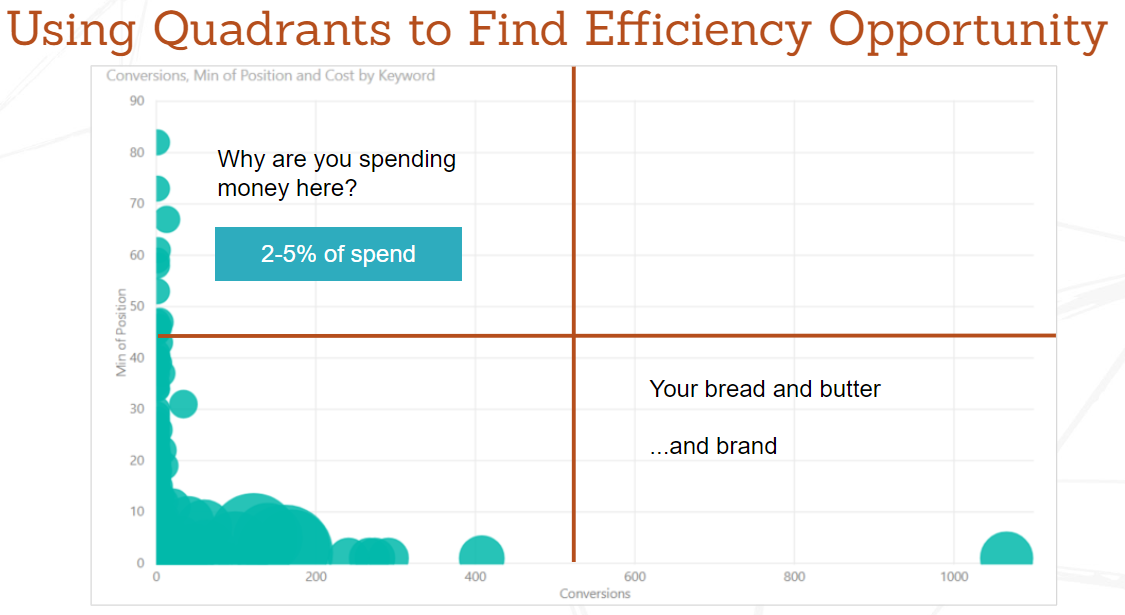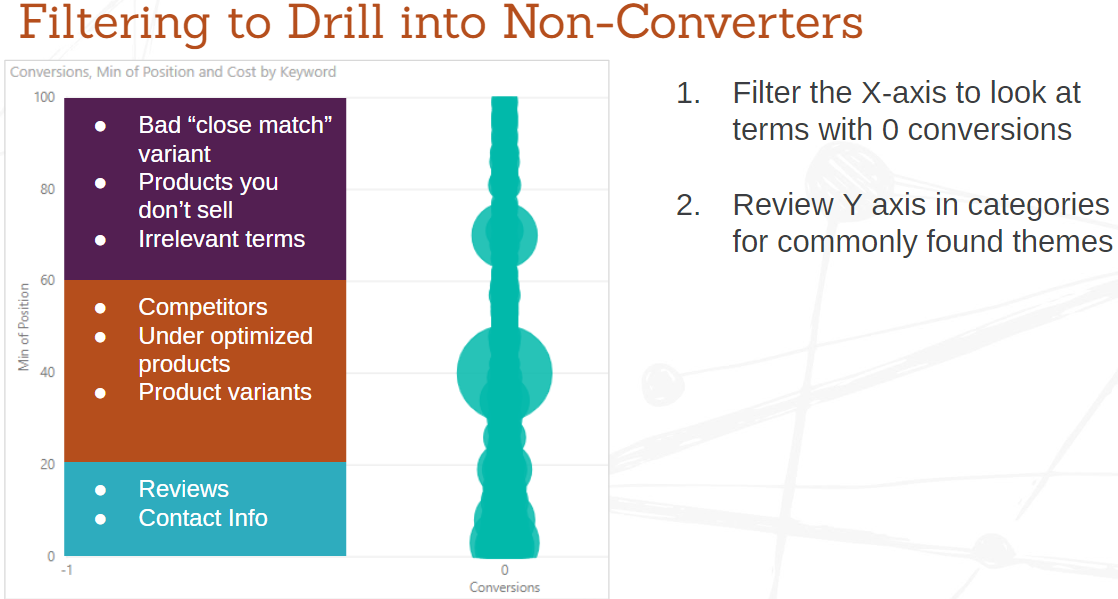 Check out Wil Reynold's Power BI for Digital Marketers: Lesson 1 to learn the first steps of combining PPC and SEO data.
Automation
Next up, use automation to find opportunities!
Scripts aren't scary, wasting money is!
The problem is that a lot of people are scared of scripts because they involve code. Maybe because they don't fully understand it or have never really asked deeper questions on how to leverage them for better insights. There are a ton of things you can manipulate with scripts. Budgets, bids, keywords. Today we are going to focus on one script and how to level up your display campaigns…
4 Useful scripts you should use now:
Stop Losing Money, Start Saving Bens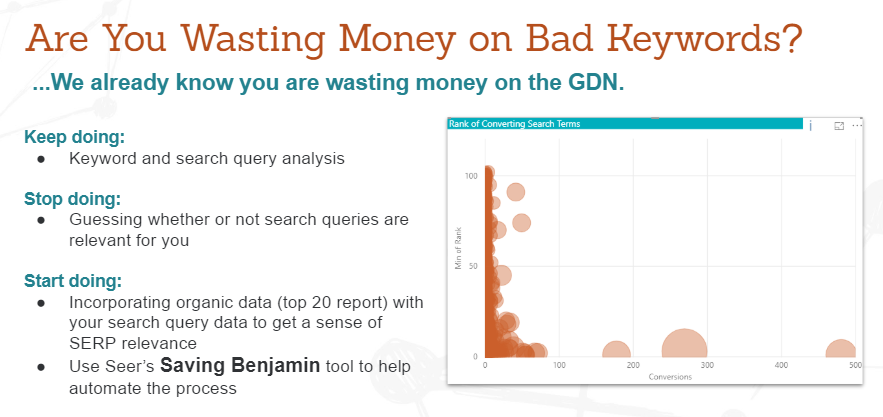 When was the last time you looked through your search query reports and actually combed through all of the queries to understand what the results look like? Probably not that often because that sounds AWFUL and too much effort.
So how can you look at organic results at scale to merge with my paid search query reports? Easy! Your first thought was probably to use a tool like STAT, SEMRush, or Ahrefs to pull down organic data, merge it with your search data, and then look for insights.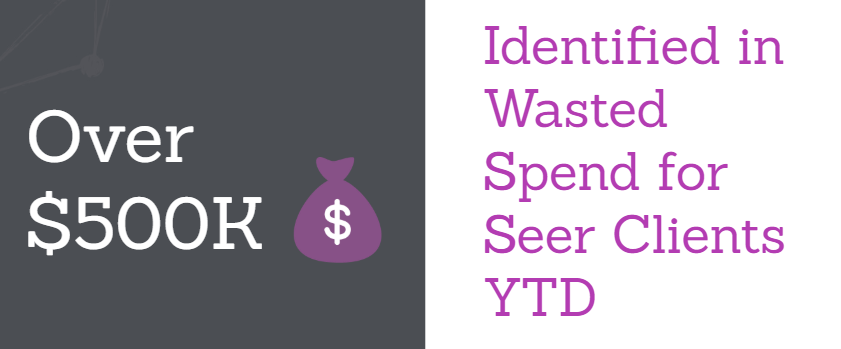 So far this year, Saving Benjamin has identified over $500k in wasted spend for Seer clients. That's a lot of money. That's why we use it on every one of our full service PPC client accounts and in our proprietary paid PPC Efficiency Audits.
Start combining your data and using the free version of Saving Benjamin that's available on the Seer website here! Our tool does a lot of this work for you. Load up your search queries and it will spit out terms that are likely missing the mark for your audience which you can then negate.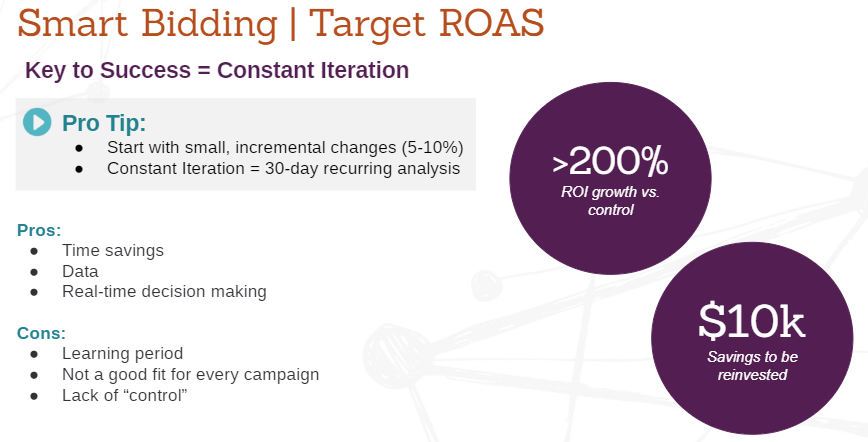 Now it's time to leverage some smart bidding! Our recommendation is to not swing for the fences right away. And definitely, don't try to force campaigns into your goal CPA or ROAS if it hasn't historically performed at that level. Start small with 5 to 10% incremental changes. And more importantly, constantly iterate. Use rolling 30-day check-ins to see how you need to adjust...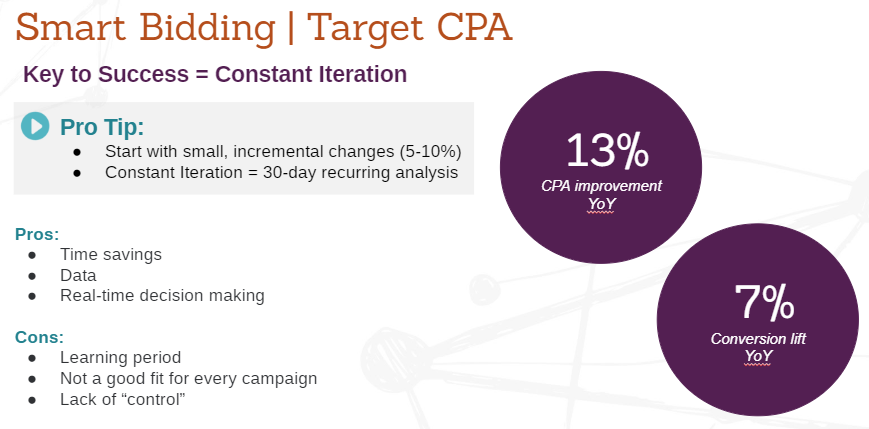 This is what has worked best for Seer clients, and if you aren't doing it this way, we recommend at least starting to test it!
More importantly, how can you be smarter with your smart bidding? How many of your accounts are tracking more than one conversion action? Probably most of you. But what's actually driving value for your business or client? How many of these are you counting in your conversions column in Google Ads? Keep in mind that the more actions you're counting in your conversions, the less likely smart bidding is doing a good job of driving real business value.
Always consider the overall business goals when determining the most valuable conversion actions. Don't just assume what you're tracking now is the best or more accurate determination of success.
The way to combat this uncertainty is to set up conversion action sets. This is a relatively new feature for Google Ads that help to eliminate a lot of the guesswork in smart bidding. Understand your business goals, create conversion actions based on these goals, and then assign those goals to your campaigns so that smart bidding optimizes specifically towards business value.
Reinvesting
Now that you've found some extra spend, it's time to look for opportunities to re-invest. The first thing that we should always think about is the audience's needs. What do they need, what do they expect, that they aren't currently getting? Once you've answered those questions, you'll be able to strategically allocate this "extra" spend toward those areas!
To Wrap Up...
Learn more about combining data sources and finding insights using PowerBI today. Run into any questions? Hit us up! We're more than happy to help ya out.
And be sure to sign up for our next webinar: Audience & PPC - Stop Guessing About Your Customers' Needs.