Our Ecommerce in the Wild blog posts feature our favorite online stores, why we converted, and what strategies you can implement in your business now.
Seer team members have a thing for shopping online and we geek out when we find a new company who provides an amazing online shopping experience. It's not easy to woo marketers with marketing, but the following companies have stolen our hearts … and our dollars.
What is 'The Size Problem' for Ecommerce sites? Get my tips for combating a poor user experience with thoughtful content your customers will love.
---
What is 'The Size Problem' in Ecommerce?
I work remotely 100% of the time and live out of a carry-on suitcase. Every piece of clothing that I travel with is curated for a specific purpose. It would take too many hours to find exactly what I'm looking for in stores and I'm often not sure if it exists. So for ease and convenience, I turn online.
The problem that we all experience when we shop online is sizing. Sizing will always be a variable.
How to Best Communicate Size
Companies whose business is 100% online have high incentive to solve the size problem.
When they aren't able to fall back on an in-store experience and free return shipping is an expensive investment for customers buying both sizes with the intent to return one - they've invested in traditional sizing guides.
Sizing Guides
Nordstrom is a leading fashion specialty retailer with over 100 stores and an Ecommerce business.
Although in the following example you'll see that Nordstrom's sizing guide breaks out the different sizes into a table, it's hard to relate or understand what it all means in the real-world.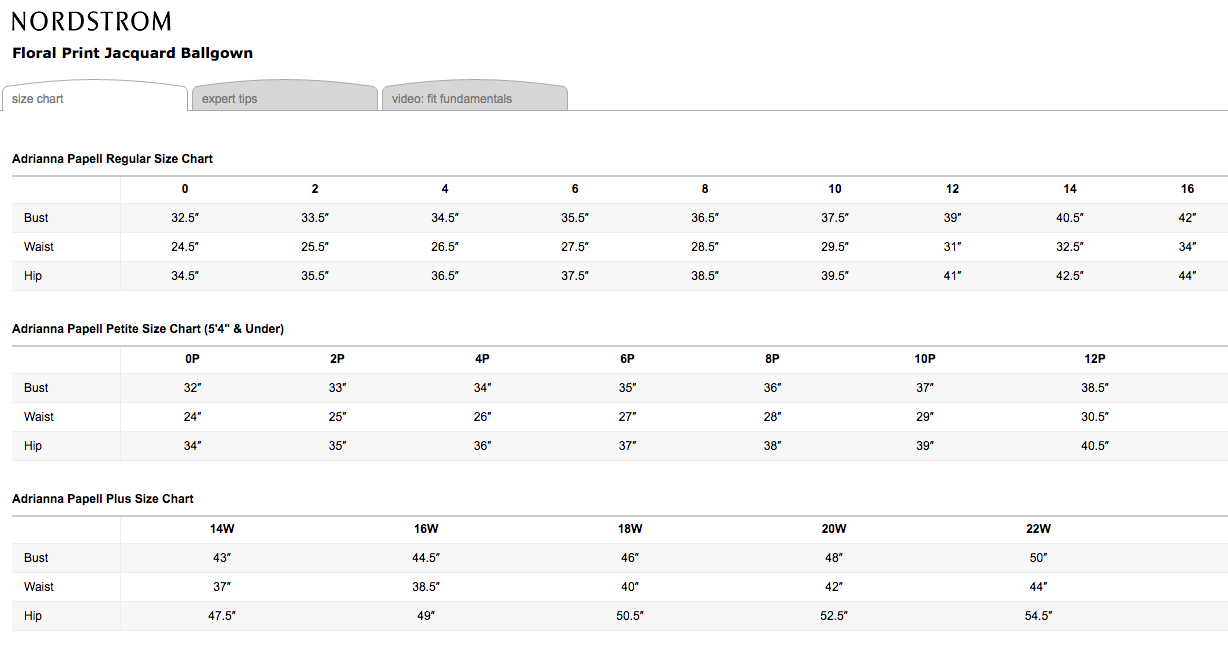 Most of us don't know our specific measurements, how to get them, or what it means when they're on our body. Even if customers knew how to measure their body it's still a huge point of friction.
Nordstrom knows this and has tried to supplement with additional resources: expert tips, video tutorials but all efforts have fallen short.
Allbirds sells full-sized shoes and needed to eliminate barriers for customers who wanted to know whether or not they should order a size down or up.
Allbirds developed a 'Fit Finder' to help their prospective customers find the perfect shoe size for them.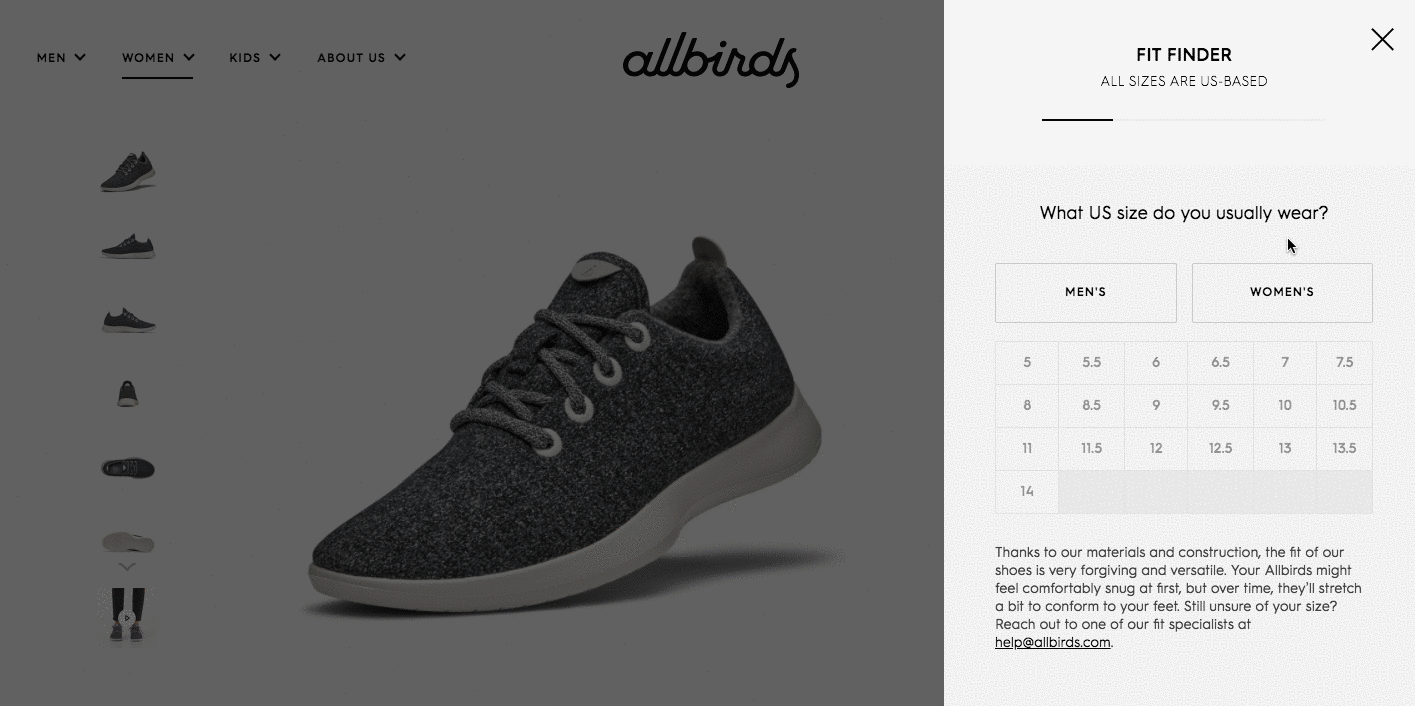 The Fit Finder communicates in simple terminology that resonates with their audience based on intuitive questions.
Allbirds also includes information on how their fit recommendation varies by the type of shoe. (This would be a friction point if people used the size guide and applied it to all the shoes on the Allbirds site.)
Instead, Allbirds incorporates how the size recommendations would vary depending on the shoe and links to alternate product pages.
Allbirds is a best-in-class example of how to solve the size problem and build helpful content for customers.
Icebreaker is an online-only company that specializes in merino wool clothing.
As with most online shopping experiences, finding the perfect fit is a challenge for shoppers. Shoppers often don't know how the clothes will fit on their body type.
Will this be tight or loose?

Should I order the size smaller or larger?

Will it be baggy?
Icebreaker employs a tool called Fit Analytics to solve this friction point.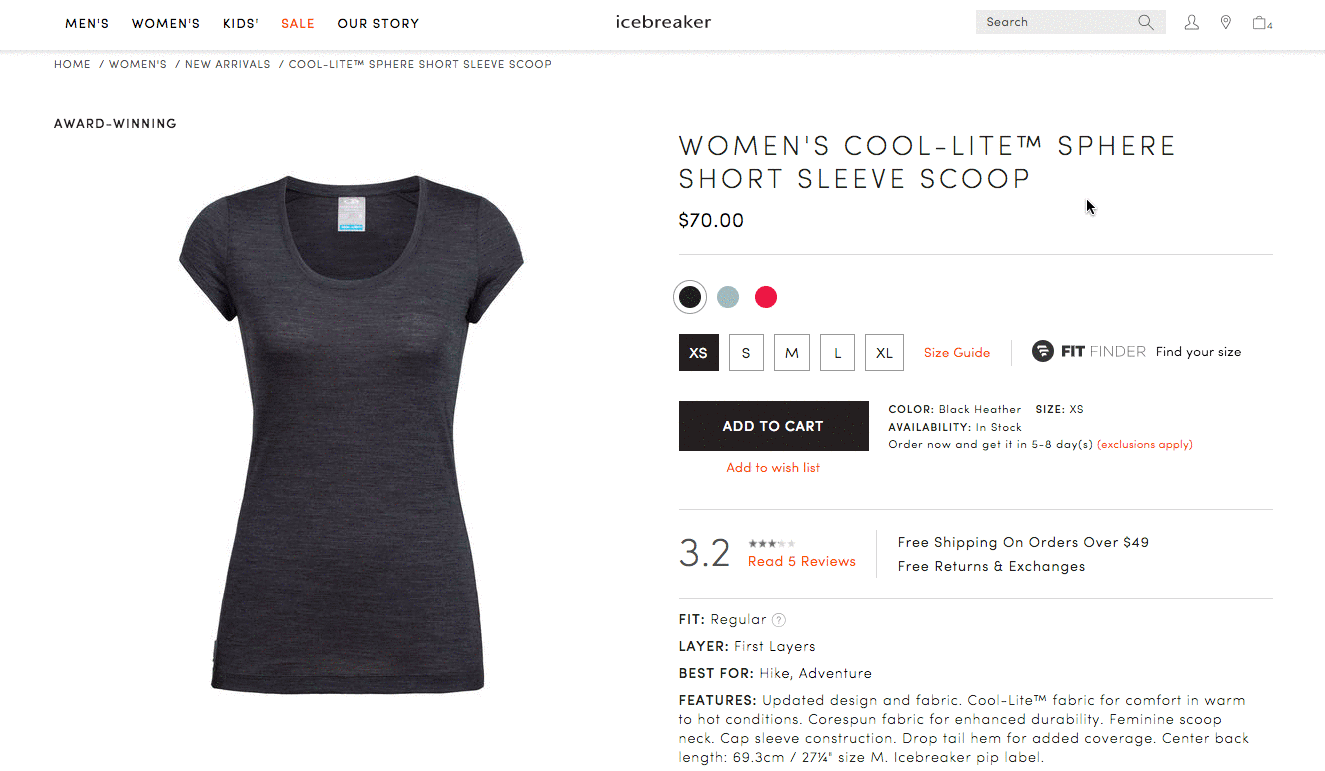 The Fit Finder asks for basic information that most men and women already know. It's expected for people to know their weight, height, and for women, their bra size. General information about body type is known as well. You typically know if your stomach is flat, average, or curvier.
Fit Finder capitalizes on this information and asks for specifics similarly to how you would discuss it if you were having a conversation with a sales associate.
Note: Fit Analytics also takes a small commision on every item that is sold through the tool. If the user returns the item because of size, the commision is refunded back to the company.
The Key Takeaway
Additional friction points are created when companies aren't able to connect with their customers. This is commonly seen in many aspects of Ecommerce - most evidently when trying to solve for The Size Problem.
Allbirds and Icebreaker both took the time to understand their customers and how to properly communicate size by working with vendors to install tools like Fit Analytics and building new solutions to win with guide selling.
How to Speak to Your Audience
For brands looking to get started understanding their customer needs, audience research is the best place to start. You can learn more about how Seer takes an audience-first approach to research here.
DO:
Communicate with your customers in their language by offering them useful, relevant information - whether it's in the form of sizing guides or other resources. Read the many ways brands can integrate content on their Ecommerce Category Pages to get some guidance!
DON'T:
Fill your sizing guides or product descriptions with marketing jargon. Read our 3 Tips for Optimizing Ecommerce Copy to ensure your websites' copy doesn't make that mistake!
---
Interested in more tips for Ecommerce? Keep reading...
And make sure to subscribe to our newsletter for more Ecommerce best practices, tips, and tricks!