We'll pay you $1,500 to interview at Seer…
I'm jealous. When I see how Buffer, Moz, Hubspot, Harvard Business Review and others build content, promote content, engage on social, etc. I'm jealous. I want to stop being jealous and start making them jealous of us (which is almost an impossible task), but we need a partner to do it. We feel that the only way we'll know is to have someone actually build Seer's content strategy to show us what they would do for our clients. We feel that it's wrong to ask people to do work like that w/o paying them for their time.
We need someone who gets deep joy from the following ONE thing: Helping people find QUALITY answers to their problems.
Helping people who are stuck and are seeking answers is your "why", you just use the internet to do it in your day to day. Whether it's stopping to help someone who is lost find their way in your city, or building out a video strategy to help people who are looking for the best motorcycle helmet for people with big heads, it doesn't matter. You are wired to help those who are stuck find their answer and you are great at getting businesses to recognize the value in doing so.
If you've got that, keep reading…
But you don't just get joy from helping people, you need validation, you need that "thank you so much" after it, and you enjoy tracking those thank you's. But your desire to help people goes a bit deeper than that; you get excited when the person you helped achieves their mission, their end goal, and you can measure it. You are in a phrase… DATA DRIVEN.
You are resourceful…
If to help someone on their journey means you have to learn a new trick of the trade yourself, your desire to help those who are lost is your goal post, so you'll ask others for help, or learn what you must to achieve that goal. You are the kind of person that even when there is no budget, you find a way to give people a taste of what is possible.
You start with the end in mind...
When people ask you for "content" you kinda roll your eye (assuming you are a cyclops) internally and ask deeper questions, you are persuasive, you know that executives worth working with don't wake up thinking about links or rankings, they think about (and invest appropriately) in solving the problems their customers have. You see launching content as a step, but it's the follow up of "did this actually help someone?" That generates the value. That gets your blood flowing. You'd rather write one piece of content that answers one question well, than 100 pieces simply to get rankings. You win when you can do 100 pieces well to answers 100 questions.
You see search queries as intentions and needs, not keywords...
You do keyword research not to see where you rank, you do it to understand people's roadblocks. You do it to see if a client is investing in solving problems.
You are a leader…
You want to run things, part of helping people grow is business too, and you love being a part of watching a business grow because of your involvement. You like seeing revenue growth. You have a network of people to work with who you trust already and who consistently kill it for you. You will also be able to craft a future vision of how content will work at Seer complete with needs, growth targets, hires, alterations in current process, etc.
You get great joy from planting seeds and watching growth, and not just revenue growth for clients, but with your team too. You like watching people grow & learn.
You are a doer…
You've rolled up your sleeve (yes, you are a one eye'd and one armed cyclops) and can prove it, with data, with references where you had a vision and rallied the troops and just got something done. Period.
So if you've read this far, you probably get that Seer is seeking someone to spearhead content strategy at our agency. We have been such a rudderless ship for so long with our own content strategy that we think there is no better place to start than with the Seer blog. We have amazing content, and over 100 people who are allowed to blog when they feel like, on what they feel like. We let people experiment with labs, so we have a safe place to try new things and learn from them, want to try a content format like this - we got budget to let you try it out.
Seer has all the inputs, high tolerance for experimentation and failure, 7+ years of content generation, 100+ content writers at Seer and tons of alumni who can also share thoughts.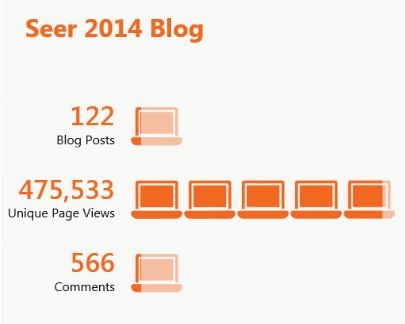 Amazing speakers who come to talk at Seer. We do shit like this because its fun.
To sum it up, we've believed in investing in content and sharing what we know since 2003 but it's been largely unstructured and without a strategy, so we want you to fix that for us. We want this interview process to be a bit different…
We want to be your client. We have high tolerance for failure, a ton of content, all the data (and analysts) you'd need to analyze impact, and more content writers than we can shake a stick at--what would you do with all that, how would you shape a strategy, what would you do for us on social to make sure that our content helps as many people as possible? Where is our content helping people today but is woefully out of date? Where are there trends where we have expertise that we are not writing to? You get it, you got free rein.
We don't want free consulting. We believe in Karma, asking people to present a comprehensive strategy for free when we are in a financially strong position is f'ing with Karma, and we don't F with Karma. We are willing to pay up to ten people $1,500 each to build a content strategy for Seer as part of the interview process, we believe that as long as we are doing well (and we are) that we shouldn't ask people to do this kind of work for free, even though the ballers often do. You will be able to interview people at Seer, we'll make ourselves available to you as you need, it's all on you..
I'm in! What are next steps?
First, blow us away with your credentials and apply here. We'll hand pick the creme de la creme to go through our interview process, including various Seer stakeholders, from team members to clients. Once we narrow it down to the top five finalists, you'll be given the assignment and assuming the assignment comes back complete, on time, and up to par we'll have you present it to us. After the end of the presentation we'll send you a check for $1,500. Our goal through all of this is to find that one person who will help us define and lead Content at Seer as our full-time Sr. Content Strategist.
Lets do this!