Although all of Google's solution products are good on their own, they become even better when paired together with the premium version of Google Analytics - Analytics 360 (GA 360).
Part of the Google Marketing Platform (GMP), these integrations allow you to connect different sources of data and analyze them together, driving a seamless approach to efficient analyses.
There are over 10 different integration combinations to make with GA 360 - making it very important to know which ones are best to leverage for your business.
In this post, we'll walk through some of the Seer Analytics team's favorite integrations for GA 360 customers to leverage for holistic, actionable insights.
---
Integrations We Love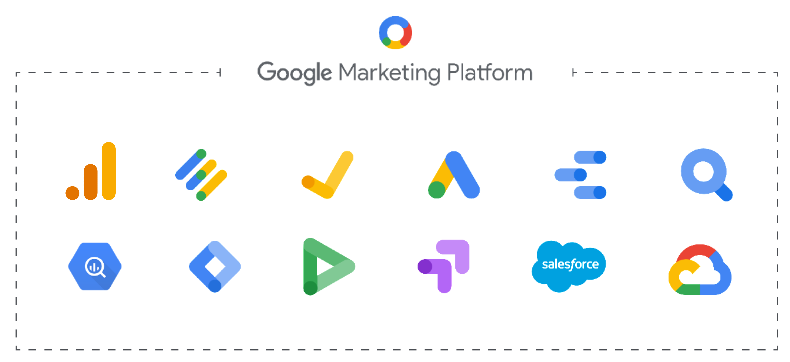 Head over to Google to see the full list of features and integrations.
Salesforce Sales Cloud & Marketing Cloud
Do you wish you could measure the value of your offline conversions in relation to their behavior online? Of course you do!
The Salesforce integration with GA 360 enables users to get a closed-loop view of the consumer journey across all of their different data points. Users can even create Salesforce goals in Google Analytics. Additionally, GA 360 offers Advanced Funnels - which can allow for the visual analysis of leads pre and post Salesforce interactions.
Check out this post for more on the Salesforce Sales Cloud Integration.
Once you have the data from various leads and prospects journeys all in one place, you can harness it by creating audiences with the Salesforce Marketing Cloud Integration.
Now, you can strengthen the visibility of your marketing funnel, and apply that understanding to your campaign strategy. Your audience targeting and marketing efforts become more strategic, leading to more qualified conversions for your business.
Benefits of the GA 360 Salesforce Integration:
Track Salesforce lead and opportunity milestones in GA
Import any lead or opportunity fields to GA as custom dimensions or metrics
Holistic view of Closed Won and Closed Lost
Use sales data to create remarketing audiences
Visualize user journeys via custom funnels
Predict sales/conversions
Display & Video 360
Display and Video 360 gives you greater insight into audiences coming from your display and video advertising efforts. DV 360 allows marketers to purchase ad slots and adjust targeting with specific campaign parameters.
Additionally, you can create audiences, incorporate cost and ROAS data, analyze reports for ad exchanges, creatives, and more.
DV 360 captures two different types of sessions:
Click-through
View-through
Click-through indicates the sessions that came from the user clicking your ad in order to enter your site. While view-through shows sessions that came from users who viewed your ad at some point but did not enter from the ad placement.
Click-through

View-through

Imagine being able to see which creative drove the most engagement after users viewed your Hulu ad. Or, how many sessions came from your Youtube ad click-throughs.
Ultimately, the goal is to be able to understand how your video and display advertising impressions are influencing site behavior. Enabling you to analyze and optimize your video and display ad efforts. Did I mention this was all in one tool?
BigQuery
Ever run into something like this?

How can you possibly make accurate digital marketing decisions based on 44% of your total data? The answer is you can't!
If your business has more traffic coming through than what can be processed via standard Google Analytics, your best bet to access unsampled data is through leveraging the Analytics 360 BigQuery integration.
Find out how Google samples data and what you can do about it here. 
While BigQuery acts as storage, it's also an interactive platform where you can analyze data through the use of familiar SQL queries, join various data sources, and even flex your predictive modeling and machine learning skills. With BigQuery, your data can be refreshed every 10 minutes. Yes, every 10 minutes.
The value in being fully confident in your data is irreplaceable. Forget worrying about skewing your data by adding a mere hostname filter or comparing data year-over-year. Take control of large data sets by storing trillions of rows of data in your own data warehouse.
Search Ads 360
What was once DoubleClick, Search Ads 360 is similar to the free Google Ads version just not as limited in its capabilities.
Read our guide for a deeper dive into Search Ads 360.
Search Ads 360 allows you to work across all search engines, accounts, and even campaigns. Making the best use of your time by managing cross-channel bidding, buying, and more all in one place. In the free version of Google Ads, Automated Bidding only occurs at the campaign/ad group level while in the 360 version, it happens at the keyword level.
Optimize 360
Optimize 360 is similar to the free version of Optimize where you conduct A/B testing. However, as your testing needs become more sophisticated and demand is at a larger scale, Optimize 360 allows you to expand on those same free features.
Additionally, Optimize 360 allows you to leverage audience data from Google Analytics to create segments and target users at a behavior level.
With Optimize 360 you can conduct more than 100 simultaneous experiments as opposed to only five with the free version.
Integration Combos We Love
Now that you know what a couple of our favorite Analytics 360 integrations can do on their own, here's a couple of our favorites to combine together!
Salesforce and Google Ads
A true beauty of the Salesforce and Google Ads integration is that they can work both ways for reporting! In other words, you can analyze your Google Ads data in Salesforce and your Salesforce data in Google Ads.
In Salesforce, you can analyze by lead, last campaign, ad group, and keyword clicked before the user converted. While in Google Ads (and Google Analytics if you have them integrated) you can view the campaign against the Salesforce conversion value, rate, and completions. You can even analyze this data at an attribution level, evaluating the value of your marketing efforts at each point of the users' journey.
The value in being able to connect the dots between your marketing efforts and closed won opportunities is a huge advantage that many are missing out on.
From this information, you can tell which campaigns and keywords are profitable, where to save money or where to maximize bids, and ultimately close the gaps to focus your ad spend where it really matters for your business.
Optimize and Ads
As we know, every user is unique, so it makes sense to deliver a unique ad experience because who doesn't like personalized ad experiences!. This is where the integration between Optimize and Google Ads comes into play.
By combining the two, you are able to create different versions of the same landing page based on the users' search terms, geo area, or even a specific set of behaviors.
You can even run an Optimize experiment for multiple keywords across all of your campaigns and ad groups so users who enter similar keywords (which are in different ad groups) can receive a relevant landing page experience. Finally, personalization is easily accomplishable.
What's Next?
Let us know what your favorite Analytics 360 Integrations are on Twitter (@SeerInteractive).
And if you happen to be looking for a GA 360 Certified Partner, whether now or in the future, reach out to the Seer Analytics team or just fill out the interest form below for more info!