What are Search Ads 360 and Display & Video 360?
After Google rebranded its suite of DoubleClick digital marketing products, this has been a common point of confusion.
Back in the day SA 360 used to be called Doubleclick Search, and DV 360 was called Doubleclick Bid Manager. Read more about the major rebranding announcements in our blog post here.
Search Ads 360 (SA 360) and Display and Video 360 (DV 360) are two separate products, with SA 360 being geared specifically towards paid search, and DV 360 being a display and video campaign and bid manager.
---
What is Search Ads 360, or SA 360?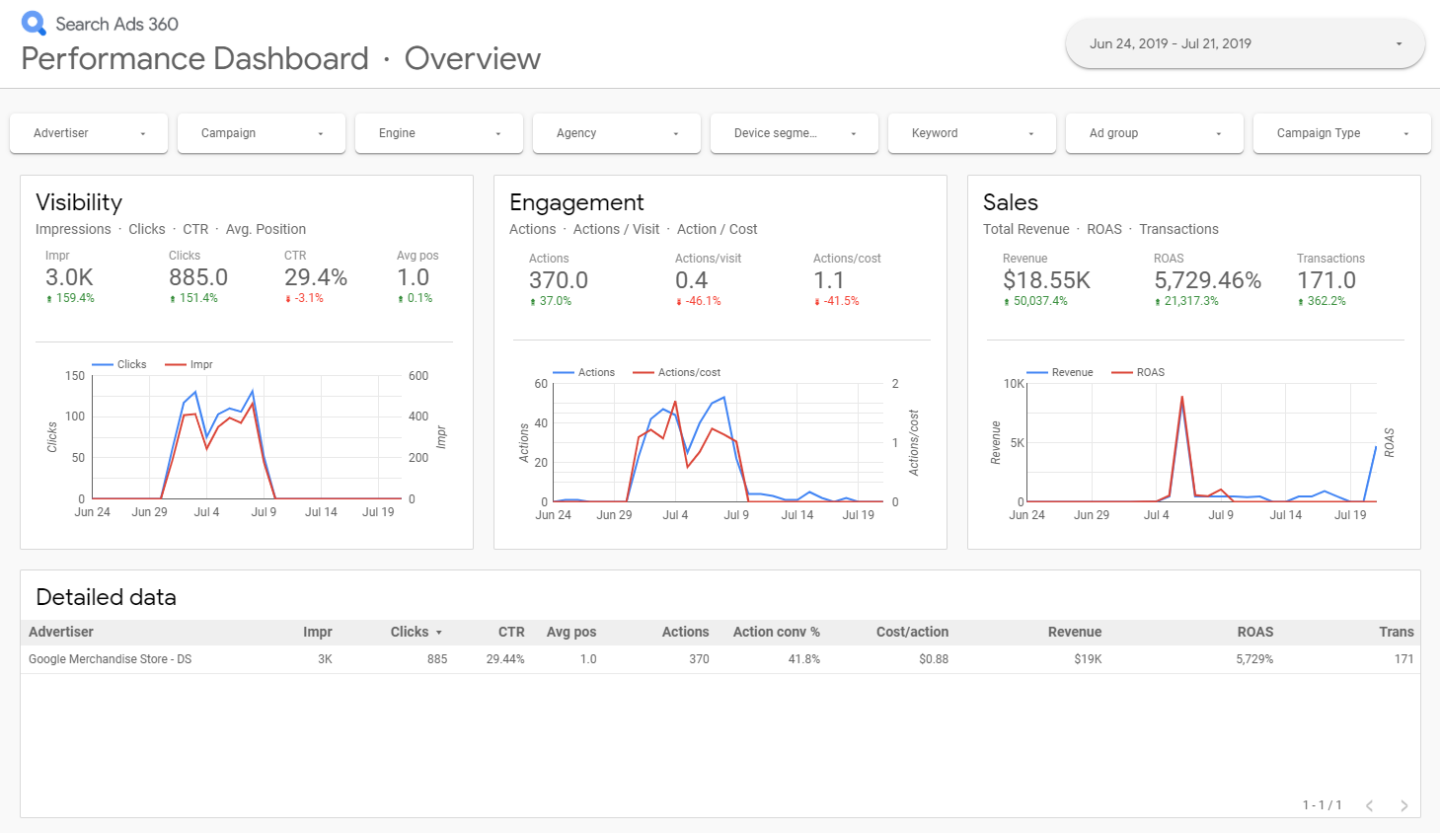 The most important thing to note about SA 360 is that it is not a search engine in and of itself. It's an advanced search management solution that allows business to manage their search paid search activity across multiple search engines, accounts, campaigns - all in one place.
Search Ads 360 vs Google Ads
Google Ads is Google's search engine and it is one of the many search engines supported by SA 360, but the two are NOT the same product.
Without Search Ads 360, you'd need to manage your ads and keywords on each search engine, and it would be much more difficult to analyze your ad/keyword performance across engines (Google Support).
SA 360 supports the following engines:
Google Ads
Bing Ads
Yahoo Japan
Baidu
Yahoo! Gemini
How does Search Ads 360 Work?
SA 360 models an agency structure, where you can manage multiple advertisers (think, clients) under a single agency network. Each of these advertisers contains its own group of paid search engine accounts and campaigns.
From a technical standpoint, Search Ads 360 has a direct API connection with several search engine and is able to pull data from them directly, integrate them and present them in one interface. Search Ads 360 and the search engines use APIs to send campaign settings, keywords, and ads information.
Each search engine has its own API with unique behavior, including supported features, how often data is refreshed, and how often Search Ads 360 is permitted to access the API.
How to use Search Ads 360
The platform is made up of three parts: Campaigns, Bid Strategies, and Reporting.
First, Campaigns give structure to the products or services that you advertise. There are multiple types of Campaigns available - including Manual, Inventory, and Shopping Campaigns. You can create new campaigns from within SA 360, but you can also import existing campaigns from search engines by syncing them in SA 360.
Furthermore, Bid Strategies is where you can optimize your advertising spend across the list of supported search engine accounts. SA 360 aims to maximize performance of your entire search engine portfolio. These strategies can also be used to make manual adjustments via automated rules.
Last but not least - Reporting in SA 360 enables you to get a picture of performance across search engines, bid strategies, and campaigns.
What is Display & Video 360, or DV 360?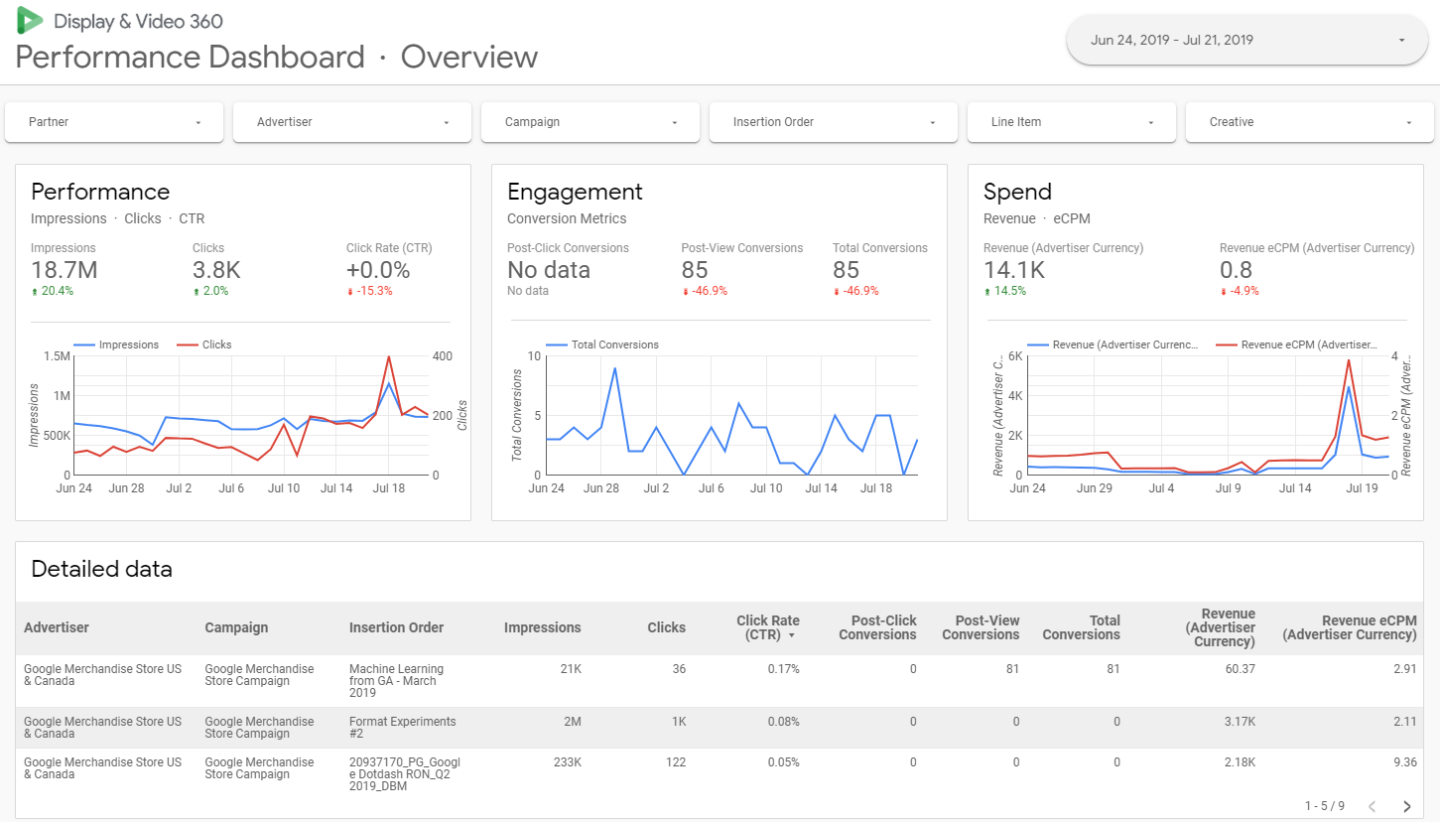 DV 360 is a campaign management platform that allows marketers to manage their programmatic, and programmatic guaranteed campaigns across display, video, TV, audio, and other channels, all in one place.
So, while SA 360 is focused on paid search ads, DV 360 is focused on programmatic ads, including rich media banners as well as video ads.
Display & Video 360 vs Google Display Network
Google Display Network or GDN is Google's network of websites which run Google Ads. It's one of the ad networks supported by DV 360, but the two are NOT the same product.
It offers a single tool for planning campaigns, designing and managing creative, organizing and applying audience data, finding and buying inventory, and measuring and optimizing campaigns (Google Support).
How does DV 360 Work?
Under the hood, DV 360 aggregates unsold ad space to serve as a connector between advertisers and websites hosting ads. DV 360 technology unveils this inventory allowing advertisers to bid and buy ad space across networks.
How to use Display & Video 360
Display & Video 360 is organized around five integrated modules that work together to simplify the end-to-end campaign process: Campaigns, Audiences, Creatives, Inventory and Insights.
First, there's the Campaign module which lets you create and organize your campaigns and associated items. This includes managing insertion orders all the way to creatives.
Next, there's the Audiences section where you can manage your campaign audiences. This section lets you analyze your audience data based on first-party, third-party, and Google data, and build new audiences across all three. You can build audiences based on your campaign activity as well.
The Creative section is where you'll manage all your creatives end to end. You can design your ads directly within the tool, test and play around with new formats as well as create variations of the same creative and messaging that you can test among your audiences.
True to its name, Inventory is where you'll manage your media inventory, including exploring new opportunities and negotiating deals with publishers.
Lastly, Insights is where you'll access reporting and metrics.
Integration with Google Analytics 360
This integration is only available within GA 360, the enterprise version of Google Analytics. This means you can access SA 360 and/or DV 360 dimensions and metrics straight from within the GA 360 interface.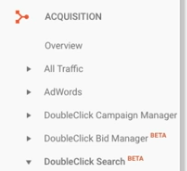 The integration with GA 360 allows you to perform holistic analysis across your advertising for more meaningful insights. You can even create Google Analytics Audiences to push into SA 360 and/or DV 360 for remarketing and campaign optimization.
---
Looking for an Analytics Partner to maximize your GA 360 ROI?
Reach out to Seer today: