As an SEO, your first thought when you see an increase in organic traffic may be to rejoice and pat yourself on the back.
However, oftentimes a spike in organic traffic may not be indicative of strong organic performance. After all, organic performance doesn't happen in a vacuum.
Any organic traffic abnormality, negative or positive should be investigated. To simplify your investigation, use the following 4 steps to narrow down the cause of the unexpected spike in organic traffic.
Identify what pages of your website have been impacted (i.e Where is the spike coming from)

Determine if an algorithm update could be the culprit

Identify external factors that could have caused an increase in search interest in your brand

Identify external factors that could have caused an increase in search interest in your product or services
Once you've diagnosed the spike, it's important to keep note of it (ex: create a Google Analytics Annotation) to provide context for future reporting.
---
Where Is the Spike Coming From?
Don't skip this step -- determining where in the site the spike is coming from can help guide the rest of your investigation
Your first step in your investigation is to figure out where the big increase in organic traffic is coming from within your website. I.e Is it related to a specific subfolder or landing page?
Depending on where the spike is coming from should dictate your next steps. Some examples are: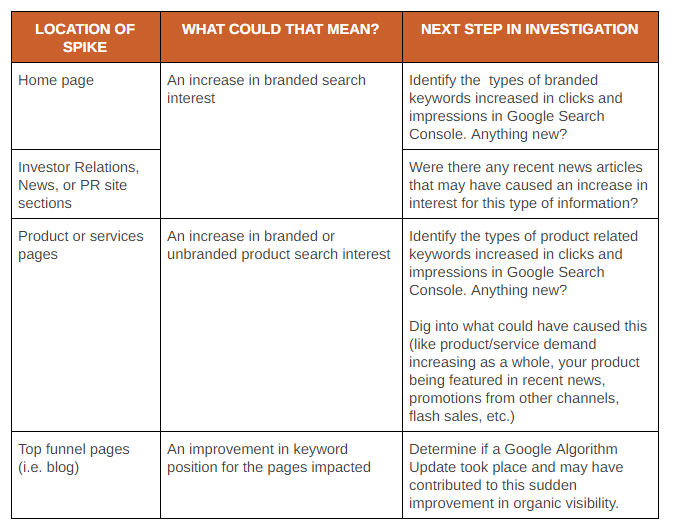 Was There a Google Core Algorithm Update?
In 2020 alone, Google officially updated the algorithm 10 times. When the algorithm updates, there are often sites that benefit greatly and experience an increase in organic visibility on page 1 - which can lead to an unexpected spike in organic traffic.
For most* core algorithm updates, there is no way to prepare. However, it's important to stay on top of them (especially if they're pre-announced) and monitor keyword movement to determine if you've been impacted and why.
Stay on top of suspected Google Algorithm updates via Twitter by following Google SearchLiason & Danny Sullivan.
A great way to confirm your suspicions of a Google Algorithm update is Twitter. Follow accounts like Google SearchLiaison and Dunny Sullivan. They often share insights on how Google search works (including information on Google Algorithm Updates).
*Please note that Google has given websites the opportunity to prepare for their upcoming update in May 2021 that will consider page experience among its ranking factors.
Was There an Increase in Branded Search Interest?
An increase in branded search interest can be a root cause of organic traffic spikes to your home page, or investor relations, news, public relations-types of subfolders.
If you suspect this is happening, there are a few places you should check:
Google Search Console

Google News
How to Check Google Search Console for Branded Query Performance
Google Search Console is a critical tool for your digital marketing toolbox. If you don't have it set up - here's how to get started.
Once you're logged into Google Search Console, navigate to the "Performance" Report.
Once in the performance report, you'll want to add query and date filters so that you're looking at branded queries and comparing their performance from the time of the spike to the previous period.

Filters needed:
Date: Look at the date range of your organic spike and compare it to the previous period using the compare option in the date filter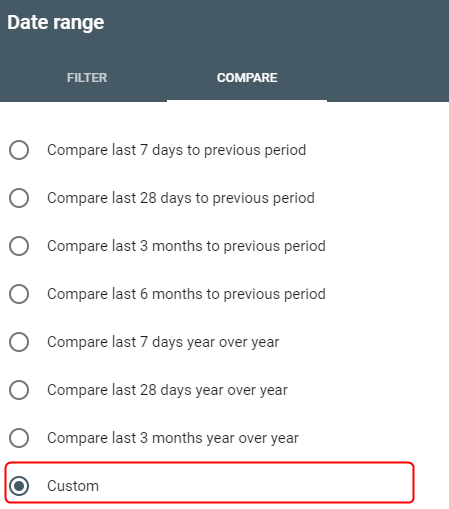 Query: Filter to look at queries that contain your brand name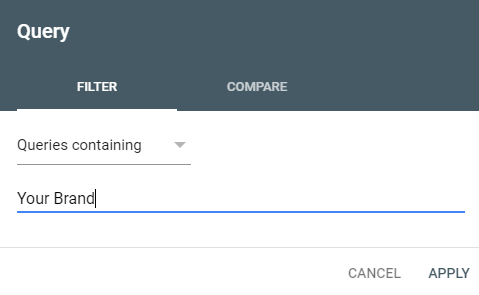 Look at what keywords have increased in clicks and impressions to help determine what types of branded queries may be contributing to that spike in organic traffic. Pay special attention to changes in modifiers, this may give you a hint as to what might be causing this increase in search interest.
Google Search - News Feature
Once you've confirmed that branded queries are a culprit in your organic traffic spike, you need to figure out what may be causing this increase in interest. One of the ways you can do this is leveraging Google News, which allows you to search for your brand and find recently published articles.
For example, if your brand is Johnson & Johnson (J&J) you would:
Search: Enter your brand as a "topic" in the search bar.
Evaluate: What are the most recently published articles about your brand. Do any of the publishing dates correlate with the spike in organic traffic?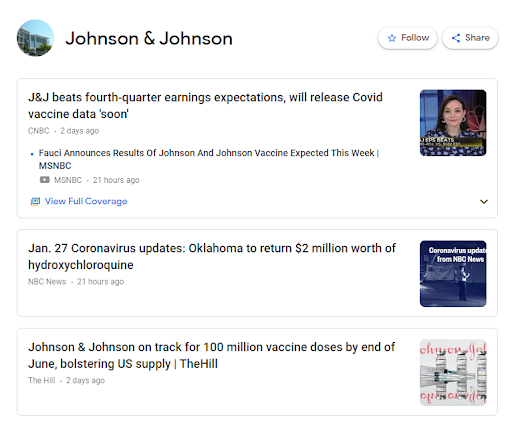 For J&J, there was a lot of buzz during the second and third week of January 2021 regarding their progress towards the release of a COVID-19 vaccine.
Since we don't have access to Google Search Console for Johnson & Johnson, we'll use Google Trends to show the correlation between this news and a spike in organic search interest.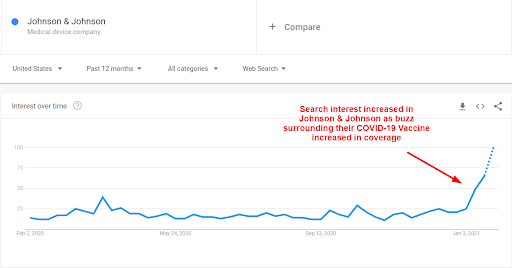 If you were using Google Search Console, the same methodology applies - identify what may be the cause of an increase in search interest and see if that correlates with your spike in organic traffic.
Was There an Increase in Product Search Interest?
Similar to the approach for investigating a potential increase in general branded interest, your first step here will again be to go to Google Search Console.
Using Google Search Console to Investigate Product Search Interest
This is going to look a little different than the investigation for more general branded queries. You'll still want to include the "Date" compare filter, but instead of a query filter, consider a page filter and filtering to look at how organic clicks and impressions have varied on the page(s) that have experienced the spike in organic traffic.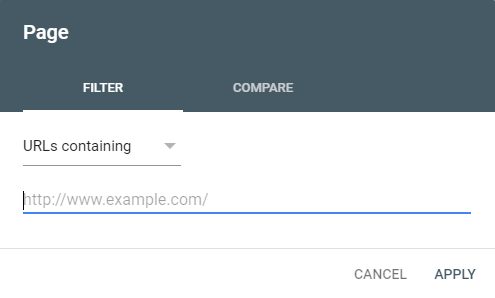 Examine the keywords that have grown in clicks and impressions. Once you establish which keywords are leading to the increase in organic traffic, you can investigate their root cause.
Investigation Path if Product Keywords Are Branded
There are a lot of factors that could cause your product-specific brand awareness to increase. Some of these include:
Being featured on a popular aggregator or review site

A special promotion or release of a product
For example, if you're a bank:
Websites like Bankrate.com or Nerdwallet.com publish "top" or "best" lists of bank accounts on a monthly basis. Being featured on one of these sites grows your brand awareness and may cause an increase in people searching for your branded products.

The release of the first COVID-19 stimulus checks may have increased traffic to deposit accounts.
Investigation Path if Product Keywords Are Non-Branded
This type of increase in organic traffic can be caused by a surge in search interest for the type of product coupled with page 1 visibility for the non-branded keyword.
For example, if you sell masks and have non-branded page 1 visibility, you likely would have experienced organic traffic spikes in Marchand July 2020.
In March 2020, search interest increased dramatically following the announcement of COVID-19 as a "Global Pandemic." In July 2020, the United States experiences the "second wave," causing another surge in demand for masks.
Start; Stop; Keep
Start: Investigating any spikes in organic traffic

(just like you would if there were unexplained decreases in organic traffic).

Stop: Accepting a spike in organic traffic as a win for your SEO strategy.

There are other factors that could be at play.

Keep: Staying engaged with digital marketing news!
Do you have any other methods you use in diagnosing unexpected surges in organic traffic? Let us know by leaving a comment!
---
Sign up for our newsletter for more posts like this delivered straight to your inbox!