The post was written by: Yuzuka Akasaka, based on this Wil Reynolds talk.
---
Marketers Build the Bridge Between Customer & Company
Marketing leaders have some pretty tall order questions to tackle in order to be successful, like:
What's the right budget to maximize conversions?

How can our company stand out among

1.5 billion sites across the world

?

What's this 'alphabet soup' of SEO, PPC, CPC, CTR, etc. -- and how do we do it all better than our competitors?
It's tough to have the right answers to all of these questions, and mistakes happen too. But what if it's possible to know the right course of action, powered by data?
Scaling the Ideas of 200+ Builders
Seer is a digital marketing agency made up of builders who challenge complacency and constantly seek to be better than yesterday.
People who wonder, "What if we could do this? What if we could make this better?"
With that, testing assumptions and ensuring repeatable strong outcomes is crucial to harness the curiosity of Seer team members in a way that leads to scalable innovation across the organization.
Siloed Smarts
Picture this imaginary scenario: There's a Seer Interactive account manager who has three separate clients. They tackle unique challenges and gain different perspectives with each client.
One day, this account manager has an idea to answer a tough question from one of their clients, "How can we grab market share faster?"
They test this idea with that client and the experiment works.
Now, they can implement that innovation for their other two clients too.
This is helpful for those three clients (let's say this is 3% of Seer's client base), who can benefit from their account manager's creative problem solving, but where does that leave the other 97% of clients who don't have access to this? Also, what happens to all the other team member's creative solutions?
Without an overarching process or strategy to scale these "siloed smarts," there's inconsistency and, frankly, missed opportunities for clients. The friction of information sharing, learning, and executing on these great ideas takes too long and creates cracks that clients can slip through without gaining the benefit of that idea.
Each client should have a standard experience working with Seer, and Wil steers the company to fix any irregularities. Most clients come through a referral, or having worked together previously, so their experience should be similar to that of the person who referred them, or their previous time working with Seer.
By de-siloing team member innovations, these ideas can scale so all clients can benefit from one account manager's successes (and the innovations of other Seer team members too!). And, clients can access the best innovations in weeks or months, rather than in years or even never.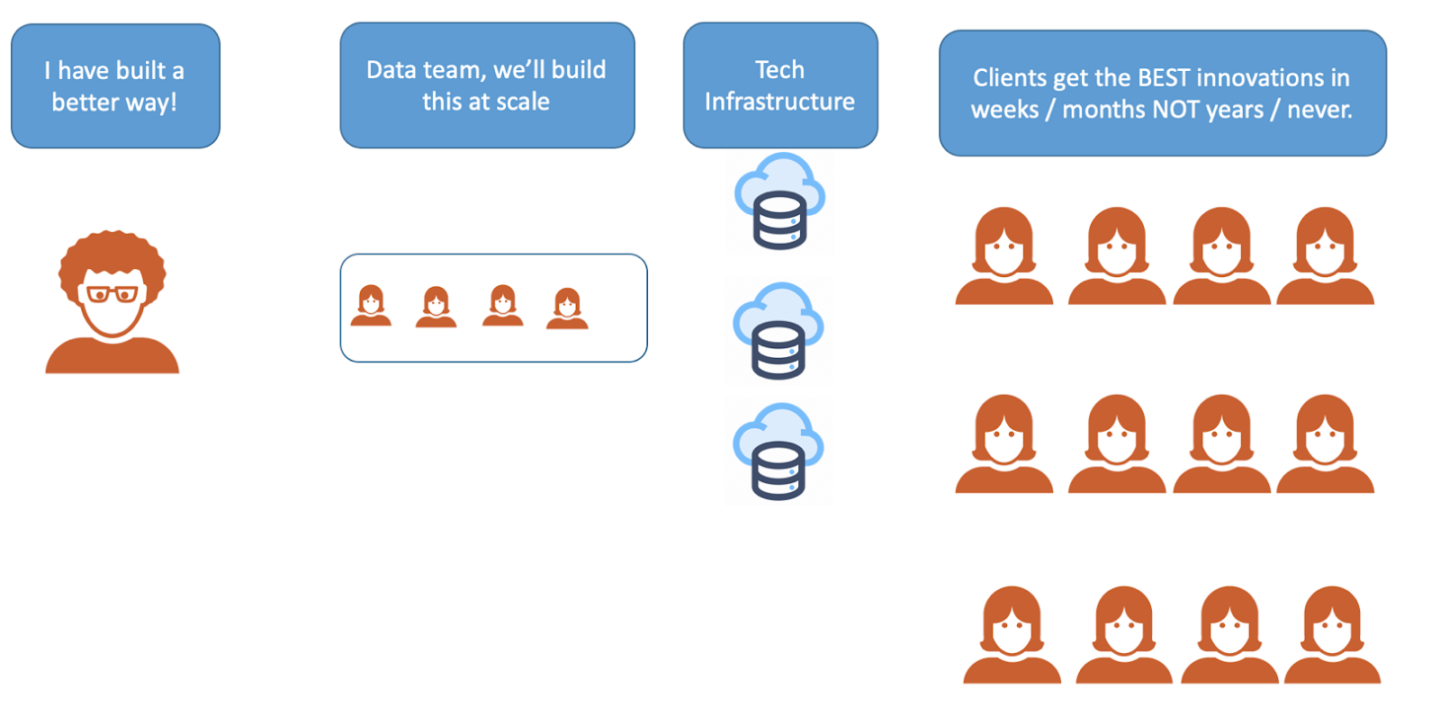 Scaling Smarts
Now picture this real-life scenario: When the pandemic hit, many clients approached their account managers about urgent budget cuts:
"I need to make cuts. I need answers in 24 hours."
If someone had to cut your pinky toe off, would you rather them use a sledgehammer blinded or a scalpel with a calculated hand? It'll be incredibly painful but not life-threatening either way, but the sledgehammer can bring a lot of collateral damage.
Seer directs clients away from collateral damage through embracing data.
The Power of the Data Warehouse
For clients who were in Seer's data warehouse during this time, they received those "scalpel" analyses during the first few weeks of crisis mode -- equipped with recommendations on the best places to cut costs without losing conversion value or stifling growth.
In addition, team members made an explanation video for each client so they could not only present the information to their C-Suite but also answer tough questions on the fly, and prepare them to make the best decisions to keep their businesses afloat.
All of this information was instantly editable, searchable, and groupable, so there was no time needed to pull and organize the data.
Seer account managers were primed and ready to step into a meeting with the client's finance leader if needed.
Get More Insights Faster with Less Work
The last three years that Seer has invested in building infrastructure to unleash the power of data has set them up to support clients scale within seconds during times of great uncertainty. By depending on search marketing business intelligence, clients could make hard decisions backed by experiment-driven analyses.
On the other hand, unfortunately for clients who had opted out of the data warehouse, their teams took weeks to pull, shape, and analyze their data. They faced other obstacles on top of that, and were forced to make risky gut calls, while clients in the data warehouse confidently made more strategic, data-informed decisions in a way shorter amount of time.
When the unexpected happens, Seer's data warehouse and technology stack enables clients to GROW through, not just GET through hard times. However, scaling smarts isn't only for tough times -- it's for whenever one of those account managers come up with new solutions that can benefit more than just their own clients.
In Conclusion
Keep reading to learn more about using data to inform business decisions:
Looking for an agency partner to help unleash the power of your data? Explore Seer's digital marketing services and get in touch!
---
Subscribe to our newsletter for more posts like this in your inbox: